Staircases are not only meant to be a connection between various areas of the house but they also play an important role in setting the feel of a house. A well-designed staircase can convert your contemporary living room into a victorian house and create a warm welcome for your entryway. There are numerous design ideas that can convert your home into a charming place. From grand staircases to traditional ones, staircases obviously serve the most important purpose of connecting two parts of a house, however, the staircases have the potential to elevate the look of an entire house. If you are anticipating getting a new house or to get a staircase remodeling done in your old house you need to know some of the most beautiful staircases design ideas which have been mentioned below.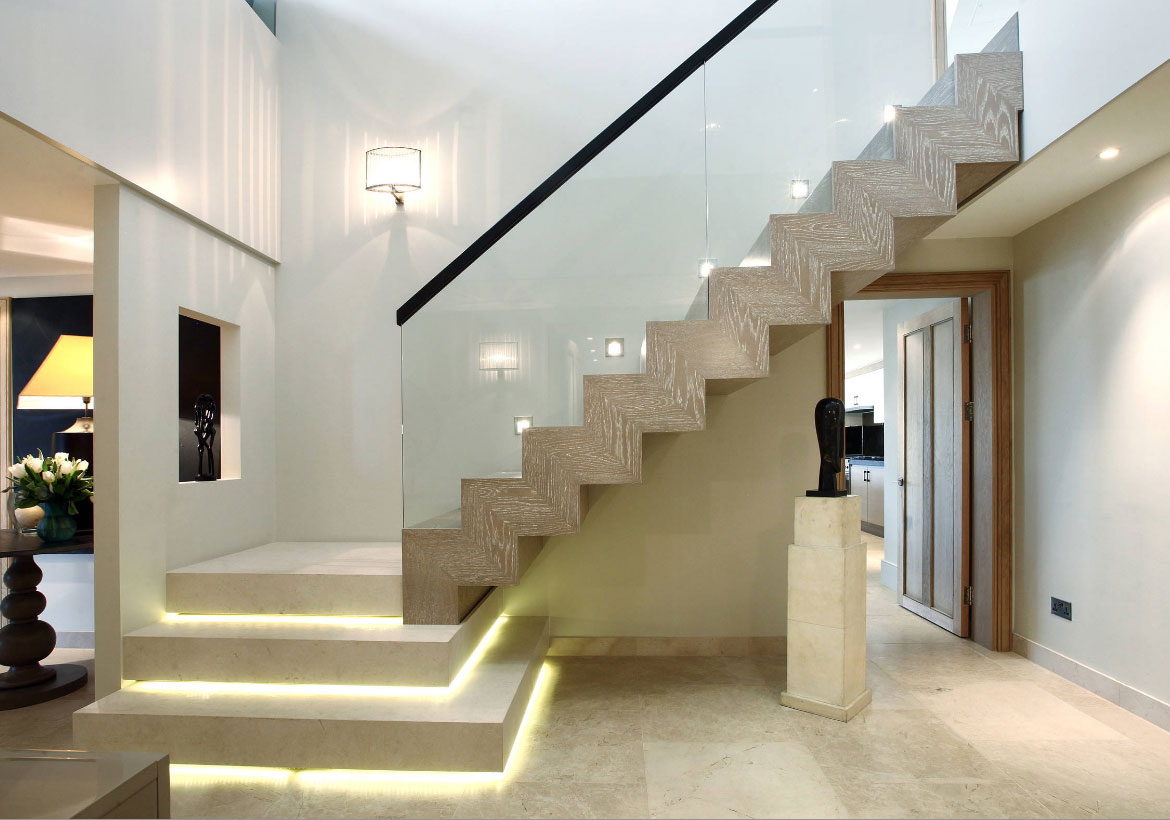 source: sebringdesignbuild.com
You can have a modern staircase with a beautiful landing filled with golden lights which can give your entire house an extremely modern and luxurious look. You can have a completely transparent glass staircase that can enhance the look of your house.
source:sebringdesignbuild.com
Floating staircases are becoming popular, especially in open spaces. This type of staircase is designed to minimize the supporting staircase structures while giving the impression that the stairs are floating. It helps to remove the visual obstructions and increase the living area. The step of the floating staircase can be paired with various types of grilling and hand railing options such as glass, cable or rod railing. You can get these types of floating stairs installed not only inside your house but also in outdoor spaces. This extremely modern and elegant staircase profile is becoming a cornerstone in the interior staircase design idea.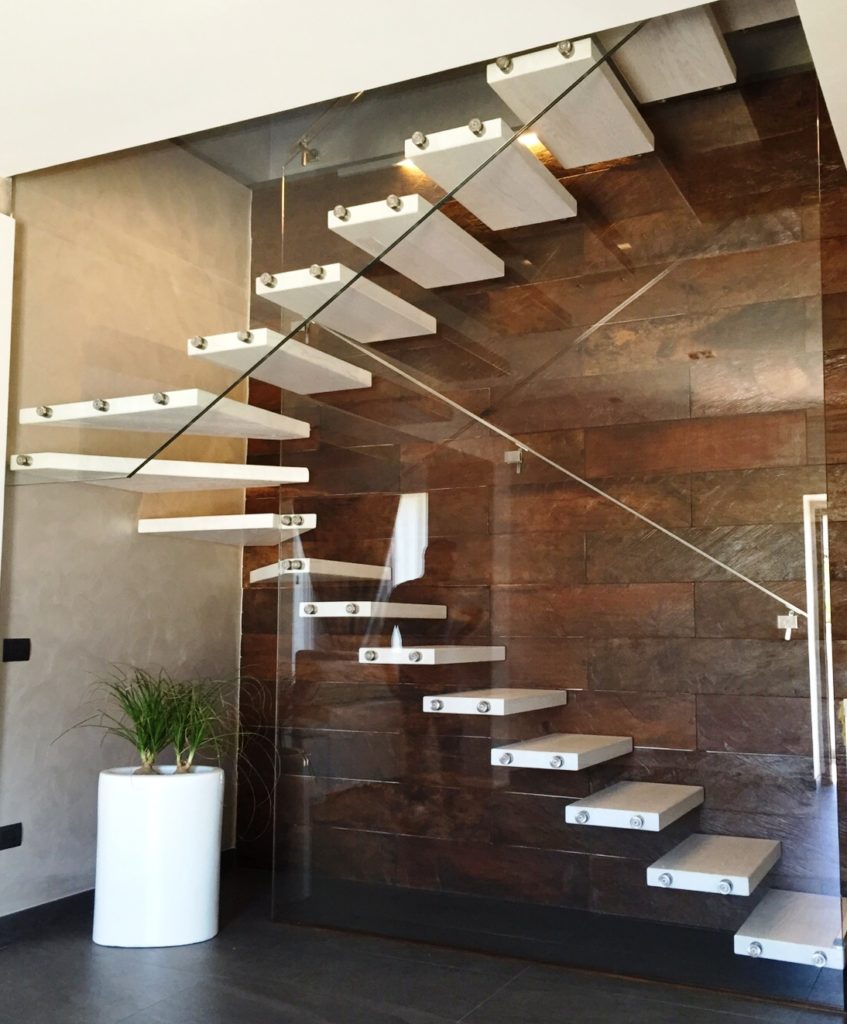 source: granddesignstairs.com
If you have a house that has doors on two opposite ends of the floor, you can have two separate staircases combining into one at the lower portion. This is useful especially in cases where the living space is small. The combined staircase and landing area help to save a lot of space.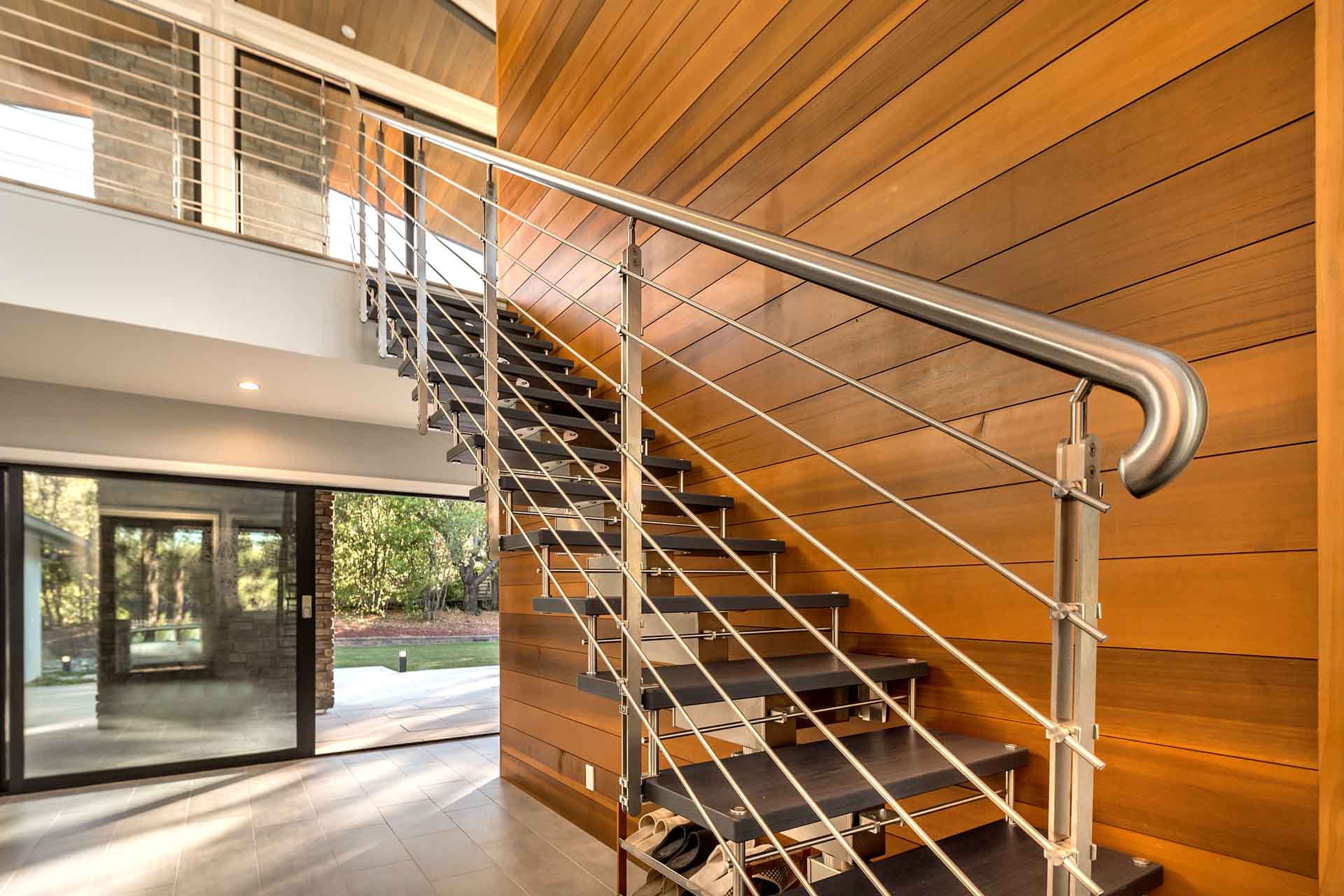 source: europeancabinets.com
If you wish to have some contemporary elegance in your house, you can get some elegant thin staircase with thin handrails and continuous paneling in your stairway design which can provide you with extra storage.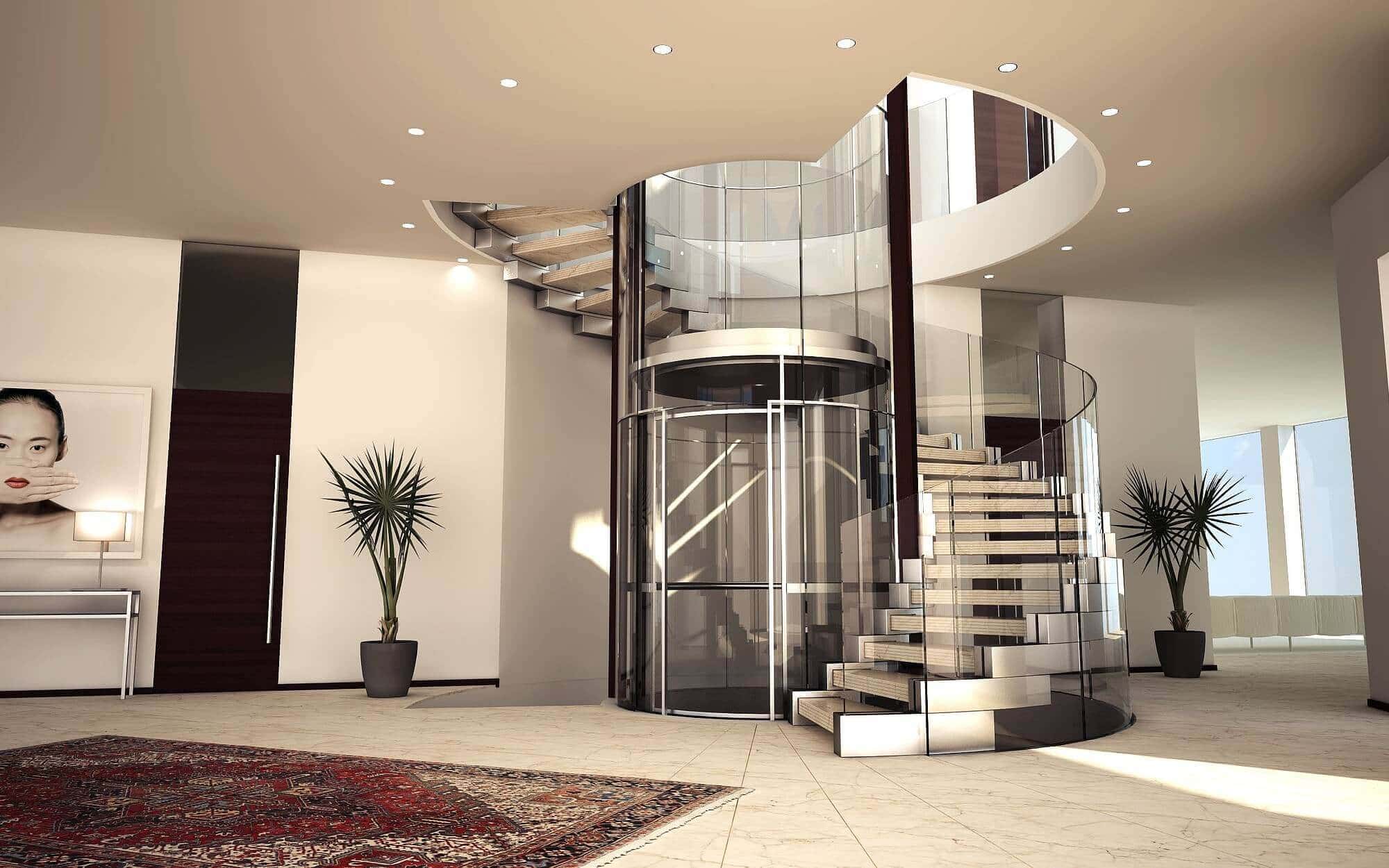 source: stairs-siller.com
A floating staircase painted in white against a wooden brown backdrop can give your home a grand and alluring look. You can have a transparent glass handrail alongside the floating staircase which enhances the entire look even more.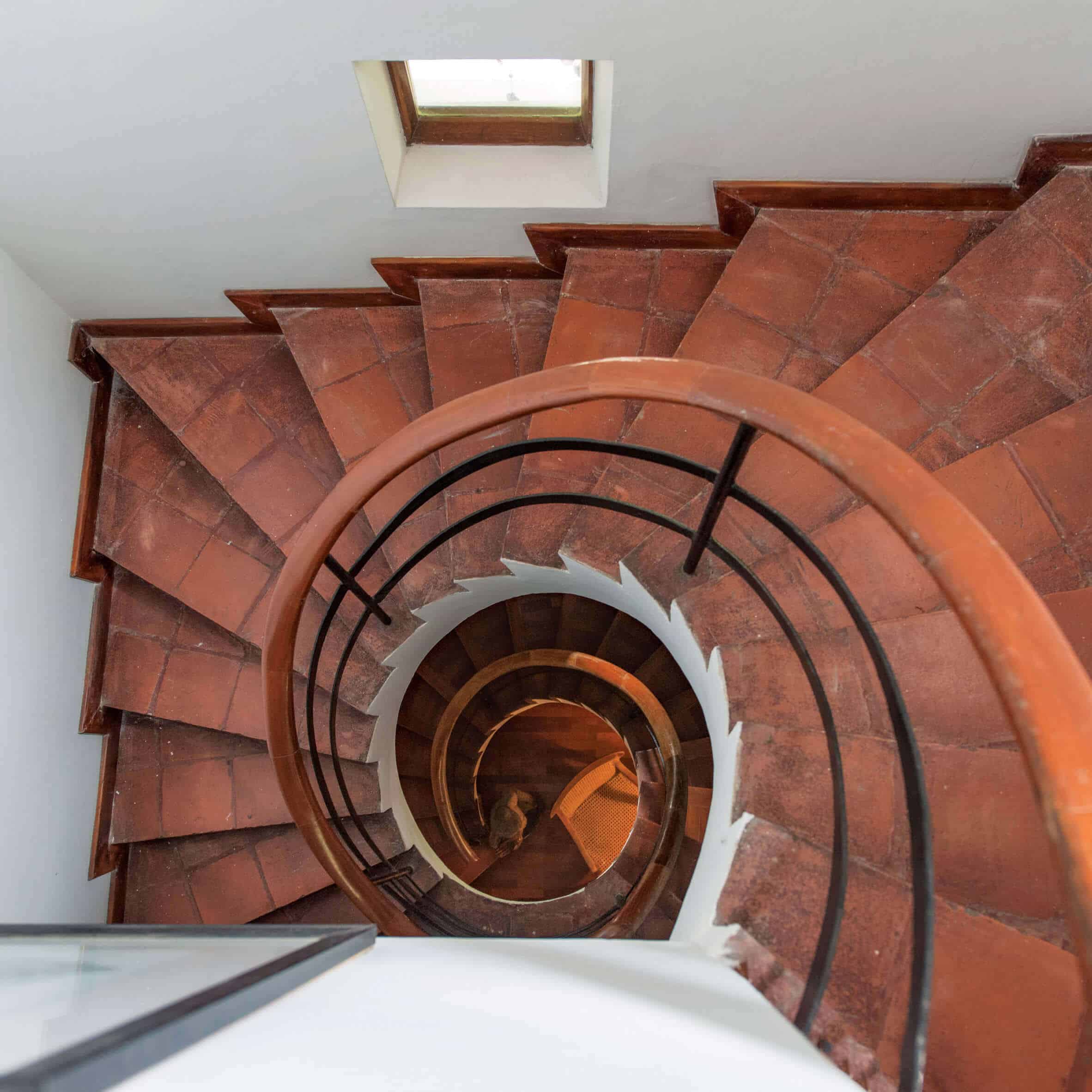 source: dezeen.com
A spiral staircase made of up designer wood in an absolute white space can be an amazing combination. Spiral staircases design not only gives an extremely modern look to your house but is also very stylish and classy at the same time.
source: homedit.com
Wooden designed walls are becoming famous each day. If you have such a wall, you can have a floating staircase against the wall with elegant handrails which can give your house a crisp and minimalist design without feeling remote.
source: nkwoodworking.com
If you want to have a simple staircase in your home, you can go for a plain white simple staircase with a carpeted center. This gives the entire setup an elegant look while also keeping it quite simple.
source: fodors.com
People who love to have some drama in their house can certainly opt for spiral staircases. This type of staircase not only gives a glamorous look to your house but also saves quite a lot of space making these the perfect option for small spaces.
source: adorable-home.com
Natural stones exude elegance unlike any other. A staircase made up of natural stone gives an earthy hue while also adding a modern touch.
Spiral staircases have become a rage in the market, with a lot of demand from the customers. This is mainly due to their superior look and the capacity to save a lot of space. The Architecture Designs project is working to create a list of some of the most beautiful stairway designs for the staircase which can ultimately guide you to choose a design for your own home.