You may not be an interior designer, but that doesn't stop you from creating a patio that invites you to enjoy a chat, linger, or perhaps have another glass of wine. But a space like that doesn't just happen. It requires incredible effort to bring all elements together and have a complete touch.
That's where the right décor comes in. It transforms your outdoor space into an incredibly irresistible homely, personal, and comfortable place – to an oasis of calm and the perfect place to escape from the rest of the world. Your décor will do it all.
So, whether you're just starting your patio decorations, want to give new life to your space, or just want to completely transform your patio, follow these simple (but highly effective) tips to get you started.
Bring in the vibrancy with the greenery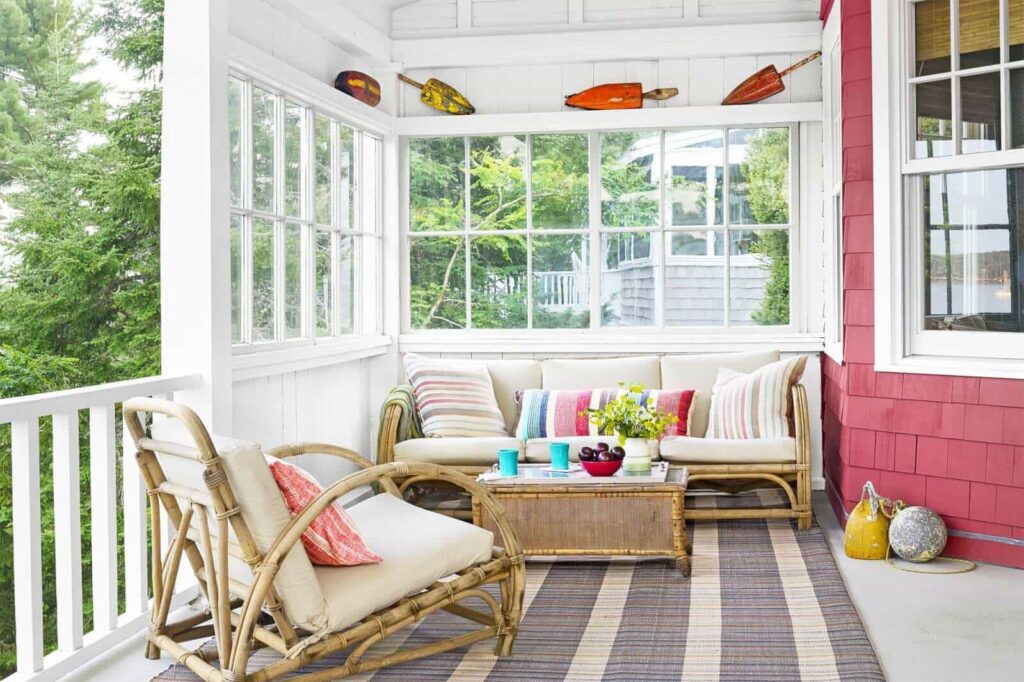 source: hearstapps.com
One integral part of a gorgeous patio is the plants and vegetation. Even without intending it, plants change the atmosphere beautifully and give it life. They add style, color, and more texture to your outdoor space. Even if you're not much of a gardener, start by bringing in a variety of potted plants that are not only lovely but require very little maintenance.
Here are some of the easy-care patio plants to consider at The Architecture Designs:
Herbs – ensure your patio is sunny for herbs to grow well. Try basil, rosemary, oregano, lavender, and thyme.
Ferns – they do well in shady patios. Select a range of varieties, textures, and sizes to enhance your outdoor look.
Geraniums – to enhance colour, go for geraniums. They are low maintenance and will survive a few missed watering and last through summer.
Potato vine – also called jasmine nightshade, this plant produces lovely white and purple flowers.
Lantana – this plant is easy-growing and produces pretty multicolored flowers.
Tip: If you're short of space, going vertically will help you display more plants and create privacy in your space.
As a word of caution, stay away from easy-to-kill outdoor plants if you don't intend to spend much time caring for your greenery. 
Don't shy off from stylish patio furniture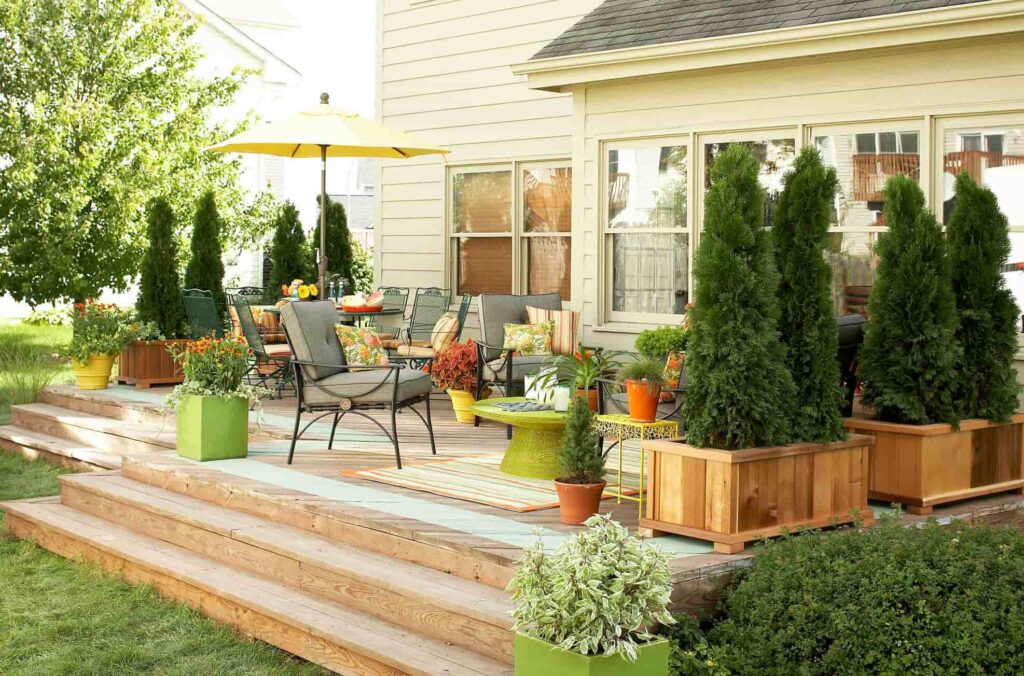 source: meredithcorp.io
Whether it's a wheel-out bar cart, a cozy dining table, a unique fire pit, or just an art collection, stylish and unique pieces of outdoor furniture will keep things interesting. Use the stylish pieces to compliment your main furniture, surrounding, and your taste to bring complete beauty. Do not shy from showing your personality in your stylish collection. Add any pieces that fit in perfectly for small spaces; think of vases, trays to sit drinks, and snacks for your outdoor tables. Look for unique pieces that feel right and complete the look.
These pieces don't necessarily have to be expensive, but you have to think outside the box when positioning them. Use home accessories and pieces to create ideal fits that are perfect for your space.
Besides, choose multifunctional pieces that can pull double duty; for example, you can use a jute pouf both as a side table or as extra sitting when needed. Be creative in what pieces can perfect your spot.
Make statements with clever lighting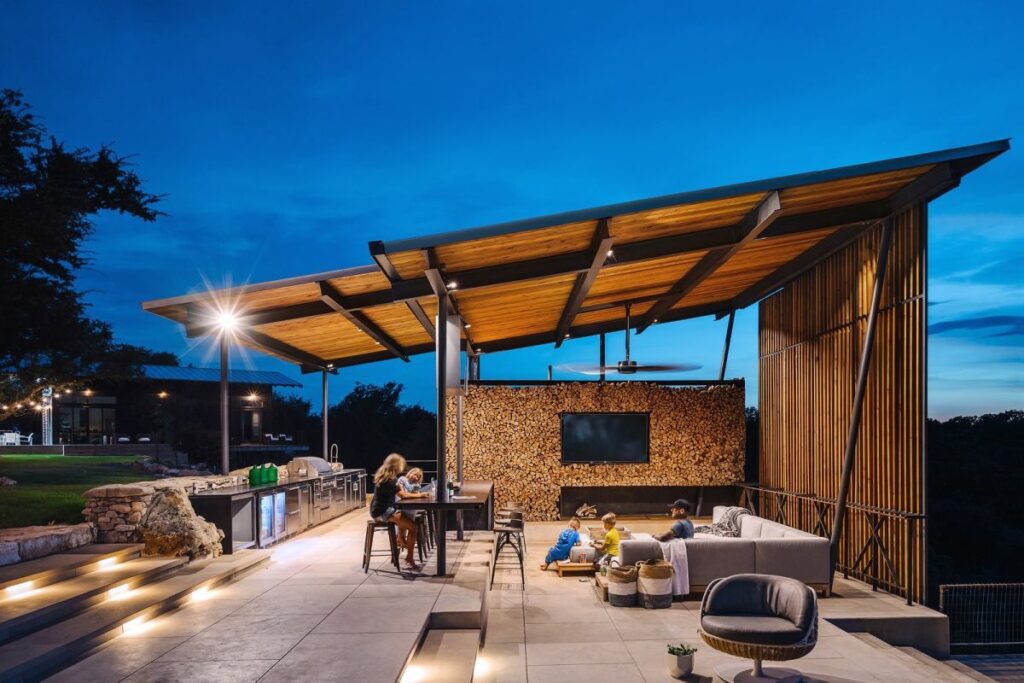 source: homedit.com
Don't let your outdoor fun with friends stop once the sun goes down because your patio has no lighting. And no, putting a wall or string light and calling it a day will not cut. To create a welcoming ambiance, you need to choose the right lighting that completes your décor.
Decorative lighting is the jewelry of your patio. It speaks of your taste and preference without you uttering a word. Creative lighting illuminates your patio with a welcoming feel. But achieving perfect lighting may not come easy.
Here's what to consider in choosing lights for your patio:
Entertainment spaces
– Dining tables – look for outdoor pendants
–  Outdoor sitting areas – go for table and floor lamps
–  Ambient lighting – opt for the overhead lighting
–  Covered spaces – go for either flush mount ceiling fixture, recessed lighting, or outdoor pendants
–  If you're on a modest budget or a small patio, consider solar spotlights, string lights, or LED candles. Also, avoid a lot of lighting or too bright lights.
Safety spaces
–          If your patio is huge enough, illuminate potential hazards with ambient landscape lighting
–          Place step or deck lights on landscaping controls
–          Step lights, path lights, or bollards for easier moving around the patio
Spike color with your outdoor accessories
source: sndimg.com
The best tip when beginning to decorate your patio is to have a simple color palette and sticking with it for all furniture and accessories. With just a few colors to work with, you'll be able to pull a polished look for your space. The great thing is, most outdoor accessories come in a great variety in color. You can choose from beautifully curated products that match your color of choice.
If you have no color in mind, choose one piece of your outdoor accessory and stick to its color pallet. For instance, if you have a rag that you intend to use for your patio, look for accessories that match its (or the main) colors.
Here are a few tips to get you started with adding color to bring everything together
–          Bring a rug with pleasant colour and design
–          Paint your wall in an eye-catching colour
–          Use decorative tiles for your stairs, water features, and countertops
–          Incorporate flowering plants (use movable planters so you can move them to wherever suits them at any given time)
–          Add a touch of color to your décor pieces, such as stepping stones and art carvings
–          Add pots and containers with a shade of your pallet to creating a striking color variation
–          Go for colorful patio furniture for your spots, such as the sitting area; colorful patio cushions
Elevate and mark your patio with cushions and throw pillows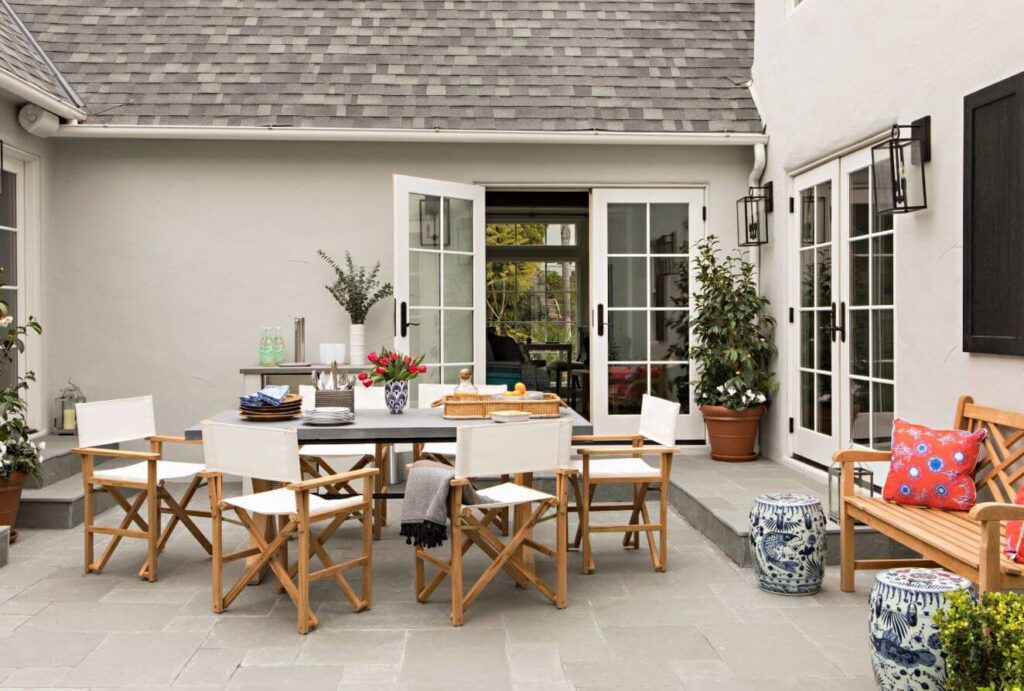 source: homedit.com
One thing that gives your patio space a finished look is the cushions. They help you create cozy-comfy seating on your patio and transform the space in a blink of an eye. No better part of the decorations will capture attention like the cushions.
So, if you're still using old worn-out cushions, it's time to trade them for ones that have an eye-catching pattern, color, and design. Everything else will not fit in place if your patio cushions aren't right.
When selecting your cushions, consider this;
Plush and vibrant cushions will make your patio stylish and homey. Unfortunately, not all outdoor cushion material will give you the same level of service. Most will wear out after a few summers due to exposure to sunlight and weather. The good thing is you can slow the tear process by getting cushions that are made to withstand extreme weather conditions.
Before making your purchase, consider if the outdoor cushions have these features:
–          UV protection – most regions have extremely high temperatures and lots of sunny days in summer. Your cushion needs to be made of material that protects you against harmful UV rays.
–          Water-resistant – during rainy and humid periods, most outdoor are susceptible to developing mold and mildew. Choose a cushion made to resist water.
–          The durability of the fill – consider how comfortable the fill of the cushion is and how it loses color when exposed to the sun.
The outdoor cushion material that matches all the above features is Sunbrella. Sunbrella cushions have proven to provide up to 98% UV protection, are water-resistant, and are made of durable fade-resistant. Outdoor cushion covers made of Sunbrella fabrics are extremely low maintenance and easy to wash.
When shopping for outdoor cushions and throw pillows, Sunbrella cushions and throw pillows should definitely be your choice. To get you started, browse some of your favorite Sunbrella cushion décor designs here.
Sunbrella cushions will instantly add interest and texture to your space. Fit them in your desired pattern, color scheme, and style, and you'll have perfectly fitted seating for every chair or bench on your patio.