The way we style a dining area is one of those decisions that affects not only the interior of our house, but also our quality of life. A dining room should be visually appealing, but it should also be functional. The dining table is, undoubtedly, the most significant part of a dining interior. Decorating a dining room includes more than just selecting and placing the dining table on carpet.
A rug isn't only to hide plain floors. You may drape one over carpeting or use a particular one as a wall hanging to highlight or add visual impact. So how do you select the best carpet for dining room? Colors and designs are the main ingredients for purchasing. In addition, many considerations such as volume, shape, color scheme, and fabric must be considered in a dining room. A chic rug, for example, will make a significant difference in the overall ambiance.
You just need to keep a few things in mind when making this big decision. The carpet you pick should be large enough to cover the table and chairs, and it should match the rest of your dining room design. Here's everything you should know before you buy new carpet for your dining area.
Which is Better: Rug or Carpet ?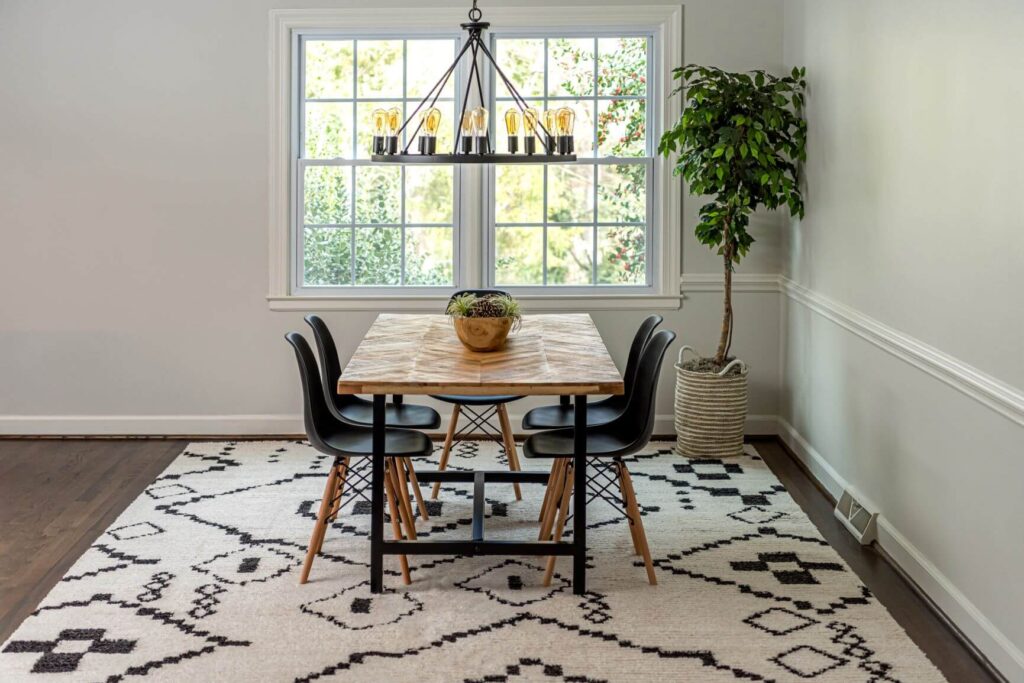 source: rugs.com
It is entirely up to you since they are exactly the same thing and do the same function. However, you can choose between a carpet and a rug based on where you want to put it. The main difference between a rug and a carpet is their size. Rugs are smaller and come in a variety of designs, styles, and measurements, while carpets are larger (the sides weigh more than 6 feet) and traditionally come in rectangles or squares.
In rooms where you want to add texture or drama, carpets can be a perfect option. Your lab, library, or apartment, for example. Since these places have little foot traffic, a carpet may be a good option. Furthermore, a thick mohair or wool carpet feels wonderful underfoot and instantly elevates the look of your room. A rug (preferably with a short pile, which means shorter fibres) would be more appropriate for the living room, kitchen, bathroom, and dining area, since these areas see more traffic. You'll be able to shift the rug more easily and wash it as well!
Rug Size Matter? 
Yes, size matters when buying any rug or Carpet, Hence it matters much more when buying a dining room rug. For the right dining room rug size, follow the size guidelines given below.
The dining room rug should be big enough to hold the dining table and chairs. There should be enough space so that as chairs are taken away from the table, their back legs remain on it.
Before you go out and purchase new rugs, mark the area you want it to fill with tape. This way, you can double-check all of your furniture suits before your rug arrives.
To avoid looking cramped, keep rugs at least 4″ away from all walls.
If you're confused, buy the largest rug that will match in your space without blocking any floor vents.
Choose a rug size that covers the front legs of a sideboard, china cabinet, freestanding counter, or some other piece of furniture in the room other than the table and chairs. Never place just the front legs of a piece of furniture on the rug because this breaks off the balance. If you can't avoid it, prop up the back legs with rubber or wood shims.
Which Rug Shapes Are Best?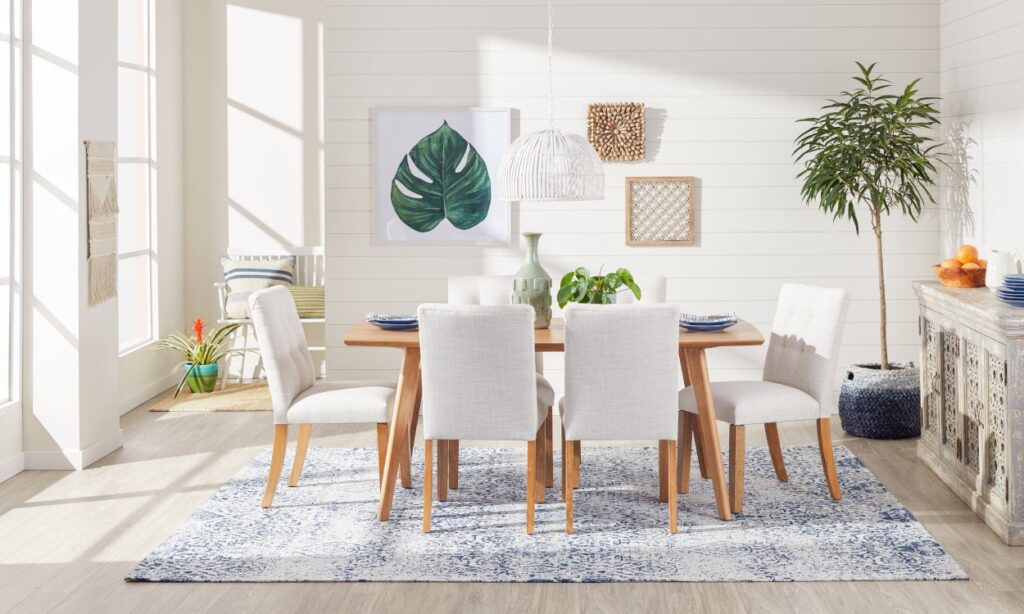 source: overstock.com
Select a rug shape that will complement your dining room furniture. Rectangles are the most popular shape for dining room rugs, but any shape will work. It becomes more attractive if the rug matches the table's style. A long, narrow table, for example, appears better on a narrow rectangle, and a circular or oval rug, highlights the shape of a round or oval table.
But what if you like to mix it up? You can definitely pair opposite shapes together. Combine a circular rug and a rectangular table, or a rectangular rug and a circular table. It all comes down to correctly measuring the rug to create a seamless flow with your accessories and the lines of your furniture. 
Which Rug Material Should I Choose?
Consider the fact that your dining room rug would be sat on by bulky furniture. Chairs are moved and taken out. Accidents of food can happen, and even though there are no big spills, there will be crumbs. The rug's durability is dependent on the material you pick. Apparently, the budget can also play a role in material selection. You can choose eco-friendly rugs which are often hypoallergenic and are good at repelling dirt compared to some rugs made of synthetic materials.
A dining rug is going to see a lot of foot traffic, so a rug material that cleans up well and can handle harsh use earns points on the balance sheet. If you choose natural materials, keep in mind that silk or cotton rugs are unlikely to survive this kind of violence. Wool is a decent option, but it is also a costly fabric.
How To Pick the Right Color & Pattern?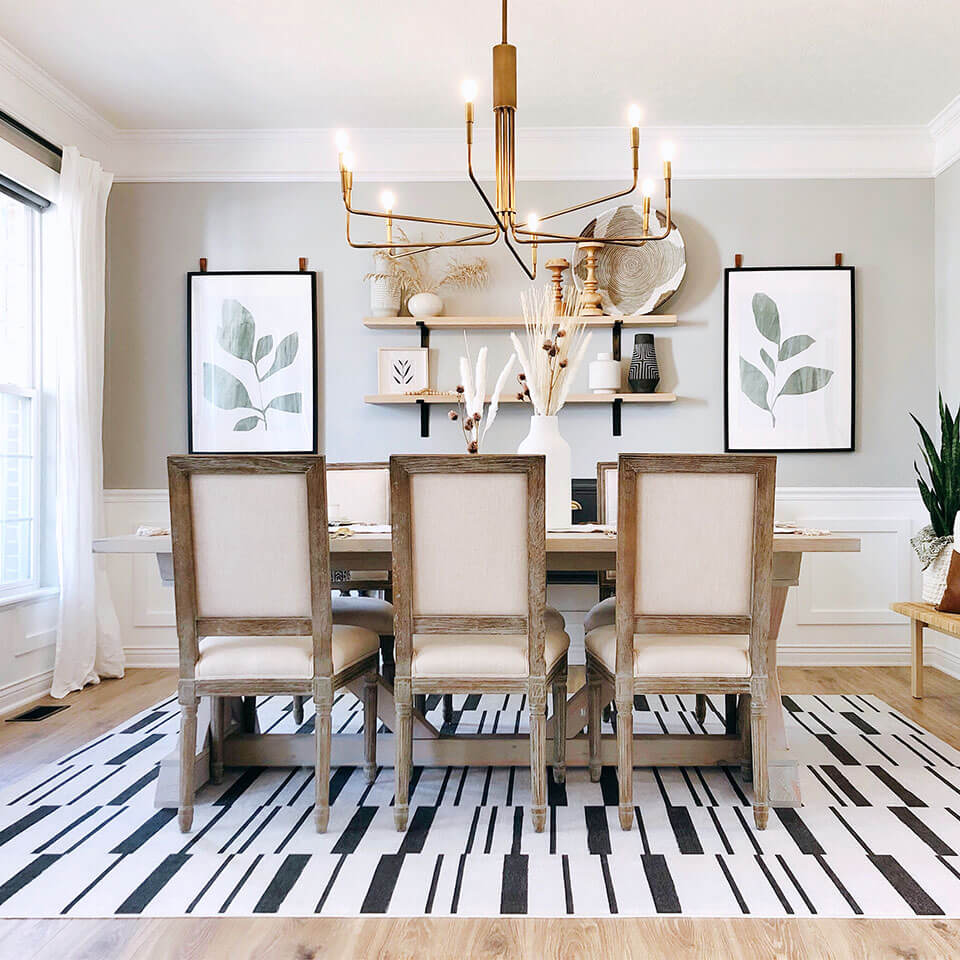 source: ruggable.com
Choosing a color or pattern is an important task. Those two things draw attention and charm to your dining room. The color of your rug will serve as inspiration for your room's color scheme, as well as a way to connect colors together. Decide if you want to use the color of your dining room rug: as a decoration, to add suspense, to add comfort, or to calm the mood.
Multicolored and patterned rugs have the extra benefit of hiding spills.
Medallion prints are common in dining rooms, but an all-over pattern is more appealing. The medallions are always covered under the table.
Stripes are a common design feature that can make a space appear wider.
Choose a style that complements the furniture's era. Traditional furniture looks best with a Persian or Oriental rug, while mid-century modern pieces look best with a plain-colored rug with interesting texture or a striped and abstract pattern.
What Are The Advantages Of A Rug?
There's been some discussion over whether dining room rugs are a distant memory, thanks to the rise of urban commercial and suburban farmhouse designs.
Dining room rugs, in our opinion, are a timeless décor piece that will never go out of style.
If you're still not convinced, remember this: rugs provide a lot more than just aesthetic value.
Rugs absorb vibration, protect floors from scuffing feet and sliding chairs, and help to warm up a room. For crowded, entertainment-focused rooms like the dining room, they're a blessing.
Note: Don't Forget Rug Pad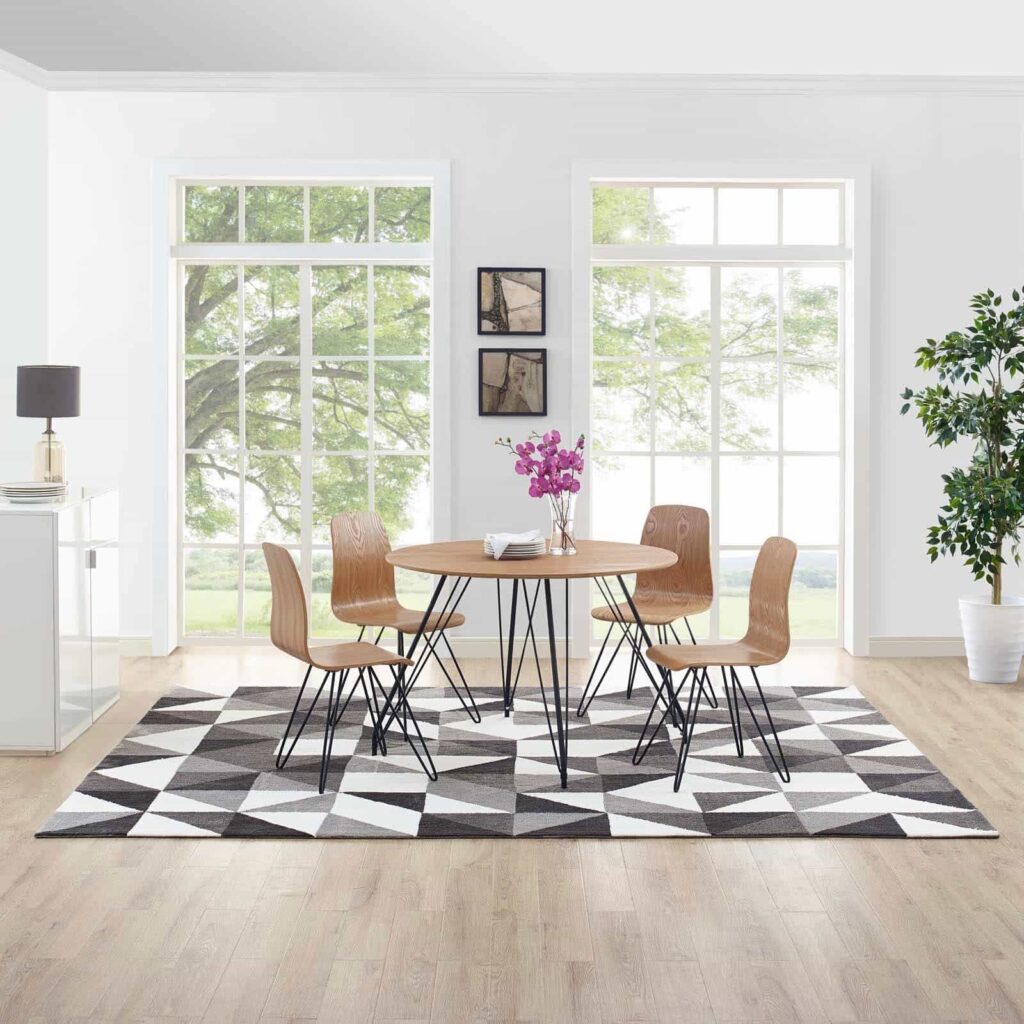 source: modway.com
Rug pads are necessary in any room, but they are particularly useful in dining rooms, in our opinion.
Dining room rugs are prone to slipping, wrinkling, and buckling as a result of all the moving and sliding chairs. This not only looks horrible, but it can also be a major tripping threat in a room prone to spills and messes.
A nice, rubber-backed rug pad can effectively lock the rug in place, avoiding these issues. Pads have the added advantage of supplying extra padding and facilitating ventilation through the rug, making it easy to clean and keep smelling fresh.