During the holiday season, the dining room is often converted into a social hub for intimate get-togethers and huge parties. This is where friends and family gather to share meals, drink together, and catch up with everyone's lives. This is one of the reasons why you should prioritize decorating your dining room to set the right tone and ambiance during the holiday season. 
Turning your dining room into a festive area is easy. This process will not require you to spend thousands or make drastic adjustments to your schedule. As long as you're willing to put in a little hard work and think out of the box, you can transform your dining room in no time!  
Here's how you can create a festive dining room in time for this year's holiday season:
Showcase Decorated Branches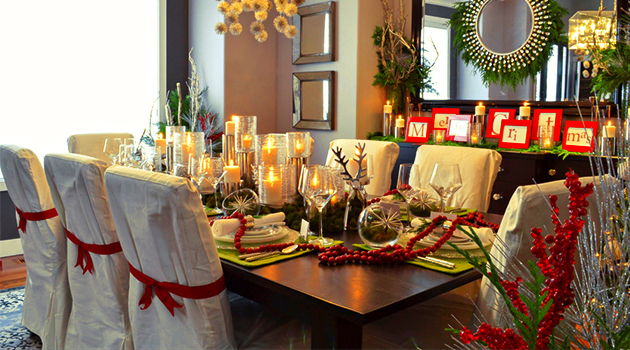 source: pinterest.com
Placing centerpieces in the middle of dining tables is a common practice. And while there's nothing wrong with this custom, it's always better to try out something new, especially if you're expecting some guests over.  
Instead of placing centerpieces on your dining table, why not hang them? You can decorate branches with fairy lights, faux fur, and other Christmas ornaments and then hang them above your dining table. This centerpiece will breathe brand new life into your dining room!
Create A Winter Wonderland
For years, the color white has been associated with the holiday season because of the winter snow. This is often what motivates people to decorate their homes with white ornaments during Christmas.  
You can also use winter wonderland as a theme for decorating your dining room during this holiday season. You can start by wrapping your dining tables in white cloth and adding white flowers as a centerpiece. You can also play around with tall and low candle holders to add drama. 
If you want to take it up a notch, decorate the chairs with white-colored pillows and hang wreaths at the back. Don't forget to add white napkins with your guests' names, so everyone will know where to sit.  
Introduce Festive Greenery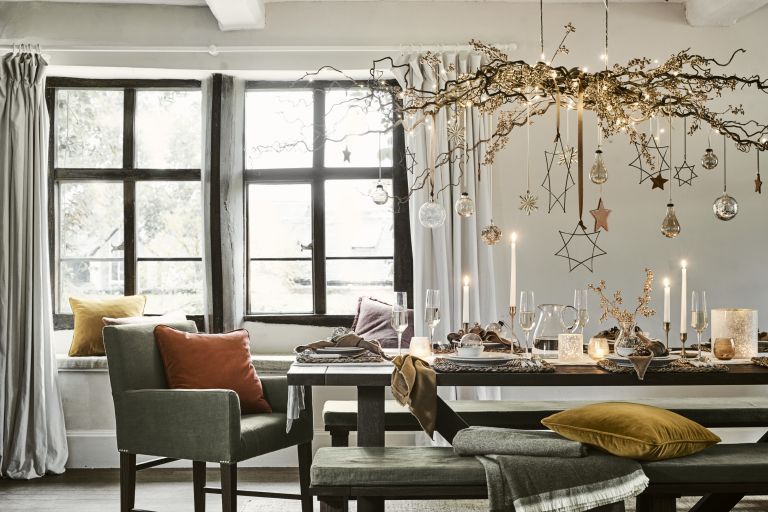 source: pinterest.com
You'll have several themes to choose from when decorating your dining room for the upcoming holiday season. Aside from white, you can also introduce plenty of festive greenery in your dining room. 
If your budget allows it, shop dining chairs in green. They create a soft texture in the room and ensure the comfort of your guests. You can also invest in dining chairs made from velvet or metal or chairs with green accents.  
As for your dining table, arrange several sprigs of fresh flowers and evergreen foliage. Place them in small bottles and line them in the middle. Adding white candles and delicate glassware to your dining table will complete the look.  
Hang Paper Decorations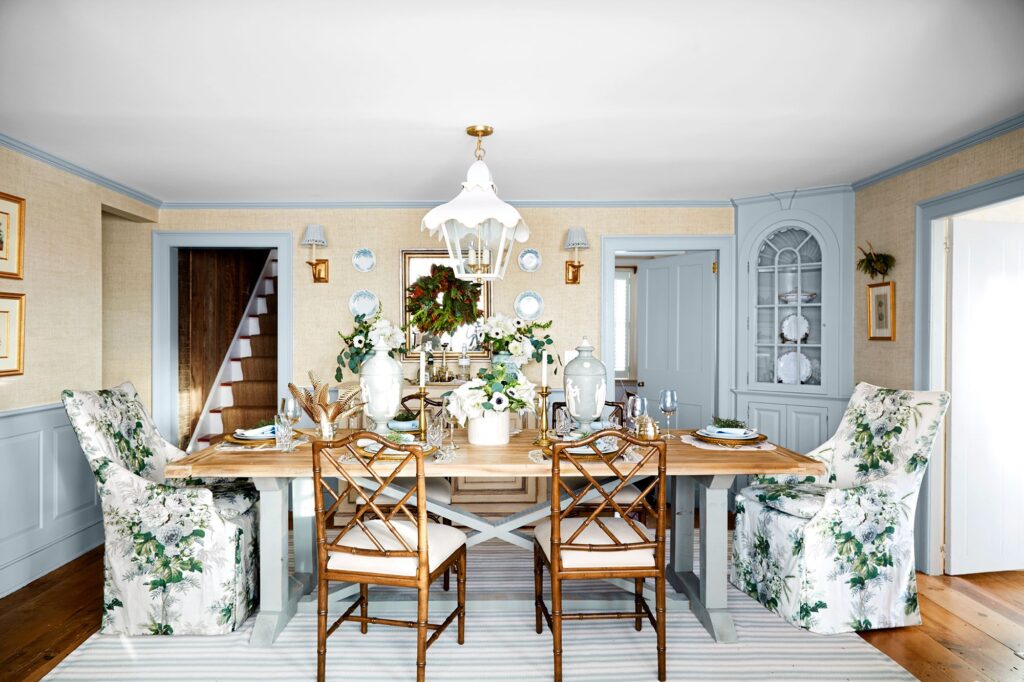 source: hearstapps.com
As mentioned, creating a festive dining room will not cause a hole in your pocket. You can still change the look and feel of your dining room regardless of how limited your budget is.  
Here's a budget-friendly decorating hack—make paper decorations from scratch and hang them above your dining table. The internet can provide countless articles and video tutorials on how to craft stars, bells, and honeycombs from paper and a few adhesives.  
DIY crafts aren't only budget-friendly—these are also very versatile as you can customize them based on the theme you're going for. Planning to change your dining room into a winter wonderland? Make decorations using white paper. Do you want decorations that will match your festive greeneries? Use green paper in your projects.
Enhance Your Lights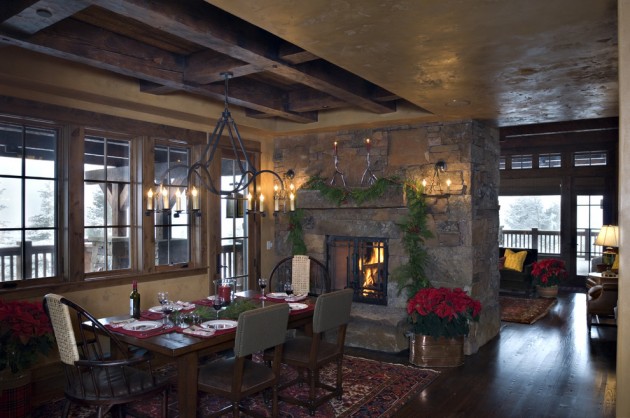 source: architectureartdesigns.com
Lighting fixtures can illuminate rooms, but do you know that these can also impact the ambiance of the room and the mood of people inside it? Since lighting fixtures are often placed in the middle of the room, it's important to decorate them, as well.  
There are many ways to revamp your lights in time for the holidays. For one, you can tie some foliage to create a rustic look in your dining room. Hanging fresh greenery and some twigs, along with glittery twines and bubbles, will make your lights very festive. 
You can also go all out by bundling several flowers, dried grass, and foliage together and then using them as decors to your pendant lights. This will make the lights in your dining room look like a holiday bouquet!  
Don't Do Too Many Projects At Once
Since the holiday season is one of the busiest times of the year, don't overwhelm yourself with the projects mentioned here. Focus on completing one project at a time rather than attempting several things at once. The former is easier as it allows you to decorate your dining room while still having the time and energy to organize parties, invite friends, and cook meals!