Ground Protection Mats make your next job feel like a breeze. For instance, these HDPE Mats help safeguard your garden from heavy foot traffic at an outdoor festival. They're even great at establishing a stable walk surface at a construction worksite. Clearly, these heavy-duty mats can be used in various ways and across a wide range of jobs. Honestly, you can't go wrong with Ground Protection Mats. In this blog, we'll discuss how these heavy-duty mats can make you work smarter, not harder.  
What You Should Know About Ground Protection Mats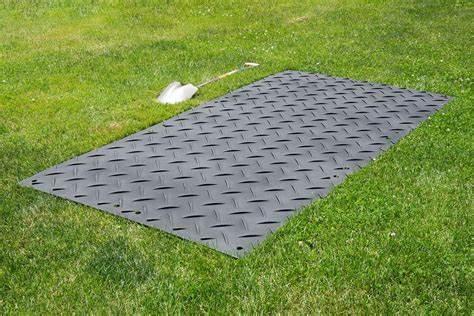 source: pinterest.com
The greatest advantage to using a Ground Protection Mat is that they're very versatile. No matter what industry you work in, you can use these heavy-duty mats on almost any job. 
Ground Protection Mats are made out of high-density material that prevent them from acquiring any damage from outside forces. Not to mention, their diamond tread pattern has an interlocking design that helps create a secure walkway. With their slip-resistant ability, you won't have to worry about falling on these mats. Even better, they can be easily deployed, repositioned and stored away. With features like these, it's no wonder these mats have become so popular in various industries. Let's take a look at some of the benefits of owning a Ground Protection Mats:

How They Can Used On The Job & At Home: As mentioned before, Ground Protection Mats come with a multitude of uses. They've even become popular in the industrial industry. On construction sites, they're often used to protect the ground from heavy machinery and equipment. The ground could suffer from soil compaction and erosion if left unprotected.  
Similarly, a Ground Protection Mat can be used for your own garden. If you're working on a new DIY home project, you can protect your flowerbed by using a heavy-duty mat. They can ensure your flowers remain unharmed from heavy foot-traffic. Some mats have even been known to promote lawn care. Ground Protection Mats for heavy equipment protect both your work area and Mother Nature.   
They Come In Different Sizes & Designs: Speaking of their versatility, these HDPE mats come in various sizes and designs. Typically, they can weigh anywhere from 40lbs to thousands of pounds, depending on what your job requires.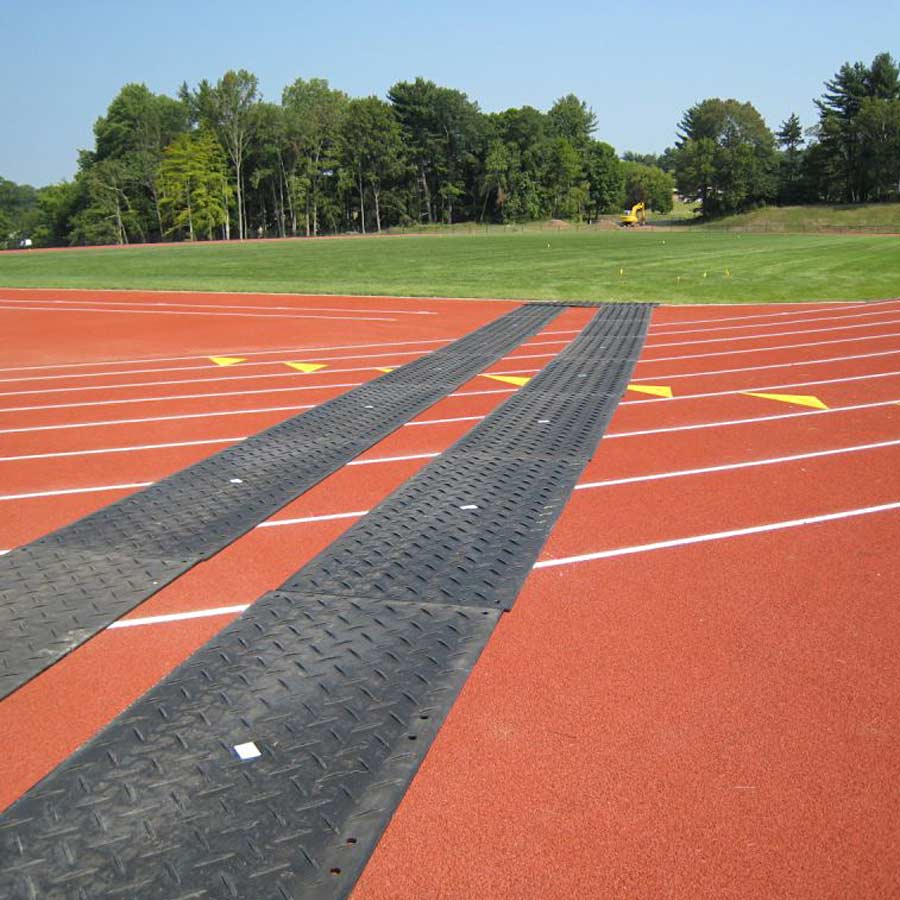 source: pinterest.com
Not to mention, they even have various load capacities that make them suitable for any job. They can either be Light Duty Mats or Ultra Heavy-Duty Mats. It all depends on what purpose they'll serve. If you're using them as temporary roadways, you'll need a Medium Duty Mat. 
They come in several different sizes as well, such as the 4×8 Ground Protection Mats. In particular, these mats are considered the most versatile and can be used anywhere, including at utility access roads. In the case of a Ground Protection Mat, the size and style does matter.   
What's It Made Out Of: These heavy-duty mats are made of durable materials that make them invincible against just about anything. Specifically, they're made from high-density polyethylene, which prevents them from sustaining any type of damage from unfavorable weather or road conditions. Additionally, these HDPE mats are strong and flexible enough to where they won't tear under pressure. Even better, the diamond tread pattern provides plenty of traction. You won't have to worry about you or your equipment sliding over the mats. At the end of the day, these Ground Protection Mats were made to withstand the weight of heavy equipment. 
Why You Need Ground Protection Mats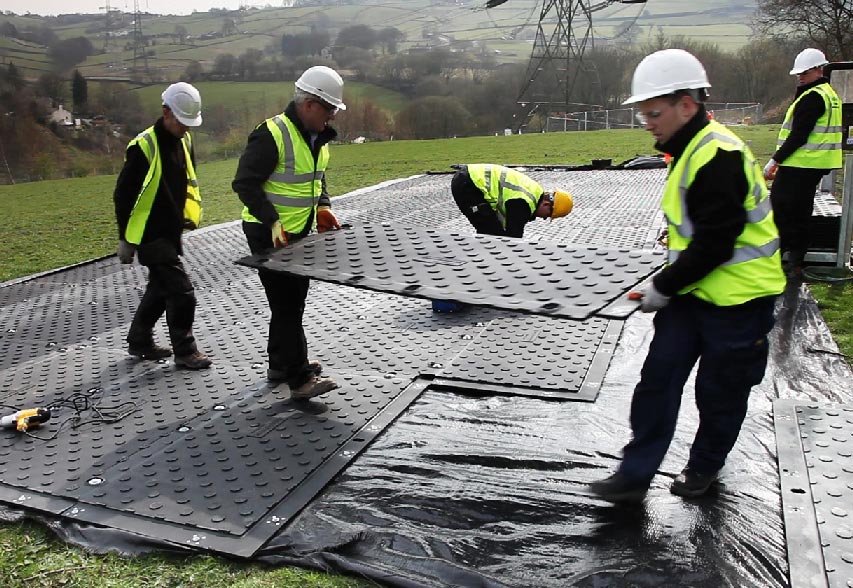 source: pinterest.com
Now that you understand the basics, you must also learn the importance of owning a Ground Protection Mat. They're a must-have for any job because they keep you, the ground and workspace safe. On a construction site, these HDPE mats prevent issues like damage to the landscape from happening on your watch. The use of accessories like Outrigger pads can add an extra layer of protection by preventing your equipment from sinking into the ground if you're working on weak soil. Additionally, Ground Protection Mats provide you a safe and secure walkway to allow you to carry your supplies back and forth from the work site.
In relation to outdoor events, these HDPE mats can withstand heavy foot traffic and prevent accidents from happening. Also, Ground Protection Mats can be used for parking situations when cars are stationed on the lawn for several days. These mats also help protect stage speakers from the dirt or muddy situations. These mats also feature connectors that interlock and help create a secure pathway. No matter what you need a Ground Protection Mat for, you'll always have an optimal level of protection. 
How Ground Protection Mats Can Make A Construction Site Safer
Speaking of Construction sites, these heavy-duty mats will make a construction worker's life less stressful. In greater detail, they're used to create a secure walkway for workers to carry supplies back and forth from the worksite. Even moreso, they allow your equipment and vehicles to travel along the surface without destroying the ground. Additionally, Ground Protection Mats are great at creating an even surface around portable potties, especially on rainy days. You won't have to worry about slipping and falling on your way to the restroom. 
In the end, these heavy-duty mats create a safe and secure way for workers to complete their work at a construction site. Even moreso, they save you tons of money on equipment repairs. The last thing anyone wants is for their equipment to get damaged or sink into the ground. All in all, Ground Protection Mats come with a guaranteed safety tag. 
Planning To Move? Use A Ground Protection Mat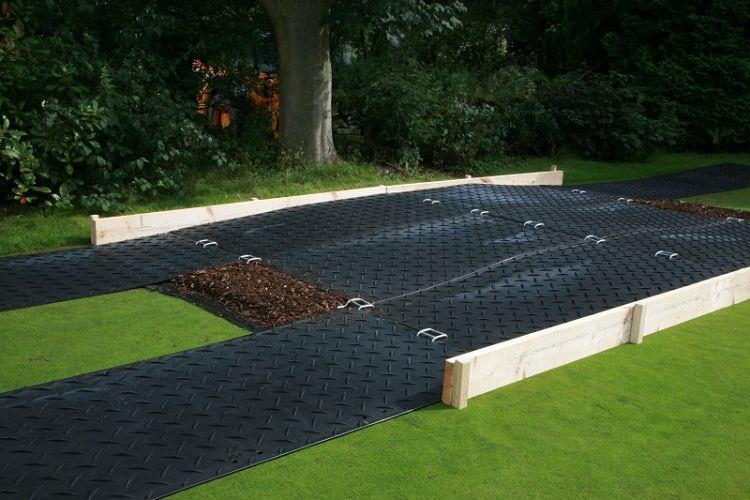 source: pinterest.com
It's true that these HDPE mats can be used in just about every job industry. While they're commonly found in the Construction and Industrial industry, they're also pretty popular in the Moving Industry. Similar to the other job fields, they safeguard the ground during the process of moving furniture and personal belongings. 
Specifically, these mats make moving easy in several ways. Ground Protection Mats can act as a protective barrier between the surface and your heavy machinery. Not to mention, they evenly distribute the weight of your moving materials over the ground to prevent soil compaction. Ground Protection Mats also make it possible for your moving truck to drive over a delicate lawn or an uneven driveway. Also, they can be reused multiple times making them cost-effective for movers. All you have to do is simply clean and store them away for the next big move. 
Lastly, Ground Protection Mats provide tons of great traction for movers and your moving truck, which leaves no room for accidents to happen. In the end, Ground Protection Mats help moving companies and DIY movers alike stay safe. 
How To Know Which Ground Protection Mat Is Right For Me?
There are Ground Protection Mats for sale everywhere, but choosing the right one for the job makes a big difference. You should take into consideration a few aspects, such as what purpose will it serve. Ground Protection Mats can be used for a variety of reasons, like promoting grass growth. Also, you should take into consideration the size of your lawn. How many mats will you need to cover your entire work area? Some mats work better than others for certain types of terrain. The number of times you use a HDPE mat can also help you determine which one is right for you. If you're constantly using a heavy-duty mat, you probably want to invest in a larger one or use multiple mats. 
Here at Mytee Products, our Ground Protection Mats are made at the highest quality possible, and will last for years to come. If you're searching for the right Ground Protection Mat, make sure you consider all the aspects of a job. More importantly, buy a mat from a reputable company like Mytee Products. 
Safety Is The Name Of The Game
There's plenty you can do with Ground Protection Mats. At the end of the day, you can't go wrong using these HDPE mats. Not only do they have the durability, strength and versatility to withstand any job, but they're also eco-friendly. They protect the ground during large construction projects and they provide a secure walkway for outdoor events. Not to mention, Ground Protection Mats come in handy during a big move. You won't have to worry about damaging your furniture or even your driveway. These HDPE mats make any job possible. More importantly, they keep you and your materials safe at all times.