"Home is where the heart is." A house becomes a home because of the people who live there, their feelings, and their closeness. Each home reflects the personalities of the people who live there. Who wouldn't want their home to feel a little more open, pleasant, and welcoming? While everyone wishes for a larger home, you can make the most of your current space by expanding the available space.
We have a mind-boggling collection of space-saving ideas for your home. They involve time-saving hacks as well as large-scale projects that will increase the value of your home and increase the quality of your daily routine.
You've come to the right place if organization has never been your strong suit. Our list contains suggestions for every room in the house or every wall. Take the home decoration ideas and run with them, or use them as inspiration for a project that you created entirely on your own.
Inspiring Home Decor Ideas To Begin! 
Cozy Reading Spot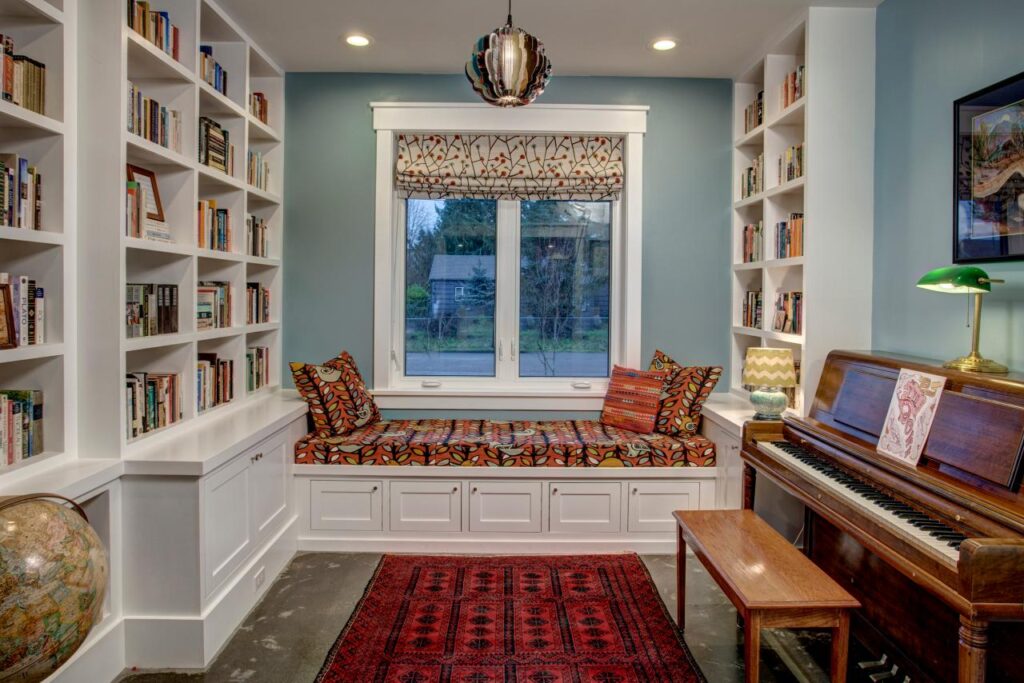 source: hgtv.com
There is no designated reading space? Not a problem. If you don't have any extra space in your home to convert into a reading corner, design your formal living room to double as a homey lounge area. Choose furniture with fabrics and shapes that are both sophisticated and cozy, ideal for entertaining or relaxing.
This home library is a beautiful futuristic take on traditional style, from the inky stained wood to the modern side chair and clean-lined ladder. To break up the monotony of a wall of books, attach decor accents and accessories such as vases and sculptures. Color-coordinate your books as an alternative. It will not only feel more organized, but it will also make vibrant colors stand out even more if you have a lot of them in your set.
This one is for everyone who desperately needs a work desk but "ain't got no space in that little place." Remove a drawer or cabinet to make this pull-out work desk fit in any room of the house. Pull it out as needed and you're good to go. There is no need for additional space.
Welcoming Entry-way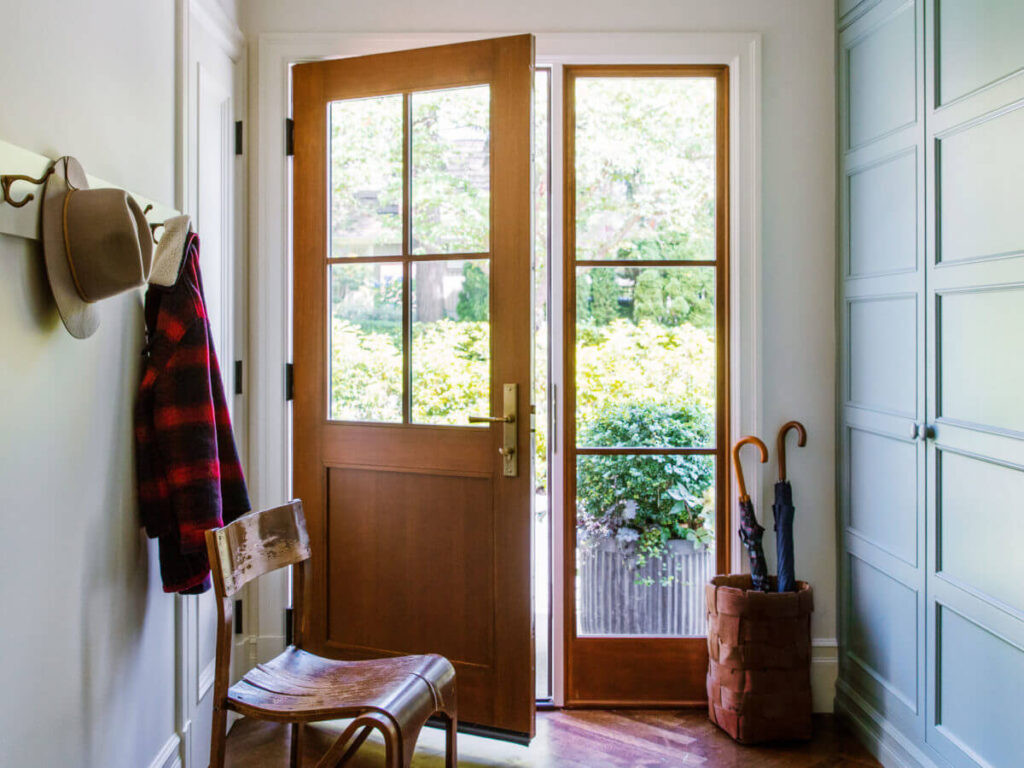 source: sunset.com
Introduce a small console table if you don't have a grand foyer, or if you do but it requires some Extra attention. Choose a traditional table and then hang contemporary abstract art above it for a formal yet modern look. Then, for a more relaxed take on the gallery wall, lean some portraits against it. 
If you need a lot of storage but don't have a lot of free space in your entryway, hall trees make good use of vertical space rather than taking up a lot of floor space. A hall tree is a great alternative to a bulky storage bench that makes it difficult to navigate a small space.
Handcraft Rugs 
Rugs are made to make a statement. Not only does each rug have a positive social effect on the weavers who meticulously create each piece, but it also has a design impact on your space due to its distinct style. Rugs give a room personality and dimension. When we first get out of bed in the morning, nothing feels cozier than a fluffy rug under our feet.
To customize any of Rug Artisan's designs—or make your own—select a scale, shape, form (hand-knotted, hand-tufted, flatweave, or outdoor), material, and color. The cost is calculated per square foot. 
Nature's Inspiration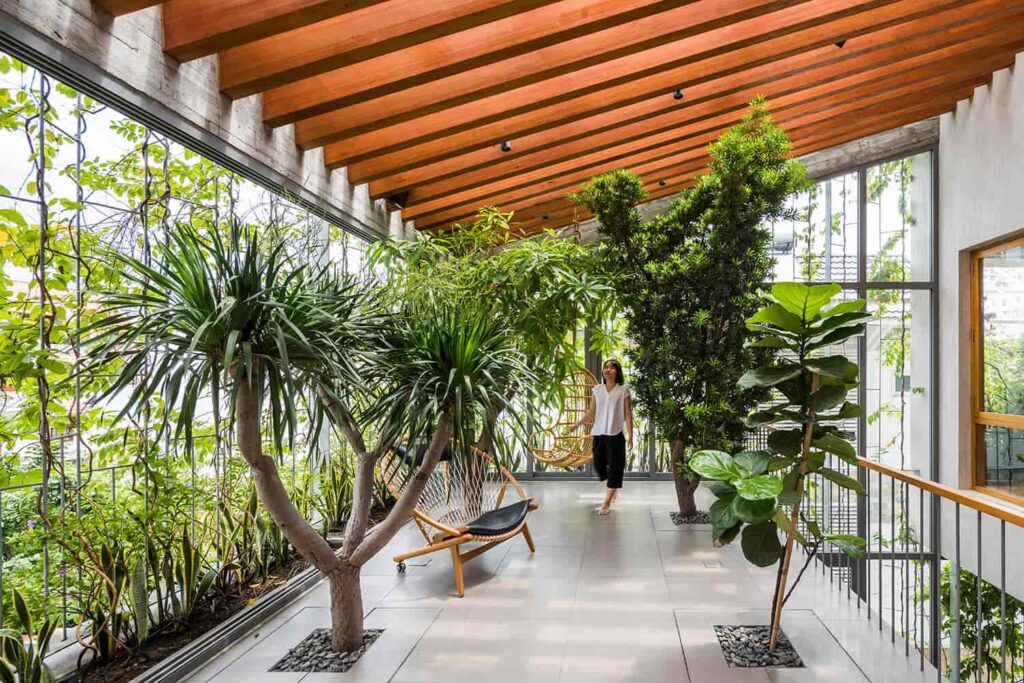 source: adsttc.com
Don't forget about Any Room! Yes, in the process of beautifying your home, you must concentrate on the word "HOME," which includes all of the rooms. You can't just focus on the living room, bedroom, and kitchen while ignoring the bathrooms and renovating them to match the Nature Inspired Decor Ideas
This room has a lot of texture, which adds warmth and dimension. Even though it uses a limited color palette, it has a lot of personality. Get inspired by nature for a similarly inviting and grounded environment. Consider the following materials: seagrass, rattan, jute, wood, brushed concrete, and marble. 
Reunited-Furniture
Reuniting your furniture will instantly modernize an entire room. And if you enjoy contemporary decorating, take some tips from this stunning living room. The geometric mirror, vivid orange art, marble fireplace, rustic stool, and sculptural pottery are all unexpectedly complemented by the soft texture of the blush pink chairs in this room.
Just Cleanup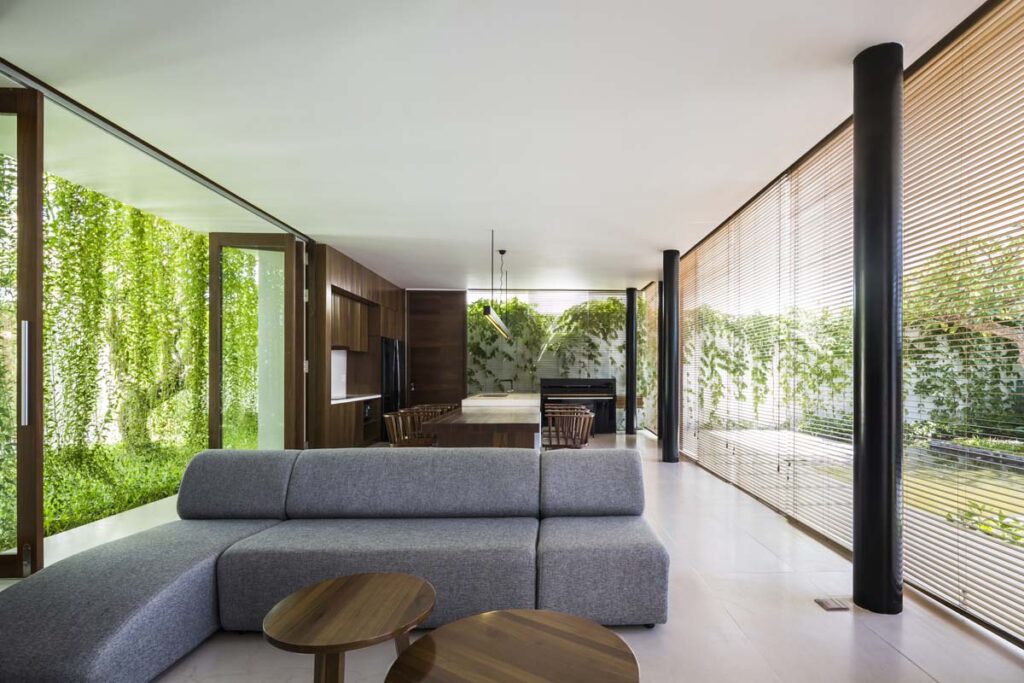 source: home-designing.com
This is probably not what you want to hear because we don't consider cleaning up to be fun, but adding a few pieces that help with organization can make a big difference. Installing coat hooks or bringing in an elegant coat rack coat by the front door are both options. Then, under there, place a small folding chair to sit on while you remove your shoes. This will help to avoid the dreaded clothing pile.
Rugs & Patterns
This eclectic home is filled with antiques, whimsical fabrics, and daring decorating. It's also a layering masterclass. Why settle for one rug when you can have three? To add visual interest to your floor, layer rugs are available in a variety of colours, prints, and textures.
Replace Old-lights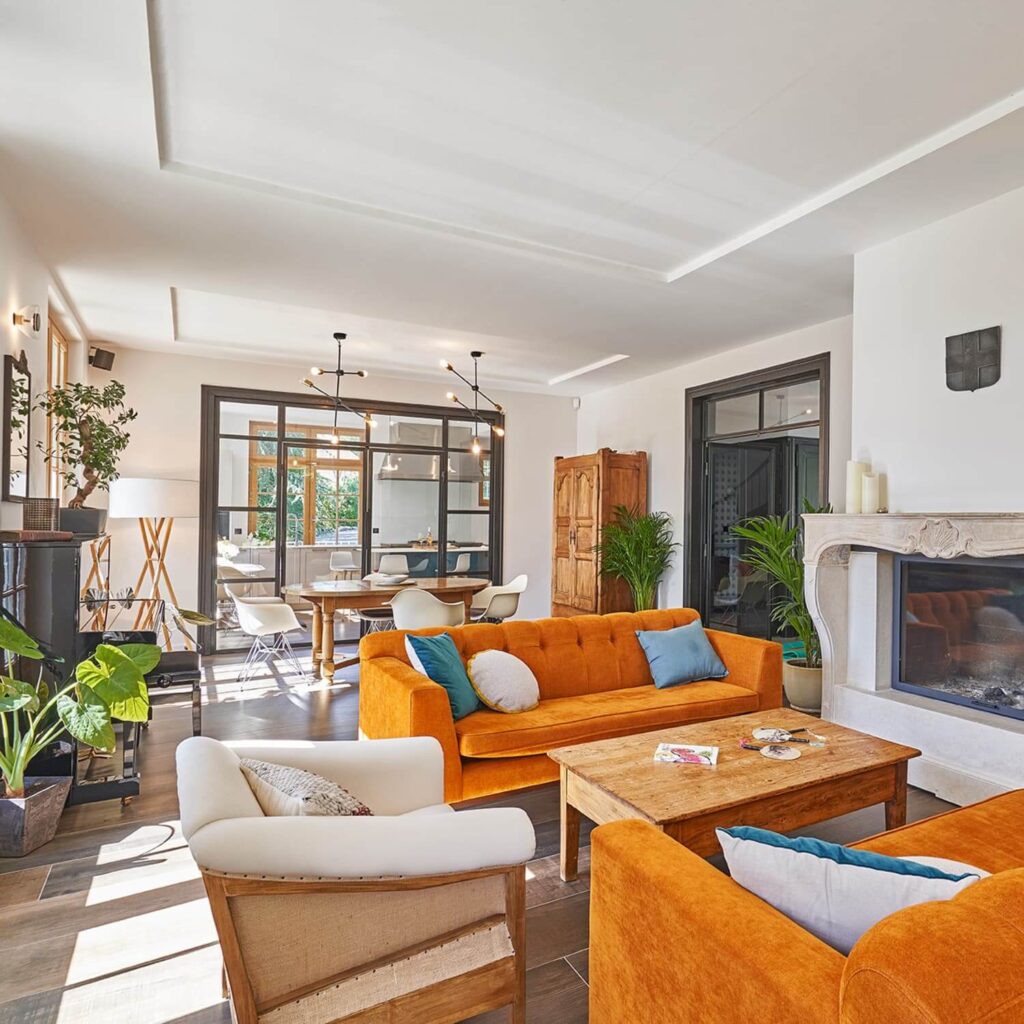 source: apartmenttherapy.info
A light fixture is one of the few things that can completely transform a space. How about this as an example? That brass pendant light is stunning. It has a far more polished and elegant feel to it than a table lamp, and it contrasts nicely with the more traditional elements in the room.
Thanks to the modern leather lounger and graphic rug, this little corner is elegant, fashionable, and perfectly attractive as is. The floor-to-ceiling lamp, on the other hand, is an architectural marvel that adds a lot of wow factor. For a similar effect, look for a floor lamp that also serves as artwork.