The big question is – are you capitalizing on its potential, or do you just use it for the occasional BBQ or sunbathing session?
To get more from your garden, consider adopting the indoor-outdoor living aesthetic. It'll help you to blend your interior with the great outdoors, with a focus on practicality, layout, and style.
If you'd like to incorporate some 'inside out' into your garden, here's how to do it.
Why turn your outdoor area 'inside-out'?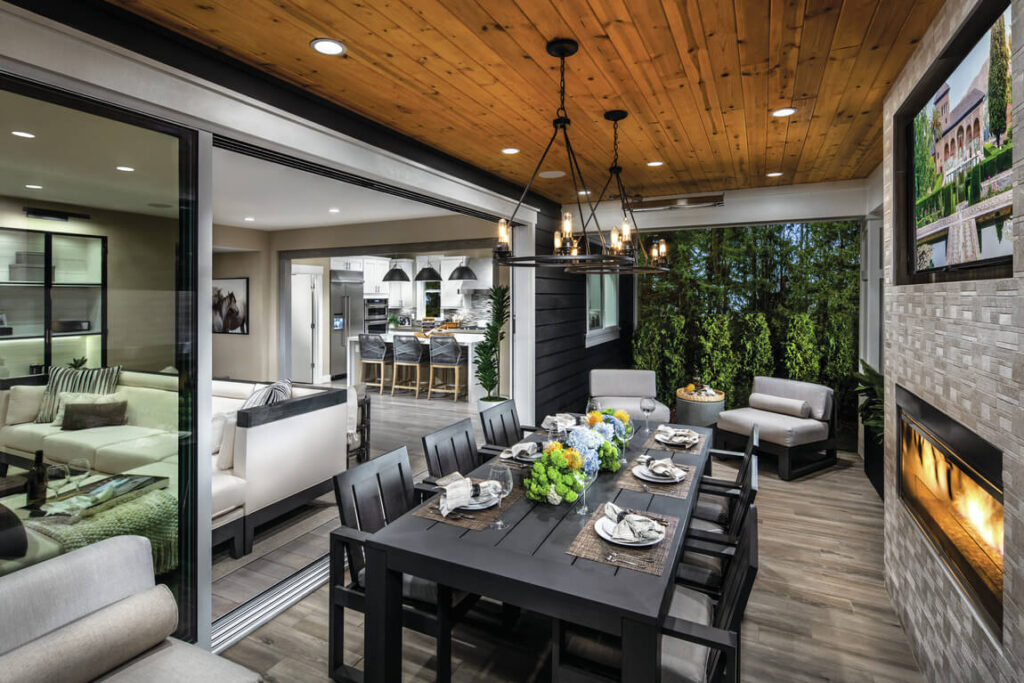 source: tollbrothers.com
Indoor-outdoor living creates a bridge between your home's interior and the natural beauty outside. Rather than seeing your garden as separate from your property, view it as another useable room – only without the usual walls and ceiling.
Through layout, furnishing, decor, and landscaping, you can create a garden that offers much more than before. Before starting, ask yourself the following:
What are your priorities? 
For example, do you regularly entertain guests? Do you need a dining area or a place where the kids can play? Identify what matters most to you.
What's your budget? 
If you're working to a budget, it's best to spend your money on the things that'll make the biggest difference, such as new paving, weather-proof furniture, or lighting.
How much room do you have?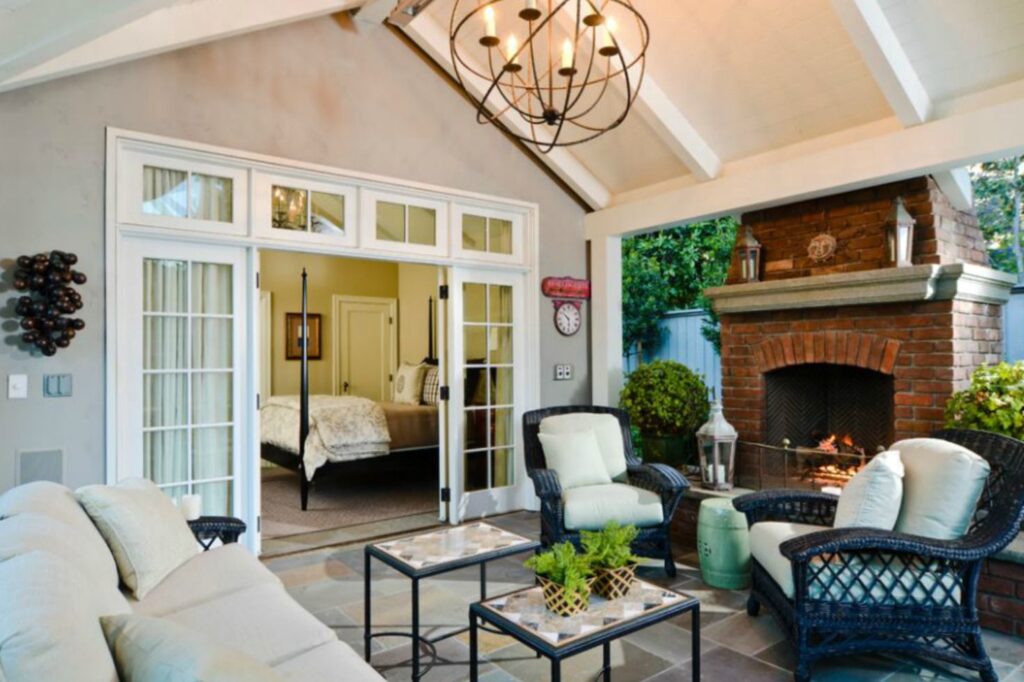 source: thespruce.com
You can turn the smallest garden into an amazing living space – but it's important to be realistic about what you have to work with. Before you get started, take measurements and sketch your ideas on paper.
9 ways to incorporate indoor-outdoor living into your garden
Create zones
Work out what you want from your outdoor space, then plan the layout accordingly. For example, decking or paving can be used to establish a dining area. Comfortable seating and a hard-wearing outdoor rug create a relaxed social zone, and a few carefully placed trees make a 'secret snug' – perfect for some private sunbathing.
Set the scene with lighting
source: hgtv.com
Lighting can be used to add ambiance to your indoor/outdoor space. A string of fairy-lights sets the scene for enjoying a drink with friends in the evening. Alternatively, add a touch of class with a chandelier hanging from a tree, or some solar-powered lanterns. Remember to stay safe, and check that the lights are suitable for outdoor use.
Add sofas and chairs
Some people believe that garden furniture must be either wood or metal to be weatherproof. Actually, there are plenty of weather-resistant cushioned furniture options, which can be left outside all year round. These Divano Lounge outdoor lounge sets create the illusion of a living area in your garden – simply add a coffee table or foot-rest to complete the look. 
Make a cooking area
On a summer's day, few things can compete with al-fresco dining. Rather than settling for a basic BBQ, make yourself an outdoor kitchen. As well as something to cook on, you'll need a counter to rest your plates, glasses, and cutlery, plus a storage cupboard for additional items, such as napkins, table-mats, jugs, and more. Remember to incorporate a light nearby, so you're not struggling to cook in the dark when the sun goes down.
Think about flow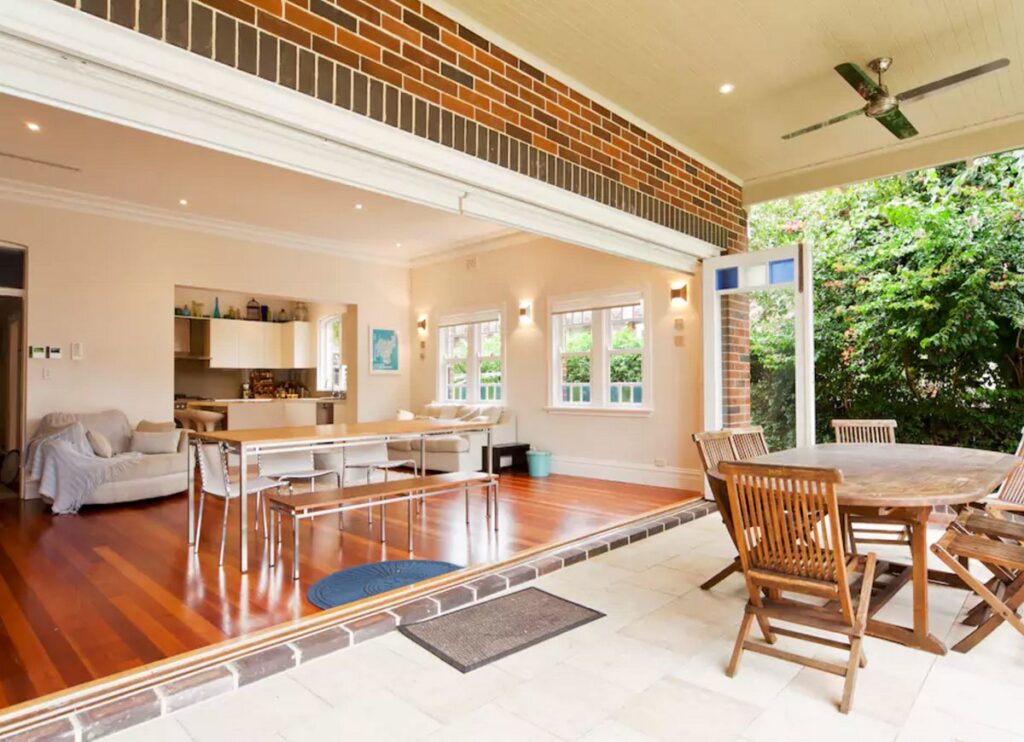 source: bobvila.com
The indoor-outdoor living aesthetic is all about blending the outside with your interior. As such, consider how you can bring the two together. For example, patio or bifold doors allow your inside space to flow seamlessly into your garden. A conservatory lets you enjoy the natural landscape outside, even when it's raining. Even adding some plants in the home gives a sense of the garden merging with your internal space.
Work in the garden
If you've got enough room outside, think about building a home office or summerhouse. This can be used as a place to work or to enjoy hobbies without interruption. Make sure you select a design that has plenty of windows, as this will enable you to fully appreciate your surroundings. A summerhouse with a porch also provides an outdoor area to sit and enjoy a coffee.
Grow edibles in the available space
Every outdoor space, regardless of how compact it is, can be used to grow fruit, vegetables, and herbs. These edible gardens not only add visual interest to your garden; they're also a welcome source of food for your family. 
A great idea is to create an herb garden close to the house, as the inviting scents will permeate your property. Climbing beans can be used to create natural shade, and strawberry plants are perfect for providing a snack for the children.
Consider texture and color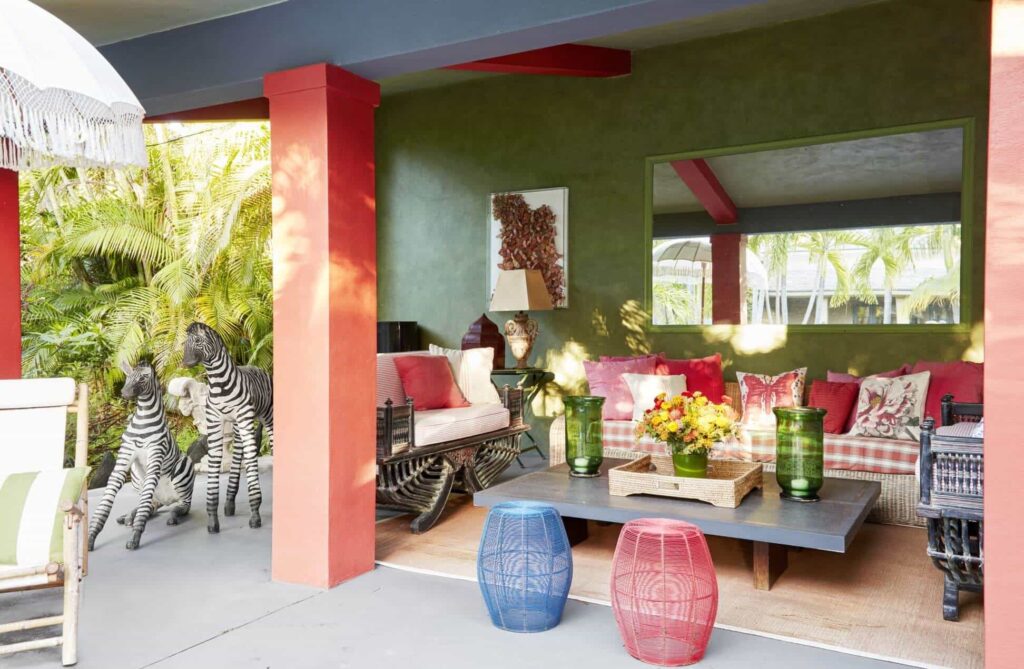 source: hearstapps.com
You've probably put a lot of thought into your internal decor – right down to the shade of paint on the walls, and the soft furnishings on your seating. Apply the same level of detail outside. Textural fabric cushions, throws, and rugs make your garden feel like a welcoming, homely space – and can be easily stored away when not in use.
Don't be afraid to add artwork on your fences and walls too, or trellises for climbing flowers. These little details make the outdoor space feel far more personal.
Extend the garden's use
Outdoor areas are often viewed as seasonal – as soon as it gets cold, people tend to retreat indoors. Maximize the amount of time you can use your garden by adding a fire pit or even a fireplace. Combined with some weather-resistant sofas and woolen throws, you can enjoy your new indoor-outdoor living style, even when the temperatures drop.