These days people believe in smart living. We do not live in big houses anymore. Instead, we choose to live in small apartments and flats. It is challenging to accommodate all your necessary stuff in the small apartment without making it look clumsy. This is where the smart furniture looks significant on the home improvement front. You can place them in the room, and you can accommodate thousands of other things in your room. Nothing will look clumsy when you use this smart furniture. You can customize them as per requirements. You can also buy them from online shops. These days, such smart furniture is really in demand. Here we present to you ten amazing pieces of bedroom furniture that you can use as a storage option. 
First setup: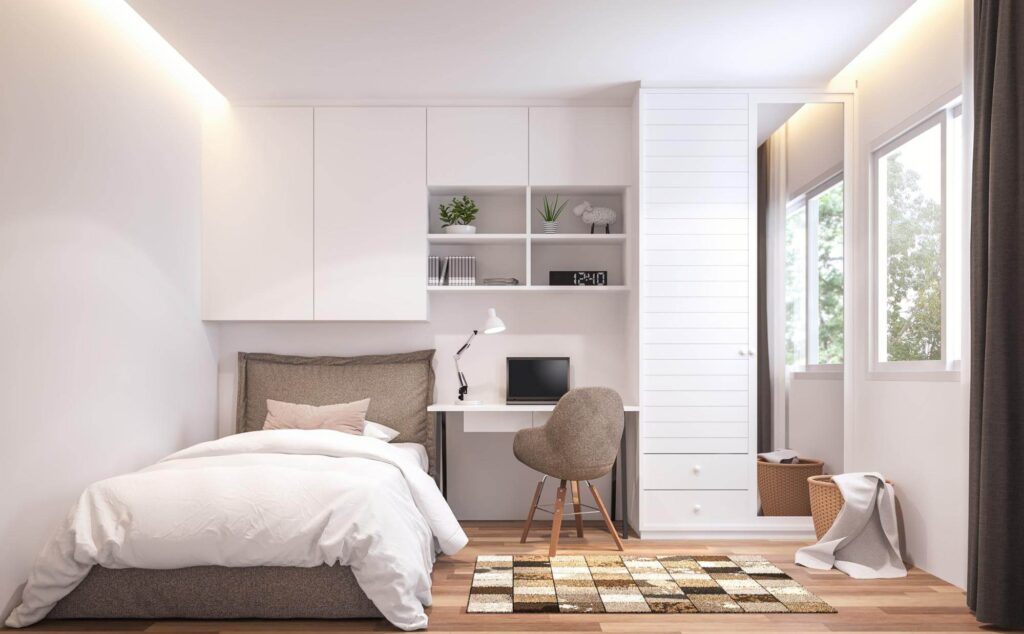 source: coasterfurniture.com
If you love to keep the vibe of your room wooden, this is the perfect home decor design for you. Convert your working setup into a wall-sized showcase too. You will get a convertible sofa in the middle of the design. On both sides of the sofa, you will get small cupboards where you can keep your trophies and other showpieces. You can keep all your files in other sections too. The side cupboards have six vertical sections. You can place all your necessary pieces here according to your requirements. You can cover these blocks with doors if you wish.  
Once you are home and you want to work, change the setup of your convertible sofa. A working table will pop up once you fix the sofa on the wall. On the bottom of the sofa, you can attach your laptop. Place your printers and files now on the working desk. You can take a stool and start working on your project. As the table is low, you can sit on the floor and work too! Once your job is done, you can keep these printers, files, sound boxes, and everything in the side cupboard blocks. The whole room will look tidy, and your purpose will get served wonderfully. 
Second setup: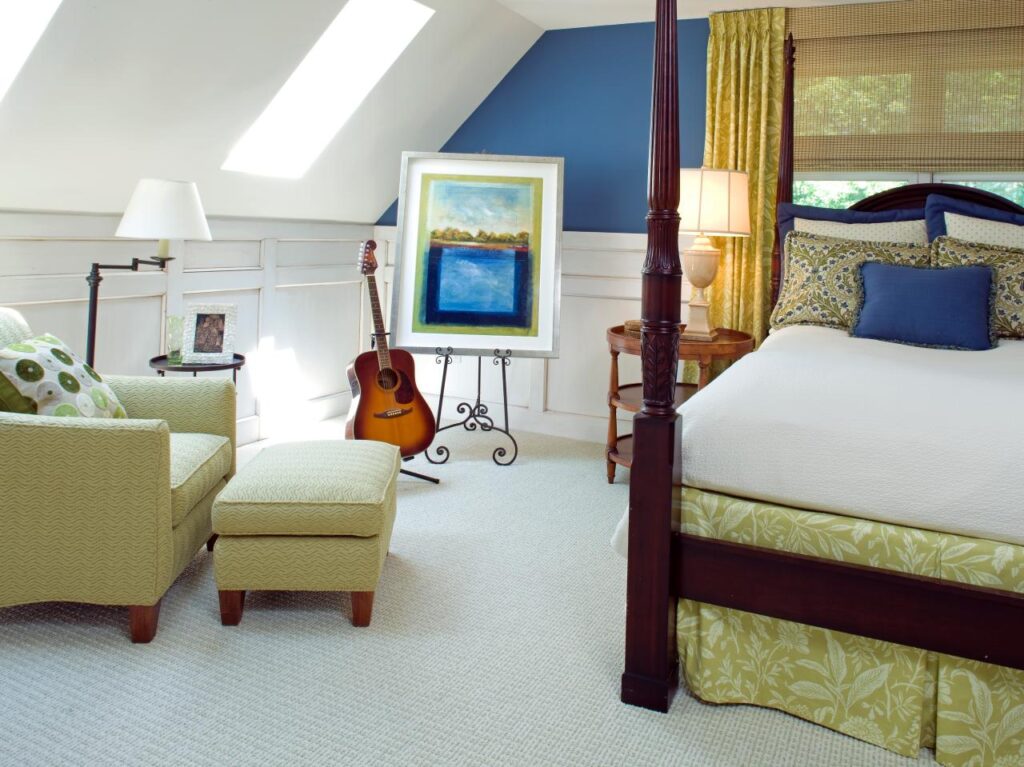 source: hgtv.com
Do you have two kids and want to make a multipurpose room for them? Then this vibe is perfect for the bedroom design. The color vibe is kept blue here. It will give the room a calmness which is required for studies. The room has two parts but does not require a lot of space. A small table and chairs should be there for the kids to study. The table will have a desktop facility for online classes. Small vertical storage will be there on one side. The table should have wheels so that you can move it when required without much effort. 
Now come to the most attractive part of the room; the bunk bed. Reach out to the upper bed with the help of stairs available on one side of the construction. The bunk bed has multiple blocks, and most of them have doors. Your children can keep their clothes, books, toys and every piece of necessary stuff there. Equal storage is provided for both the bed owners. Two lower horizontal blocks are given to keep all the shoes of the children. Side blocks can contain books and clothes. Top blocks are also easily accessible through chairs. 
Third setup: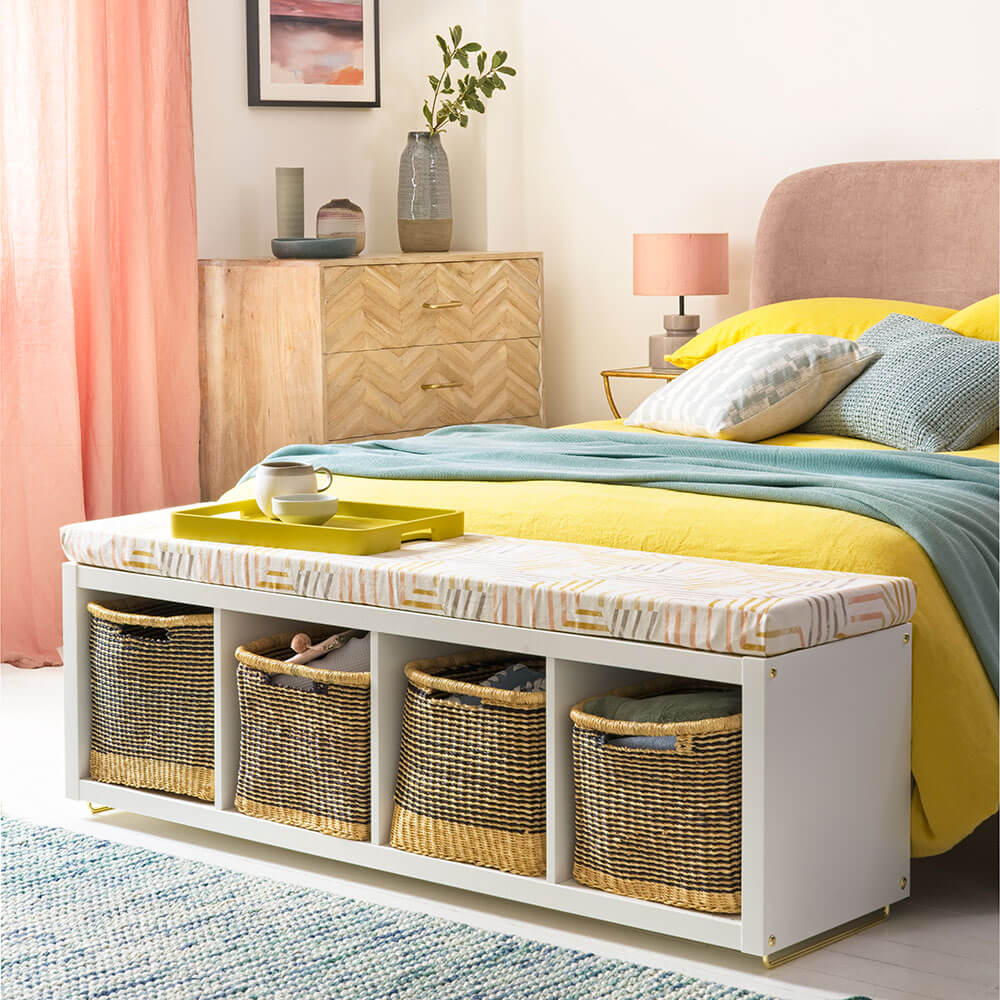 source: timeincuk.net
Here also, the vibe is wooden. But the color combination is black and red. This shows the bright and energetic side of the person living here. A wooden working table is available on one side of the room with a stylish chair beside it. The table has side drawers to keep all important stuff in it. Two racks are given on the upper side of the computer. You can keep your trophies on these racks. Two attached cupboards are placed beside this computer table. These are life-sized cupboards to keep all the important stuff in them. 
Now comes the most important part of the whole setup. A big-sized bed is available here for the person to sleep. Lots of side cupboards and spaces are available to keep books, files, and other stuff. You can place your electronic gadgets in these blocks too. Two life-size cupboards are given on one side of the bed, and you can keep your clothes in them. If it is not your sleep time and you want to give your friends a space to sit, convert your bed into a sofa. Once you mount the bed on the wall, a sofa will pop out beneath it. The sofa also has a red-colored cushion on it which goes perfectly with the room's vibe. 
Fourth setup: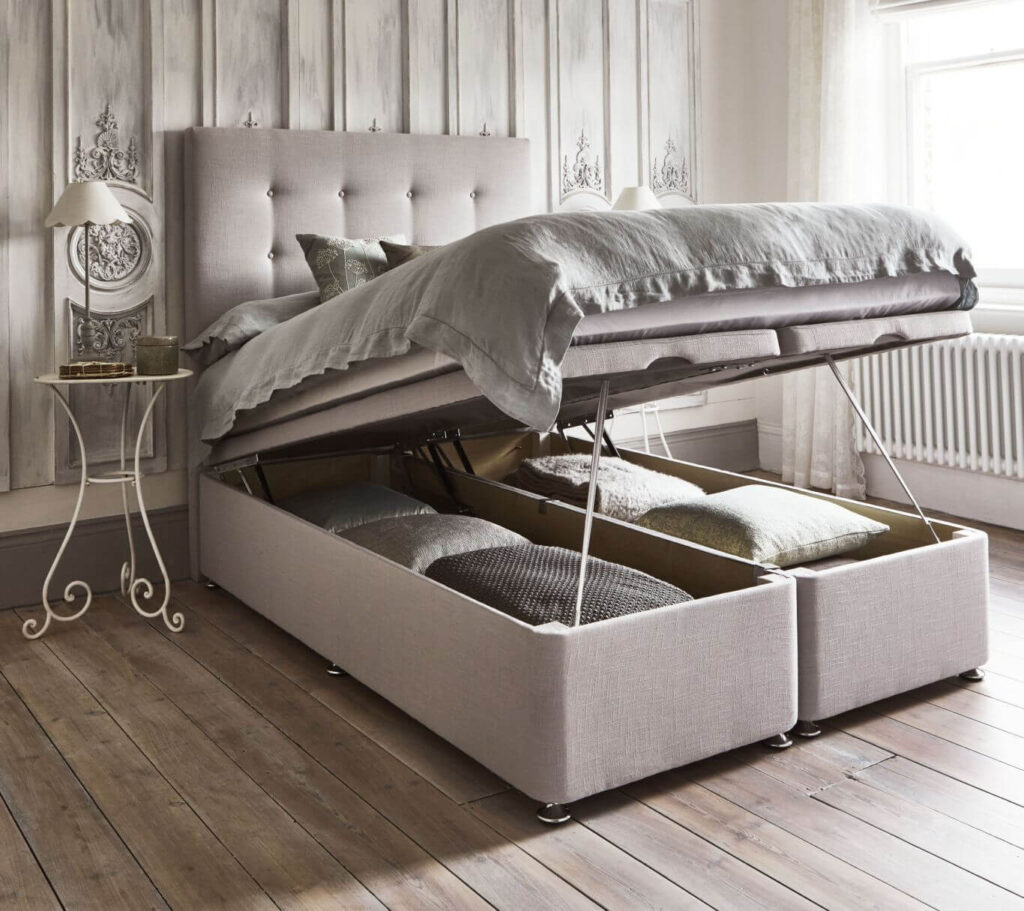 source: pinterest.com
Next stop, we again have a children's room here. The base color is white, which makes the room look very pretty. A bunk bed is there. The frame is made with wood, and a wooden staircase is also available on one side of the bed. You can add some colorful bedsheets to add some vibrant color to your room. Put some wall paintings and photo frames on the sidewall to make it an accent wall. A small cupboard is available where the children can put their currently reading books. On the side of the lower bed, a vertical rack is given. The children can put some books on it. They can hang their Shirt on the hooks available with the rack! 
A small table with two chairs is given at the center of the room for studying purposes. It adds more beauty to the bedroom decoration. A wall cabinet till the ceiling is given on one side of the room. It has some sections where the children can keep their books, toys, trophies, and other important stuff. Six drawers are also available with the wall cabinet. The children can put some of their essential stuff in these drawers too! 
Fifth setup: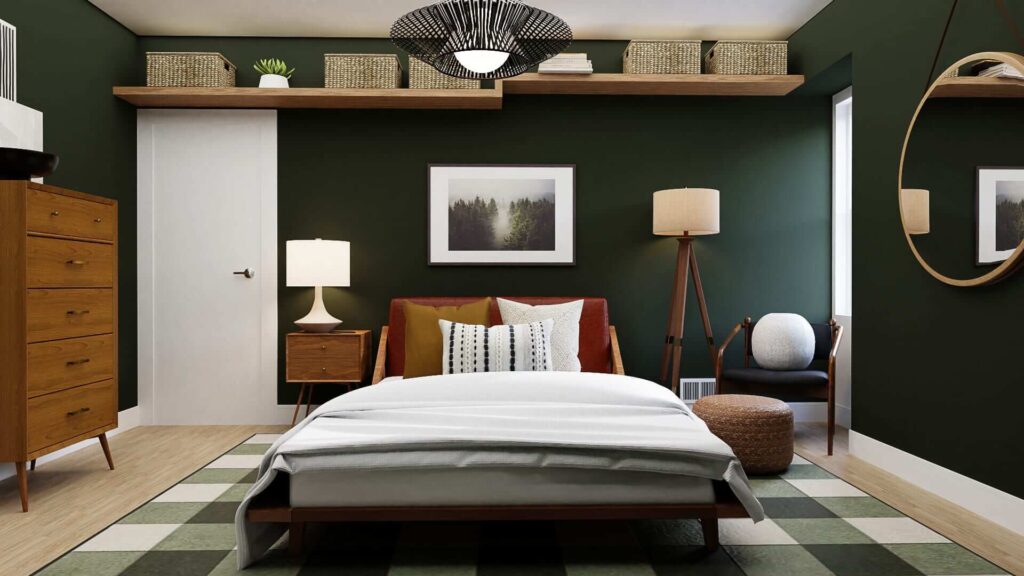 source: cloudinary.com
Red, Black, and White look amazing when blended properly. In the next space, these are the major base colors. The room looks elegant and, at the same time, can house a lot of products due to the amazing space management skills of the designer. You have a convertible bed here. The bed gets fitted inside the cupboard. There's a huge space kept available for the bed in the backside wall cabinet. Once the bed fits inside the wall cabinet, you will get a fluffy sofa to sit on. Add some beautiful cushions to the sofa, and the place will look very cozy. There's a beautiful animal skin print floor mat kept. 
Two walls have a huge black cabinet that looks elegant. Lots of cupboards and drawers are given with the cabinet. You can place your books and some handpicked showpieces on the cabinet blocks. Place your books on the cabinet racks. You can place your favorite pots as showpieces on the wall cabinet. If the color of the book and showpieces are red, and white; it will look good with the black background. 
Sixth setup: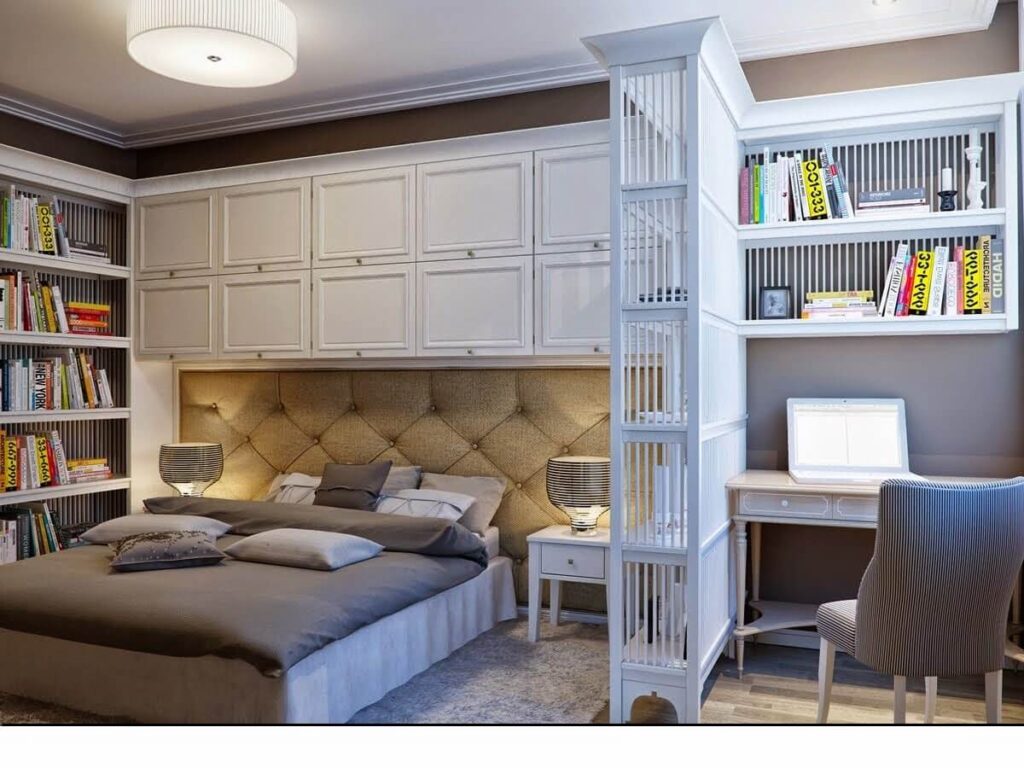 source: layjao.com
When you have a small house and a lot of stuff to keep, this kind of arrangement can be done. A series of zigzag patterned wall-mounted cabinets are placed here. One can easily distinguish the cabinet from the wall as the colors are totally different. A door to another room is also there in between these zigzag cabinets. Cabinets are also made on the upper side of the door. The color of the cabinets is kept white. It creates a lot of storage space and also looks good on your wall. If you do not have any pattern done on the wall, this can serve as an accent wall of your room. 
All the cabinets have drawers, and this will save the books and other belongings safe from getting dirty and damaged. It creates a lot of space to store books, clothes, and other belongings. These are durable and easily accessible through a chair and indoor ladders. The wall-mounted cabinets are placed the way the wall goes from one room to another. No space is wasted here, and the usage of space is immensely appreciable. 
Seventh setup: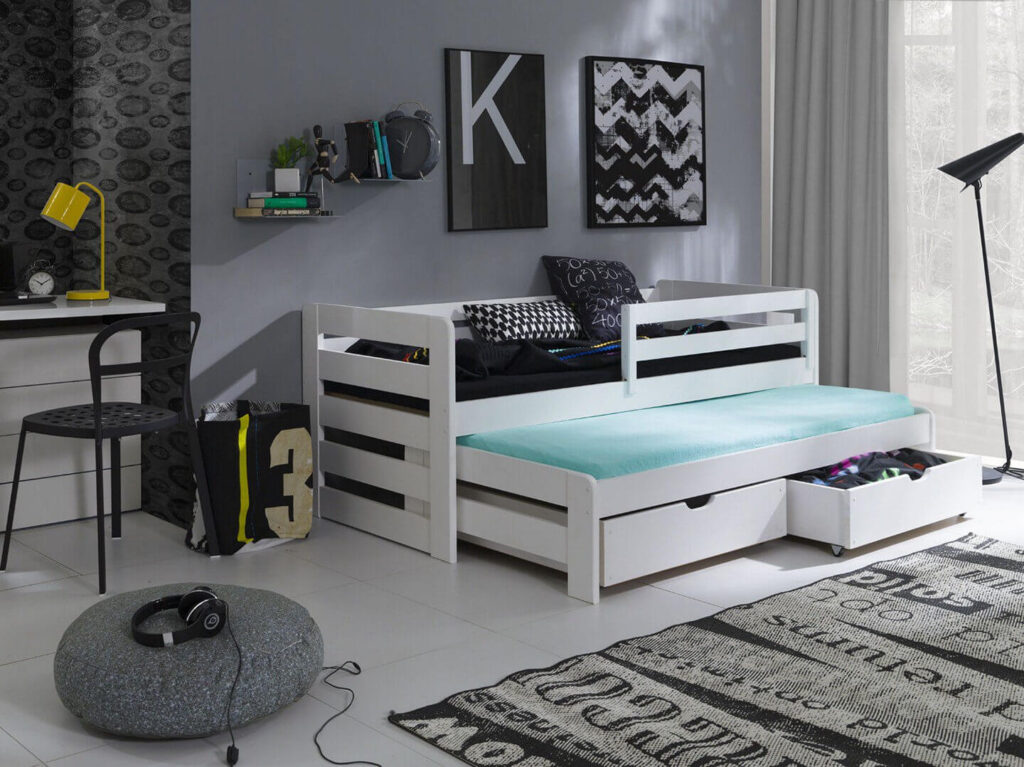 source: realtymonks.com
This is a very tiny room with lots and lots of storage spaces. The room is decorated beautifully, and the furniture is curated smartly. Patterned wallpapers are given on all walls so that the white furniture can easily stand out as a main component of the room. The base color of all furniture is kept as white here. A three-door wardrobe is available on the side with another two-tier storage set. The chest of drawers is really helpful for this room as lots of stuff can be stored in them. 
The biggest attraction on the storage front is the bed here. The bed has storage blocks provided beneath it. These are sliding drawers. You can keep your pillows, blankets here. All the bed sheets and bed covers can also be stored here, and it saves a lot of space in your room. The next stop comes the bed backrest. You have another special storage space available here. Four sections are available in a single column. You can keep your soft toys, bedtime storybooks, cosmetics, necessary stuff here in these storage blocks. This is a hidden place, so no one expects you to stuff your unnecessary things here. 
Eighth setup: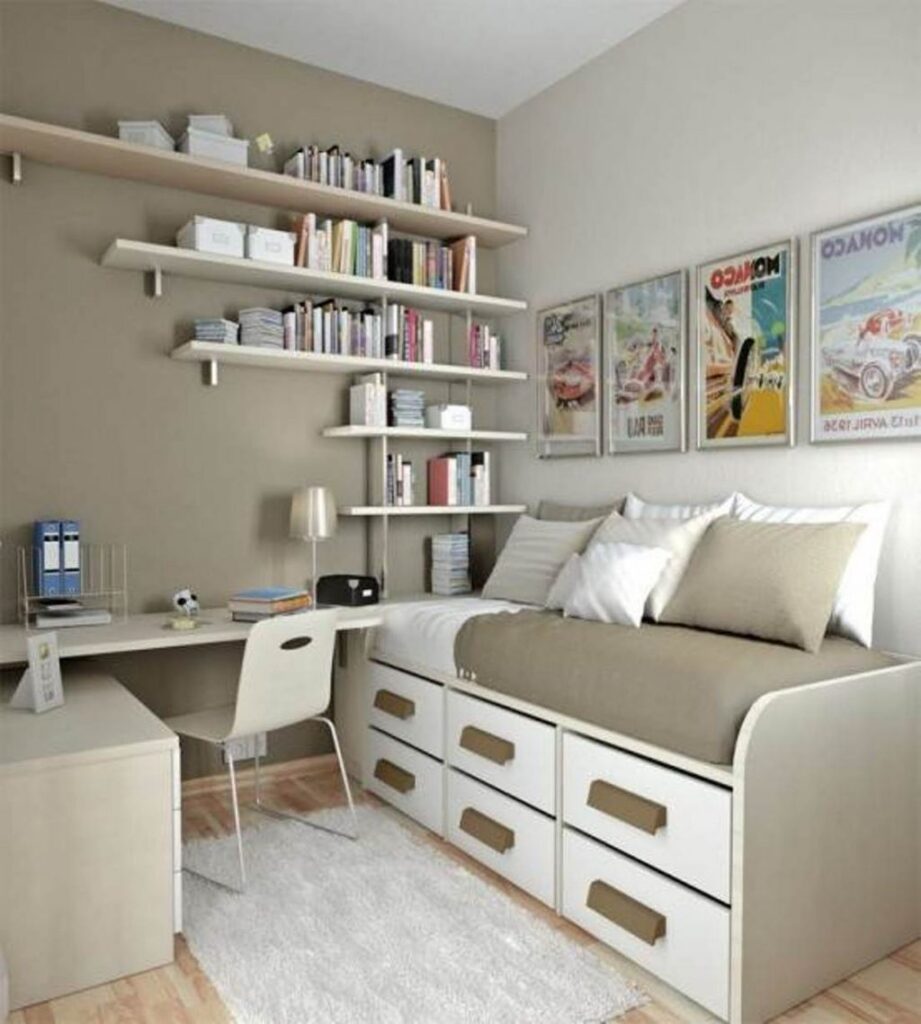 source: layjao.com
A single bed with storage drawers is the main attraction of this setup. Here, you have a single bed in your room, more like a couch. You can put as many pillows and cushions on it for comfort. The setup is for people who get tired while working overnight and want to nap near the working table. The couch has eight chests of drawers. Four of these drawers are quite big and spacious in size. You can store anything and everything in these drawers. The room will look tidy if you keep all the bedsheets, covers, books, files, papers, and all other stuff related to your work in these drawers. 
A cupboard with two horizontal sliding drawers at the lower part is also given on one side of the room. In the main drawer, you can keep all your clothes. In the sliding drawers, you can keep your shoes and shocks and other important stuff. This will help you to keep all your belongings organized. A study table along with a computer setup is also given. Three to four horizontal storage wall-mounted blocks are also given. You can keep your books and working files here in these storage blocks. 
Ninth setup: 
source: amazinginteriordesign.com
The room looks quite professional, with a couch cum convertible bed in the middle of the room. When you are working, keep the bed as a couch. You can keep some comfy cushions on it. Your friends and colleagues might visit you. They can sit here till you work. Once you are done and you want to nap, pull out the lower portion of the couch and become a comfy bed for you. Some storage drawers are also given with the bed, making it a perfect storage space for you. If you are looking for bedroom furniture for storage, this is the perfect piece for you. 
A L-shaped working table is also given on one side of the bed. A chair is also provided with some wall-mounted storage blocks in front of the table. It is a computer table, so you can sit here and continue your work without any worry. 
Tenth setup: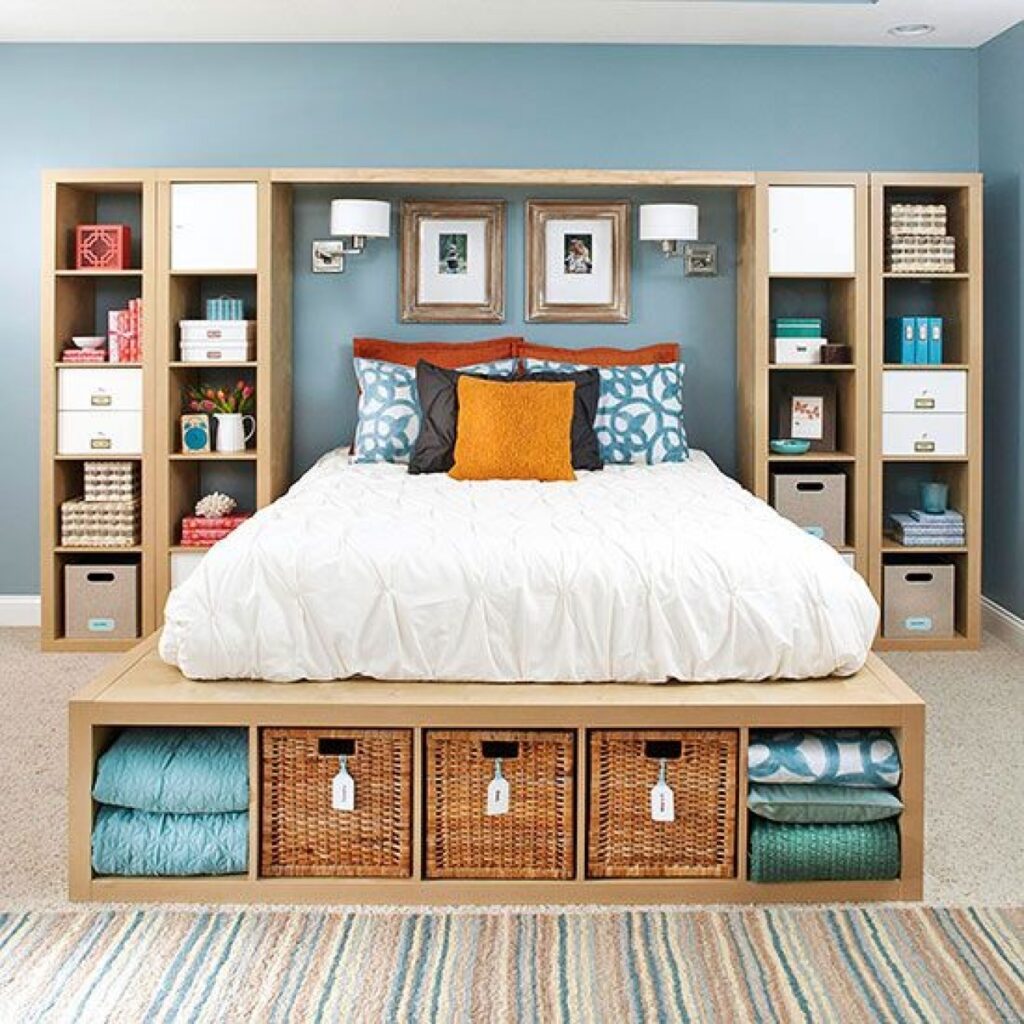 source: homebliss.in
If you share the room with your sibling, then this is the best option. One bed with high legs is given. Another bed can successfully hide beneath the high one. During the night, you can pull out one bed to sleep. A low bedside table is given on one side of the high bed. Once you pull the lower bed, the low table successfully hides beneath the lower bed, making it a perfect and clean setup. 
Two bog storage blocks with slider doors are given near the ceiling of the room. Another cupboard is also given to stuff all your clothes, important stuff there. Two separate wall-mounted racks are also given to keep your books and trophies to showcase. The vibe of the room is very calm. White is chosen as the base color, and it looks ethereal when you add some rugs and bedsheets of contrasting colors to the bedroom interior.