The simplest and most cost-effective option to enhance your living space is to design your deck, and the possibilities are endless when it comes to deck design. Many floors, shaded overhanging structures, and spa-like facilities are all possible with a bit of design.  
Decks, whether made of wood or composite materials, provide a place to unwind, enjoy the sun, and entertain while also adding to the value of your property. Even if you don't want something that's an out-of-this-world type of deck, you don't want it to look like every other deck in the neighborhood.  
Here are 8 creative deck designs to inspire you if you're thinking about adding a deck or altering an existing structure: 
Install A Cover For Protection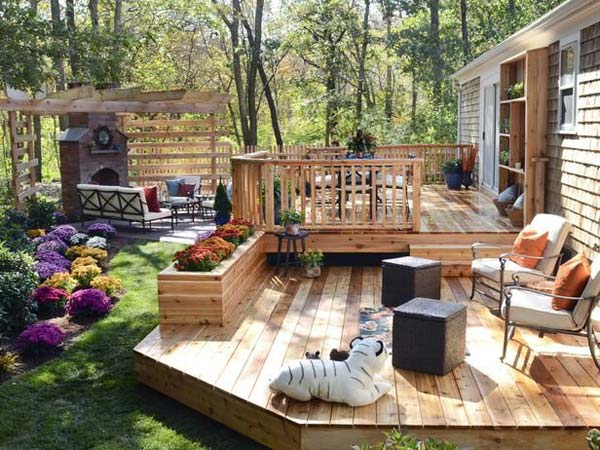 source: woohome.com
If you have a deck outside your house and want to improve its appearance then you can choose alternative decking materials which come in a wide range of sizes and styles. They can protect your deck from rain, sun, dirt, and dust, depending on their size and kind.
If you want to use your deck for outdoor eating and gardening, the partial shade guarantees that you get the best of both worlds. In any case, it gives the house a contemporary look that contrasts with the green areas yet merges in with the house's exterior. 
Add Furniture 
Choose one piece of furniture that is stylish. Choose a great range of outdoor furniture that is simple to clean and will withstand the weather, as well as food spills and mud splatters. You'll generally want to keep the furniture neutral, but mix-and-match throw cushions may offer a pop of color.  
Looking for storage-friendly furniture, such as a side table that opens up to storage space beneath the surface or a couch with pull-out drawers behind the cushions, will help you generate more storage space. 
Use Lights For Ambience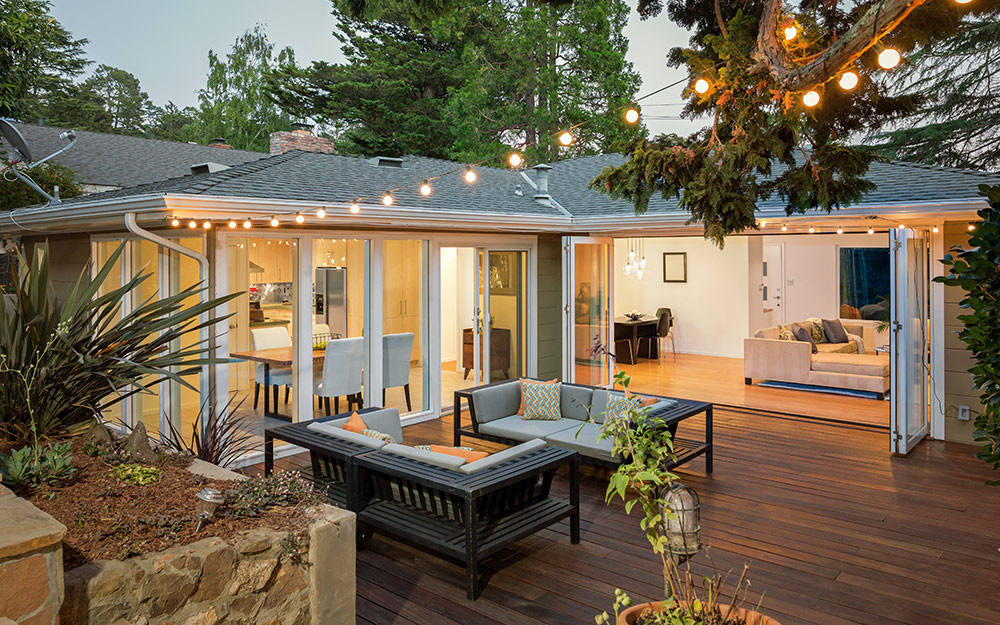 source: pinterest.com
Any deck may benefit from the correct lighting to help create the perfect setting. You may increase the mood of the deck and create an enticing location to rest and take in the surroundings by utilizing fairy lights or integrating lighting into the vinyl or hardwood flooring.  
LEDs are a good choice because of their brightness and energy economy. In one's mind, adding lighting might also make the area look more inviting.
Save A Space For Plants 
Some homeowners would prefer adding plants to match with their interiors of their homes. Although, if you have a small backyard, you might be tempted to install wall-to-wall decking to optimize the available space. 
If you go this route, leave some room for some plants. Adding some blooming perennials and billowing grasses to the area may make a big difference in turning green scenery. If you don't have much room, on the other hand, instead of taking up valuable ground area, fill it with the coziest stuff you can find and add extra vertical space to hang plants from. 
Hang A Bench Swing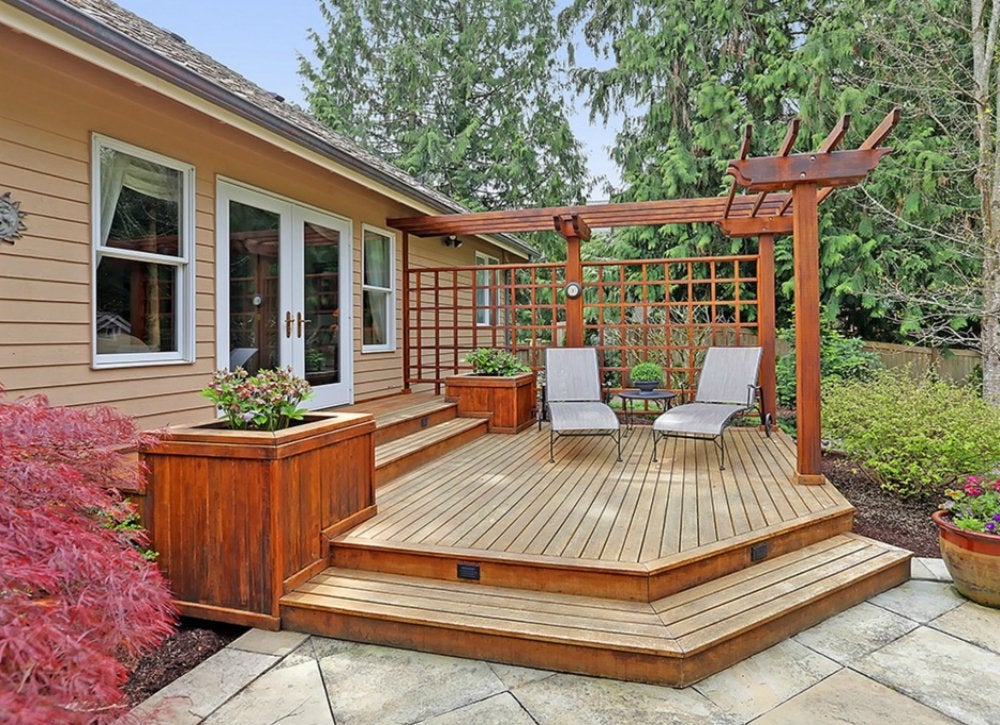 source: bobvila.com
For you and your family to relax and gather around during the warm months and burrow beneath a blanket when the evenings grow cold, add or build a bench swing for you and your family to sit and gather. This may be a project that you can be proud of.  
A bench swing is a simple woodworking project that will give a distinctive touch to your patio furniture and is ideal for beginners or experienced woodworkers. It would be wonderful to have a bench swing in any part of your deck. 
Make Space For Cooking 
You might want to consider adding a spot for your grill or perhaps a bar to your deck if you'll be utilizing it for cooking or mixing up your favorite beverages. This will add to the uniqueness of your deck and save you time and money in the long run.  
Gatherings with your friends and family will be more accessible, especially when you choose to meet up with one another in the comforts of your own home on special occasions. Anyone can have a good time grilling and conversing with others while having a good time. 
Idyllic Atmosphere With Water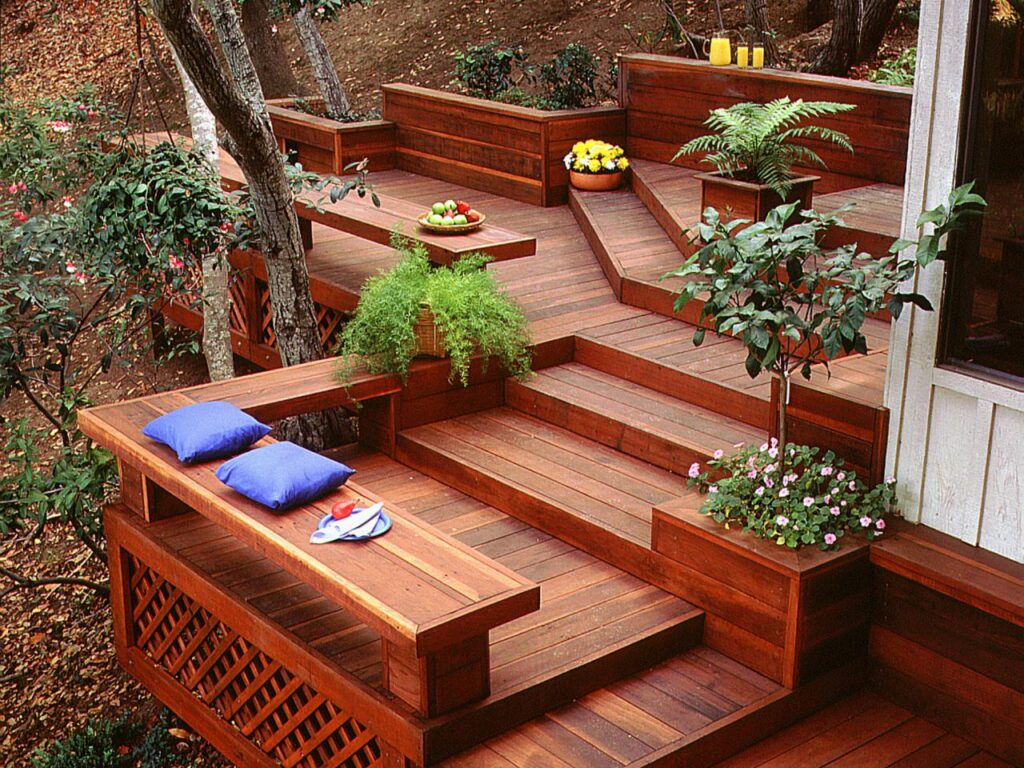 source: hgtv.com
Although many people save money on water, we believe it might be a terrific addition to your deck. With the type of vibe it brings, water can create a calming ambiance when combined with soothing light.  
From pond-less waterfalls to sophisticated, small fountains that can fit in any place, there are various methods to incorporate the element into your deck design. This will not only make your deck seem elegant, but it will also be worthy of a photo. 
Add A Fire Pit 
Adding a fire pit will not only make your deck more distinctive but will also make it more useful. You can enjoy your deck even on chilly nights with a campfire, whether you're gathering with friends or just resting on your own. 
Conclusion 
There are more things you can do to make it stand out from the crowd when designing your home's deck. You can do these things to help your deck stand out, from essential design touches to more intricate features. Visit The Architecture Designs for more ideas.