What images jump to mind when you think of a porch? You probably imagine a spot where you can unwind and indulge in some cool breeze. If you're looking for a solution to spice up your porch, consider introducing some tiles. Not only do they bring a wonderful finished appearance and charm to your home, but they're also a terrific method to add warmth and extra security.
You can also use them to create a welcoming place or to provide some more privacy,  & options are unlimited. Allow your creativity to go wild, and you'll be able to select the finest tiles design for your deck.
Porcelain Tiles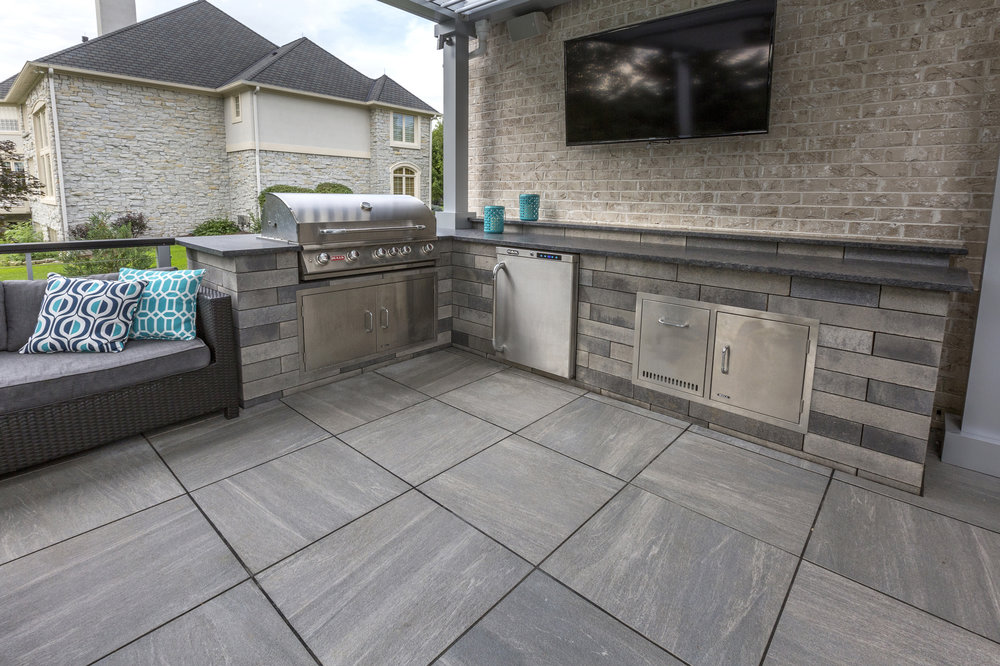 source: pinterest.com
Porcelain is a wonderful choice for patio tiling since it is well-suited for outdoor uses. They are basic and textured tiles, too. Textured surfaces are often preferable since they create roughness even when it is snowing or raining.
However, if simplicity is your style, plain porcelain is also an option. Because there are several types of porcelain tiles, make sure you purchase high-quality ones since low-quality ones will not survive long. The porcelain tiles you select should be thick enough to be used outdoors.
Slate Tiles
Slate is a great pick for patio tiles, but it will require a sturdy surface beneath it, such as concrete. It's a raw rock with a matte texture that lends it a rustic and appealing appearance. Slate may provide a one-of-a-kind and attractive appearance to your balcony or other outdoor areas.
It's also a better solution for outdoor use because it's not easily damaged. If you live in a region with high temperatures or precipitation, it is necessary to protect the slate tiles to ensure their life.
Limestone Tiles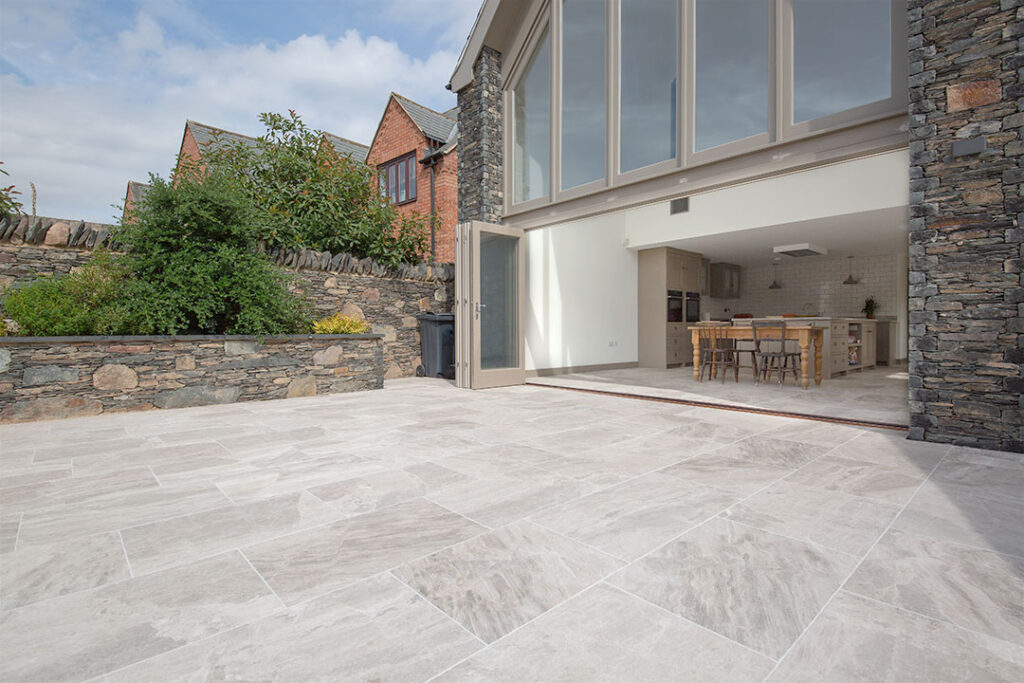 source: pinterest.com
Limestone is a classic and global material. For thousands of years, it has been employed in architecture. Even the Egyptian pyramids were built using limestone. This must give you a sign of how long it will last. It is hefty and durable, making it ideal for outdoor use.
It's also protecting, so it won't be too warm or chilly in the heat or cold weather. There are several sorts of limestone, each with its own texture and color. Limestone comes in a variety of hues, depending on where you reside. Limestone has a natural radiance that is ideal for patios and other outdoor applications.
Granite Tiles
Granite has an extremely opulent appearance. It is a natural stone that is pricey, but it is also highly gorgeous and durable. While granite is suitable for outdoor usage, it may become slippery in wet, making it unsuitable for places that absorb a lot of moisture.
Granite is stable at high temperatures, and if correctly fitted, it is also mildew and damp resistant. Granite is another common material for kitchen surfaces. The nice aspect is that granite comes in a variety of hues and designs.
Plastic Tiles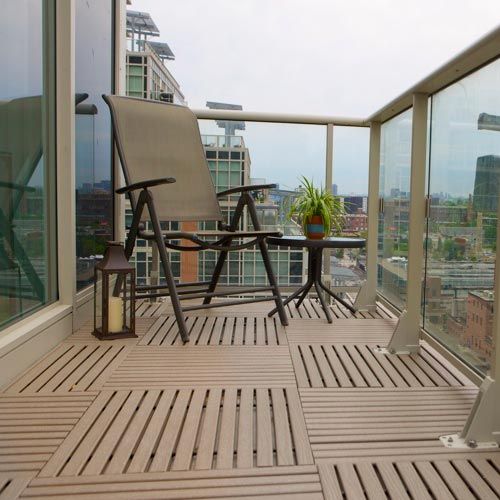 source: pinterest.com
Plastic tiles feature interlinked edges. They have a slip-resistant material that enhances grip and allows you to walk comfortably even on rainfalls. Furthermore, they do not even require any specific installation and can be joined with each other. They're ideal for DIY-ers
On the plus side, they're inexpensive and available in a variety of styles. On the other hand, they aren't the most aesthetically pleasing. Plastic tiles would be great for your outdoor flooring requirements if you need something quick and reliable.
Soapstone Tiles
Soapstone exists in a range of colors, both bright and dark. It has a diverse and lovely appearance that can enrich any space where it is placed. It's good for colder places since it doesn't become as cool as marble or ceramic tiles.
It's also useful for regions that get a lot of rainfall because it's non-slippery. It also has a great heat tolerance, making it an excellent choice for hotter areas. It's a wonderful alternative for application on swimming pool decks since it is non-slippery.
Wooden Tiles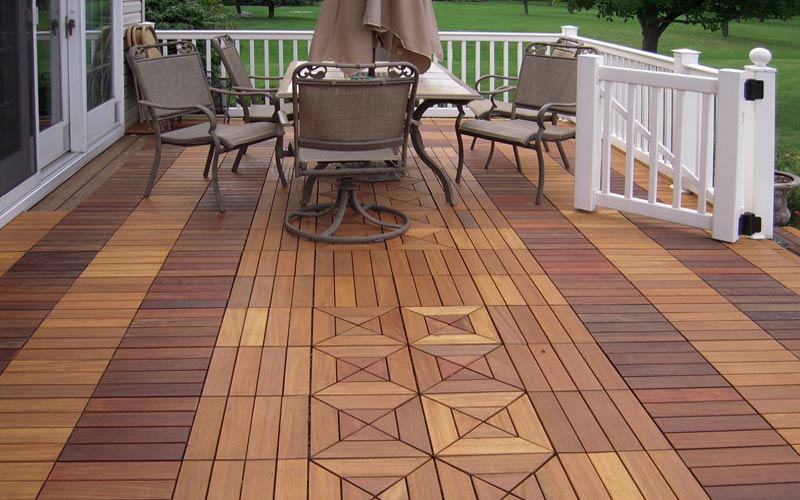 source: archatrak.com
Wood has a richness and sophistication that no other substance can match. While there are various imitation wood possibilities, none of them will have the same appearance as genuine wood.
Treated wood offers a variety of hues and textures. It offers slip resistance, making it suitable for flooring around swimming pools. Cedar & redwood seems to be the most often used woods for outside usage.
Travertine Tiles
Travertine's natural appearance will improve the appearance of your open area. It may be employed for more than just the patios; they can also be deployed for garden walkways, swimming pool flooring, and outside walls. It is a natural stone that is extremely resistant to fire.
Because travertine comes in a variety of hues, you may choose the one that best suits your needs. While travertine is long-lasting, it is sensitive to acidic elements, so avoid using baking soda or salts while cleaning it.
Concrete Tiles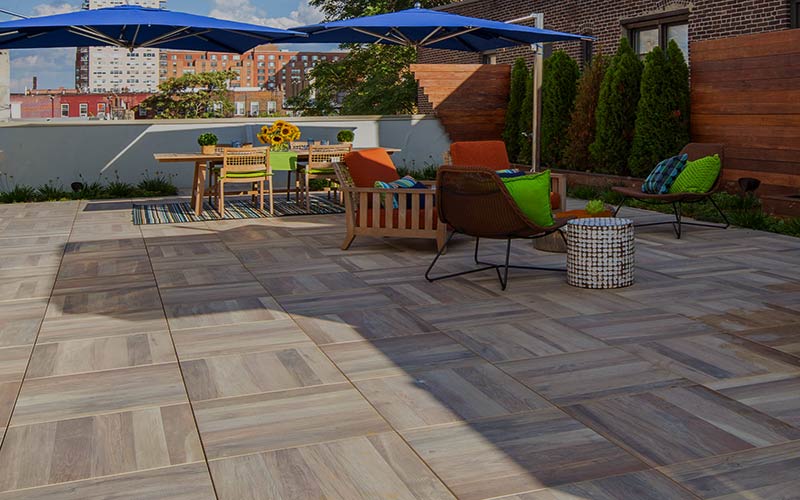 source: archatrak.com
While concrete might appear monotonous and uninteresting in outdoor places such as the patio, you can make it more interesting by painting it. It may be offered a faux rug effect with a stencil as well as some paint, making it appear more pleasant and welcome.
Usage porch paint that is approved for outdoor use for a long-lasting appearance. Make sure to clean and dry the concrete floor before applying the paint. Concrete is extremely resilient and long-lasting, requiring little to no care.
Marble Tiles
Marble has a highly rick appearance. It's long-lasting and available in a variety of sizes. Marble comes in a range of hues. It occurs naturally and has a beautiful texture that makes it seem lovely. Make sure not to use glossy marble outside because it is prone to damage.
Choose seashell or sanded marble instead, which has a matte surface but is more lasting. Since indoor marble selections are shinier, the marble you use will seem much different from the marble used outdoors.
Purchase The Best!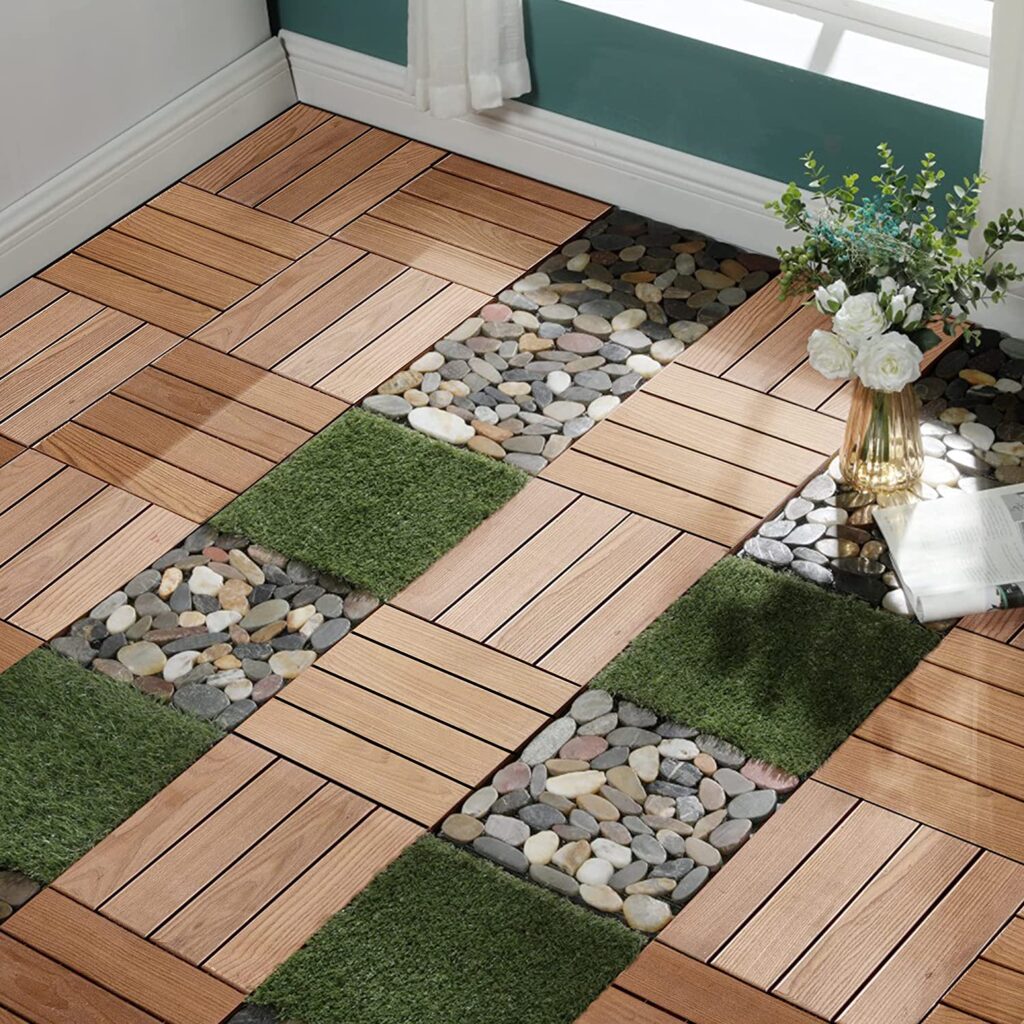 source: pinterest.com
The best type of flooring for you would be determined by your demands and tastes. If money is not an issue, you may choose from more expensive materials such as granite and marble. However, if your budget is restricted, you can just choose plastics and concrete.
Other elements that will influence your selection include appearance and care. If you're aiming for a rustic vibe, consider cobblestone or brick pavement. If you want a more modern design, there are various alternatives to imitation tiles.