Introduction
We should display houseplants in our homes like that emphasize their originality. So, naturally, that affects how you maintain for them and the planter you choose, and the planters holder you use.
Planters come in a variety of colors and configurations, but when it comes down to it, they all look pretty much the same. Planters can be customized to fit your individual home decor concept.
We've included several ideas that will show you how to manufacture plant hangers for your house. The supplies are either hanging around your home or may be purchased at a local store for a reasonable price.
You could use these as-is or as a minimal blueprint to follow while allowing your imagination to run wild.
The beautiful mix of the plant stand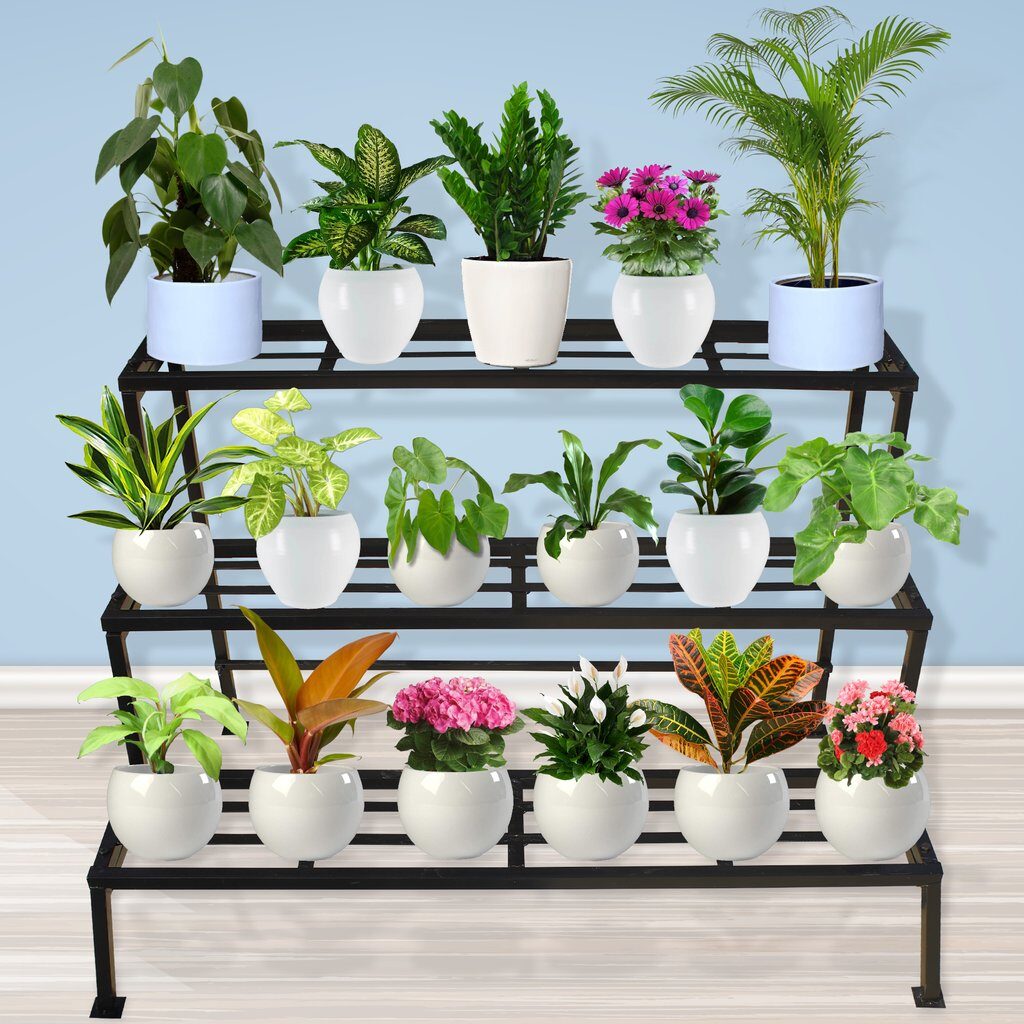 source: shopify.com
This indoor plant stand is a terrific mix of contemporary and industrial styles. Three square dowels are utilized rather than peg legs, which are often used to support a modern plant holder. They work perfectly and provide an appearance of contemporary style.
The plant stand is covered in white to go in with the rest of the room's decor. In addition, a few orange tints provide complexity to the plant stand, enhancing its appearance.
Wooden plant sides
A sculpted slice of hardwood was used to create this DIY stand. It's been made with such skill and attention to detail. It is easier to move about than concrete because it is lighter. It can accommodate huge blooms as well as tiny ornamental trees.
It's ideal for stylish, large homes. It has a really artistic vibe to it because of its natural art. So it's a good idea to put it at the entrance. 
It can be positioned on the balcony or in the garden where rainfall and sunlight are accessible for residences with space constraints.
Little plant holder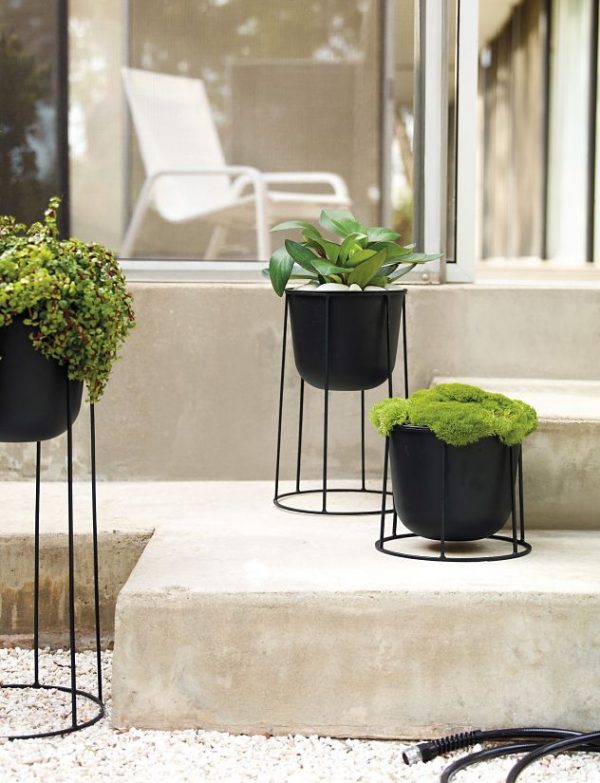 source: home-designing.com
Have you ever fantasized about having a miniature indoor plant stand in your palm? Even if there are many tiny products available in the market, you can easily create this beautiful one.
You must first prepare the components before assembling the thing. You will require the following items:
Three similar sticks or small pieces of wood

A cup-shaped like a golf ball

The plant
All you have to do now is stick the sticks beneath the cup with any available adhesive. Which plan to keep on is entirely your choice. However, it is preferable to select a small species.
Multilayer plant stand
If your home is decorated in a retro or Victorian design, this plant stand for home could be just what you need to complete your theme. The plan, which resembles a wrought-iron stair, will give the room a more premium appearance.
You may put numerous plants on it without taking up too much space because it is a multilayer plant stand. Simply position this tripod in one of your living room's areas and enhance your living room with these beauties.
Rectangular style stand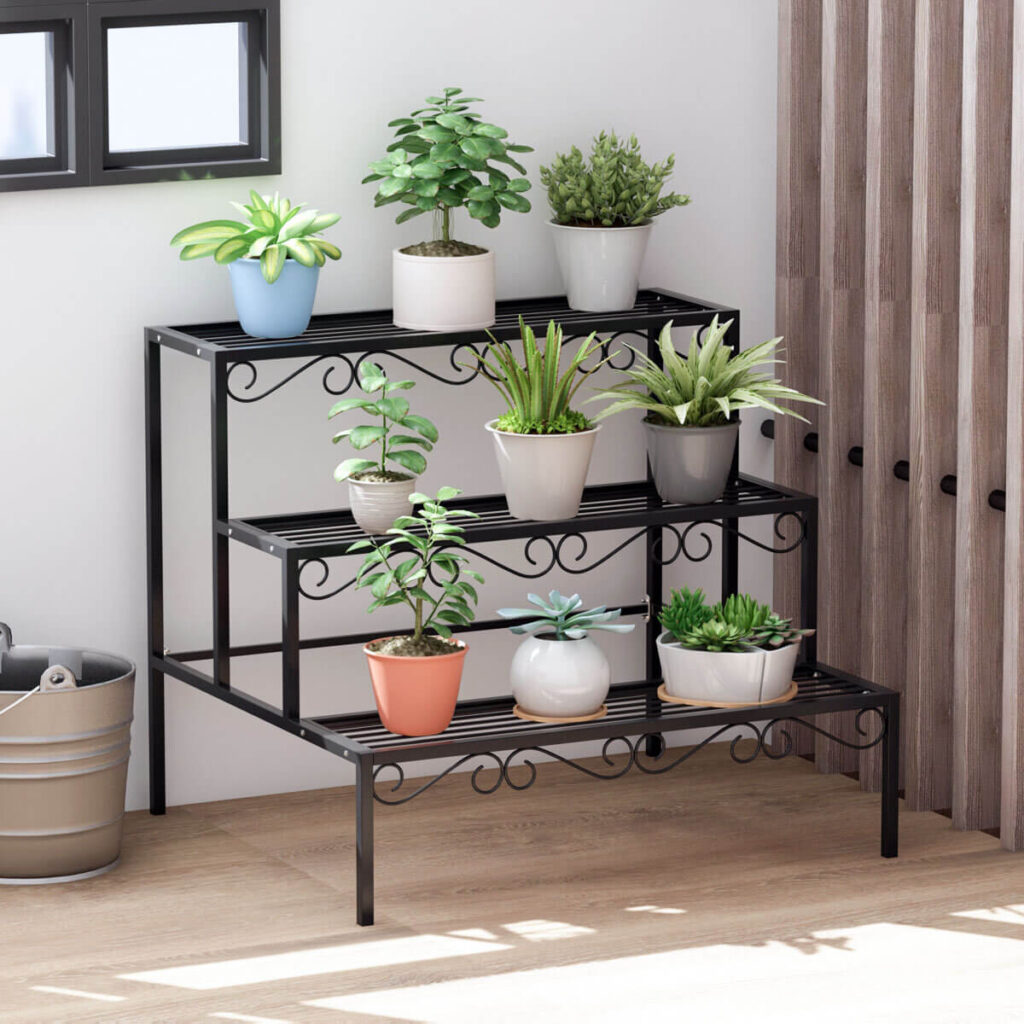 source: wayfair.com
This easy and stylish plant stand can be put together in your own home. To make a rectangle stand, the copper pipes are joined together. It is incredibly lightweight and, depending on length, may contain more than one flower vase.
Because of its slender design, it can fit down a corridor. Because it is short, it has a lot of stability. It's suitable for displaying a wide range of flower species. It requires little upkeep and is simple to clean.
DIY budget-friendly plant holder
If you are not a DIY specialist but want a lovely indoor plant stand without breaking the bank, this essential flower shelf is a good option.
To create this rack, all you'll need are some planks, bolts or nails, square dowels, and just a little elbow work. To make a shoe rack, all you have to do is put the pieces together. However, you will not utilize it to keep your shoes. Instead, you'll put your plants on show.
Rustic plant stand
This rustic plant stand for home completes the aesthetic. Its rectangular base ensures that it can support even the heaviest plant containers.
You can place your containers into the round metals. This look is incredible and unlike any other. At the side of your wall, it looks fantastic. It goes perfectly with your green and the color of the plant hangers, especially since it's black.
Spacey plant holder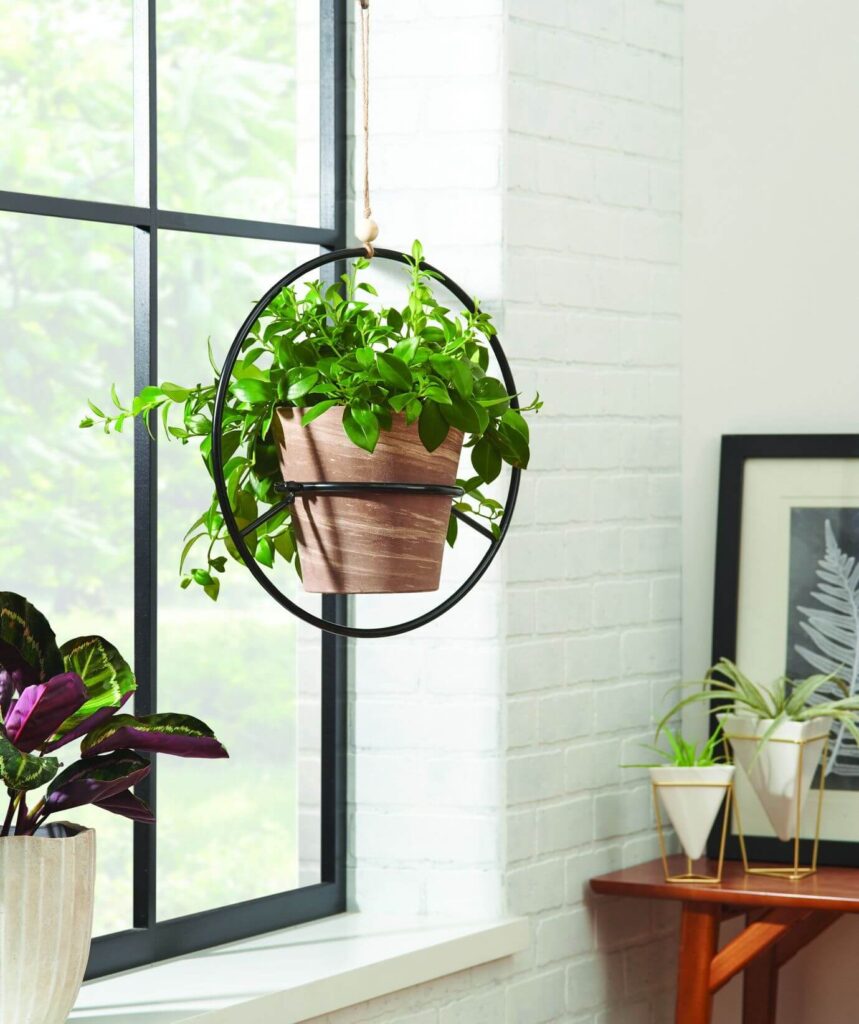 source: pinterest.com
You can quickly create these wood planter stand because they are simple to make. These are ideal if you have many plants to show off but would like to put them on something that might divert attention away from your greens.
This plan includes not only comprehensive, step-by-step instructions on how to make them as well as a list of tools you'll require. But it is also quick to make and quite pocket-friendly as they are simple to construct.
Multi-layered plant holder
Classy and straightforward, if you only need one plant stand, this multi-tiered plant stand will suffice. This three-tiered design's compact profile and modest flexibility allow it to fit in almost any space and with practically any decor.
You may make the plant holder pop out or merge in as much or as little as you want. Its simple design allows you to quickly relocate it if the preferred sunny spot changes.
This sort of planter is ideal for both the newbie wishing to begin an indoor garden and the seasoned gardener looking for a fashionable way to display their sowing efforts.
Basket plant stand
 Basket indoor Plant Stands are an excellent method to both literally and metaphorically enhance your plants. For your comfort, the stands come with a Terracotta Pot and look grouped with other houseplants in a central focus of your house or casually placed near a sofa, bookcase, or T.V unit.
Plant supports help bring tiny plants into focus and display plants with intriguing foliage patterns, and adding height to a plant.
 Flexible plant holder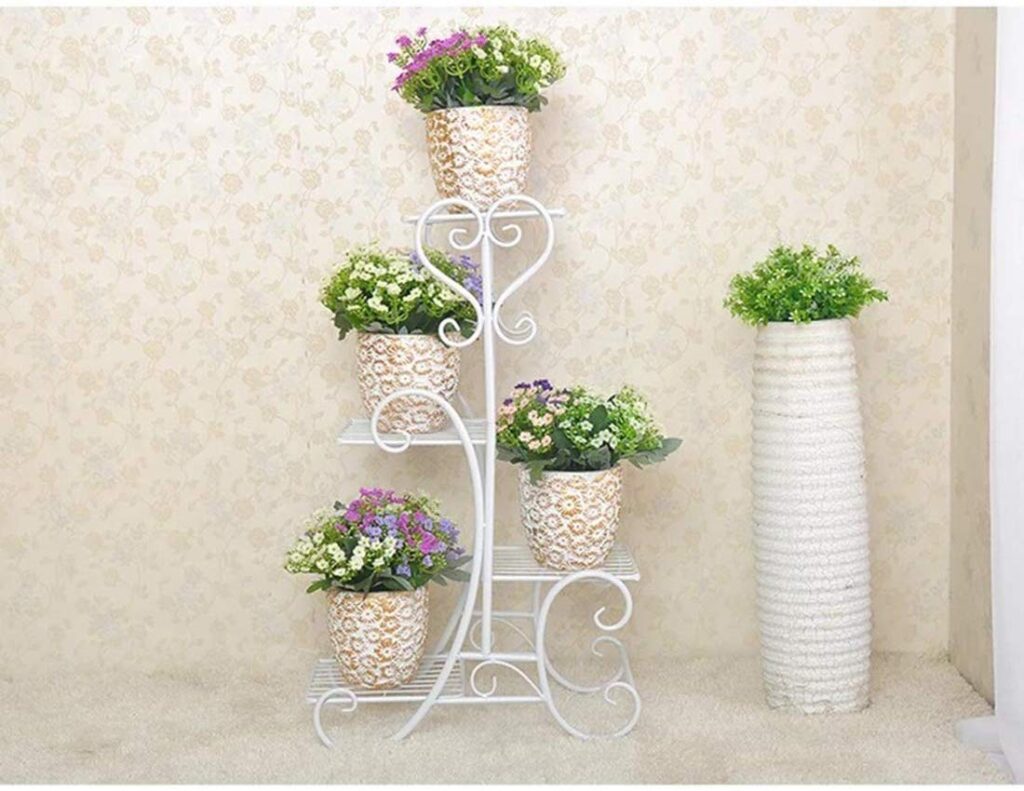 source: amazon.com
It is relatively simple to keep your plants outside throughout the summer. You can keep it on the veranda or even on the roof if you live in an apartment. However, as autumn arrives and the weather begins to cool, you must bring all of your plants inside to safeguard them from the unwanted weather.
DIY plant potter
It is a simple wooden building made from four-tube sticks and four flat sticks. They are prepared to carry any plant holder you want after several screws.
In this situation, the great size of the structure allowed for the placement of extra-large plant pots. Based on your DIY talents, you can build these structures in a variety of sizes to accommodate a variety of potters.
It's just a matter of following your creativity and making something the very best out of it.
Wheeled plant holder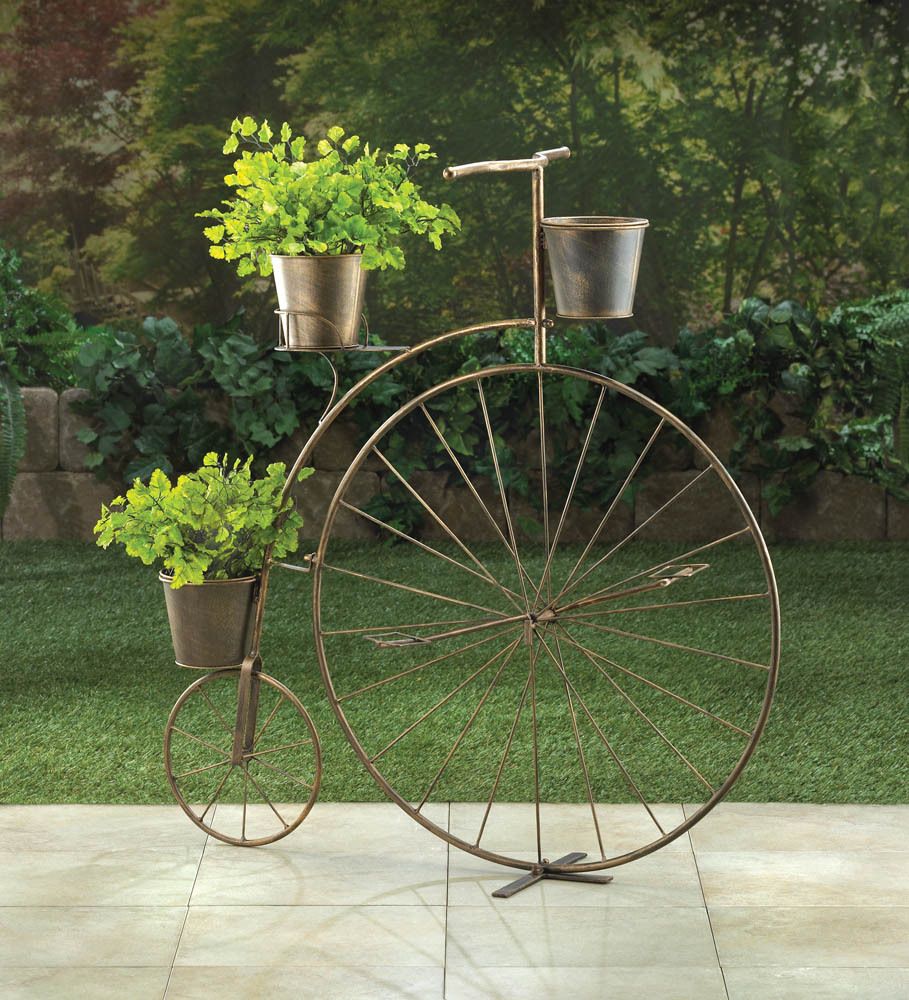 source: pinterest.com
Carrying your plant pots by yourself can be tiresome at times. What if there are a lot of them? It can't be fun travelling back and forth for each plant pot, in my opinion.
This plant stand for home is the ideal answer for you. It has wheels, making it easier to move about. In addition, you may quickly relocate your plants indoors or outdoors to get some sunlight.
Furthermore, the racks provide more space for carrying more plant pots. Nails are used to linking all of the pieces together. Obtaining wood and little wheels is also not an issue. 
In my opinion, this is the most adaptable solution for increasing plant mobility. So, give it a shot and add some sophistication and refinement to your house.
Gold from old
Making a wooden plant pedestal is a simple task that will provide you with a lot of happiness. It's as simple as taking any reclaimed furniture you don't want to use and making something fresh out of it.
You can create highly sophisticated and intricate items depending on your carpentry expertise. However, if you are not a specialist in woodworking. You may simply repurpose your traditional rusty crates, cupboards, drawers, and other items. You can do amazing things with only a few minor changes.
Mini plant stands for home
The majority of us are not interested in huge things. And besides, small things seem nice when employed in large quantities.
This small indoor plant stand can make your home appear chic and more attractive. But not in an inappropriate manner. When things are so disjointed, they do not appear lovely. As a result, anything that helps lessen the spacing will be beneficial.
This plant stand can be attractively decorated. It's basic, but it's adorable. You only need a thread and a few little bits of wood to get started.
Beautiful indoor plant stands from cement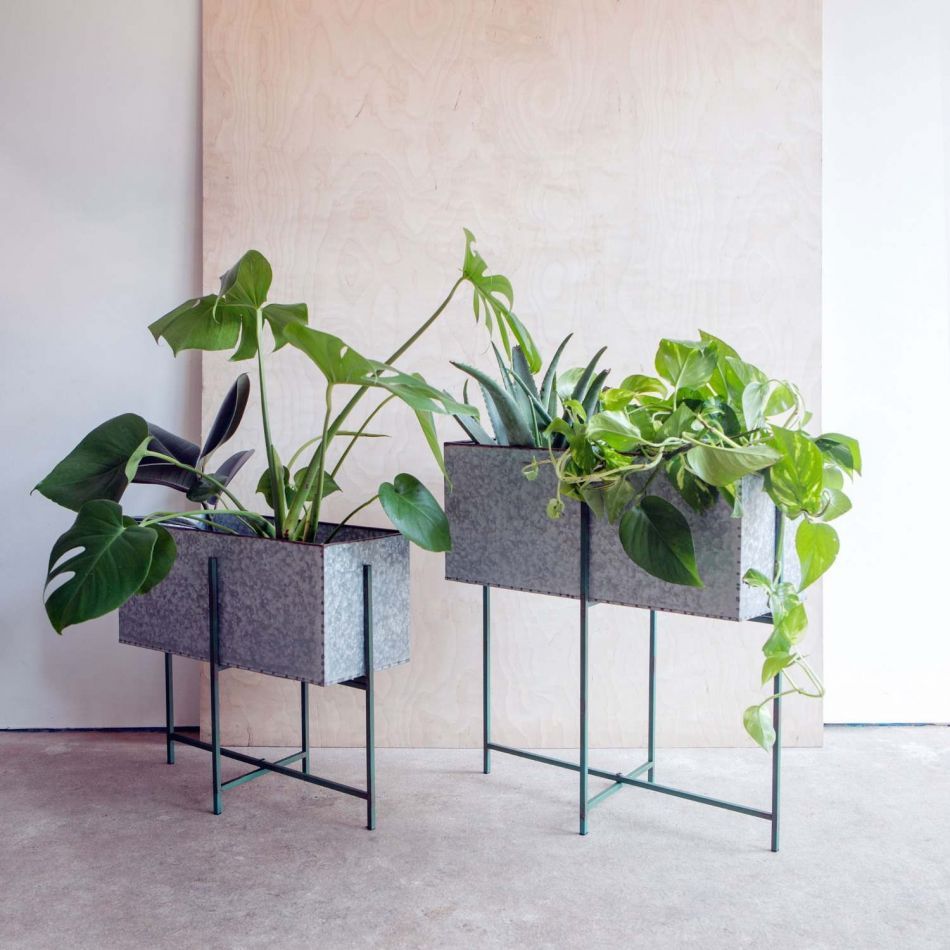 source: hearstapps.com
Indeed, cement is not limited to the construction process. And copper isn't just for electrical cables. These two can be combined to create a one-of-a-kind plant stand.
The legs are made of copper. The top surface is made of cement. You might assume the tripod is substantial, but it isn't. This plant stand can be used for both outdoor and interior plants. It creates a serene environment. It is also long-lasting and can assist you for a lengthy span of time.
Acacia plant stand
The sturdy trays on these round plant stands are made of a long-lasting stone combination and rest firmly on acacia wood legs. Plant straight into the trays to make a little garden or organise a cluster of potted plants.
There are no drainage openings. To safeguard the composite surface and avoid watermarks, use waterproof covers or saucers. Organic acacia wood legs will have varying grain patterns.
Robust plant foundation
Sometimes you just need a slender stand to display a stunning, crawling vine, and in other moments you need a robust foundation of that massive trunk you adore. 
It is the foundation. It's built on five high-quality, long-lasting nylon and steel tires, with a locking caster to hold it in position. It has a corresponding drainage hole in the center to keep root rot at bay.
Sophisticated indoor plant stand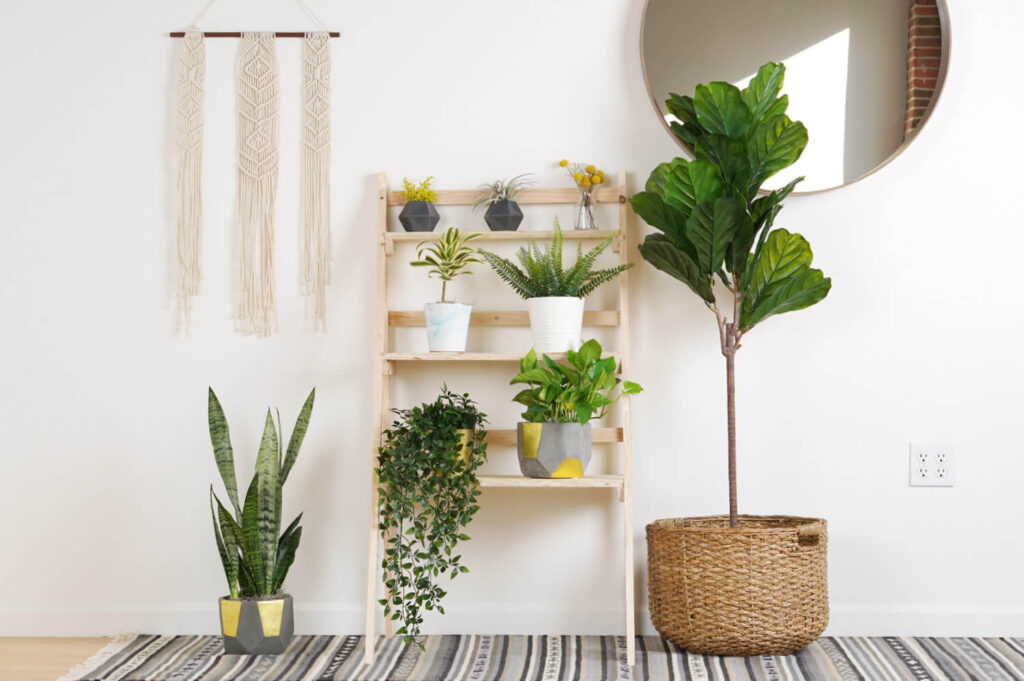 source: nowrevolutionbook.com
This modern and sleek plantstand is easy to put together at home. The copper pipes are joined to form a rectangular platform. It is lightweight and, based on the duration, may accommodate more than one flower vase. Because of its slim design, it can fit down a corridor.
 Since it is short, it has a lot of stability. It is suitable for displaying a wide range of floral species. It requires little upkeep and is simple to clean.
Wire plants stand
This wire plant stand for home is simple to construct. It is inexpensive and lightweight. It is easily adjustable, and because of its broad basis, it is stable. It is adaptable enough to be used in a smaller home. This simple design is suitable for use in a house with children because it will not harm their safety.
Wrapping up
So, here we are at the end of the post. I hope you are amazed by these beautiful 20 plant stand ideas. Keep in mind the size of your home, space in your apartment for plants, and where you have to keep these stands before buying them. 
Also, the budget, flexibility, weight, and location play an essential role before deciding which plant stand you buy. Analyze all the carefully, and then come to a conclusion. 
All this planning helps you in the maintenance of your plants and adds additional elegance to your home. So, which plant holder from the above list is best suited for your needs? Do let us know in the comment section in The Architecture Designs.