Planter boxes offer a special touch to any garden, much like a great piece of art or cozy up the guest room with throw cushions. For added aesthetic appeal place planting boxes around your front entrance. Placed near windows to offer a dash of color, or in a bed as an eye-catching accent. When you alter the displays, they also highlight the beauty of each season: In the spring, think pansies or flowering bulbs, in the summer, heat-loving annuals, in the fall, mums and gourds, and in the winter, evergreen boughs. 
A planter box can be made out of any container that can store soil, but the more inventive the better! In hot, dry weather, remember that porous materials like terra cotta let the water evaporate fast, so you'll need to water more regularly. Also, moist roots are bad for plants, so make sure there's a method for extra water to escape, even if you have to drill a few holes in the container yourself. Finally, for a more dramatic impact, fill your box with a combination of plants that provide height as well as ones that spill over. For optimum impact, grow only one type of flower in a single color.
If that isn't enough, have a look at these unique and interesting planter box ideas at The Architecture Designs.
Planter Box Sign Board
source: thespruce.com
If you haven't jumped on the address planter box trend yet, you're late to the party, and I'm here to introduce you to the next big thing! You'd make an address plaque with your home number on it, and then combine it with your own personal small house plant hanging right off. These are contemporary, add character to your home, and make a great porch decoration. if you don't want one of the larger planting boxes. Home, dear home, my planter home!
Triangle Box
This is such an "adorable" triangular DIY planter box! You can create something incredibly magnificent with just three materials and four common home equipment. I like how the lesson includes step-by-step instructions with photographs, as well as how to utilize all of the tools. There's no need to paint this planter; it's beautiful just the way it is!
Bicycle Cart
You might have seen this concept previously and thought it was lovely and bohemian. This is a bicycle flower cart that would look great in your garden or backyard. It has a rustic appearance and is suitable for outdoor usage since it can survive tough weather and exposure to sun and rain. The supplied wooden planter box can be adorned in a variety of fascinating ways with your favorite sort of greenery.
River Stone Box
source: pinterest.com
River stones are an inexpensive option to incorporate a natural rock element into your planter designs. These Instructables DIY river stone planters are simple to make and can be made with a variety of stones to add color and pattern. Another benefit is that you can make them as large or as small as you require. Dark rocks will absorb more heat from the sun than light-colored rocks, so keep this in mind if you have plants that are sensitive to temperature. You may use this same procedure on square containers rather than circular pots to obtain a more conventional planter box look with your project.
Planter Boots
Planters do not have to be sophisticated or simply box-shaped pots. Upcycling discarded materials, such as old rain boots, can provide you with a spot to plant while also adding some fun and quirky vibes to your backyard. Because rain boots are so popular, they come in a variety of colors and patterns that may be utilized to complement almost any outdoor color scheme. These boots can be hung on a fence to hold herbs or lined up down a walkway and loaded with colorful flowers.
Tire Planters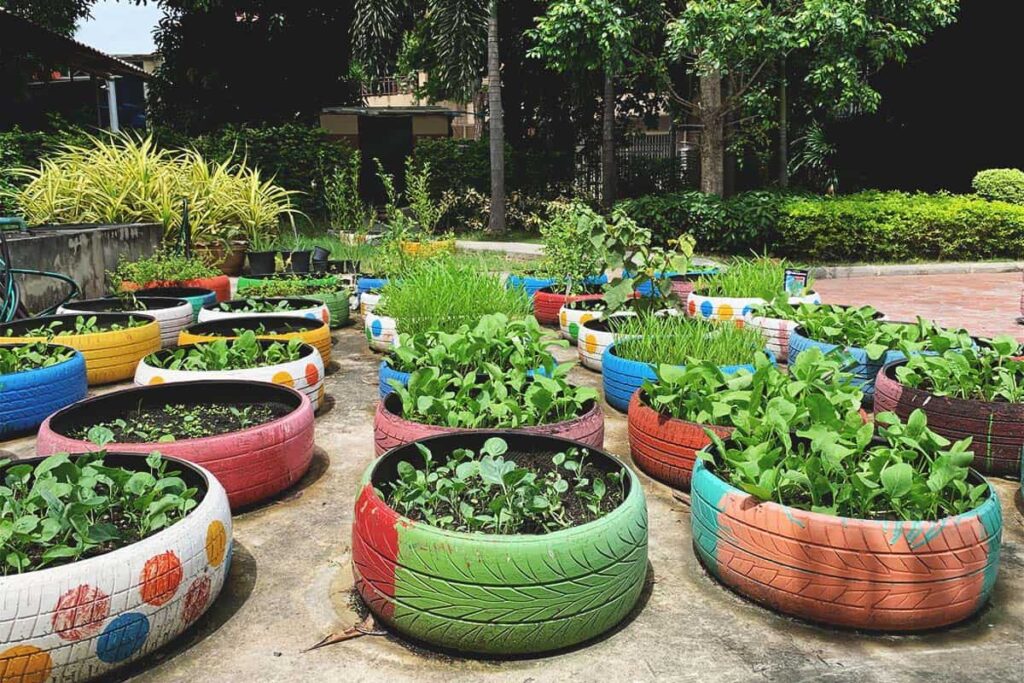 source: remodelaholic.com
Tire planters are yet another creative method to repurpose outdated materials. Instead of using wooden planter boxes, used rubber tires are stacked and filled with potting soil to create planters that can be colored or left plain. Though not exactly box-shaped, these planters are ideal for protecting cool-weather crops from frost damage. If the tire construction does not fit into your landscaping plan, you can easily create a simple wooden box around them to cover it.
Falling Planter Pots
Falling pot planters are another method to include planter boxes into your outdoor spaces if you don't have enough space for larger wooden planter boxes. The design of these tipsy pots produces a funny optical illusion in which flowers appear to pour out of the pots on either side. Vertical pot planters can also be fashioned from a variety of materials. Use cube planters instead of pots for a more boxed-in effect.
Pyramid Box
When it comes to growing strawberries in a planter box, a strawberry tower isn't always enough. If you want to grow enough strawberries to enjoy fresh and preserve for the fall and winter, consider creating one of these strawberry pyramid planters from above. The cascading design of these planter boxes makes collecting strawberries a breeze while also serving as an eye-catching centerpiece in your veggie garden.
Bed With Wings
If you're going to create a solid planter box, you might as well go with a serious design, like the one on bonnie plants. On the edges of this wooden planter box are four little benches. These can also serve as shelving for extra plants or gardening equipment. As the plans demonstrate, the project isn't too tough, so you should be able to do it quickly. If you like, you can make the shelves as broad as the planter. That has the potential to look extremely amazing.
Birdhouse Planter Box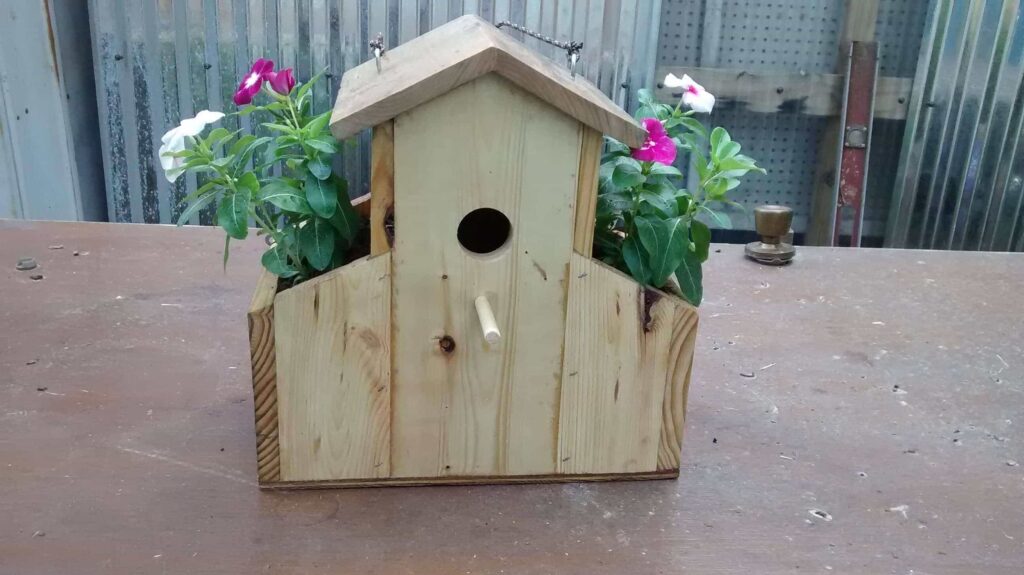 source: diyjoy.com
I'm a big fan of birdhouses. Whether you use them for decoration on the inside or as bird feeders in the outdoors, they add a cozy and peaceful presence to any space. This is "poultry" in motion, my friends. This wooden house is not only beautiful on its own, but it also has its own planter growing around it and flowers around it. It's big, it's bold, and did I mention it's nice to birds? The hole is certainly large enough for your beaked companions to enjoy as well. 
Cedar Box
This cedar planter box is astonishingly modern, unique, and more functional than you might expect. Have you heard of sapience? If DIY isn't your thing and you're short on time, this is a perfect wooden planter box for you because the directions are clear and it only takes 10-20 minutes to complete. The pieces just snap together, making this a very simple craft.
Monogram Planters
A customized planter for my front porch? No more excuses! This DIY planter box with wood monogram is painted white, huge and commanding, and personalized just for your family's porch. It's a great final touch, and I love how she had bespoke monograms produced just for this project! This is a simple, low-maintenance project that adds a fun twist to your home. Furthermore, the attractive planter color mixed with vibrant and lively colors is ideal for summer.
Modern Style Planter
Mustard yellow is all the rage these days, and you can bet your bottom dollar that this modern mama is getting behind it in every way. I have mustard shirts, scarves, jewelry, and so on. I even acquired a large mustard collar for my small kitten, patch. This mustard outdoor planter has me completely smitten!
If the style and color of your porch or deck allow for it, this will give your home the "new house" modern pop that I so want on Pinterest. With just ten materials, your husband or a friend, and a few hours, you'll have something worth selling or keeping for far more money than you spent. The mustard train has arrived!
Plants On Wheels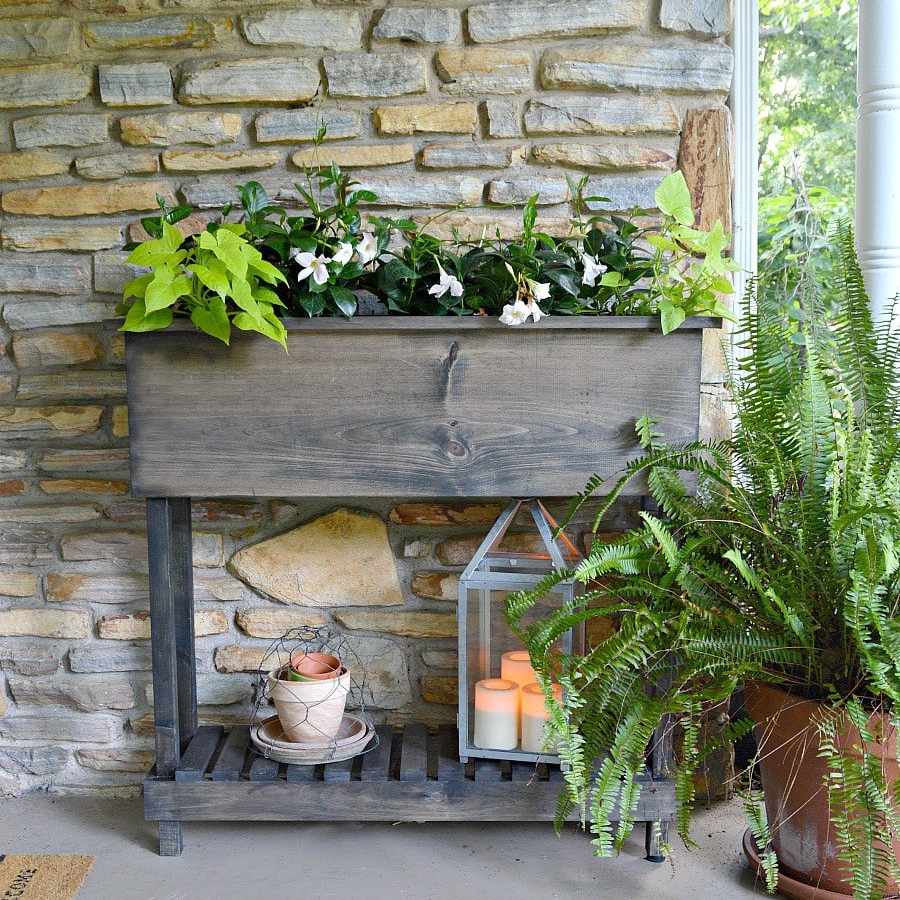 source: thespruce.com
Spinning, rolling, sliding on your… garden! Easy, Smart, AND Flexible? I had no idea something like this existed until today! This is a little garden on wheels that looks great in a growing garden, on a front porch, or on a rear deck in the middle of summer to add some flair. With fewer than 8 ingredients and a few hours to spend on your weekend, you'll have your next project ready to go this year!
Saucepan Planter
With a peace lily as a vertical accent, this trio of vintage cooking pots makes an innovative home for easy-care succulents. As a conversation starter, place this exhibit near your outdoor dining space. Don't forget to drill drainage holes!
Old Suitcase Planter
With this inventive planter box, you can get out of a rut! In a country-style garden, a bright and worn suitcase serves as the perfect backdrop for vibrant marigolds.
Recycle pallets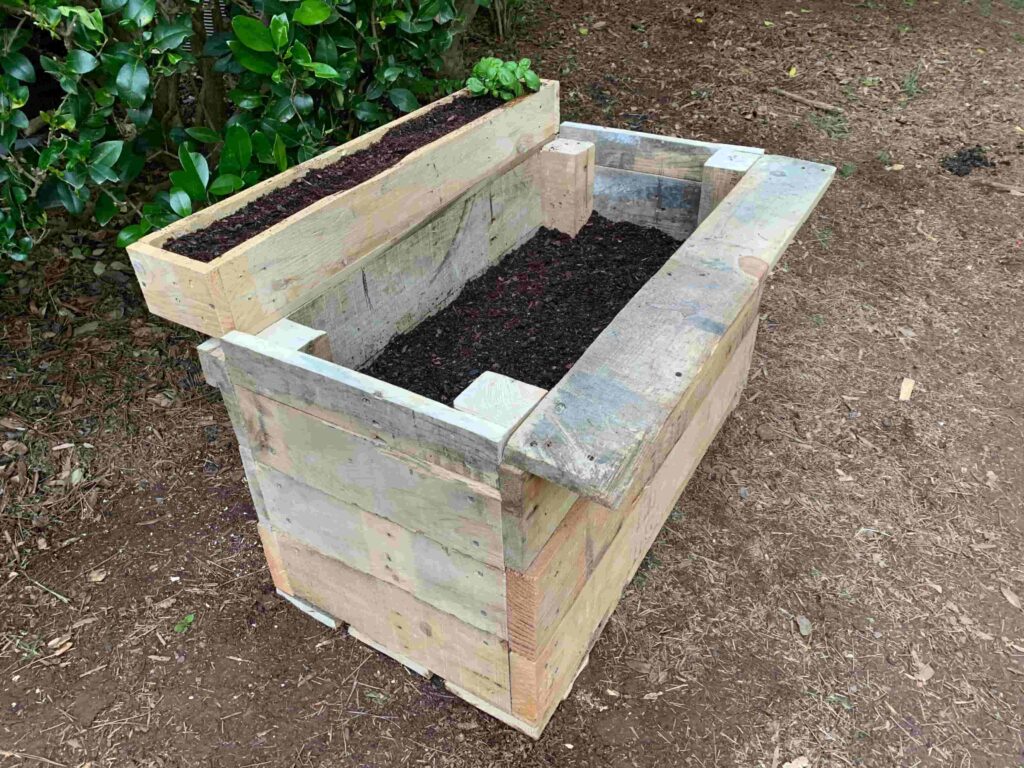 source: redd.it
Oriental vase containers are lovely, but they're not ideal for use as planters outside. This brilliant DIY guide teaches you how to add some sophisticated flair to your outdoor planters by decorating pots or other planting containers with oriental vase design using a decoupage approach. This might also assist you in incorporating a blue and white accent into your outdoor décor strategy.
Tiered Planters 
Tiered planters are ideal for adding depth to your garden or growing a variety of plants in a small and compact space. This one has three distinct growing regions on separate layers. These planter boxes are held together by wood plugs and maybe detached if necessary. It's simple to set up and adjust, and it takes very little upkeep over time, lasting for years without any interaction.
Garden Bed 
This raised planted bed is made of solid wood and has a basic and practical design that is ideal for producing fresh herbs, vegetables, or flowers. It is also quite easy to build. It is made of 1.5 cm thick planks that are screwed together and is both robust and adaptable. The interior is divided into two sections, allowing you to grow different plants in each if necessary. The separator can be removed to join the two sections into a single large planter box. It is available in two sizes.
Basic Planter Box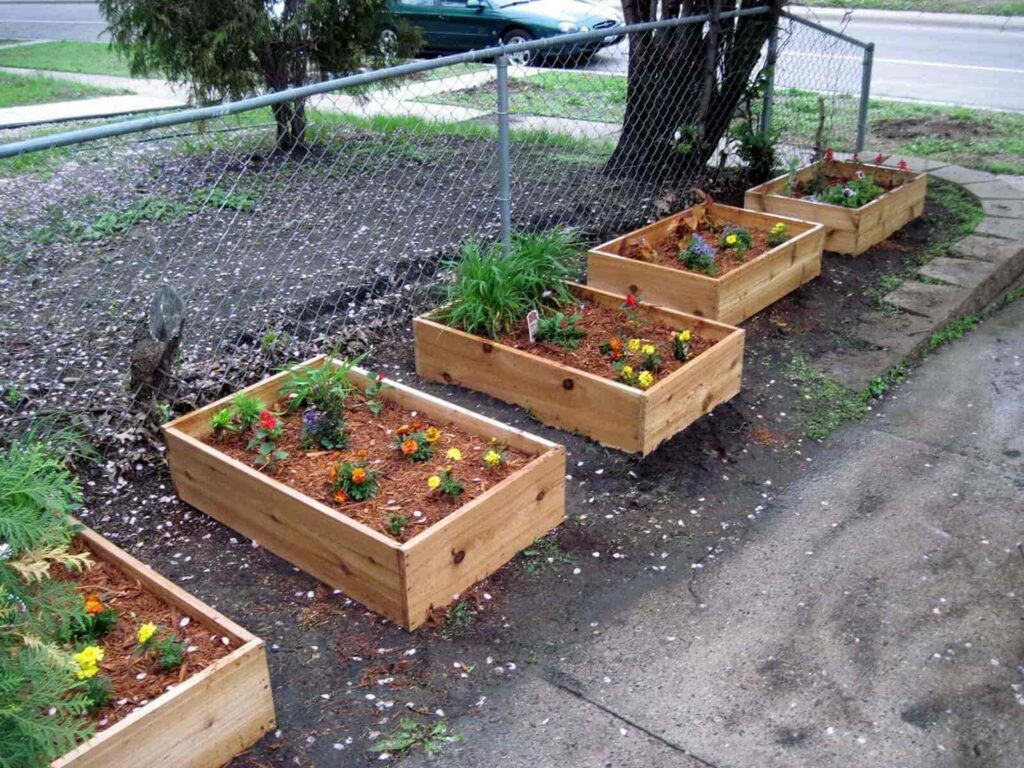 source: pinterest.com
I'm not very good at building things. This modern wooden planter box is large and adds beauty to any front porch or deck! It only requires four materials and appears to be simple to construct, even coming from me. Once you've built this planter box, you'll have it for years and years!
Garden On Walls 
If you don't have enough space on your patio for traditional planter boxes, you can still incorporate plenty of greenery into your design by utilizing vertical space. A living wall is a flat planter that is hung on the wall and filled with small plants that can grow vertically, such as air plants, succulents, or salad greens. A living wall like this can be a dramatic planter to add to your backyard patio that takes up no ground space. cut-and-come-again vegetables, such as lettuce, should be planted at a harvesting height that allows for easy harvesting.
Advantages Of DIY Planter Box 
Simple to construct!

You can make it as big or as small as you want for your space.

Fewer grasses.

You can place them wherever you want – for decoration or for natural light!
Which Wood Is Best For DIY Planter Boxes?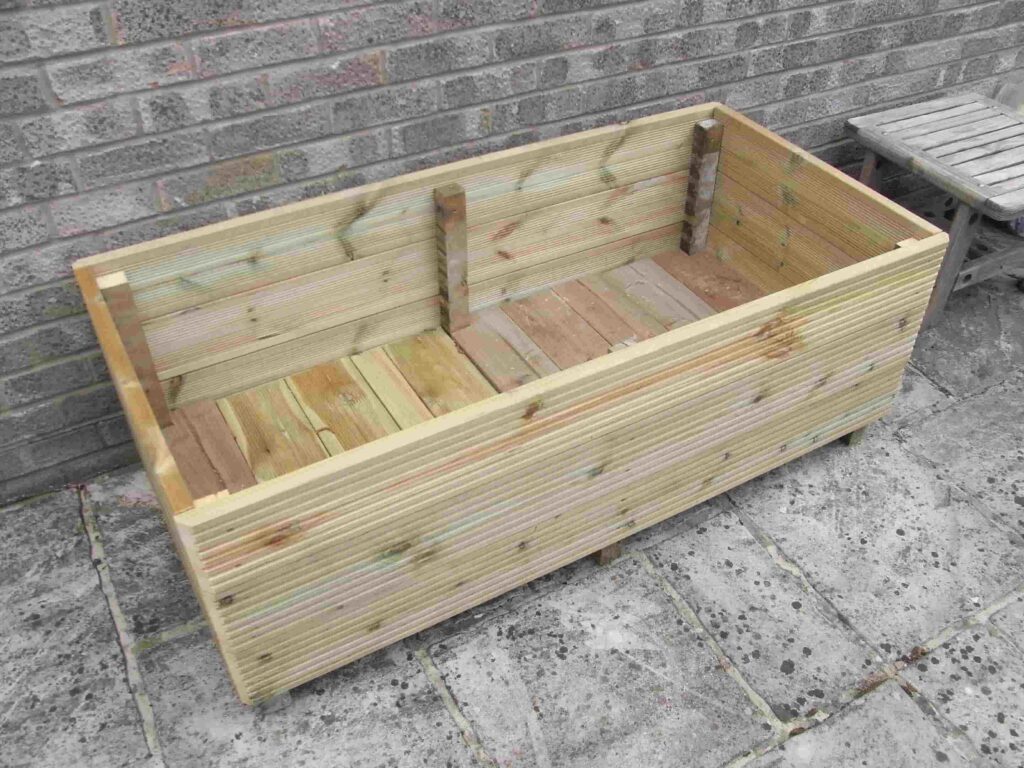 source: instructables.com
Redwood – A great choice because it is naturally rot-resistant and has a long lifespan. Unfortunately, it can be significantly more expensive than the other alternatives.
Cedar – Like redwood, cedar is rot-resistant. It's also very cost-effective.
Douglas fir – Douglas fir has a much shorter lifespan, lasting about 5-7 years. The cheapest wood is used for garden boxes.
Note – Make sure to use untreated wood when building your planter box. Plants can be harmed by the chemicals found in treated wood.
Aren't all of these planter box designs incredible? Are you feeling inspired yet?