The office wall design is an important part of the overall design of your workplace. It can draw everyone's attention to your empty room and make it more inviting. It is critical to choose the right thing, which begins with considering the area's motivation and your personal working habits. The days of grey and white workplace settings are outdated.
Companies are getting more savvy in today's environment, and they utilize inventive wall decoration ideas to transform their office spaces into creative hubs. Employees' imaginations are fostered when they have a fantastic office place to work. They will enjoy working in a productive environment and will undoubtedly contribute more. Here are a few office wall decor ideas that will definitely help you while planning or upgrading your workplace premises.
Print & Stick 
The main advantage of printable wall art is its adaptability. Because you are merely downloading a digital file, you can change the size and scale of your painting to fit your wall perfectly. Printable wall art is ideal for workplace walls as well as home offices, as I've recently noticed a high demand for space-saving solutions. Many home offices are cramped for size, located in a spare bedroom or tucked into a nook somewhere.
Another fantastic advantage of using printable wall art in an office is that you can change it out whenever you want because the files are quite inexpensive and simple to print. Isn't it boring? You're probably staring at the same wall art all day if you work hard all day. Printable wall art is ideal if you want the freedom to change your wall art anytime you need something fresh or some new inspiration.
Industrial Art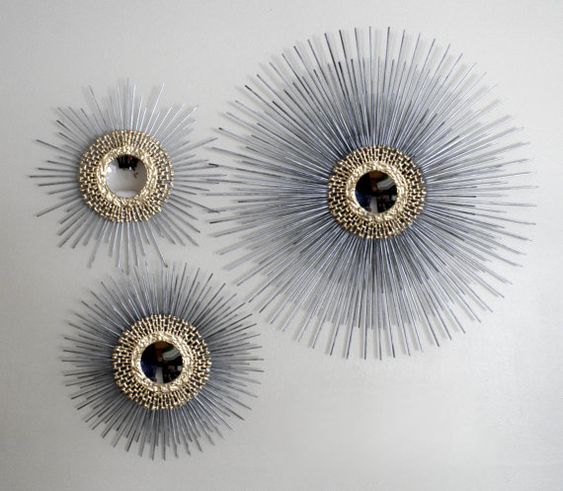 source: pinterest.com
It is lovely to be courageous. The husky furniture's powerful, weighty lines, along with the daring checkerboard pattern on the floor, offer the ideal showcase for the wall's unique décor. The creative decorator added flair and flavor to this conference room by using bits from one of the company's products (a wire bristle brush).
Hanging Frames
Prints look great on cubicle walls, your desk, or the empty wall space throughout the office. Quotes, landscapes, pictures of great leaders, and abstract patterns are all available. There are a plethora of print options available. Pro tip: Look for sellers who sell frames as part of a ready-to-hang kit.
Living Wall
Layering your office in greenery has a myriad of benefits, including higher employee satisfaction, productivity, and engagement. Indoor plants are strategically used in office areas, retail malls, hospitals, and hotels to alleviate stress and change. Why should the workplace be sterile when it can be transformed into something alive and breathing?
Metallic Grid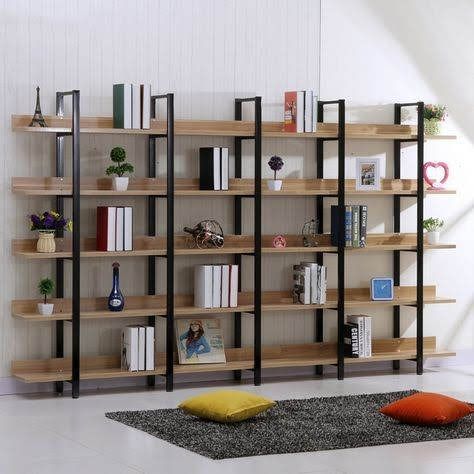 source: pinterest.com
You may have heard the term "going off the grid," but we recommend that you go on the grid gladly this time. Installing a metal grid on your office wall to showcase any awards you've won for your job performance, favorite images, and even quotes creates a cool l effect on the wall. Its uniqueness makes it attractive. It is basic yet quite functional.
Flying Alphabets
You can hang your initials or even spell your name on your office wall. This is the most effective way to personalize your office space and make you feel like a boss. The more personalized your working environment, the more at ease you will feel. You will feel more able to concentrate and focus at work if you are comfortable. Hanging alphabets come in a variety of colors. You can select colors that complement your office's theme.
Map On Wall
World map wall painting may be monotonous, but it is not. The most imaginative approach to design your wall is with a large world map wall decal or wallpaper that covers the entire wall. You can use this map to mark the countries where your company exists. You can highlight the countries you've visited on the map. There's a lot of room to experiment with world map wall art. Above all, it's fantastic office wall art.
Art Series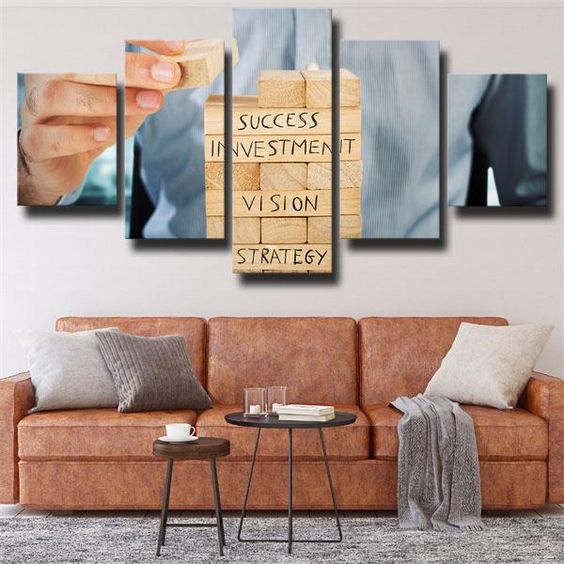 source: pinterest.com
The illusion of movement is created by dividing a panoramic painting into parts. A picture like this is simple, yet powerful and appealing. Anyone passing by would be drawn to it, and they would accidentally move from one section to the other to see the entire picture. Its simplicity makes it appropriate for business wall art.
Calendar Wall
In any workplace, meeting deadlines and keeping track of all operations is what puts you ahead of the competition. Things might get so muddled up that they start slipping out of your head at times. A huge acrylic wall calendar is really useful in this situation. You may use it to schedule reminders for critical dates. Because it is so large and is displayed on your workspace wall, it cannot be unnoticed or forgotten. This not only protects you in front of your boss but also offers lovely wall art. The design integrates a blank wall while also working as a decorative accent.
Mirrored Wall
Mirrors are a great way to add a pop of color to your walls when you don't want to commit to a piece of art. Consider using one enormous mirror to make space appear larger, or a group of small, intricate mirrors for a more eclectic vibe.
Mirrored wall art is both attractive and elegant. It provides radiance and sparkle to any space. Office wall art should not be overpowering. It should be formal, stylish, and sophisticated. Mirrored wall art has everything that makes it a great workplace wall art.
Strong Statement
Normal office art is an old trend. Companies are now experimenting with wall art. A motivational quote in a huge and strong font makes an effective piece of artwork. It does not require any additional wall art to convey the idea. It's simple, straightforward, and eye-catching, and it's likely to catch the attention of both staff and visitors.
Monotone Art
If you understand and appreciate art, you are aware of how appealing and captivating abstract art can be. When abstract art is done in black and white, it becomes more of a riddle that viewers are invited to solve. Hanging monotone abstract art on your office walls will add warmth, sophistication, and elegance to your workspace.
Mood Board
A mood board is appropriate for offices with a relaxed ambiance. You can put images, paintings, hand-drawn sketches, newspaper clippings, favorite quotes, and whatever else you like on the wall. You may turn your workplace into a personal space where you can work more easily by using a mood board. It's a do-it-yourself project, so you can use your downtime at work to create something useful.
Day Planner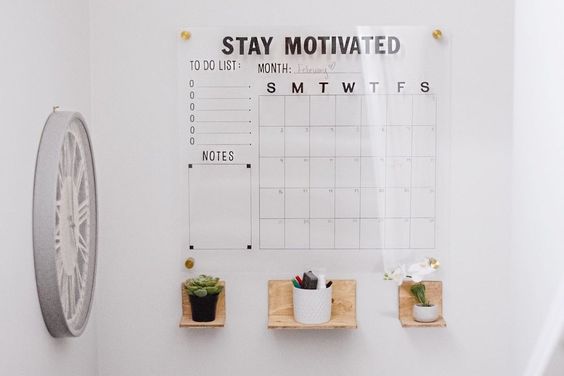 source: pinterest.com
A Day planner with a "This Week" wall decal is a creative way to keep track of your deadlines and meetings. Simply mark the projects that need to be submitted this week or the meetings that you need to attend on the blackboard planner. A journal entry or a sticky note on your desk might easily be missed. But when your entire wall is screaming reminders at you, you'll always be on track!
Gallery Wall-art
A gallery wall is one of the greatest workplace wall art ideas. A gallery wall in an open workplace environment or your own sitting area makes for stunning wall art. In an open office environment, an art gallery can display photos from formal events, employee retreats, meetings, and even rare candid moments at the office that were shot at random.
Every visitor passing by will be drawn to this area of the office. Your favorite quotes, images of family, and moments taken with friends may all be displayed in an art gallery in your own sitting space. It will make you feel more connected to your workplace, and you will work more diligently and with more attention as a result.
Imaginative Wallpaper
Wallpaper can sharply alter the appearance of any space. Why can't you use that space as your office? Office wall art is frequently underrated and disregarded. As previously said, office wall art has a tremendous influence on staff morale and energy. As a result, you should constantly pay close attention to this aspect. Colorful, appealing, and enjoyable wallpaper would be ideal for the demanding environment of the job. It will lift the spirits and brighten the working environment. What more do you require?
Canvas Teller
Everyone needs motivation. Nobody can maintain constant motivation. If no one else is inspiring you, you should focus on inspiring yourself. You read that correctly. You don't need to rely on anyone since you can do it for yourself. Hanging a painting with your favorite quote on your workplace wall might do the trick. It's different every time you look at it. It will serve as a reminder that you must strive for greater things in life. 
Floating Shelves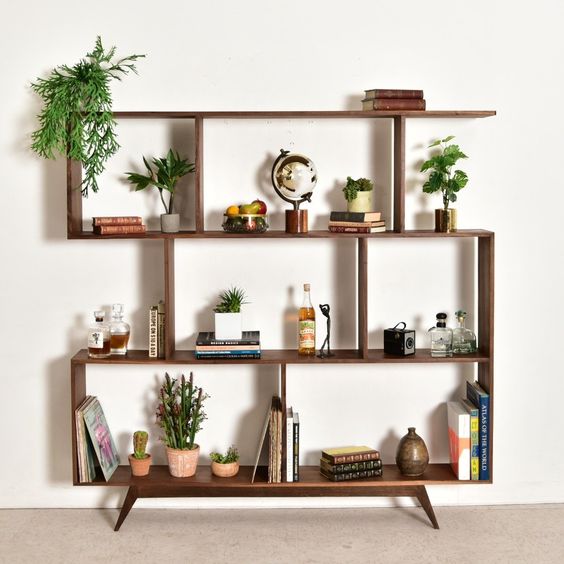 source: pinterest.com
There is no better method to put a shelf on a blank office wall. A shelf in an office does not have to be used just for storing papers and paperwork. An office shelf may be used for so much more. To keep you going, you may adorn it with tiny, appealing sculptures, photo frames, sayings, and motivational slogans. Personalize your workplace area by displaying items that are meaningful to you on an office wall shelf. This would not only look nice but would also add some character to your office.
Macrame Wall Hanging
On the job, you can't be too daring with your color selections. Woven wall hangings come in a variety of neutral and gentle colors such as beige, brown, and off-white. In your office, they will appear classy, attractive, and stylish. They are an excellent method to dress up a standard office wall that is dull and monotonous.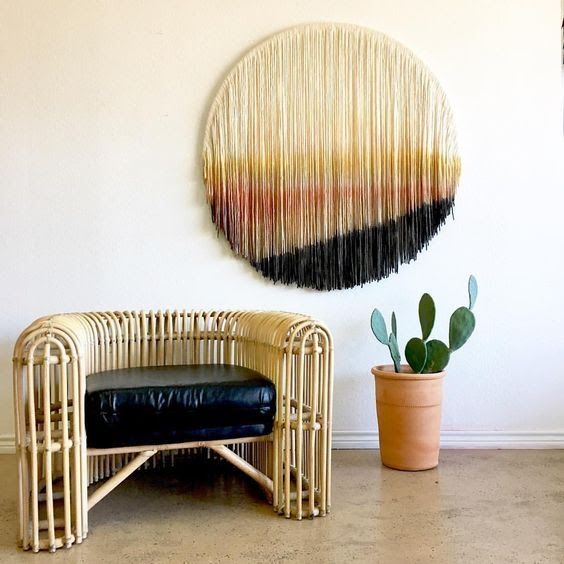 source: pinterest.com
Conclusion
An office is a location where you go to work and do not enjoy yourself. However, wouldn't it be nice to have a workplace where you can relax while working? Making your company a pleasurable place to work has a significant influence on employee morale. It keeps you energized, motivated, and fresh. This increases your productivity and, as a result, your performance at work. Office wall decoration is the simplest method to refresh the look of your business. The majority of the office wall ideas do not even necessitate a large cost. So, what are you holding out for? Today is the day to update your workplace walls!