There are many benefits to renting, from more flexibility in future plans to being able to live in a more central location you couldn't afford otherwise. When you are renting you are able to move from place to place as you like (once your lease is up) and are able to adjust your lifestyle as you want, whether upgrading or downsizing according to your current needs. Many people are choosing to continue renting over buying a property because of these features. 
However, renting can have some drawbacks. There is a lack of stability as you may not always be able to renew your lease when you want to, or your rent may increase past what you can afford. You also have to deal with inspections and abiding by the restrictions given by your landlord. Some of these restrictions will impact how you want to set up your home.
It can be frustrating not being able to design your home how you like, but thankfully there are ways you can still put your own design touch on your interiors. With these tips, you will be able to make your personality shine and make your rental property feel like home. 
Choose your furniture well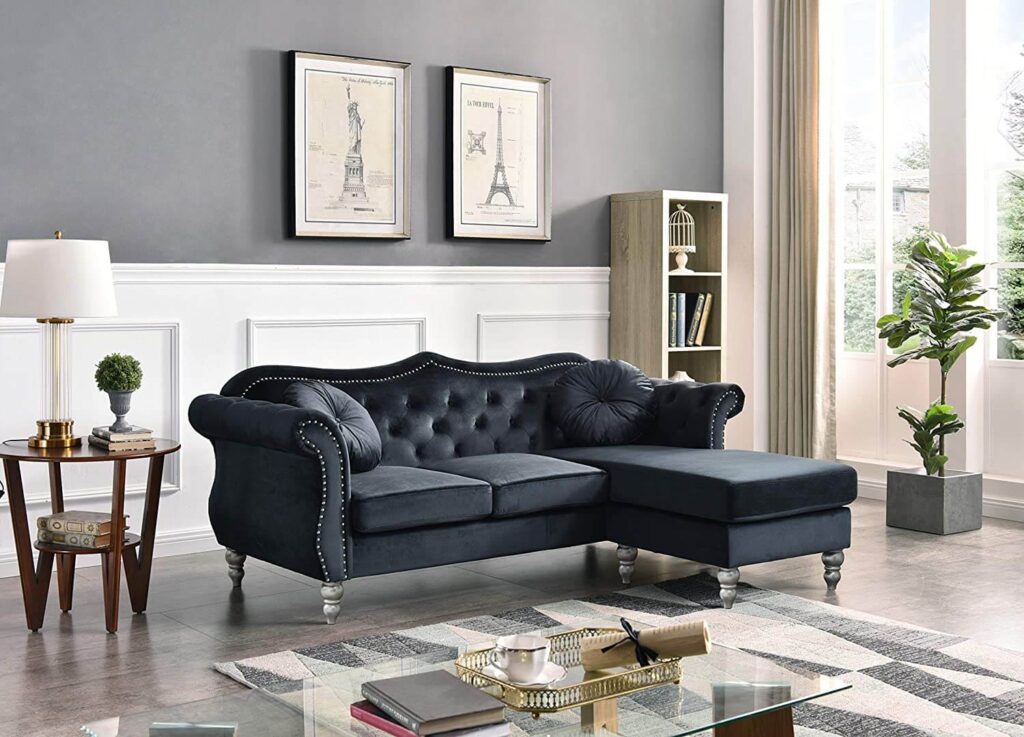 source: amazon.com
Furniture is obviously one of the things you will have complete control over in your rental property. It is also able to make a big impact on space. If you carefully select furniture that you love which also works well within the space you will have done the hardest part of setting up your rental property. 
Make sure you don't clutter the space with too many pieces of furniture. Choose a few great pieces that will make a bold impression. Often larger items of furniture will work well in small spaces if done right and feel less cluttered than more small items filing up the same room. 
Cube units
A common problem when renting is not having enough built-in storage in your home. This is easy to fix with a few simple cube units. You can set up multiple cube storage units along a wall as a DIY wardrobe situation. These not only provide ample storage possibilities, they also are a great place to display knickknacks and photographs to add a personal touch to your home. 
You are able to buy this flat-packed from large furniture chains for cheap, or could also invest in a sturdier solid wood shelving unit. 
Place rugs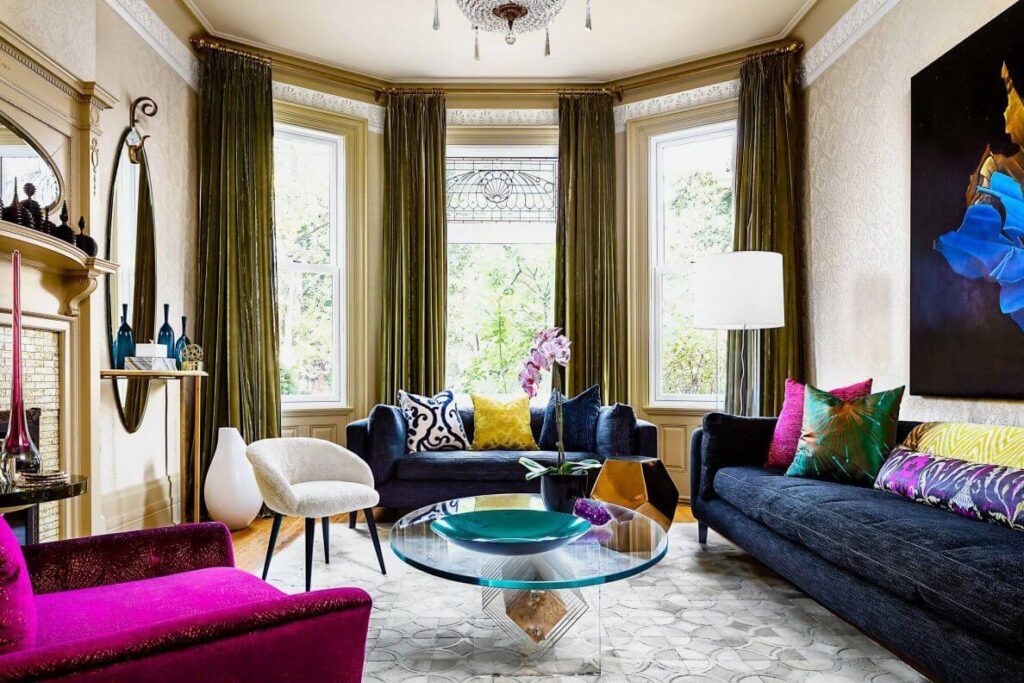 source: homedit.com
Rugs are a great way to add interesting textures into your home. They also have the added benefit of being able to cover stains in the existing carpet if your rental property had older carpet, and will help to further protect the carpet from any damage. 
You can even place large rugs down to cover most of the floor in a room if you don't like the carpet or flooring in your rental. 
Since it is easy to swap rugs in and out, you can experiment with different colors, shapes, and patterns. This is an easy way to make your rental property distinctly your style. And if you get sick of it or want to rearrange it, you can easily remove the rug and change it up with another one.
Hang curtains
This is a great tip if you have blinds installed in the rental property that you don't like. Often the existing blinds or shutters will be cheap quality and unappealing. You can easily hang curtains over these blinds, or if you are handier you could remove the blinds and put them away in storage for when you move out. 
Curtains can make your home feel more expensive, as well as adding softness and warmth to the vibe of your interiors. This will make your home feel more comfortable and homely. 
Add lighting
source: medium.com
Lighting makes all the difference to space. Whether you have good natural lighting or existing lights in your rental or not, adding additional lighting will elevate the atmosphere. 
Standing lamps can be a design feature in a space, while well-placed desk lamps add depth and warmth to a room. You can also experiment with hanging lights, string lights, or lanterns to add extra interest to your home. These all work as filler lights, which create a far more relaxing environment than overhead lighting. 
Another form of lighting which is easy to include in any rental home is candles. These will not only add additional cozy light but can make your home smell nice and look amazing. 
Plants
Indoor plants are an easy and impactful addition to any home. Especially if you are a long-term renter, having a collection of potted house plants can make your rental property feel like home. Having plants in a room brings life to space, and is also a great design feature as it brings in color, organic shape, and varying textures. 
You can also add more personal touches with the choice of pot for each plant. There are many unique and beautifully designed pots to suit all tastes. Plants are especially a great tip if you live in an apartment that has no outdoor space, as they are an affordable way to bring nature into your daily life. 
Wall art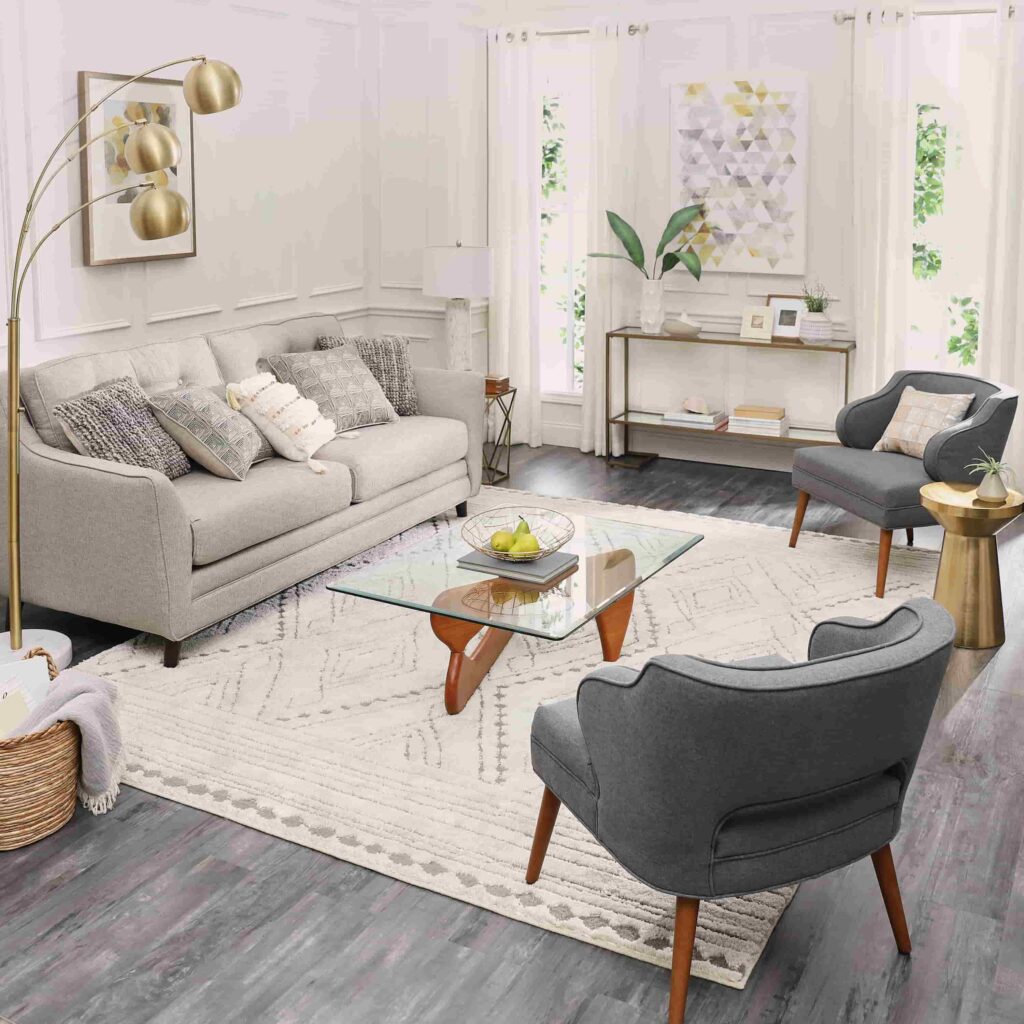 source: mohawkhome.com
While you are often not allowed to put nails into walls in rental properties, there are still ways you can add wall art to your home. There is no end to the possibilities when selecting art for your home. There are bold and colorful framed prints, detailed illustrations, beautiful canvases, something to suit any taste. 
Once you have found art you want to have in your rental home, there are a few options for how to display it. You may be lucky and have a few well-placed hooks or nails in the walls already that you can use to hang your art. If not, temporary removable wall hooks are a great option. Just make sure you check the weight allowance so you don't have any painting dropping unexpectedly. 
If you are worried about the paint peeling from removable hooks, you can simply place frames on dressers, shelving units, or even on the floor if the artwork is large enough. 
Temporary additions
There are a few things you are able to remove and replace in a rental property if you want to go the extra mile in making space your own. Things like cabinet handles in the kitchen are easy to unscrew and replace with your own choice. This can also be done with door handles, light fixtures, and any other feature that can be removed without causing damage. Just remember to keep the original hardware somewhere safe to put back on before you move out! 
Other temporary additions you can make that make a big impact on the design of the space including adding temporary wallpaper or peel-off splashback. This is a clever way to cover anything you particularly dislike in your rental property and customizing it to your taste. It is important to have the place you live to feel like home.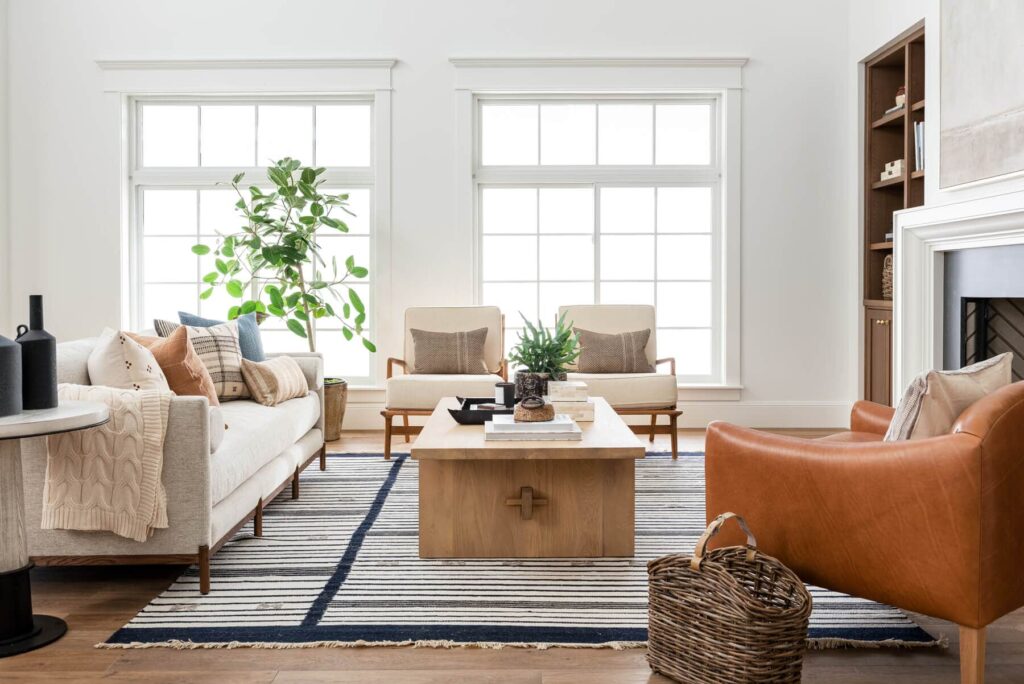 source: studio-mcgee.com
Renting can have its positives and negatives, and as a renter, you learn to become flexible and adaptable to these elements of rental life. However, it is important to know that you are paying the right rent for the property and local area that you live in. 
If you suspect the level of rent you are charged is unfair, you can employ a professional property valuer to undertake a rent review in order to assist negotiations with your landlord. This property valuation will involve an inspection of the property and research into contributing factors such as rental prices of comparable properties nearby.  
As renting can require you to be flexible it is important to know what your options are and when to make changes, both in negotiating rent prices and how you decorate your rental property to feel like a home.