Motorized blinds might seem straightforward, but there are many unique ways to use them in a commercial setting, whether you're designing a retail or office space. From security and privacy to room dividers, motorized blinds offer more than just convenience. When you think outside the box, you can turn a great window treatment into functional decor accents that will delight the eye. Or if you're strategic, you can even save on energy costs.
This article will explore some of the creative ways you can use motorized blinds in different environments, and how they can be used with different fabric collections. Keep reading to get inspired.
Privacy & Security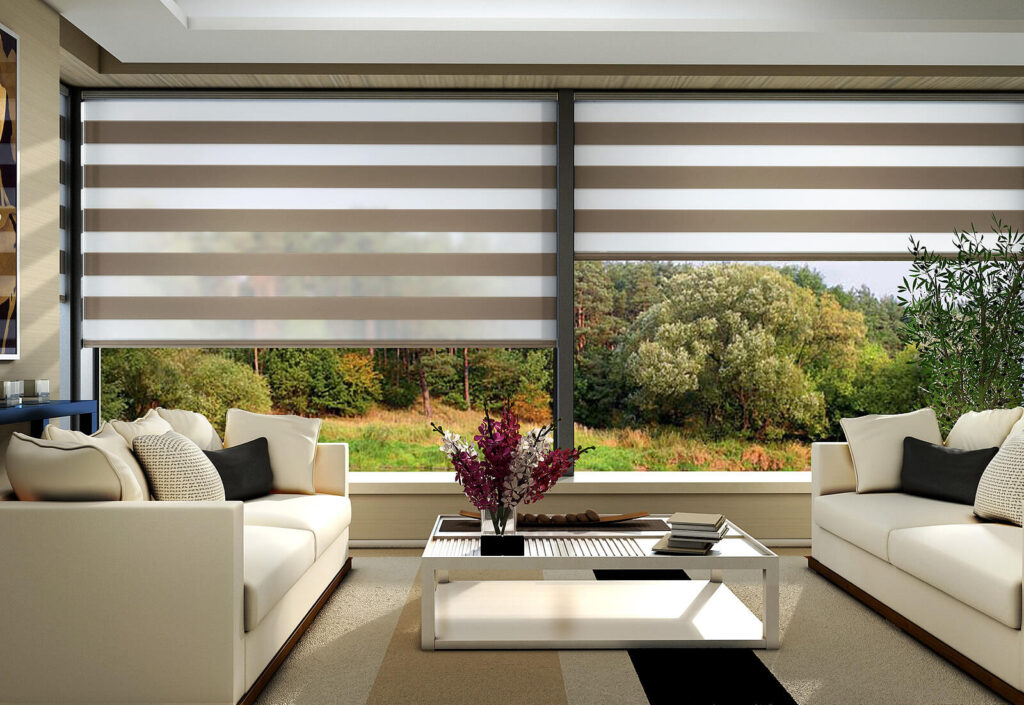 source: hdhtech.com
When it comes to working with motorized blinds, consider how they might help with adding extra privacy and security in an office or retail space.
For example, consider an open-concept office that has little to no access to private meeting areas. Or, let's say there's a desire to have certain sections of the space partially closed off so a semblance of a private office can be created. Motorized blinds are actually a great solution for this need. They can function just like room dividers, separating spaces or creating entirely new ones without having to plan for construction or renovation. Motorized blinds function like modular furniture pieces and enhance a space's ability to adapt to people's needs by being super customizable. What's great is that the control pad can be placed in an accessible place and is easy to operate. You can also choose to have the blinds controlled through a smartphone or tablet.
Another way that motorized blinds can aid in privacy and security is by being set to a specific schedule that is controlled by you. If the space you're working with requires lots of privacy, motorized blinds can give you peace of mind. You can schedule blinds to open and close whenever is convenient for you, which can take out a lot of guesswork if you find yourself worrying about whether or not you've forgotten to close them after leaving.
Adding Entertainment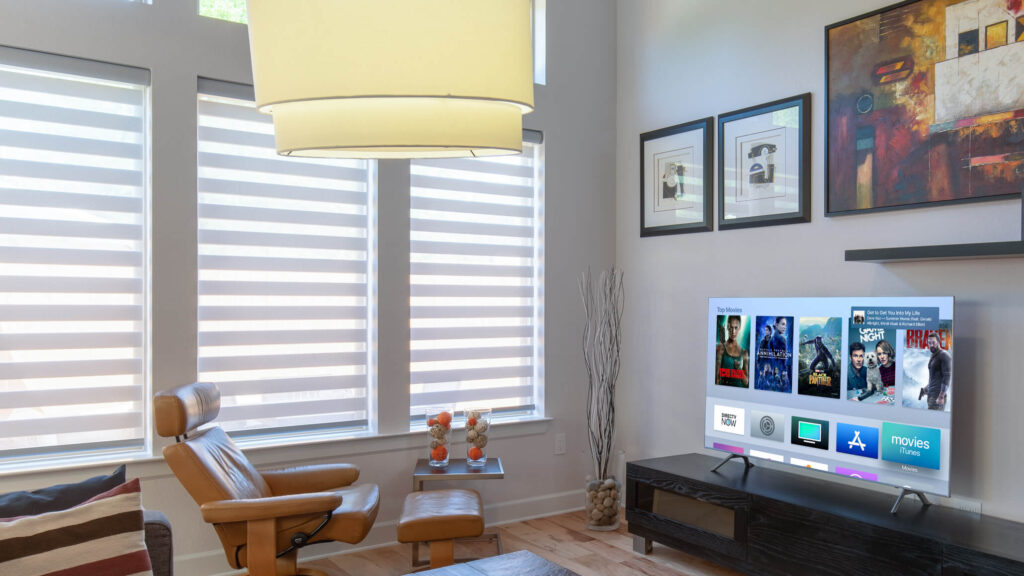 source: digitized.house
Motorized blinds and minimalist look blinds are a nice addition to office space, creating an inviting and delightful atmosphere. Consider spaces like media rooms where presentations, conferences, or even fun work events might take place. Motorized blinds can be added to monitors, projection screens, or other AV equipment as a fun way to display them. With a push of a button, the blinds can retract, displaying the screen just in time for the big presentation. Motorized blinds are also perfect for discreetly concealing any equipment that you don't use on a regular basis, keeping it protected from sun exposure or accidental damage.
For retail or hospitality spaces, motorized blinds can be used in the same way to block off areas for open mic nights, wine and cheese events, or things like product launches. You can control when and how people should engage with space by adjusting the blinds with remote, simplifying communication and organization. There's also the added benefit of increased style. Hanging blinds as a room divider can add a really enjoyable ambience to the space. Depending on the type of business, you can get creative with different fabrics, materials, and colours.
The great thing about motorized blinds is that they can be added to any type of blind or shade. This means that if you're looking for something specific, like blackout curtains, you don't have to compromise on what you want.
Protect Furniture & Save Energy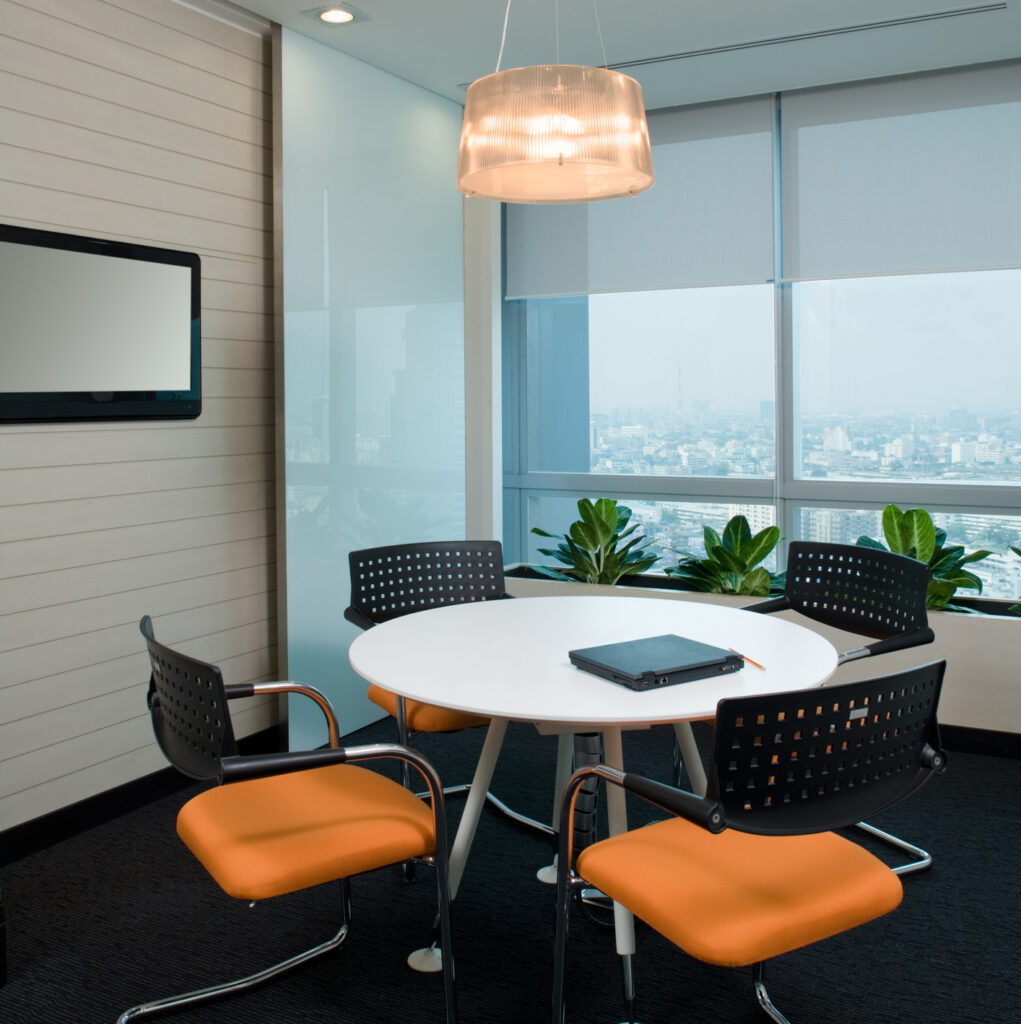 source: automatedlivingsolutions.ca
If you've invested in nice pieces of furniture, the last thing you'll want to have happened is sun damage. UV rays actually break down the chemical bonds in certain materials. This means the colour will fade on fabric or wood can become discoloured.
A smart way to protect and prolong your investments is by utilizing the added benefits of motorized blinds. You have the option to outfit your motorized blinds with a sensor so they adapt to specific weather conditions. Depending on how sunny or hot the day is, the sensor will pick up on the changing conditions and adjust the motorized blinds appropriately, blocking heat and the sun's rays. This means you don't have to worry about adjusting the blinds yourself.
Motorized blinds can also save you energy and money by cutting down on monthly bills. They can make space more energy efficient by increasing insulation and controlling light which gives internal air conditioning and heating a break. This is a creative solution to saving on energy costs that some people might not have even considered. It's as simple as installing automated blinds and watching the savings roll in.
Think Outside the Box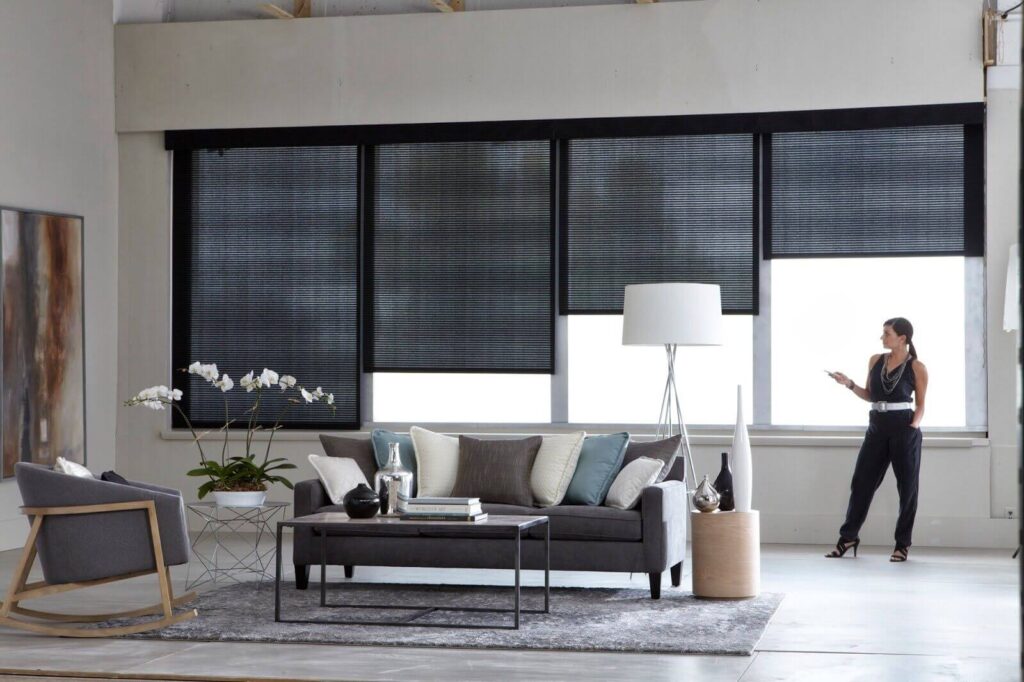 source: pinterest.com
Get creative with motorized blinds in your retail or office space. They're more than just convenient window treatments — they can enhance organization, privacy, and save energy.
When trying to decide what's best for you, take stock of your space and consider how the functionality, ease, and innovation of motorized blinds help create a more captivating atmosphere. You might find that you come up with completely different ideas than the ones discussed above as every space is completely different.
There are so many great motorized shading systems to choose from, but it's important to go with a trusted and respected brand that works with commercial blinds and shades that can cater to your specific needs. Go explore your options and get inspired!