Commercial door locks are essential components of a comprehensive commercial security system. From basic user access management to keeping criminals out – strong locks make all the difference. After reading this article, you'll better understand the different types of commercial door locks. You will also get some tips on choosing the right locks for your property. 
What are the Types of Commercial Door Locks?
The most common commercial door lock includes mortise lock, deadbolt locks, keyless locks, cylindrical lever locks and magnetic locks. While we share some details on how you can install these locks, you may need the assistance of a commercial security specialist to help you install them on your property. According to Security 101, the security specialist can also guide you on choosing the best type of commercial lock for your needs. Here are the most common types of commercial door locks: 
Mortise Lock
source: pinterest.com
Mortise locks use a strong and reliable type of mechanism. These locks are commonly used for commercial property, including government buildings. These locks have a long history of offering reliable security. They have been around since the 1700's, proving their worth all across the world. They require a pocket to be expertly cut into the edge of a door before installation. The lock body then fits snugly inside, with exterior and interior trim used to secure it further. It takes an old-fashioned key to activate its pins and move them into position in order for it to open or close. 
Deadbolt Locks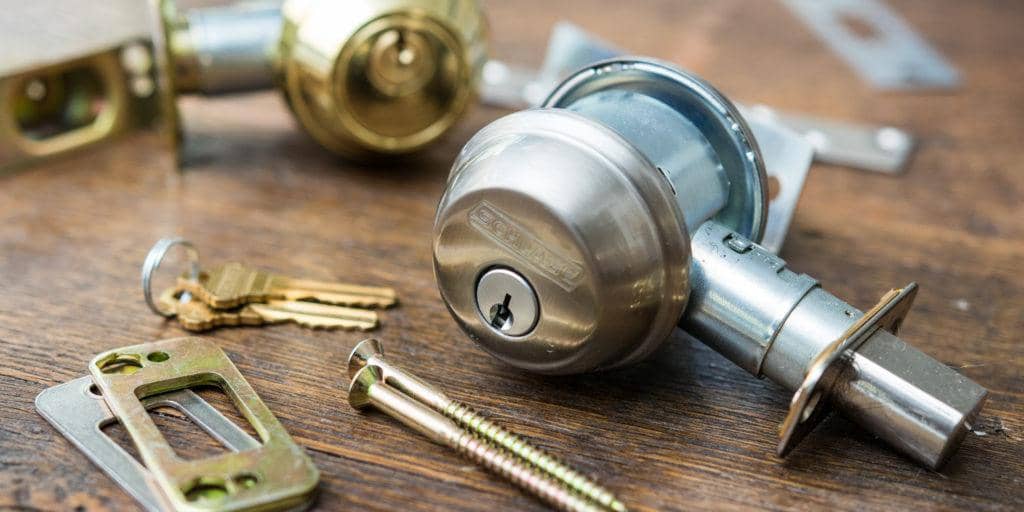 source: pinterest.com
The deadbolt lock is an ideal solution for any kind of forced entry. It firmly clasps a hefty, hardened chunk of metal into the doorframe, firmly bolted to a sturdy steel "strike plate." You need to use a key, thumb-turn or electronic unlocking mechanism to unlock – making it extremely difficult for any intruder to budge it open with brute force. Deadbolts are specially designed not to have any springs. So rather than relying on an element that can easily be fiddled with and broken, they jam directly into the strike plate or recede when you use your key, adding multiple layers of protection against even the most skilled intruder.
Keyless Electronic Locks 
source: pinterest.com
The electric-powered way is the perfect solution for locking and unlocking doors. There is no need to have physical keys. The keyless or electronic locks can also be used with the Internet of Things (IoT), allowing you to manage it remotely. For installation, these locks have to be connected to your local network, and you can operate them from your mobile phone or laptop. 
Keep in mind that not all keyless locks come with remote-use capabilities. For more common commercial keyless locks, you operate them through a keypad, key cards, or biometrics. 
Cylindrical Lever Locks
source: pinterest.com
Installing a cylindrical lock with knobs or levers on both sides of the door offers maximum security. The keyed cylinder, connected to the lock body, operates locking and unlocking. The upper pin holds the cylinder together with the casing, not needing any rotation. Notches on the key line up with pins, and push each one to its designated height. The latch bolt can be used from either side of the door, and you can also unlock it on the inside by pushing a button. The lever set is designed with a release feature to allow access from the outside in case of an emergency.
Magnetic Locks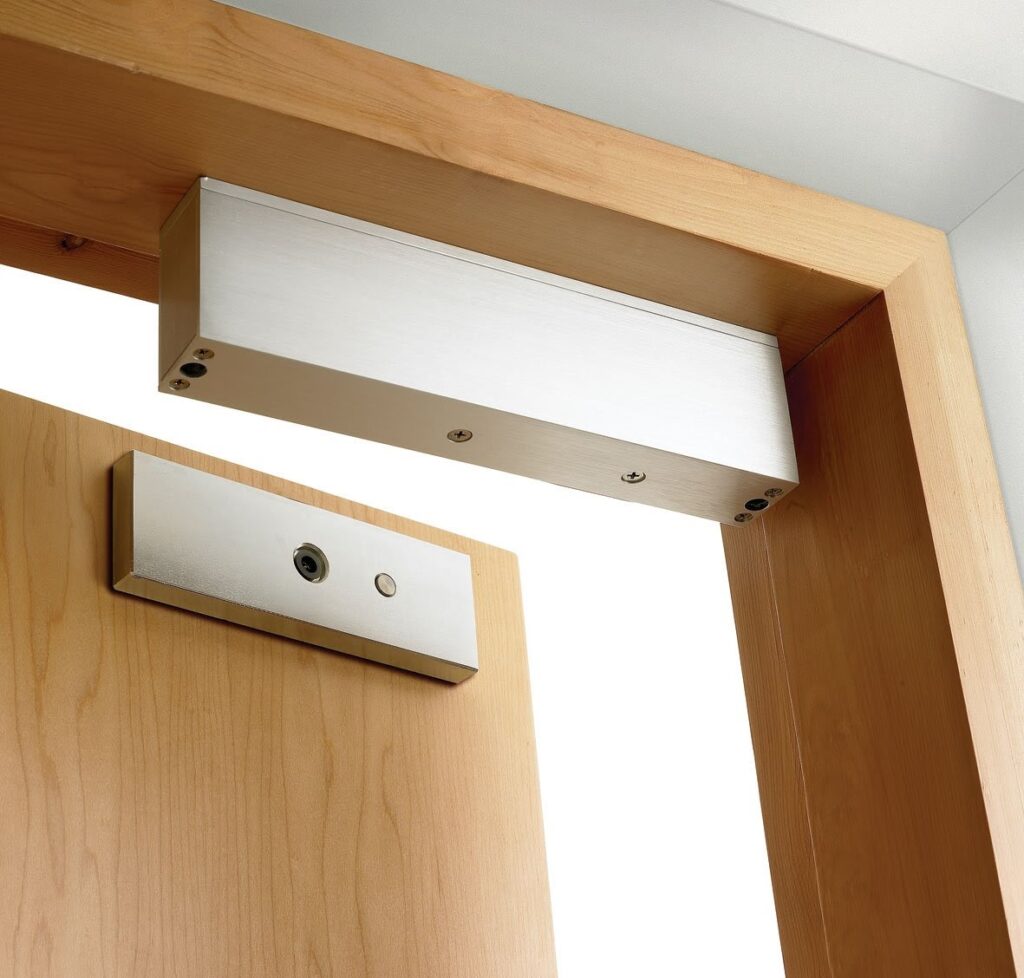 source: pinterest.com
Magnetic locks are also known as maglocks. The lock system works by utilizing electricity and magnetism. The opening and closing depend on the state of electricity and magnetic properties accordingly. The maglocks need a device to alert them to unlock themselves. When the device is brought in the recommended region around the sensor, it will open the door as it directs the demagnetization inside. Thus, the contact breaks and the door is unlocked. Magnetic locks have two main parts, a metal armature is attached to the door either to the fixed frame or moving, and the electromagnet is secured according to the position of the metal frame. 
Cylindrical Knob Locks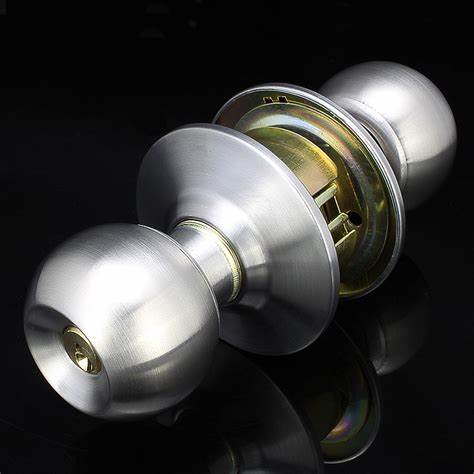 source: pinterest.com
Cylindrical knob locks are the perfect pick for interior doors that don't require extra security. With a basic setup and straightforward handle, this lock makes it ideal for large-scale commercial buildings. A cylindrical lever lock needs two circular holes drilled into the door frame in order to install, equipped with levers that triggers an internal bolt. There is an upper pin keeping the cylinder firmly together so it can not rotate. The only way these locks work is when notches on your key align perfectly with those inner pins allowing them to reach the correct space.