In most homes, the driveway only has a functional purpose for your vehicle. Due to this mindset, it's not often part of the overall design of your home. If you're eager to improve the overall curb appeal of your home, it's time to give your driveaway a significant makeover.   
Once you decide to improve your driveway, it can significantly boost the overall aesthetic appeal of your property, whether you're going to put it up for sale or not. Depending on the design you want to achieve, here are several ideas to provide your driveway with a fresh start.   
Asphalt  
source: pinterest.com
Today, you can also consider getting an asphalt driveway. Asphalt is a paving material with stone aggregates, water, and bitumen, an adhesive type of petroleum. It's been a preferred choice for residential driveways for its durability and affordable price.   
An option worth considering is a tar and chip driveway with the appearance of gravel with the durability of asphalt. It's an asphalt driveway, but stone aggregates are present on the surface. You have the option to make this type of driveway exude a natural appearance. An advantage of tar and chip driveways is the extra traction, but it can make the removal of snow a difficult task to handle. Additionally, this type of driveway is affordable than asphalt and doesn't require seeding.   
If you want a unique driveway for your home comprising of asphalt, you can select decorative asphalt. This type of driveway involves techniques to come up with colored and stamped driveways. Although asphalt is essentially dark, it can include color in various shades ranging from cream-like to bold hues. You also have the option to stamp the driveway with a steel template to mimic pavers, stones, or bricks.  
If you want the best outcome from your driveway makeover project, it's best to work with a reliable professional. Say you're currently residing in Colorado, with the variety of materials suitable for your driveway makeover, you can opt to learn more about the asphalt paving process at Asphalt Colorado Springs.   
Paver driveway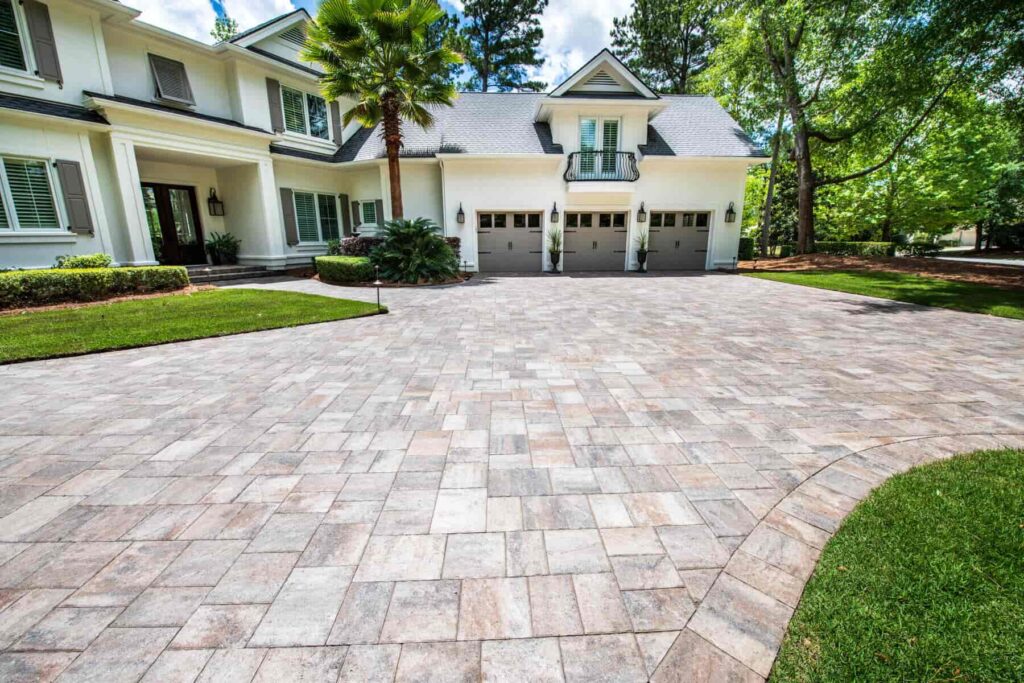 source: americanpavingdesign.com
If you want to achieve a natural-looking appearance for your driveway, consider getting pavers. Generally, pavers boast a stone-like, natural appearance made of a combination of sand, cement, gravel, and pigments and undergo compression into bricks.   
Pavers can withstand a high level of pressure, allowing them to last for a long time and more durable than poured concrete. The paver driveway can complement any house design aesthetically, but it is truly rustically themed. Today, you can choose from various shapes, patterns, and colors.
When you have brick pavers as your driveway, make sure that you'll clean and seal them regularly, or you'll end up with mildew, weeds, and dullness issues in the long run. Sadly, using the incorrect sealant can result in whiting, which gives your pavers a milky or white appearance instead of enhancing the natural color. If you want the best results, it's best to work with a professional to tackle the sealant application suitable for the climate in your area.  
Rubber paving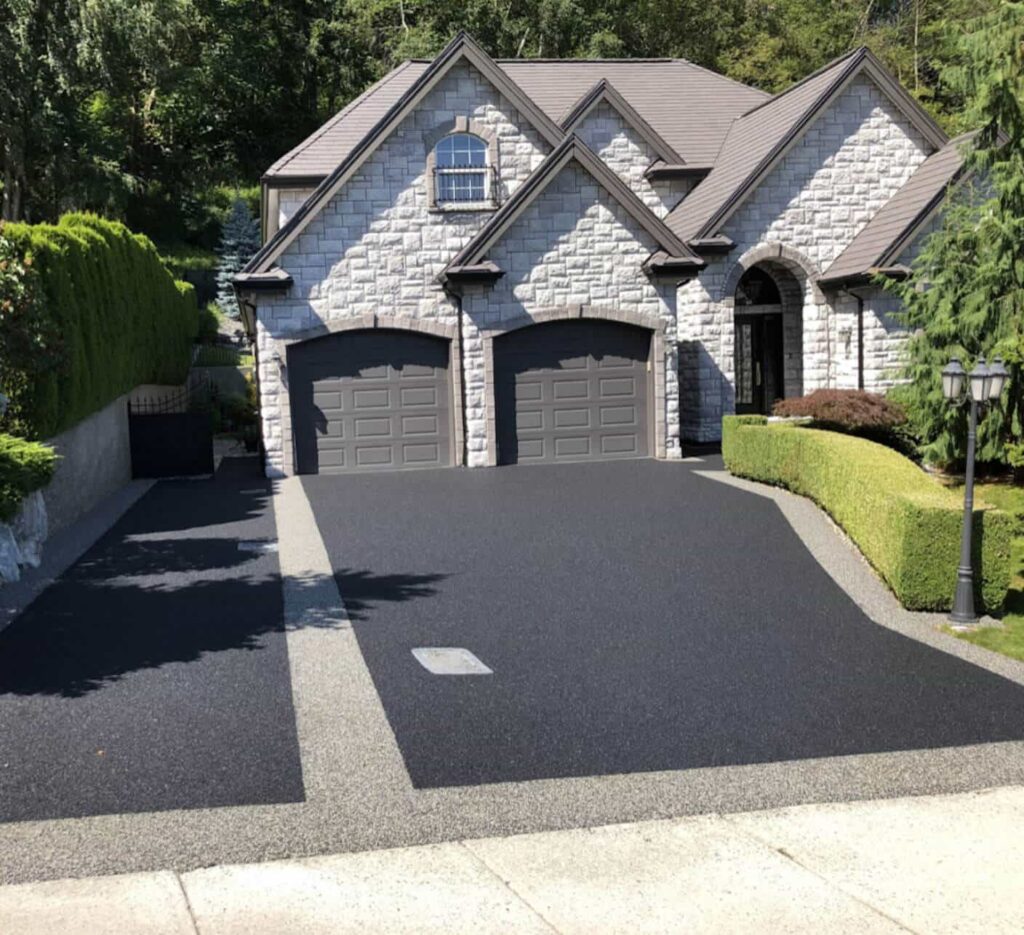 source: ecopaving.com
As an environment-friendly option where you prefer the idea of utilizing recycled materials, you can consider getting a rubber asphalt driveway for your home.   
With rubber paving, it's strikingly similar to the regular black asphalt if you want to achieve a classic look for your driveway. However, if you aim to make your driveway stand out or a unique design, you can choose a rubber in a different color to create a specific style for your driveway, whether it's swirls, dots, abstract, or anything you want.   
Since rubber can expand and contract without cracking, it's a durable choice and will look good as new for years to come. So, if you're residing in a region with a cold climate, rubber paving is the right choice.   
Concrete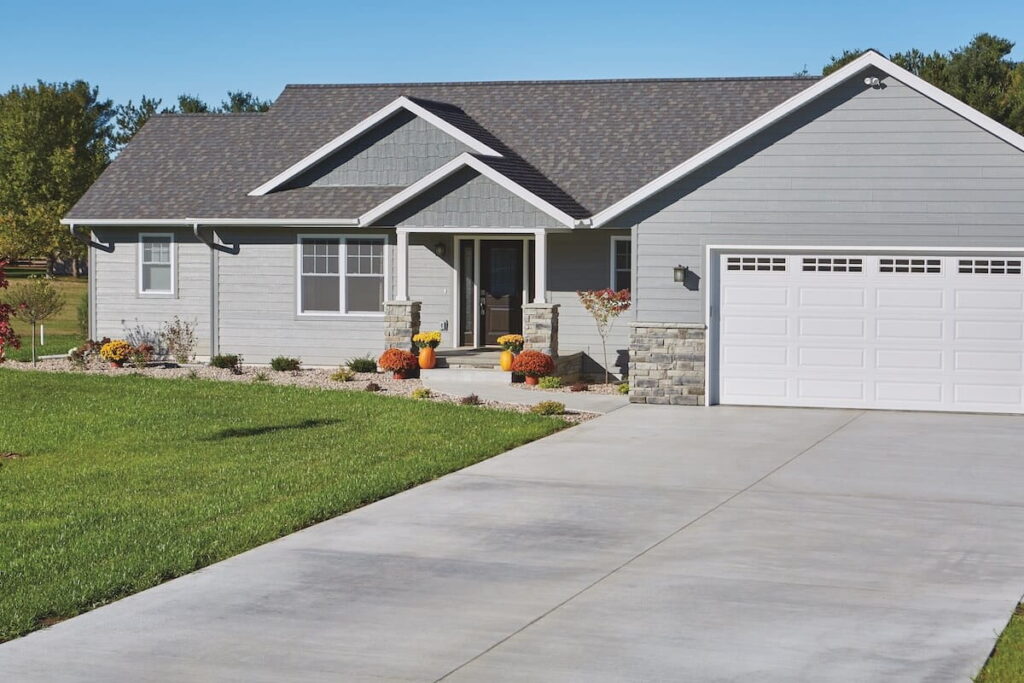 source: countymaterials.com
A concrete driveway has been a popular option since it's affordable and easy to install. The only drawback with concrete is the plain appearance.   
If you want to provide the driveway with a fresh start, you can create design features with a bit of creativity with poured concrete. A good example is creating borders on the edges of the driveway for an extra flair. Another option worth considering is creating some patterns by incorporating other design elements such as stone or concrete in a contrasting color that will serve as accents. 
Conclusion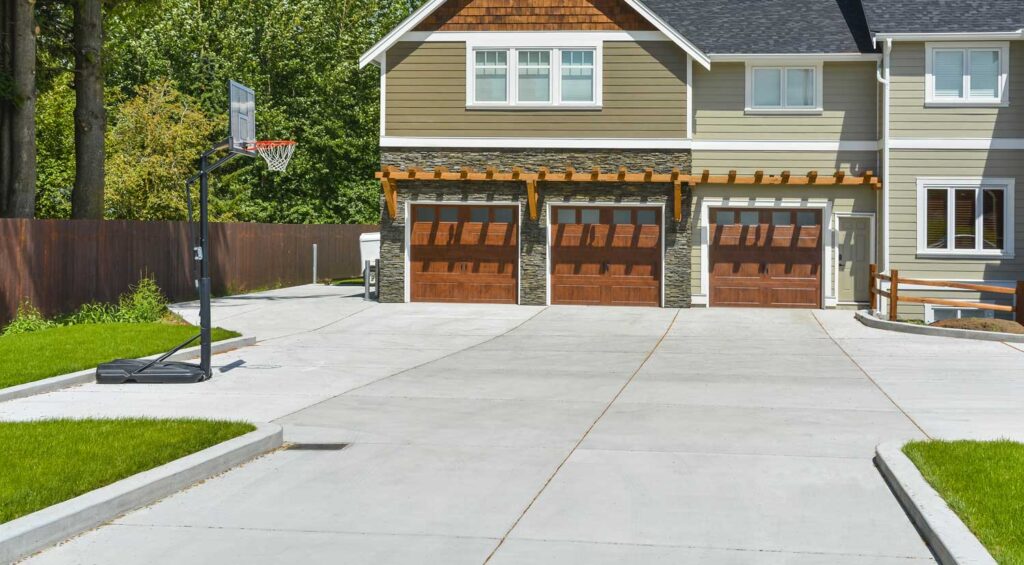 source: inchcalculator.com
Making your home stand out and increasing the overall curb appeal is possible but make sure you'll include your driveway. If the driveway appears neglected or worn out, it might be time to give it a makeover. Depending on your personal choices, you can choose from these driveway materials to create a new look for your driveway.