This lovely summer season brings an upsurge in eating outside, resting, and many other outdoor activities.
These days, the pergola is undergoing a modern Revolution. A pergola is a pleasant way to take some shade during the brighter, sunnier seasons. It is a fashionable outdoor structure with no walls or made as a solitary attachment to one's house. Pergolas are a fantastic addition to any garden or outdoor space. They're simple to care for and resilient to the summer heat.
Based on your preferences and lifestyle, there are a plethora of pergola options to pick from. Take a look at the pergola creative ideas below to get some inspiration for your own outdoor living area.
Fifteen fascinating pergola design ideas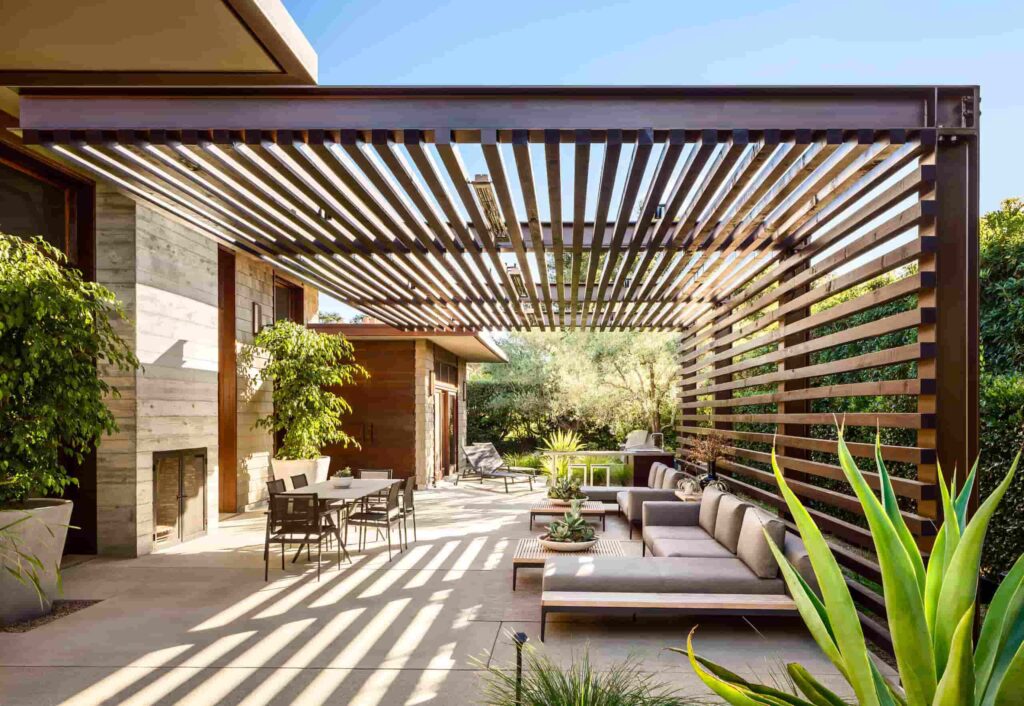 source: houzz.com
Natural pergolas with vines or hanging plants are lovely in a garden. Plant them far enough ahead of time to conceal the building and enjoy the added shade.
There are many styles and layouts to choose from, and it comes to Pergolas! You can make a beautiful impression in your outdoor environment without sacrificing your convenience or your money. Today, we've gathered 15 of the most recent stylish pergola design ideas to enhance the aesthetics and functionality of your front or garden.
Slanting pergola design 2021
This pergola's angled slats provide extra cool, calming shade on hot summer evenings. The pergola wood complements the wood used for the chairs and tables, and the wood used on the house's facade. We chose the greys for the flooring, couches, pillows, and tabletop tile.
Stylish wooden pergola design
source: pinterest.com
A wooden pergola, made of timbers such as cedar or redwood, adds a natural touch to a garden or patio area.
To match a range of pergola design 2021 trends, wood can be stained or painted. Also, complementing it with different accessories required under the pergola should be kept. It makes this pergola structure more appealing. It fades after a certain amount of time; thus, regular care is required to restrain or repaint the pergola as needed. 
It is also critical to ensure that the wood is completely sanded before installation. After that, examine the wood on a regular basis to make sure it hasn't cracked or gotten rough.
Huge Pergola space
If you have a wide outdoor space, we strongly advise you to construct a massive pergola. It will not only give shade from the sun, but it will also transform into a welcoming environment that will match any living room. Just add some comfortable furniture and decorations, and you've got yourself a permanent hangout spot!
I consider it a welcoming space for your guests and visitors on weekends. You can host a party on some special occasion, and this huge pergola helps you out in hosting your guests. 
Unique pergola design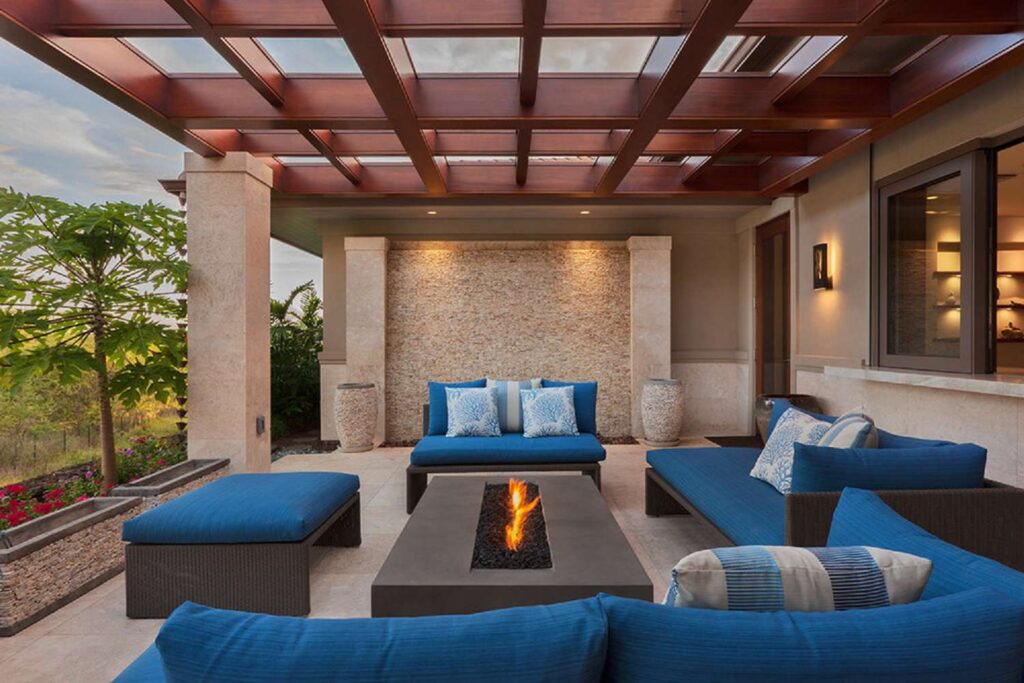 source: thespruce.com
Above your garage entrance, this awning-style pergola makes a big statement. It does not have structural supports that touch the ground, unlike typical pergolas. This pergola, on the other hand, is attached to the garage wall. The appearance of vines blooming on both edges of the entrance suggests the existence of the support posts.
Picnic pergola space
This pergola, which has broad open sides that allow a panoramic perspective, shades the picnic area. The pergola architecture of the porch is reflected in this separate pergola. The picnic tables, chairs, and flooring in the picnic area and the seating in the porch area have a natural aesthetic that binds the spaces altogether. Picnickers are free to come and go due to the openness.
Pergola design on the terrace
source: hearstapps.com
We're willing to wager that you've never seen a pergola like this before. It is a one-of-a-kind experience. Build a pergola pod in your backyard if you'd like to amaze your guests, and you also would love to spend quality time there with your friends and family. It not only gives you the best comfort, but it also gives you privacy for your outdoor patio alternatives.
Also, accessorize this terrace pergola design 2021, well to adorn the space and make it look more beautiful. Throw on some complementing cushions, couch, chairs, coffee table followed by beautiful flower vase, books and much more to complete the whole look. 
Wooden carved beautiful pergola design
This interesting yet stylish pergola design features a living tree as part of its design. The tree's trunk and one limb appear to break through the stone wall was erected around this one. The trunk and other branches support the pergola roof. 
Apart from all this, have you just looked at the accessories it included, all carved up of wood? Right from chairs to tables and even surrounding walls. It incorporated all these things with one other so well. It will give you a feel of some forest and keep you surrounded by greenery. 
See side pergola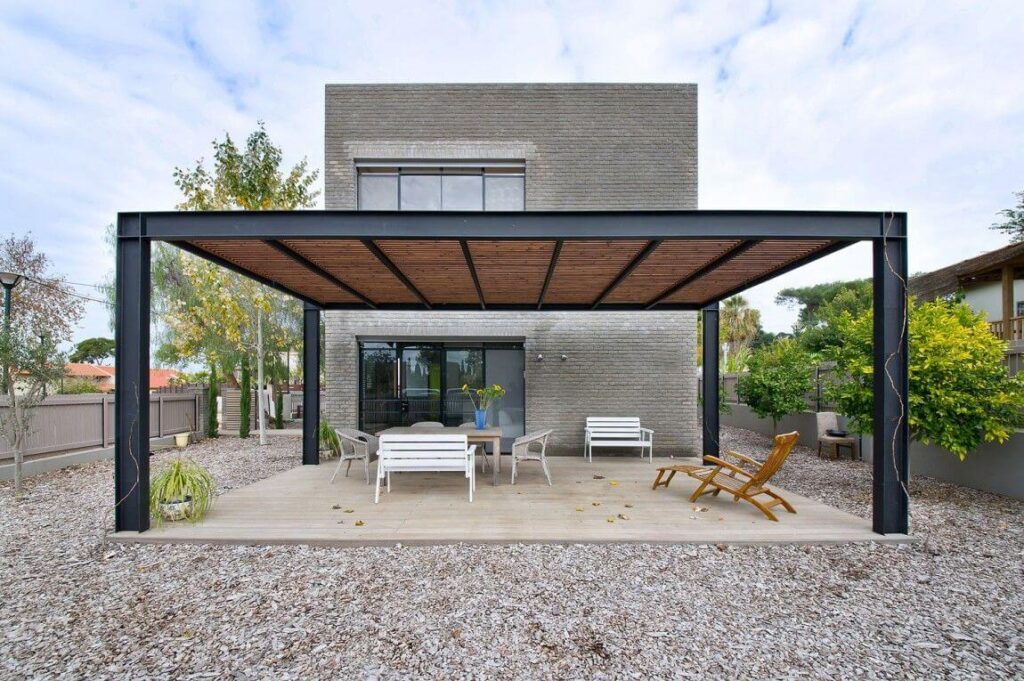 source: homedit.com
From the regal white chairs in this pergola, you may relax and observe your poolside dominion. The residents are shielded from the sun by white cloth canopies stretched along the roof and slatted sides. 
The ceiling of the pergola looks so fascinating, and even the shades match and complement so well. Do you know what is the best part about this pergola design is? This Pergola structure faces the sea, making the place look even more beautiful and adorns the space appropriately. 
Pergola bar
Make an outdoor bar for your visitors if you're entertaining outside in the summer. We achieved a natural sense by using rough stone blocks of varying sizes and colors, which are contrasted by a marble backsplash. The bar is created around the pergola-supports, awning which is attached to the house. To complete the look, add some casual stools for lounging with your friends and family.
This pergola-style bar is so effortless to make, and it requires less creativity while offering more useful and efficient space. 
Sophisticated Curtained pergola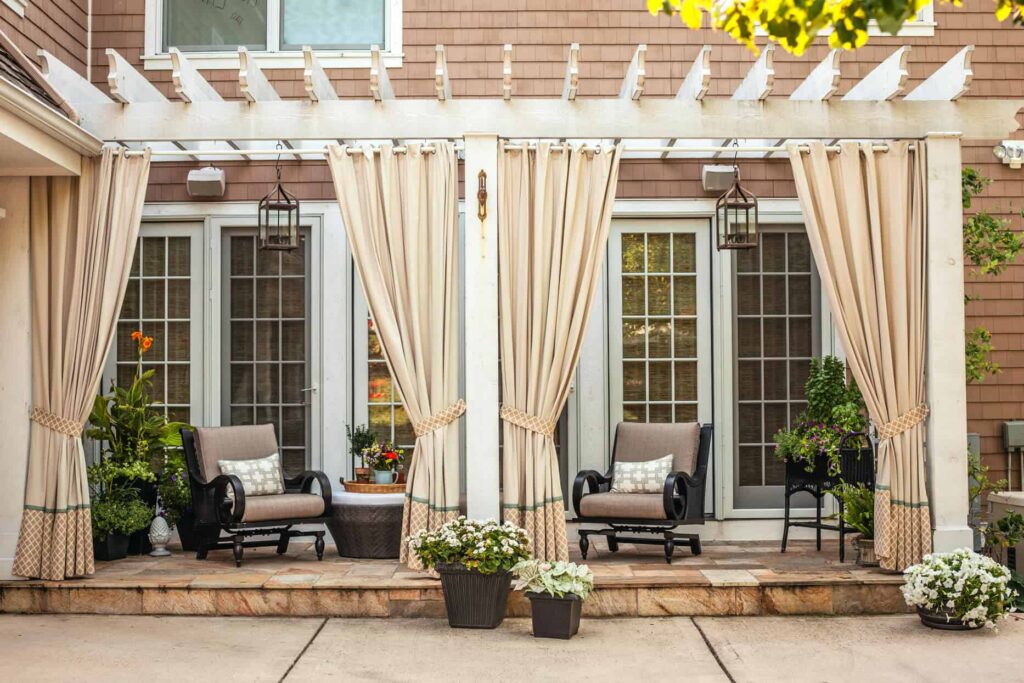 source: bhg.com
This pergola begins with crisp white curtains hanging from hooks and simply pulled back with silver chains for a sleek, simple, trendy effect. The angular, Native American pattern on two of the pillows inspires the cube-shaped woven chairs, which provide depth and take a geometric hint. We simplified the zigzag with neutral hues on the rug, whereas another pillow settles it into basic patterns.
Conclusion
Pergolas are an excellent alternative for creating a shaded outdoor space. Pergolas, which are suitable for both residential and commercial use, offer practically limitless customization choices, encompassing finishes, designs, rafter spacing, column layout, size, and materials.
So there you have it, some of the most creative Pergola Design 2021 Ideas. With the help of this article, you may be able to construct a relaxing outdoor place. We've compiled a list of 8 unique yet stylish pergola design ideas.
So, do let us know which one you like the most in the comments section below!