Staircases are great to focus points and key interior design elements that significantly influence the overall décor and vibe of a house or business. At the same time, they are permanent elements, which means that once a staircase is constructed, it will be there forever. You may still redesign it now and again or add a character with a new stair handrail design. In truth, handrails have a lot of potentials and may completely transform the aesthetic of a staircase and the space around it. Explore these stair railing designs to make a lovely statement in your house.
Rainbow Handrail Design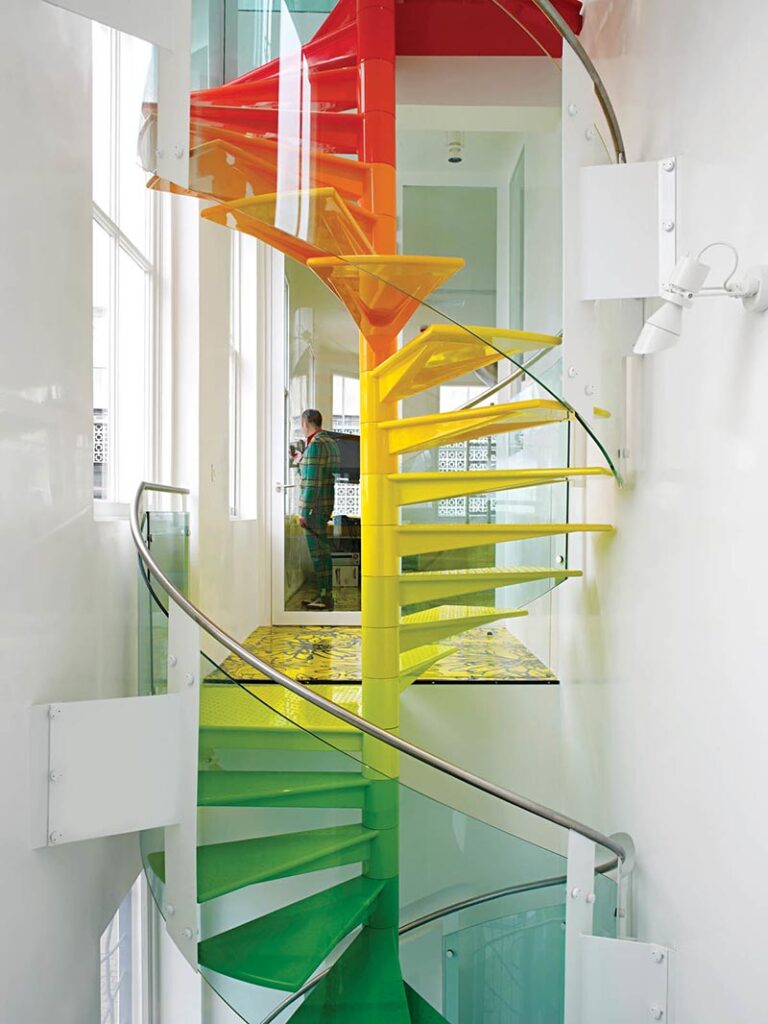 source: designsponge.com
An ombré staircase that follows the rainbow might be a bright accent to a neutral area. A straight flight of stairs' smooth color progression allows you to enjoy a multitude of colors without producing color congestion.
Metal & Glass
A minimalist staircase railing formed of clear transparent glass panels set in a basic metal frame seems stylish. However, it runs a small place that may feel dismal, cramped, bright, and airy. The room's natives would miss the mild under-stair light if the glass panels were not present.
Accent Lighting
Another interesting idea is a stair railing with built-in accent lighting. The handrail is neatly placed into an alcove constructed into the wall, and the accent lighting adds a stylish look while also being quite helpful at night.
Geometric Pattern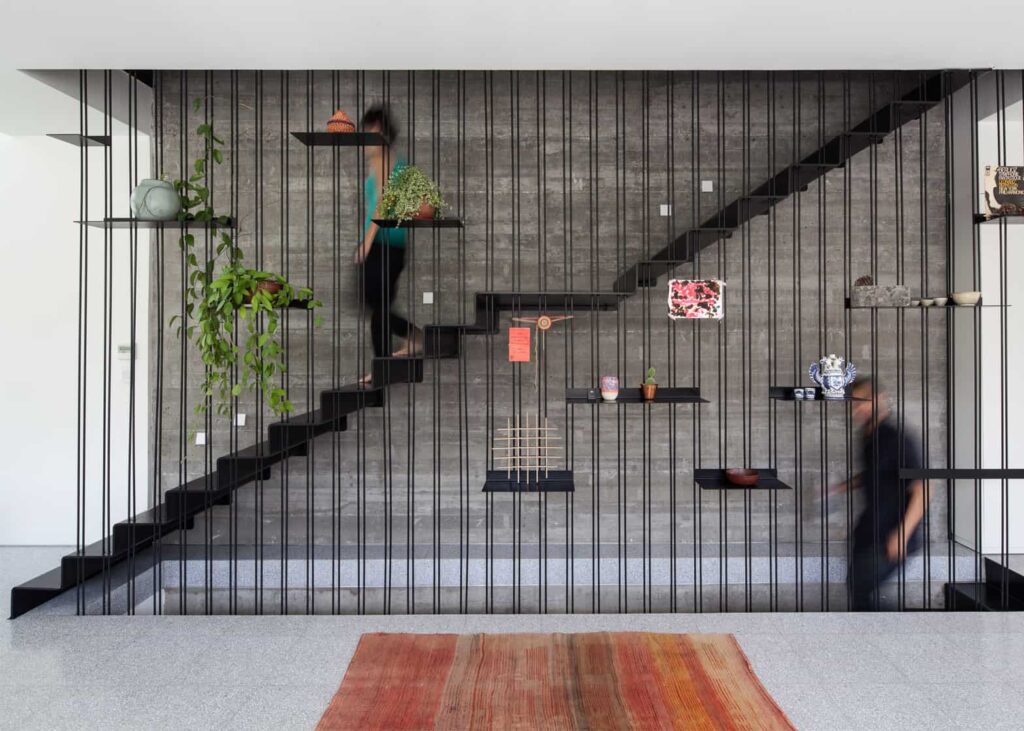 source: trendir.com
A geometric pattern is a standard. Geometric patterns in stair railing ideas are quite popular since they give a well-accepted manner of adorning your railings. They bring about harmony and balance. If possible, add some plants around the room or hang some geometric photo frames on the wall to liven things up. This will generate an excellent aesthetic impact that you will surely admire.
Steel Wire Design
An industrial touch is difficult to incorporate into any stair railing. If your house décor allows it, you could create it out of steel wires! That's correct. This element will allow you to revitalize your stairs and make them appear wonderful. 
Wood & Glass
In this gracefully curved staircase, a blond-toned wood staircase railing adorns the top of glass panels. When used with similar-toned wood flooring, it creates a unified effect in the area.
Old Wood Rustic
Rough-hewn wood beams merge well with the other architectural components of this rustic home in this staircase railing. The design takes the natural beauty of the outside inside, creating a strong visual impression.
Spiral Wood Handrail 
source: pinterest.com
The elegant arcs of this spiral staircase are enhanced by a magnificent staircase side railing design in wood that perfectly follows the arc. The curved construction, made completely of the same wood, is simple, attractive, and elegant and serves as the spotlight of the space.
Wavy Handrail Design Wood
The staircase features one of the most incredible designs you will ever see. This is the main staircase of London's Hide restaurant, and it is stunning. It's a spiral staircase that branches out fluidly, with wavy stairs and railings that perfectly express the design's mystical mood.
Wrought Iron Railing
Mexican-inspired tiles are applied on the stairwell steps, contrasting with the warm woods and bringing rich color to the area. Underneath, terracotta floor tiles give character, and a wrought iron railing bends up the stairs, completing the Spanish-inspired appearance.
Marble Handrail Design
The home's entry is enormous and magnificent. The two-story entryway has marble floors, a marble staircase, an elegant wrought iron railing, and a beautiful chandelier with gold accents similar to the handrails. A scarlet and gold upholstered bench completes the look with a sumptuous touch.
Traditional White Railing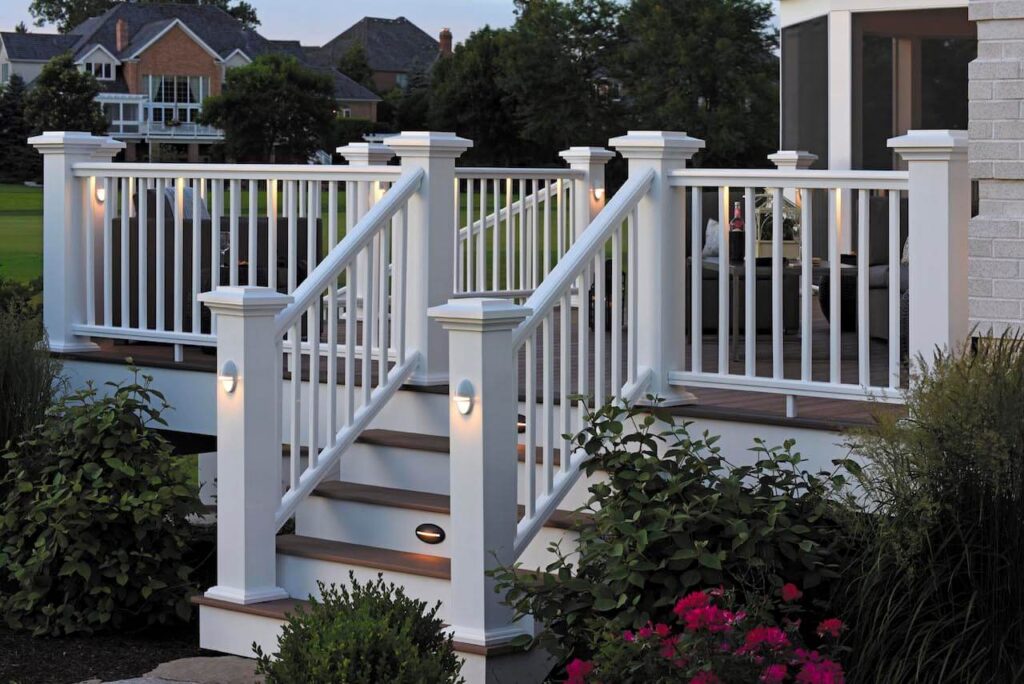 source: lbmjournal.com
If you like a more classic aesthetic, a white-and-wood staircase railing design is ideal for your house. Simple square baluster uprights are complemented by a beautiful stained wood handrail and steps. The design's simplicity allows the pristine white finish and rich wood tones to stand out.
Floating Staircase Railing
This 1950s floating staircase, which had an unappealing orange wood finish, was given a new look with paint and some creative work. Dark grey paint color in the middle of each tread produces stepping stones, and polyurethane maintains the surface. The home's mid-century contemporary style is highlighted by floor-to-ceiling vertical railings, while pristine white paint pulls the appearance into the twenty-first century.
Intricate Handrail
The intricately carved iron rails draw attention while not blocking incoming light or views of the arched window behind this stairway. Dark stair rails rise from a white foundation and curl upward to highlight the staircase's remarkable construction. The stair railing design is a piece of art in and of itself.
Fishnet Handrail Design Steel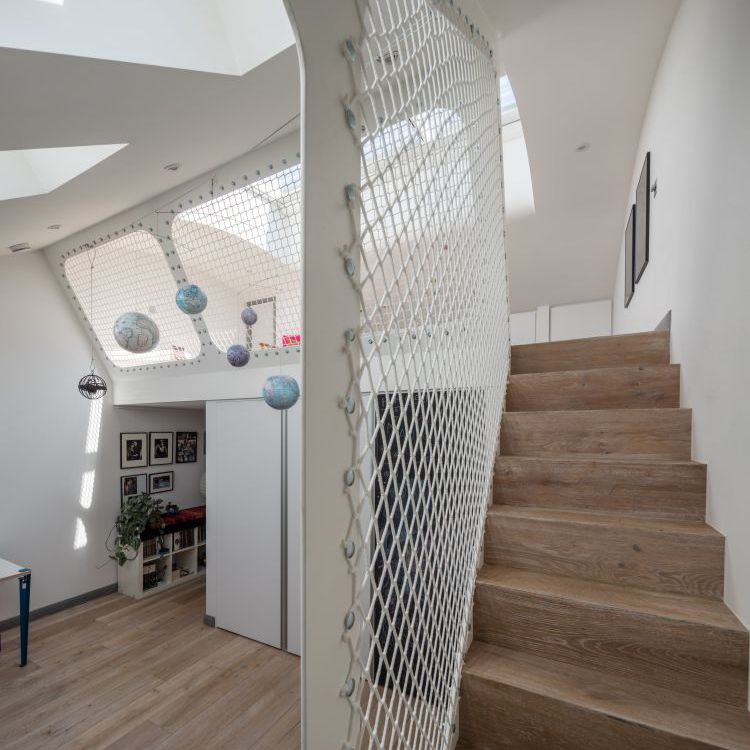 source: thespruce.com
Architecture built a creative family living area lighted by skylights upstairs in the same London townhouse makeover shown above. The curving steel walls and staircase are fastened with fishnet, an unexpected choice of material that serves as a stair railing with a sense of openness. The project exemplifies the effect that a daring design choice can have on your space.
Red Metal Railing 
A sparkling red powder-coated iron staircase serves as a focal point in the room. The railings are owned by a group of iron bars and painted perforated sheet metal in a variety of patterns that allow natural light to enter down the stairs and between floors.
Rope Handrail Ideas
Have you ever noticed how lovely beachy decorations can be? Do you want something similar in your own living room? If so, this is the stair railing system for you. Ropes are helpful to update the appearance of your interior stairs, making them more modern and appealing to the eye.
Thick jute rope railings are a unique addition to any beachfront or coastal property. they are adorable and nautical-inspired! For decoration, you may just connect some thick jute rope to the wall, or you may create numerous layers of rope over the staircase.
Painting Stealing (Blue-White)
Naturally weathered wood or light tinted wood, which resembles a deck, is perfect. Take such wood for your staircase and then paint it with blue and white — simple stripes will do, or how about separating the staircase into two contrasting blue and white sections? Color blocking, using stain for the steps and paint for the risers, stenciling the risers, and incorporating an ombre effect in blue tones are all excellent options for making your staircase feel nautical.
Fairy Light Stairs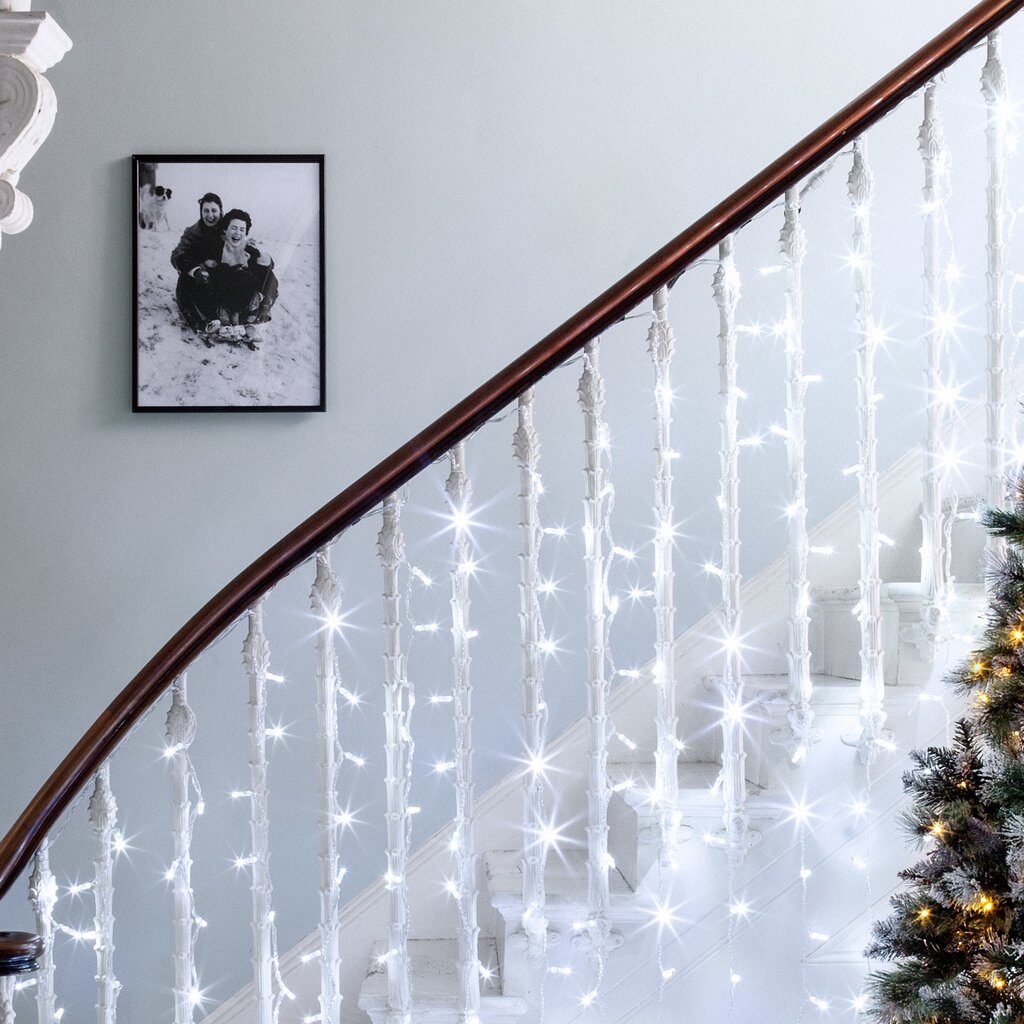 source: shopify.com
Incorporating string lights is one of the greatest stair railing ideas for opulent design. Instead of just one or two rows of string lights, attempt to create enough to cover the railing. It appears that the handrail is made of lights.
Fairy lights illuminate interior décor quickly and affordably. Both sunlight string lights and white string lights have a way of producing a subtle yet pleasant and sumptuous vibe. If you have a black or dark brown staircase, yellow string lights will appear as if fireflies illuminate the way. 
Abstract Pattern
The architect gifts the boring staircase a creative makeover. To update your old or traditional stairs, paint them black and then apply a paintbrush to them. We adore the abstract and dramatic brush strokes in this design.