Are you looking for a space to keep your vehicles, maybe big trucks, vans, cars, or bikes? There can be quite some challenges in choosing and setting up your home garage, especially going for a cheap garage, but this article eased most of those challenges as read through.
To get the best out of your garage, we have highlighted things to consider before setting up a garage at home;
Cleaning up the space
source: houzz.com
To get a perfect home garage for yourself, you have to first make sure it is completely a space so that you can do your makeover or get a company that can completely turn your space into a fully equipped garage. Having in mind that anything that is kept or installed there will be there for a long time.

Getting a list of what you want in your garage
You must get a list of all you want and need in your garage. This also helps you budget properly, especially if you are going for cheap garages. Another very important benefit of this point is that when your list has been drafted, you can start pricing the items on your list to go for cheaper ones and multipurpose gadgets that can serve as two items on your list.
Do it yourself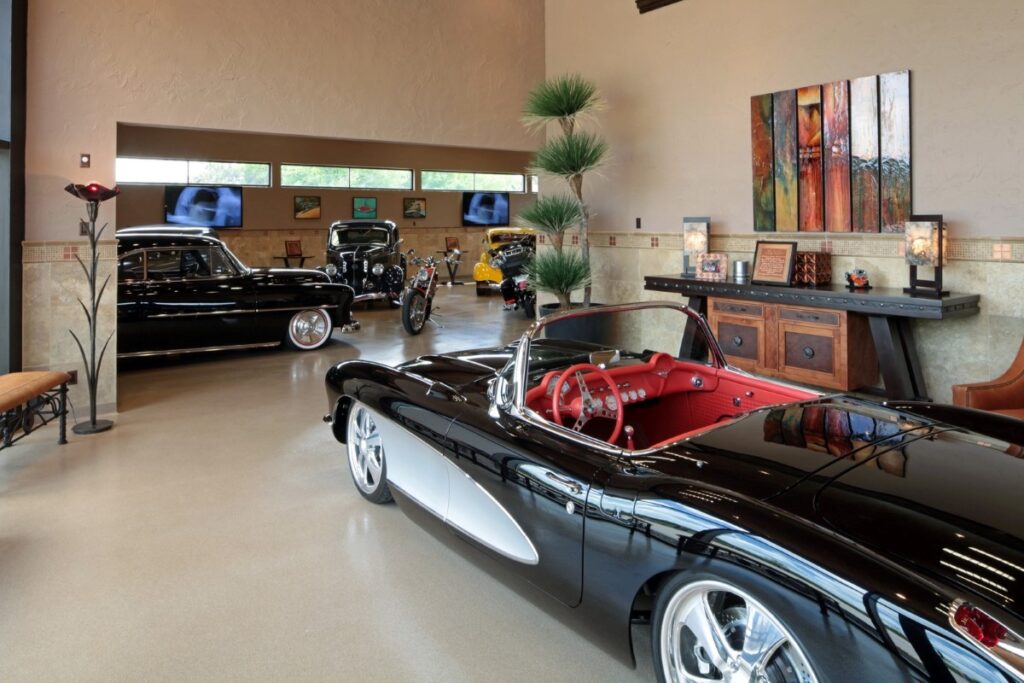 source: wonderfulengineering.com
This is another important step to follow when choosing or setting up a garage for yourself. Do it yourself (DIY) is simply setting up or making handy tools and equipment by yourself without the help of anyone or if you are buying too much. DIY can be done with available tools and items to save you cost, extra labour, and time.

Learning the trade
There are more technicalities to choosing or setting up a very cheap garage or car shed. Especially when you plan to do it all by yourself, getting help from companies will do the trick for you as they already know how to fix things up for you. But when going on this mission by yourself, you need to get all the necessary details and learn how to go about it from experts and professionals either online or by physical assistance. There is no need to rush, yet try and picture and understand fully what you are going into before you make that move.
There are two major things to consider while choosing a garage design for your house, and they are;
Are you getting this done with the help of a company or going about it yourself? Furthermore, we will be stating tips on choosing a very cheap garage either with the help of a company or by yourself.
Choosing and setting up a garage with a company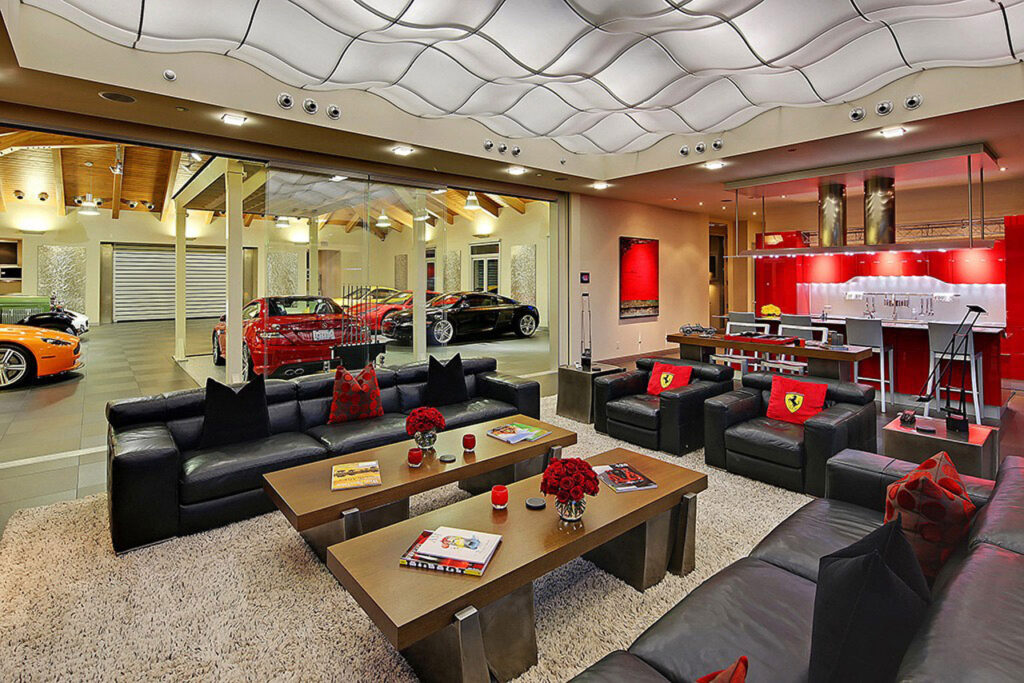 source: homedsgn.com
One of the first things to consider when choosing a company to set up your garage for you is making sure they are a well-known company. Also, check if their reviews online are very positive or negative to avoid making the wrong choices.
The cost of doing it is another important factor to consider, as many of these companies have a huge price tag for their services. We don't advise you for car producing companies as the cost of service are very expensive. So go for less expensive companies with a very good reputation online.
If your vehicle comes with a warranty and is still in its warranty period, most companies can assist with the car's original spare parts if the car is still under warranty. You can employ the assistance of your car company if your car is still under warranty. They can also help get your garage done to suit your car's condition.
It would be best if you worked with a timeframe. Some companies tend to be very lazy and do not keep to time. So you should be able to monitor and checkmate their activities to make them keep to the time stated in the contract or agreed time of completion to make sure you are not wasting your money.
Finally, we aim at you to choose a DIY garage that still gives you all you want from it. So it is best to look out for companies that give you all you want at a low price.
Choosing or setting up a garage by yourself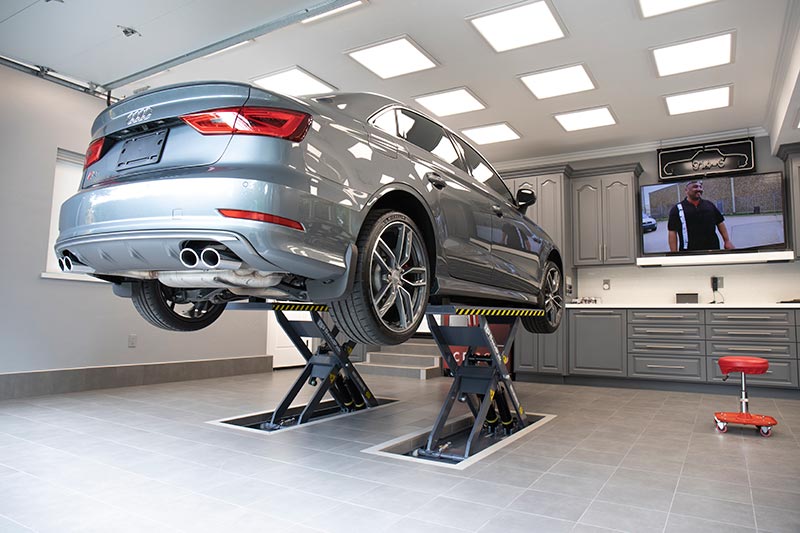 source: bendpak.com
This DIY method is quite effective for saving money when looking for a cheap garage. This method includes some methods and ideas used in getting it done yourself.
Get your tools stored in a very convenient manner that makes them reachable at any moment. Some of what you can do to get this done is; magnetic panels that let you hang over or place them in a manner that does not allow them to litter everywhere, promoting bad housekeeping. Place overhead shelves for storing tools and materials. It's better up there as it being on the ground consumes more space. You can also create makeshift hooks and hangers for hanging stuff like hammers, shovels, and even bicycles to consume less space and promote good housekeeping while using or packing your vehicles in your garage.
Use tools that are easy to use and consume less space, like fold-down benches that save space when not in use.
Be cost-conscious. Whatever you do, make sure you are looking out for the cost of everything in order not to run into a loss. Always look out for cheaper options you can get in the market.
Get a floor that best fits your working conditions and your car wheels. They're quite good floor ideas that can do the trick for you. A floor like an epoxy flooring sarasota that is easy to wipe off greasy stains yet still good for your working and car packing conditions. There are other kinds of floors you can find. You can talk to a professional on the floor for ideas or check the internet.
Always ensure proper housekeeping and cleaning of your garage to get the best out of it.
Benefits of choosing a garage at home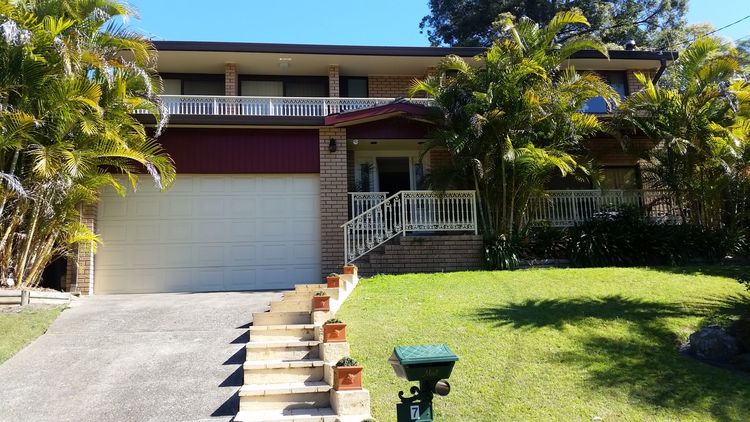 source: pinterest.com
Garages protect your vehicles and tools from harsh and extreme weather conditions. They also protect you from these weather conditions while working in the garage.
It makes you save space in your yard which you can use for other things.
It allows easy access to your vehicles and tools as they are very close to your house, even from the comfort of your bedroom.
It also helps in securing your vehicles and tools.
They are a very cheap garage setup you can go for
Promotes the beauty of your house as vehicles parked in front of your house may not allow people to see this.