So you're thinking you want to add epoxy to your countertops?
While adding epoxy to your countertops can make them look a little nicer and protect the surface a bit better, it could be the case that you may be doing more harm than good. The epoxy may seem like a quick and easy fix or a boost for your counters, but what does that mean for your countertops in the long run?
Here we will take a look at what goes into the epoxy-ing process and what that really means for extending the life of your dwindling counters.
What exactly is epoxy?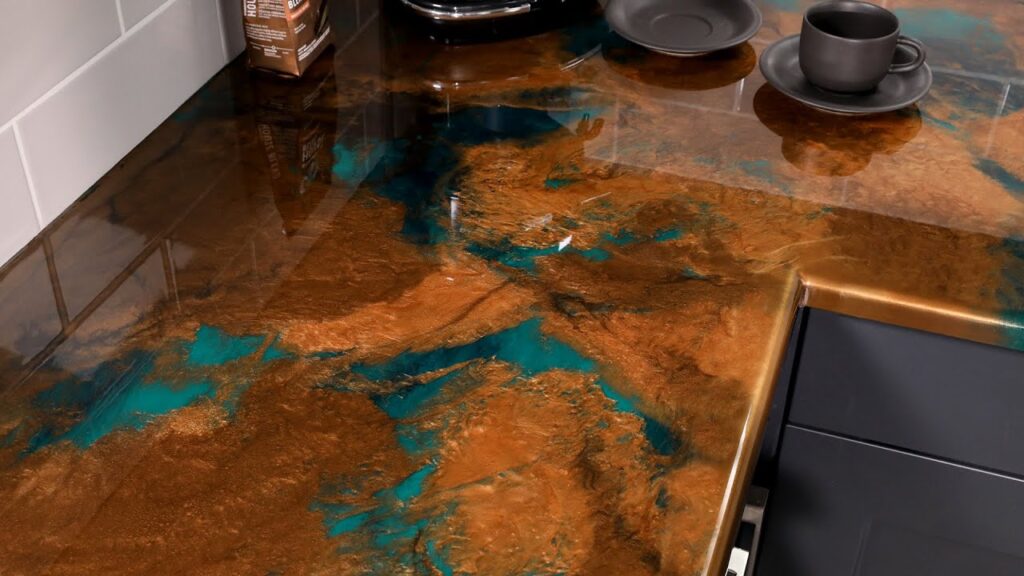 source: pinterest.com
There are all kinds of different epoxies that are all used for various things and tasks. Epoxy is essentially a resin; it is a thick liquid that is able to be poured onto all kinds of surfaces, including countertops. Before using it on a countertop, you must be sure that you're using the correct type of epoxy.
The type of epoxy used for countertops is a two-part system. You'll need to get both of these parts (which come separately) wherever you go shopping for your project: they are the actual epoxy resin and also the epoxy hardener. Whenever you're ready to pour, you'll need to mix these two together.
It's also helpful to know what surfaces you can use epoxy on.
It can be used on the following surface types:
Tile

Metal

Glass

MDF Board

Formica

Ceramic

Laminate

Porcelain

Concrete

Wood
It's also helpful to know what types of surfaces it shouldn't be used on. They are as follows:
What goes into the epoxy process?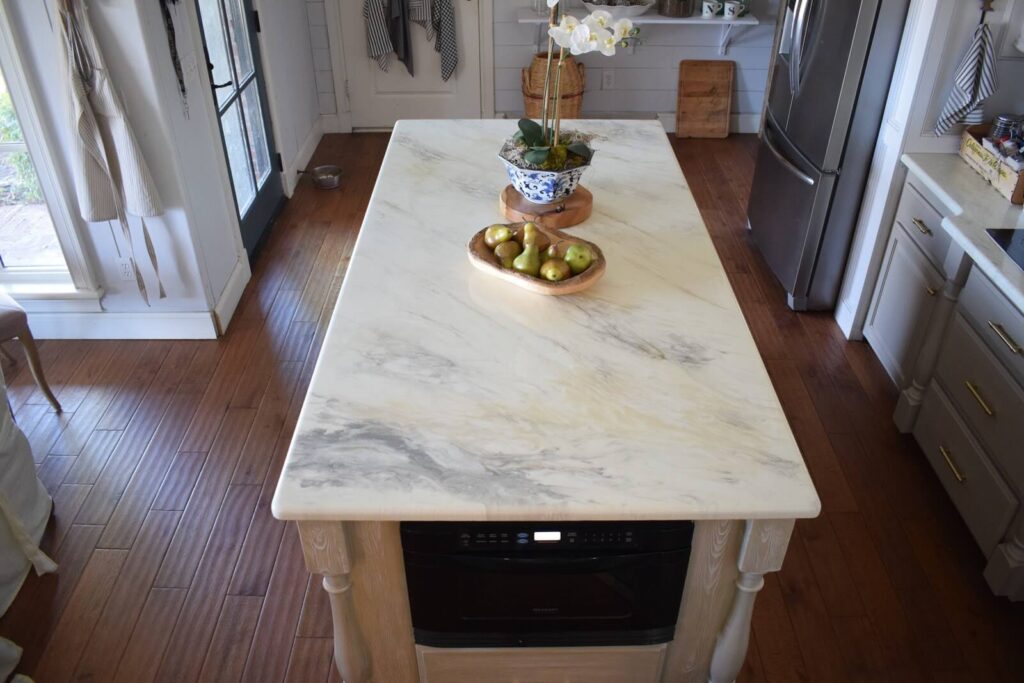 source: pinerest.com
There's actually a great deal of effort needed in coating your countertops with epoxy. For one, you need to double-check that you're using the correct epoxy for the job, for whatever surface you're working with. 
Then you also need to get the other materials needed for your project: a bucket, something to stir with, an epoxy hardening (or curing) agent, a flat shaping tool, and a torch or hairdryer. You may be wondering what the torch is for: it's needed to help pop the air bubbles in the epoxy you just poured on your surface.
All in all, the entire process is a bit of a pain, and it's very difficult to achieve the results you want if you have no experience. However, if you manage to get everything perfect, you can expect your countertop to look a little brighter and have a new protective layer.
After you're done pouring and shaping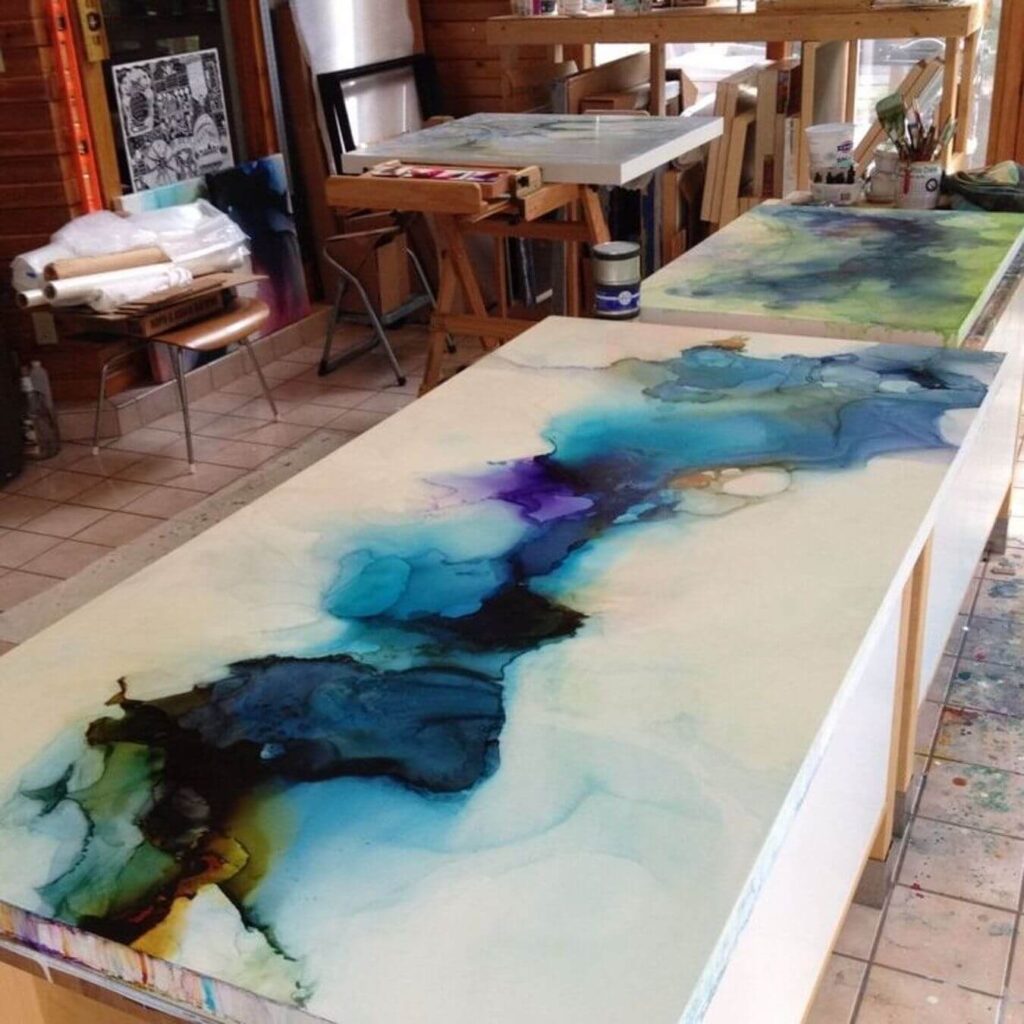 source: randolphsunoco.com
Now that you've finished pouring and shaping your epoxy on your countertop, you need to wait for the entire surface to harden fully. This usually takes about 24 hours, although the epoxy itself already starts to harden in 20-minutes after the pour.
This, of course, creates a serious inconvenience if you have a working kitchen. Now you have to wait to use your countertops for a whole day — maybe even longer than that. Where are you going to prepare your dinner? I guess that means you're calling for take-out.
This waiting period could very well be extended, especially if you made some mistakes while adding the epoxy to your surface. That means a lot of extra hassle in trying to repair or correct those mistakes.
You may even need to go back to the home improvement store for more epoxy if you didn't have enough the first time. This is actually quite easy to do if you're not used to measuring surfaces for the application of something like epoxy. 
Look at that: you've added a few extra days to this job.
Wear and tear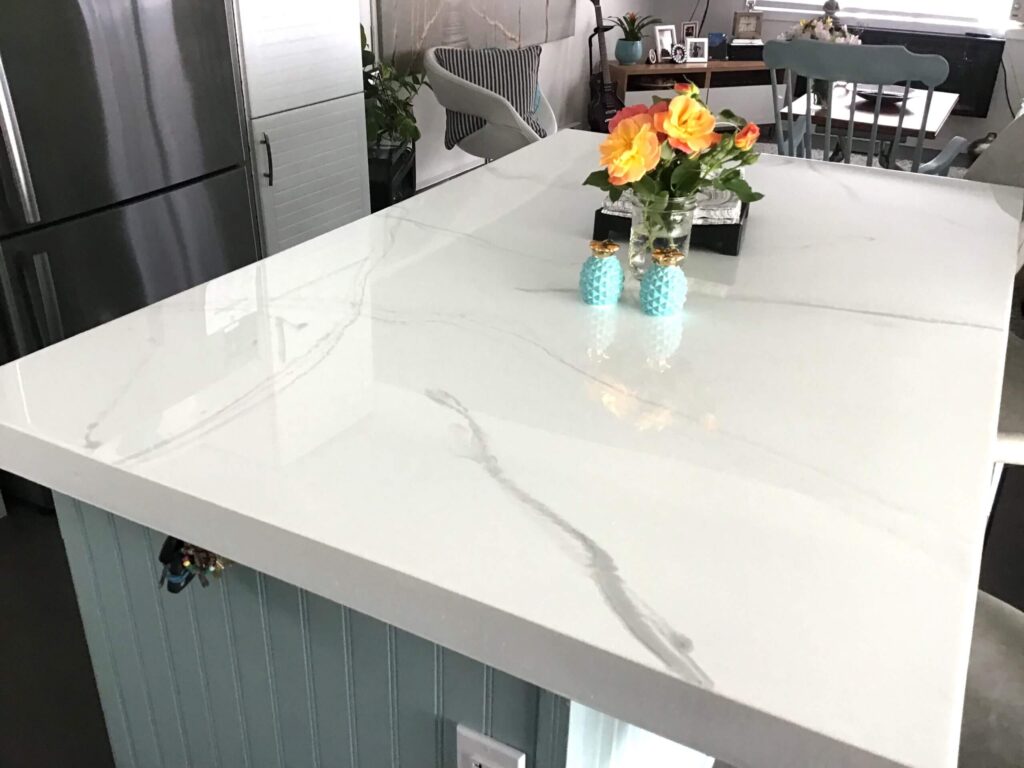 source: corellycustomcreations.com
It is true that epoxy is used as a protective layer for various things, including countertops. It does help to prevent chips, scrapes, nicks, dings, etc., however, epoxy is not invincible. It does indeed have its drawbacks, especially if it is used on your kitchen countertop — one of the potentially messiest places in the whole of your house.
Your kitchen is meant to get messy, though, so wouldn't it be better knowing that your countertops can take a messy punch? Well, epoxy can take some punches — there's no denying that — but it can't take a serious messy beat-down. 
In fact, one of the best countertop materials out there is quartz. Quartz is one of the most hassle-free and care-free materials on the market today. Read more about it here.
For one thing, you'll have to stay ever-vigilant if there are any spills on an epoxy countertop. Depending on what was spilled, your epoxy will stain fairly easily, and it will remain that way until it is replaced or repaired. 
In conclusion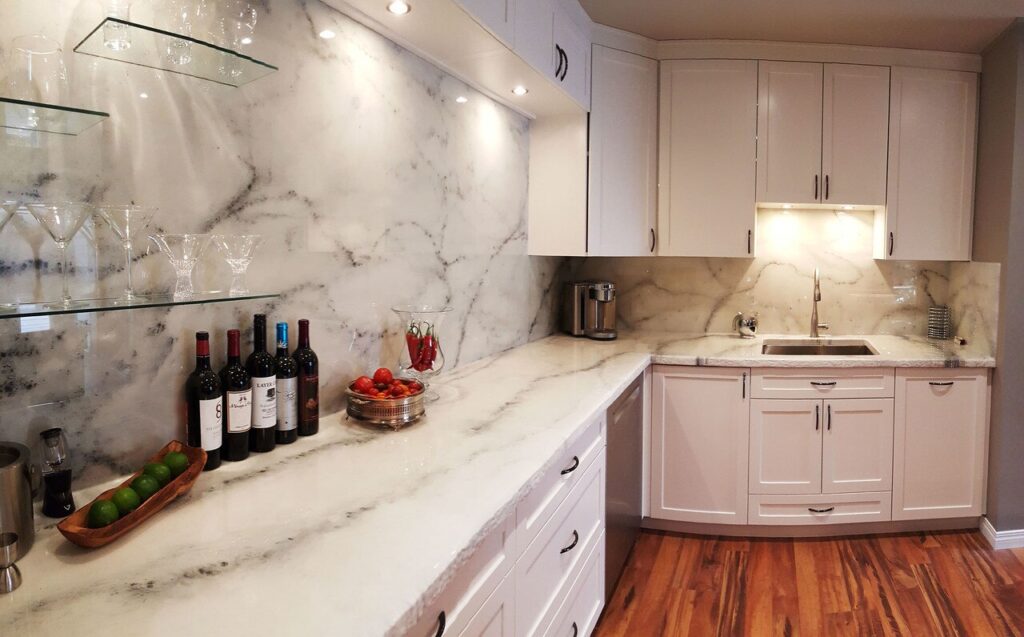 source: bigcommerce.com
It seems there are really no guarantees as to exactly how long your epoxy countertop will last. There are many factors that go into the whole process. 
It basically all comes down to if you did a flawless job adding epoxy to your counters. If you did, you can expect the new surface to help deflect nicks, scrapes, and dings, but it's not going to be invincible. There's always the chance of damaging your surface.
Epoxy is also not that great when it comes to preventing staining. That's why it is very important to wipe up a spill as soon as it happens, or else you risk having to see that discoloration for as long as you live in your home.
There also is the fact that epoxy surfaces are going out of style. People seem to be steering clear of epoxy countertops in kitchens, due to the higher potential for damage and staining. People seem to be veering towards other, more sustainable materials for their counters, such as quartz.
If you still find that epoxy-ing your countertops to be a good idea, it would be best to get a professional involved, rather than do the job yourself. They will most likely bring a team of people over to ensure the job is completed up to your expectations.
But even with a professional, there's no ensuring a long lifespan for your epoxy countertops.