Even though we live in the digital world, nothing beats the feel of a good book in your hands. And we want to showcase our favorite books in a place that is comfortable, personal, and unique. While public and university libraries are frequently large and beautiful, private libraries are smaller and more intimate (but not any less gorgeous). Space can be formal and elegant, or colorful and inviting. A stylish focal point, such as a fireplace, desk, or cozy sitting area, keeps things as interesting as the books on the shelves.
Here, we've gathered some of our favorite home libraries from our archives to help you create your own literary retreat. to buy one for yourself. Take a peek at this amazing array of bookcases to get some ideas for your own.
The Unseen Bookshelf 
 source: hommes.studio
This bookshelf, which can hold up to 15 pounds of books, screws right into a wall stud, creating an invisible bookshelf! The stack height is limited to 16 inches. All you'll need is a screwdriver. The hidden bookshelf is creative, inspiring, and unique, and has already won design awards.
Balanced Bookcase 
source: geekbuying.com
Equilibrium is a unique furniture piece with cantilevered modules stacked over one other at a single angled point that quickly draws attention by producing a sensation of amusement and surprise. While its compartments appear to float in the air, Equilibrium can handle over 120 lbs of weight, and its various modules allow it to keep books and magazines organized in a graceful tilted position that avoids the need for bookends.
Bookworm Shelf 
The Kartell Bookworm Shelf blends the artistry of an artist with the technology of a world-class company. A comprehensive examination of extrusion technology has resulted in the development of a curving bookcase that can take on any desired shape while maintaining strength and utility, a bookcase design of industrial scale that may truly be considered the world's most creative and innovative.
Book Chair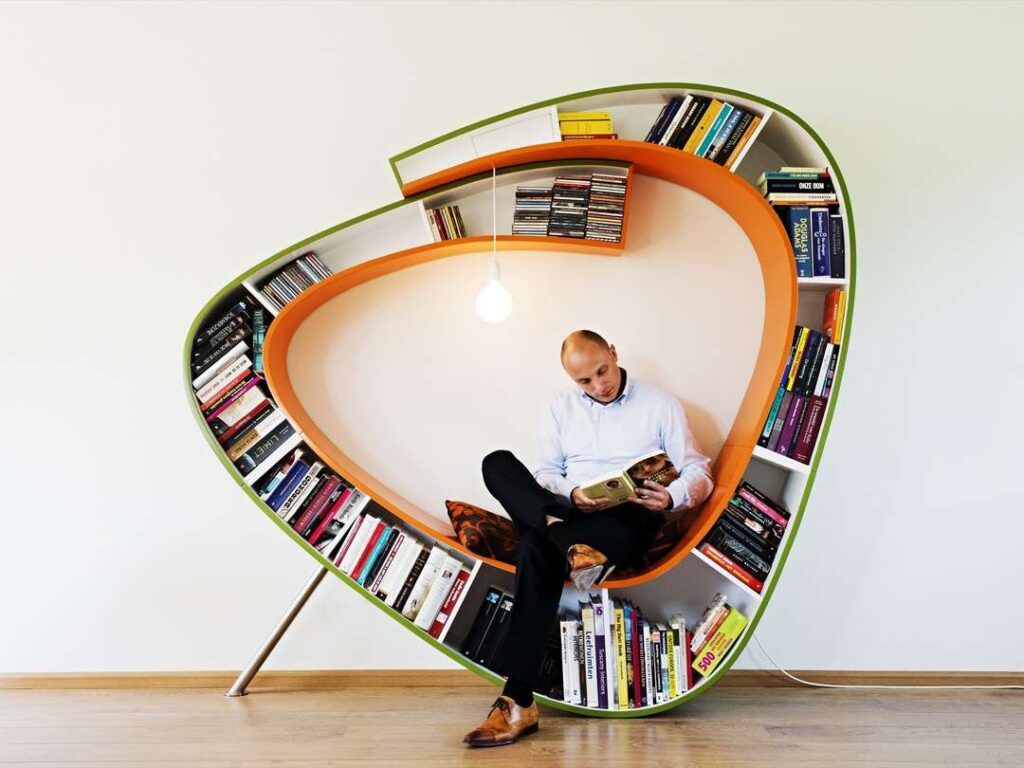 source: bibliocrunch.com
The Book Seat is a simple bookcase that bends and becomes a seat in a whimsical manner. The innovative design is a reaction to the emergence of multifunctional areas in today's urban lifestyle. One of the "ten must-sees" at the 2008 Toronto International Design Show, and winner of outstanding design at the 2008 Montreal International Design Show, SIDIM.
Labeling Bookshelf
A simple approach for labeling your books as "has been read" or "will be read." When we look at a regular bookshelf, we see a monotonous stack of books that are all mixed together. Even when we buy a new book with the purpose of reading it later, it is quickly forgotten behind this book jumble. 
Workstation Shelf 
source: wayfair.com
Bamboo laminated plywood is used in the K Workstation to create an efficient space management working space. The curving foldable design incorporates bookshelves and desk space into a single working unit. K Workstation may be made in segments for ease of manufacturing and shipping, but it could be built with a variety of options.
Dreaming of Reading
daydreaming is an indulgence that most of us never outgrow, but that many of us don't give much thought to. Drip Roy's Dream Bookshelf will inspire you and remind you to dream. This bubble, straight from the pages of comic books and hung on your wall, will retain the stories you value the most and display the trinkets you treasure.
Pulse Line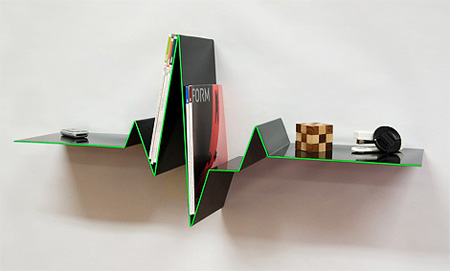 source: toxel.com
The clear source of inspiration is the well-known form of a heartbeat. The shelf can be used as wall decor as well as a place to showcase magazines and other small items. To highlight the silhouette, the edge is sprayed with a fluorescent paint that shines in UV light.
Book Rack In Wenge 
This book rack design on wall is impressive. This book rack is a construct of solid Wenge wood and comes with 12 pins/bookmarks. The pins are detachable and can be adjusted around the back piece to suit your needs. The books are supported by a little wooden plate, which keeps the pages intact. 
Bunny Bookshelf
source: amazon.com
These cute bookshelf ideas will undoubtedly encourage your child to read books. Your child will like the rabbit-shaped shelf. The bookshelf will add a personal touch to your home's design. The floor shelf is appropriate for both children's rooms and any other room. Made of solid wood and covered with eco-friendly material.
The Kitty Bookshelf
100% Cat-Friendly Modular Bookshelf. The modules aren't painted or oiled, which seems to entice cats even more. Paint has a habit of making "the steps" slick for cat paws. As indicated in the image on the left, the shelf has two types of cat baskets: hi-top (for larger cats) and lo-top (for smaller cats).
Frequently Asked Questions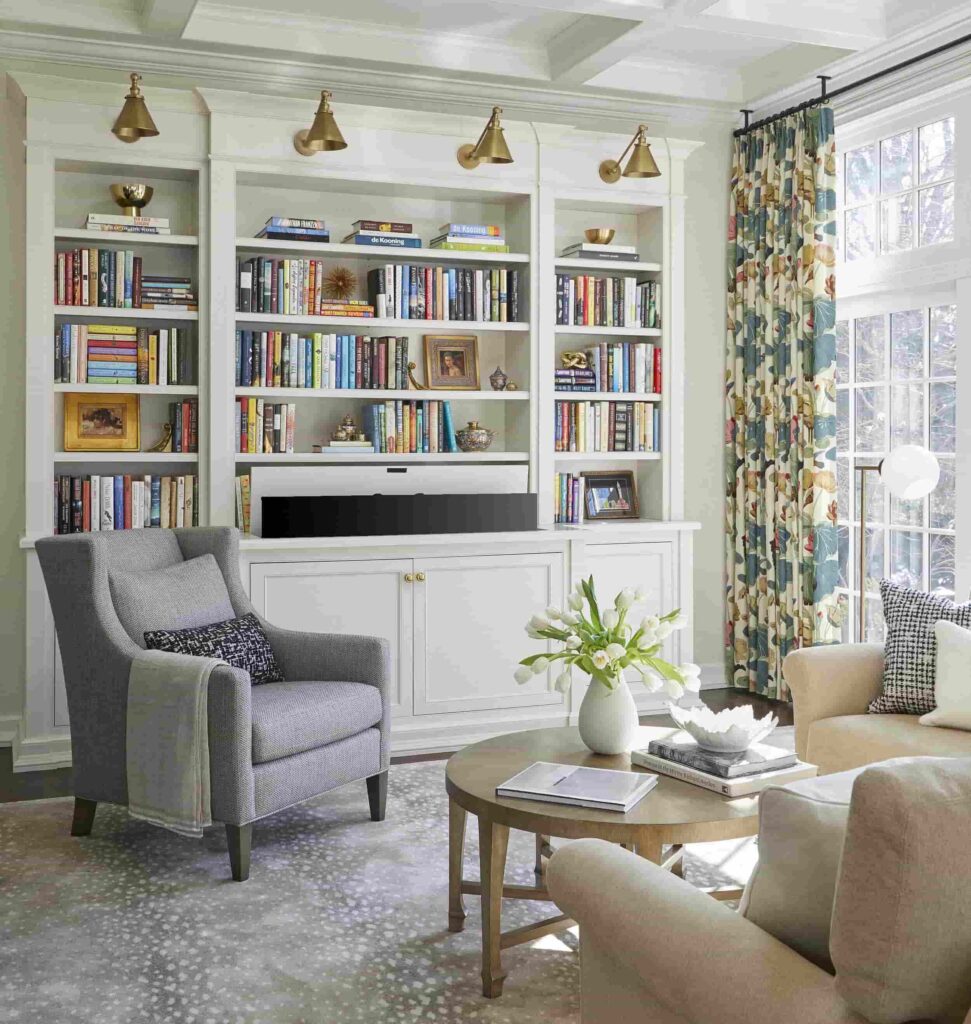 source: hearstapps.com
What is the distinction between a bookcase & a bookshelf? 
Both of these names are easily confused. However, there are a few common differences between them. Bookshelves are basic structures that hold books, whereas bookcases are larger pieces of furniture that function as book cabinets.
Is it less expensive to buy or construct a bookshelf?
A bookshelf's price is influenced by a variety of criteria, including its size, the quality and quantity of materials, and who constructed it. There is no perfect answer to this issue since constructing a bookshelf out of high-quality hardwood components will be more expensive than some of the less costly choices on the market.

DIY corner bookshelf

items are often less expensive, although this is not a universal rule.
How tall do you require your bookcase to be?
One of the most fundamental decisions to make is the size of the piece of furniture. Various things can determine it. To begin, how much space do you have in the room you intend to put it in? If you have plenty of free space, you may go for a large bookshelf that spans several feet.
Conclusion
We hope you now know which bookshelf to purchase or which DIY corner bookshelf to build this weekend. Shelves are a simple method to improve the look of any blank wall while also increasing storage space. Take it to the next level with floor-to-ceiling, built-in bookshelves that not only organize your valuable items but also express your particular flair through travel knickknacks, artwork, and more.