New year — new you! Or at least a good reason to make a fresh start and reset your life to some extent. Since COVID-19 is not going anywhere (yet), people had to accept this constricted everyday life and learn how to adapt. One of the things that have been helpful in the last year was landscaping and organizing the outdoor areas. 
It's a way to stay active, get a healthy dose of sunshine, and be in nature. Also, arranging your yard, backyard, and garden is a great way to build an ideal space to de-stress from everything happening around you. So, get ready to dirty your hands a bit with these best landscaping ideas for your yard in 2022 that promise to give you a relaxing retreat you deserve. 
Go for organic shapes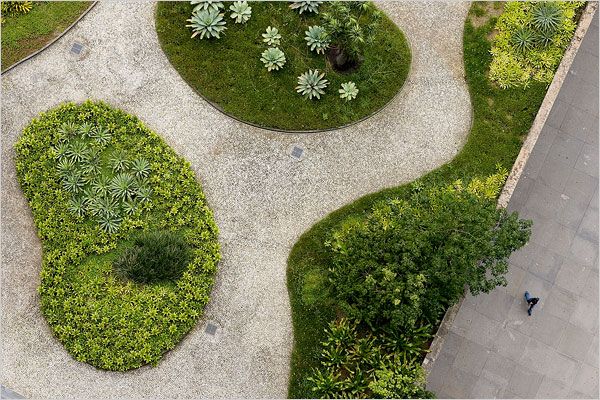 source: pinterest.com
Geometrical precision is replaced by organic shapes in 2022, allowing for a more natural flow in your yard. If you are planning your landscape, think of the shapes and structures you can commonly find in nature. This won't bring disorder but create a layered look of your yard with a more laid-back design that will help you create a tranquil space. 
Include a kid-inviting space 
Lockdown has shown us that everyone should have their special place around the house. Kid-inviting space can be anything that will inspire your children to spend more time outdoors and less glued to screens. You can have them plant their own garden, set up a playground, or create a spot for stargazing and sleeping in tents in the yard. A fire pit in and bench around it is a nice spot for teenagers to gather around, but also for a family to roast S'mores.  
Welcome the mid-century style furniture
Mid-century furniture was new to the landscaping scene in 2021, and it will stay in 2022, as well. The popularity comes from a rise in buying and selling of the old furniture and people being creative about it. People repurposed their old furniture and created comfortable seating areas, outdoor kitchens, and patios in their yards. A step further is reviving the mid-century design style with gravel mulch and oval stepping stones for pathways with fresh grass growing between them. 
Build a walkway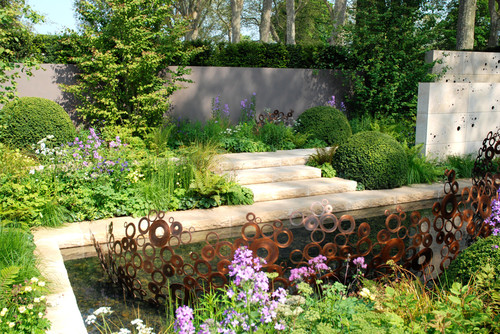 source: houzz.com
A walkway should be part of your yard every year! It places an accent on certain areas of your yard and turns walking through it seem like an adventure. If you are on a tight budget, use pavers and stones to build these walkways, but gravel and brick can also work. Try to avoid precision and go for a more rustic appearance by abandoning straight lines and creating winding paths through the garden and trees.
Create a Zen area
Zen gardens are always popular! They are minimalist designs that are not complicated to make and don't have to cost a lot. You will need sand or gravel, differently-sized stones, plants, and a private spot to arrange it all. A pathway can lead to your garden where you can sit on a bench, rock arrangement, or a tree stump. If it's easier, add potted plants of various sizes and colours to make your Zen garden more lush and secluded for meditation and relaxing.
Add a pond
A nice DIY project can be adding a pond to your yard, and more specifically garden. You can dig a hole, decorate it with rocks, fill it in with water, and add a pump, or you can go for a cheaper option. Our suggestion, get a wooden barrel and cut it at 20–30 inches from the bottom. Make sure that you buy a fully lined barrel to avoid leaks, especially if you plan to put fish in there. Plant different water plants, like chickweed to improve water quality, add gravel, stones, and other decorations. If a wooden barrel is not an option, an old bathtub, ceramic pot, or zinc tub can also do.   
Plant wildflowers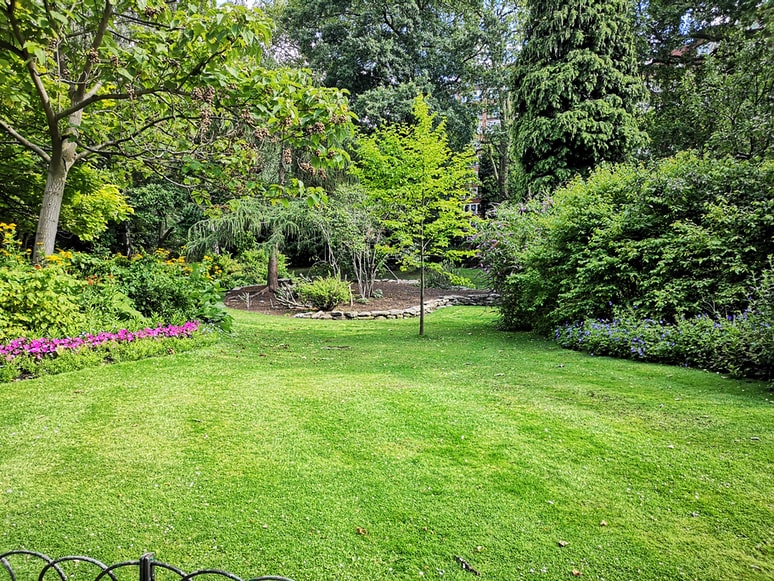 source: pinterest.com
In the last few years, people with outdoor areas have tried their best to create sustainable gardens that will lower the carbon footprint and help the environment. This year is no different and one of the ways you can do it is by planting wildflowers. They will attract insects and wildlife that are important for pollination but also can improve soil health. Just dig a spot in your yard, rake it, sprinkle different wildflower seeds without covering them, and water it. The good news is that you probably won't have to replant next year since the wildflowers will keep flowering.
Pretty-up your mailbox
A small, but apparent change can be your mailbox. Give it a new coat of paint and plant flowers around its post. If you opt for neutral and pastel paint, make the flowers more flamboyant like fiery red and sunshine yellow. Roses, hydrangeas, and other climbers are another wonderful choice of flowers, especially if you are going for a more pastoral look.
Switch to raised garden beds
Raised garden beds are not only for looks, they are actually quite efficient. Since a lot of people started gardening during the lockdown, raised beds allowed them to have a quick and easy-to-maintain setup. Some of the advantages are fewer weeds, great drainage, protection from pests, and prevention of soil compaction. Also, it's easier to tend to plants, especially for those who have problems with kneeling. 
Build a toolshed
Since having quality garden equipment, like the one from Hoselink, is the key to maintaining your outdoor space, you need to take good care of it. But why not be creative about it?! Build a stylish toolshed with roofing tile from fired clay for the rustic appeal. Old-fashioned windows and wooden boards for walls will give it a cottage look that will fall in nicely with the greenery in your garden. To make this look complete, plant some flowers by your toolshed and put a solar lantern by the front door. 
Hang planters on the windows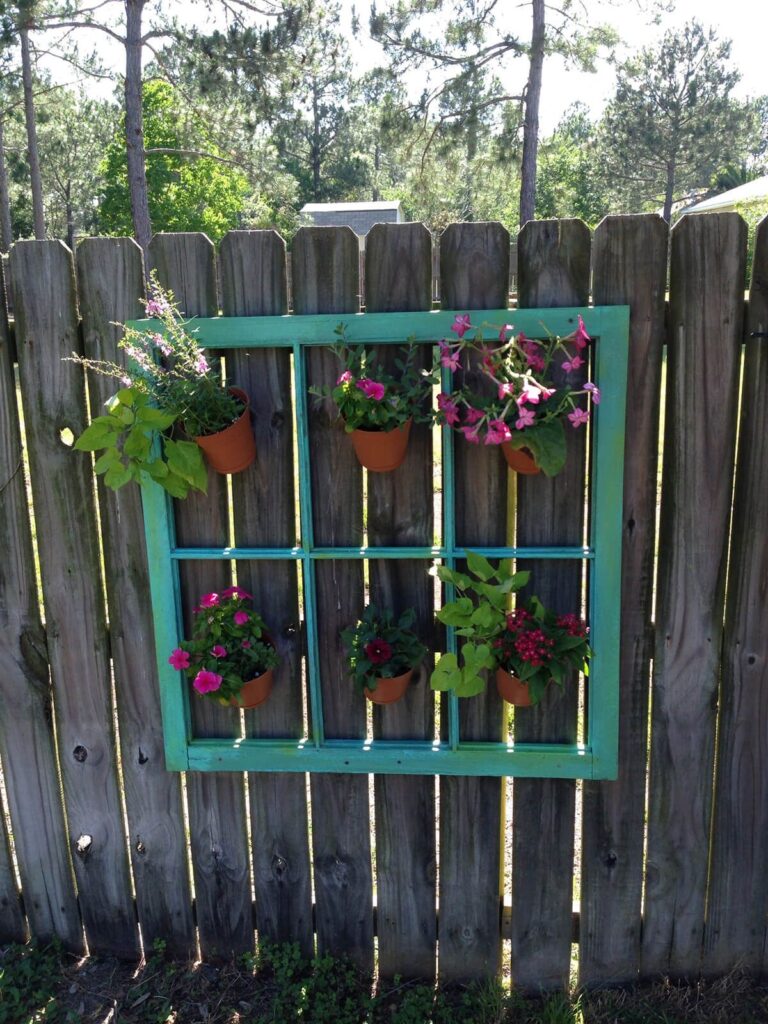 source: pinterest.com
A perfect DIY project that will keep you within budget is decorating the windows from the outside. To make them more interesting, install boxes underneath your windows to grow flowers. This will add charm to your view from the inside and make it more serene. Moreover, if you can't afford to repaint the windows and façade in 2022, this is a nice way to make it more attractive.
Create textured and layered landscapes
In 2022, landscaping trends will still be about untamed spaces. The key is to make it seem like you let your garden grow wild when you did a lot of work to put that scene together. A textured and layered organization with hardly mowed lawn and scattered flowers will bring an authentic and brazen appeal. 
Redo your façade
Landscaping is not only about the groundwork, but also about decorating the whole space, which also includes the façade. The easiest change you can make is repainting exterior walls and windows to give them a fresher look. However, you can also add shutters, hang planters on the façade, and add a patio area with a canopy for shade. For a more expensive option, you can use façade tiles for a complete makeover and turn a dull scene into a brick or Moroccan display, for example.  
Install solar lights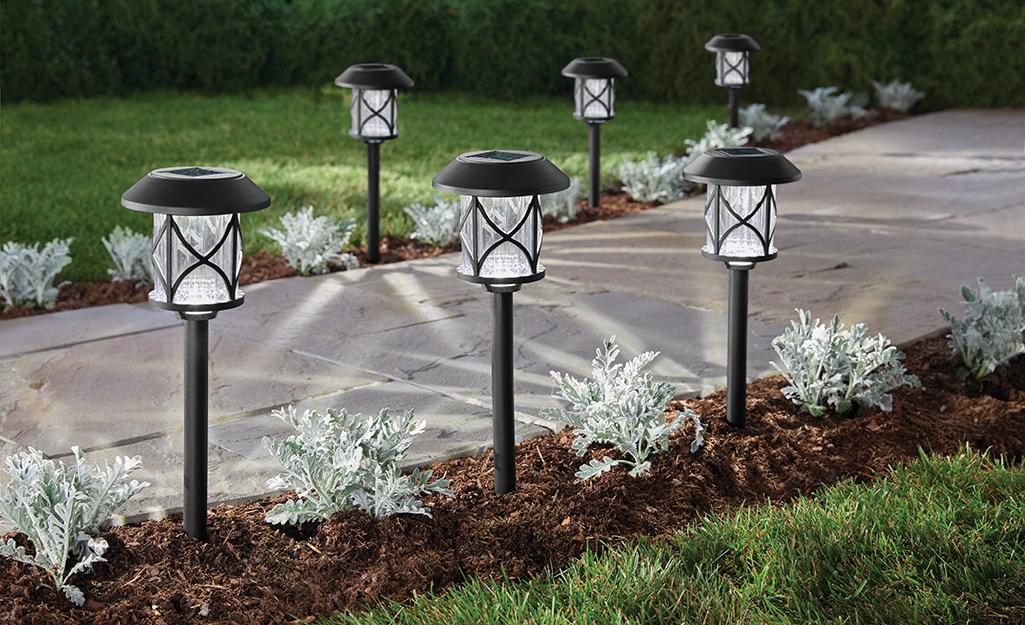 source: pinterest.com
Solar lights are both eco-friendly and convenient. More importantly, you can install them by yourself along the pathway, above the patio, and around the garden and save money. Even if you are installing light in your yard for the first time, it's best to spend a little extra on big solar lamps than digging trenches and laying electrical wires. These lights will also work in the winter, regardless of snow, as long as they are in an open spot exposed to the sun.
Integrate your outdoor area with interior space
Although not a new trend, integrating outdoor space with the interior living area will remain popular in 2022. This is because of the need for open space that many were deprived of during lockdown and quarantining. Tearing down a wall and installing large, glass doors leading to the patio is one of the easiest ways to expand and merge these two areas. Additionally, during colder months, you will keep the view and feel as though the room is more spacious.  
Set up an outdoor kitchen
With homeowners wanting to spend more time outdoors, there is a high demand for outdoor kitchens and entertainment areas. Some of the simplest design solutions include a BBQ grill and a modest bar-like area. For a more elaborate kitchen, you can raise a pergola, set up the kitchen with a sink and cooking areas underneath, as well as a few tall stools by the bar. 
Grow your own food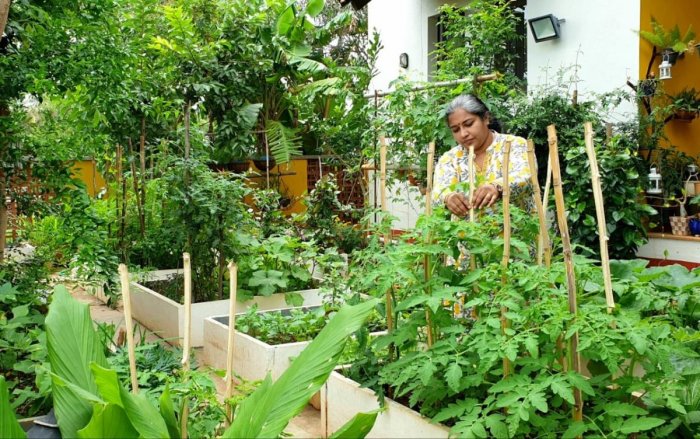 source: deccanherald.com
Edible gardens came from a fear that food will be scarce during the global pandemic, so many decided to grow their own fruits and vegetables. However, this trend started long before COVID-19 with people wanting to eat more healthily. Also, 2022 will be all about collecting rainwater and composting for your edible garden to support sustainability and eco-friendly practices that will reduce global warming.  
Start a lazy garden
Considering the popularity of green spaces, everyone will want their piece of nature in 2022. Since not everyone is blessed with a green thumb or has time for gardening, "lazy gardens" will be the new trend. Perennials will be prevalent since they don't require much care and can grow for several years without re-planting. Homeowners are more open to using smart technology and hiring professional landscapers to design their outdoor space. 
The bottom line
Most landscaping ideas that were trendy in 2021 will continue to rule the yards in 2022. It's important to notice the ongoing desire for a more natural look and tranquility with rustic designs and natural materials. Open spaces that allow people to gather or enjoy some "me-time", like fire pits and Zen gardens will be in high demand, as well as DIY projects as a way of expressing creativity and de-stressing. The future landscapes are all about sustainability, mental health, and visual bliss — something that may stick in 2023, too.