Whenever you plan to incorporate some new lighting in your kitchen or try to alter the kitchen's appeal with lighting, it is important to bear in mind the effects lighting can have in your kitchen. A well-thought-out kitchen lighting can transform your kitchen's entire looks and appeal. 
Little details like making the most available natural and ideal fixtures can often make a huge difference. Also, people can use clever kitchen lighting to highlight any specific feature of their kitchen. That being said, let's take a look at some of the most prevalent kitchen decor lighting that you should be aware of.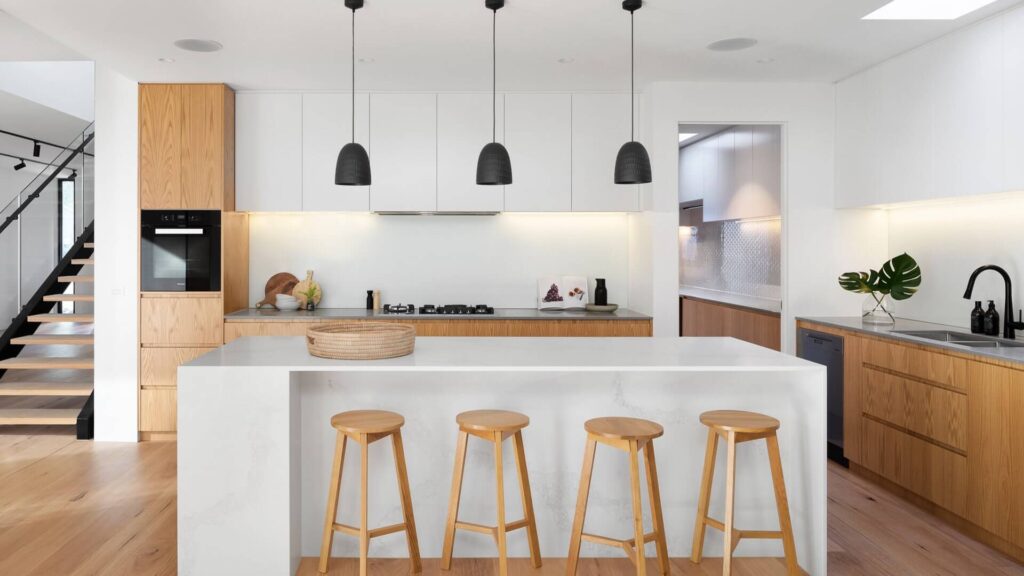 source: architecturaldigest.in
Accent Lighting: This type of kitchen lighting can add a lot of depth and dimension to your kitchen when used appropriately. You can even use track lights and adjustable lights for accent lighting. 
This can further be used to highlight specific features of your kitchen, such as an architectural feature like a fireplace or maybe a hood fan, or even vaulted ceilings. As long as you can use accent lighting the way it is designed to be used, you can make your kitchen look like a museum.
Decorative Lighting: Many prominent interior designers say that decorative lighting in a kitchen adds a whole different type of zing to the kitchen's environment. These types of lighting are what sets an amazing kitchen apart from conventional kitchens. Using decorative kitchen lighting with the appropriate lighting fixtures can enhance the entire appeal of your kitchen without missing the touch of simplicity.
Task Lighting: These lights are generally used to light up areas in the kitchen where you have to work to get your food ready. For instance, countertops are an amazing area for using task lighting.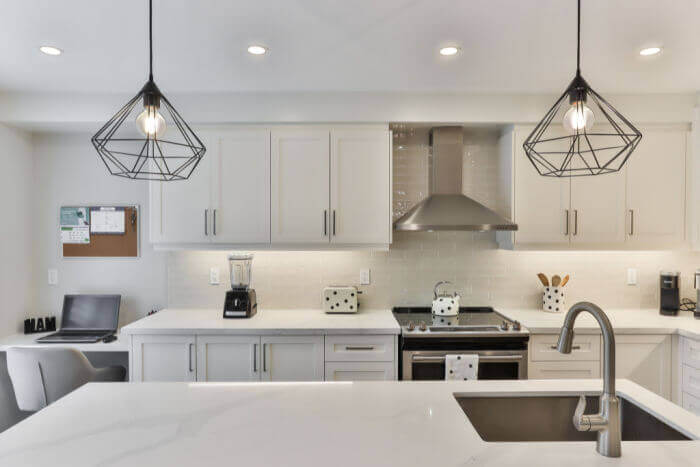 source: modernize.com
Other than that, you can also use it inside your pantry closet so that the goods on the shelves are easily visible whenever needed. When it comes to task lights, it is always better to go for LED strip lights with low voltage, or even puck lights will work just fine.
General Lighting: These are the types of kitchen lighting generally used to fill in the gaps in areas where you might require more lighting. For general lighting, kitchen planners generally recommend using recessed lights as they are great for effectively brightening the entire kitchen space. 
It is worth mentioning that lighting such as chandelier or pendant lights installed over the kitchen island is also considered general lighting. 
Toe Kick Lights: Toe lights are the types of kitchen lighting generally installed underneath the cabinets. They are placed here because these lights can illuminate the floor, often functioning as a night light for whenever you crave snacks late at night. These lights will help you find your snacks more easily when you walk into the kitchen at night.
Final Words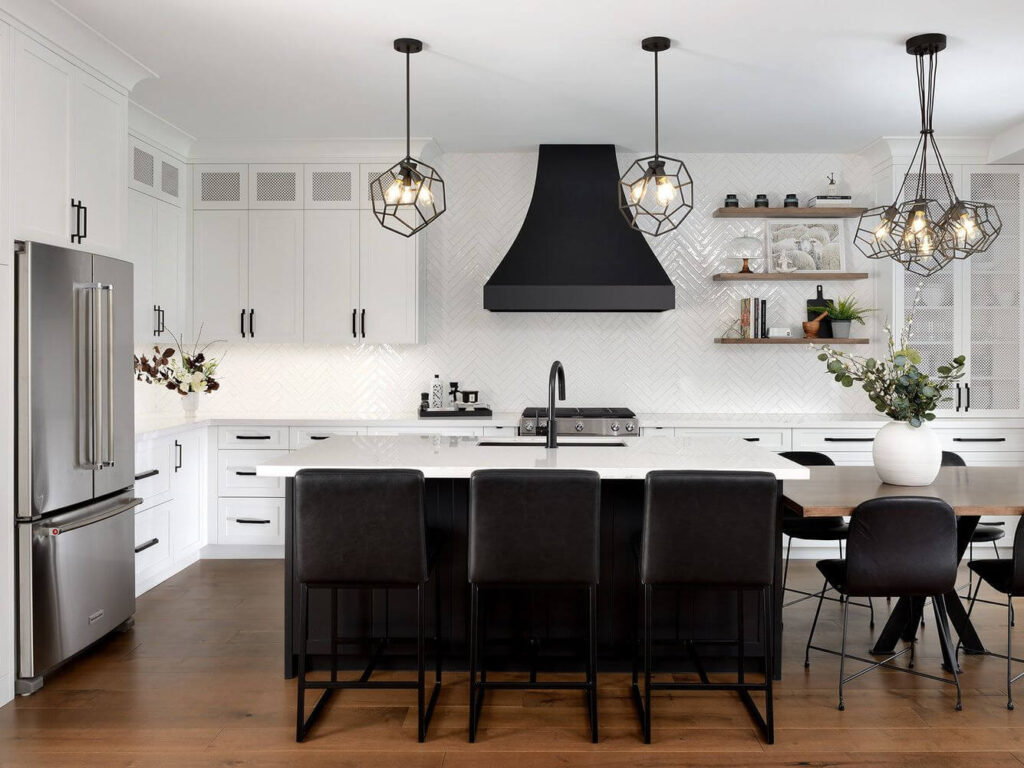 source: mydomaine.com
Kitchen lighting is not just about the appeal, but it is also about the functionality of those lightings. So, whenever you are trying to install lighting in your kitchen, make sure to consider both the factors along with focal points.