Gardening is a hobby, a responsibility, and a therapy for many. Spending a couple of hours in your garden tending to the greenery around is often a wholesome experience and an ideal weekend ritual. However, gardening is done right only when you are able to maintain the tools properly. Being simple-looking in appearance, gardening tools are often ignored when it comes to cleaning and maintaining them. If you want to have a fulfilling gardening experience and keep your garden nourished, it is important to maintain all your gardening tools well. 
Using the right gardening tools prevents you from spreading weeds and harmful pathogens in and around your garden. Moreover, having neat and clean tools adds to the overall aesthetic appeal of your garden. 
Maintaining your gardening tools is not a time-consuming or complicated process. This is mainly why people tend to get lazy and ignore tending to these tools. Here are some important tips to keep in mind for maintaining your gardening tools:
Make Sure That Your Tools Are Rust-free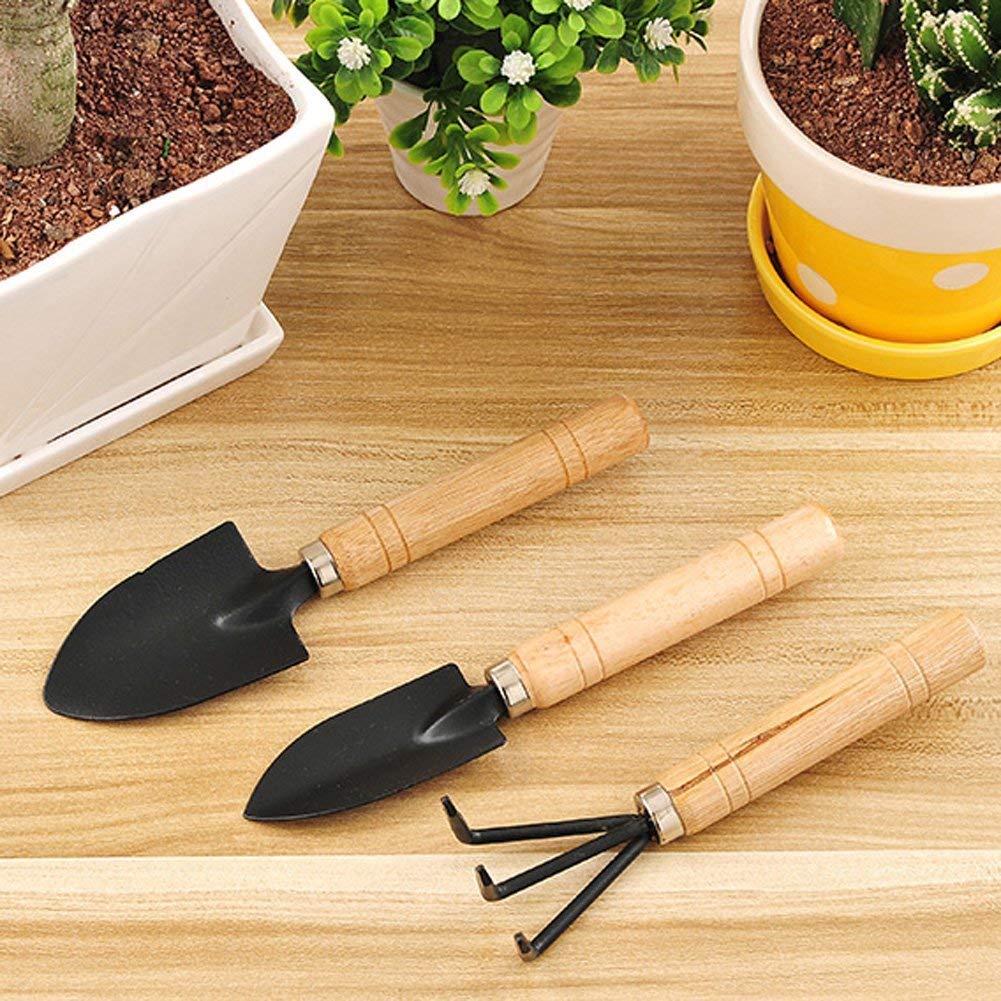 source: shopify.com
When it comes to gardening, tools made from metal demand maximum care and attention. If ignored for way too long, metallic tools tend to get rusty and corroded due to the moisture in the garden. When the metallic garden tools stay in prolonged contact with moisture, it results in the formation of rust, hampering the performance of the tools. 
It is, therefore, always important to remove rust from tools before the situation gets worse. Never make the mistake of delaying maintenance as it would lead to irreparable damages. As soon as you witness signs of rust on your metallic tools, get them rust-free to restore their original look.
Clean Your Gardening Tools After Use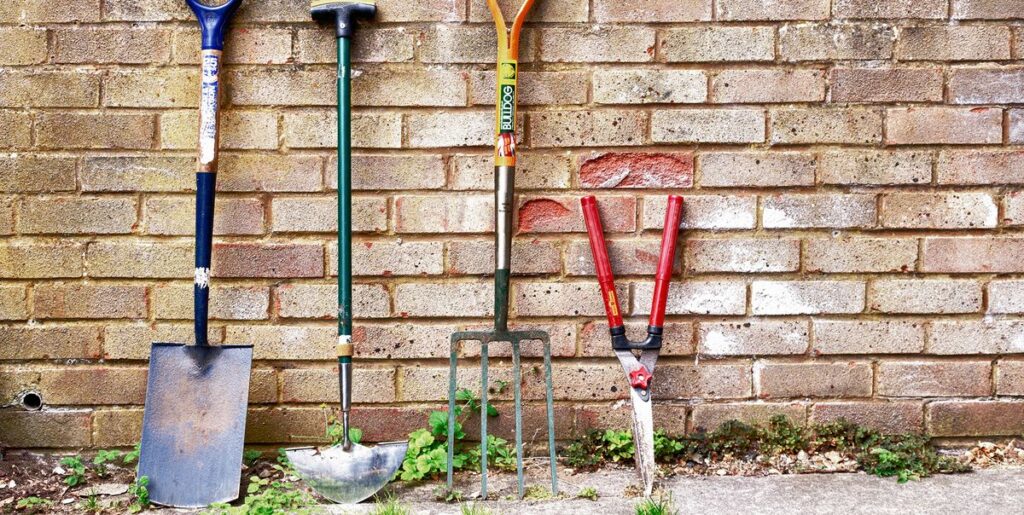 source: hearstapps.com
As basic as it may sound, it is always important to clean your gardening tools after you are done using them. Wash all the dirt and mud from your shovels with a hose. Wipe the sap on the pruners using a clean cloth. These activities hardly take any time and make sure that your tools are free from impurities.
Before going for your gardening session, make sure you have a stack of rags or old clothes, a stiff brush, and steel wool for cleaning your gardening tools. When you have these accessories handy with you, you would be much less likely to get lazy after a long and tiring gardening session.
Along with these accessories, you can also have a bar of potent soap to wash your hands clean once you are done.
Keep Your Gardening Tools In A Dry And Protected Area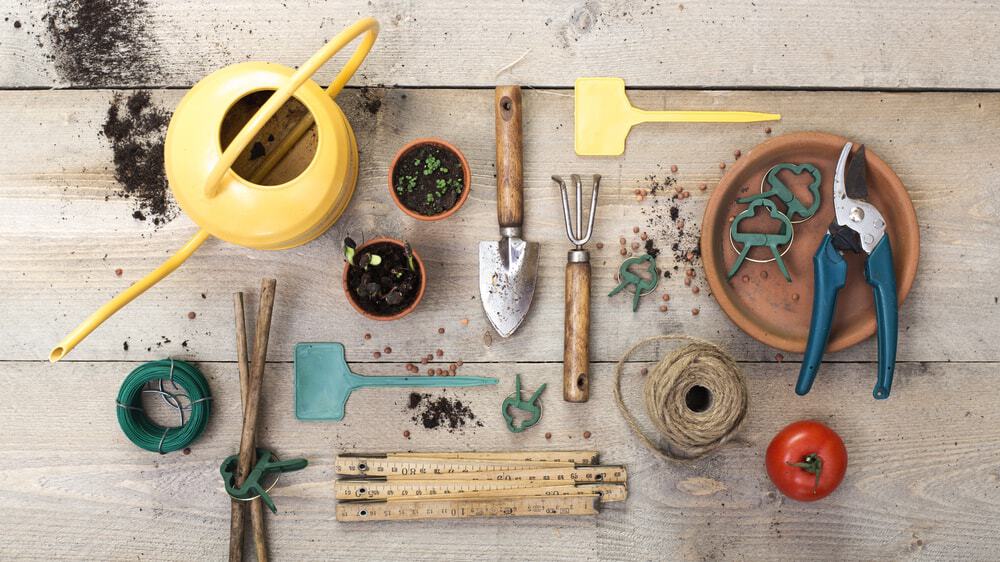 source: homestratosphere.com
As discussed above, gardening tools made of metal are prone to rust and corrosion. Always make sure that you keep your tools in a dry and protected area to keep away from moisture. You can also hang your tools on a dry wall to keep them away from unwanted moisture. 
If you live in an inherently humid climate where fog and rainfall are common, it is advisable to keep your gardening tools in a shade or a garage. Otherwise, your tools would get rusty even without being used in your garden!
Keep Your Pruners Clean And Oiled
Pruners play an important role when it comes to gardening and they need to be maintained well to ensure their smooth functionality. Always make sure that the blades of your prunes are sharp as they tend to get blunt over time. Clean your pruners as soon as you are done using them and keep them dry. If exposed to moisture for too long, they would start getting rusty and susceptible to residue build-up. 
Moreover, it is advisable to keep the pruners oiled to keep them lubricated. The last thing you'd want to encounter is jammed pruners before you start your gardening session. While cleaning your pruners, use a stiff brush to loosen the dirt from the crevices and wash their blades with warm soapy water. Dry them thoroughly before you them back.
Do Not Forget To Sharpen Your Tools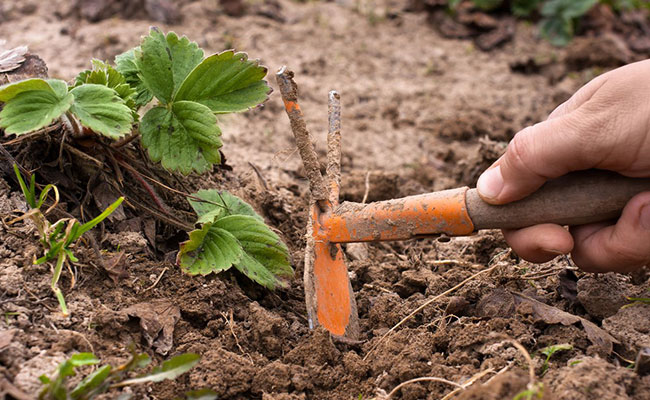 source: pinterest.com
Over time, many gardening tools tend to go through wear and tear, leading to them losing their sharpness. Although local tool shops often provide you with the service of sharpening the tools, it is always better if you do the task yourself.
If you feel the tools don't need much sharpening, you can simply take a carbide knife sharpener, flat file, whetstone, or any other sharpening device to get the work done. Make a few passes over the dull edges of your tools and you would have sharp edges at your disposal. If done right, it wouldn't take more than a few seconds to smoothen out the edges. Most sharpening devices, especially a carbide knife sharpener, are lightweight and easy to carry.
Sand The Wooden Handles Of Tools
Along with the metallic gardening tools, it is important to pay equal attention to the wooden handles of the tools to keep them functioning well. At regular intervals, look for splinters on the wooden handles and sand them efficiently if you find any. 
While tending to the wooden handles, make sure you use a clean rag for applying finishing oil and let the surface soak it for a few minutes. You may need to reapply the oil as required until the wood cannot absorb it anymore. Before you store the tools, make sure you wipe off excess oil.
Keep Yourself Protected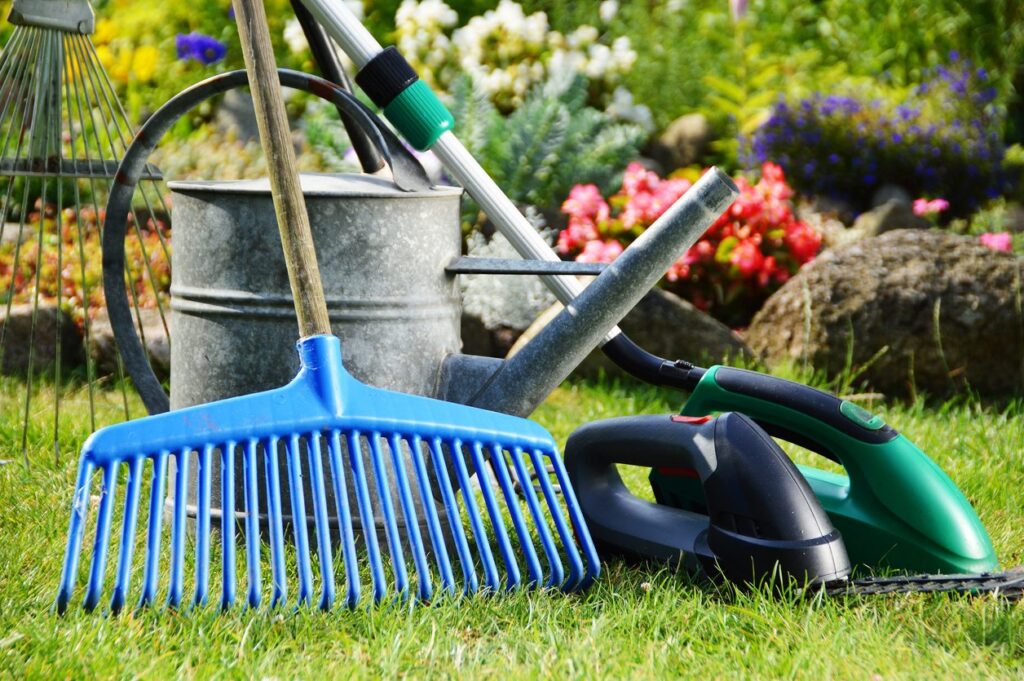 source: gardeningknowhow.com
As you maintain your gardening tools, it is important to look after yourself as well. Before you start with your gardening session, it is advisable to wear gloves to protect your palms and fingers. You can also wear suitable eye protection to keep your eyes safe from the dust in your garden. 
The Final Word
These were some of the most important tips to keep in mind while maintaining your gardening tools. If you avoid procrastinating and make a little effort, you can provide your garden and gardening tools with a long and healthy life.