Everyone loves the thought of relaxing in front of a cozy fireplace after a long day. There's just something about dancing flames and glowing embers that melts away the stress of the day.
But what if your home doesn't have one of these coveted features?
No worries!  An electric fireplace can be installed almost anywhere there's an electrical outlet.  Electric fireplaces provide the warmth and ambiance of a real wood burning or gas log fireplace. 
Easy to install and energy efficient, electric fireplaces offer the perfect solution when a traditional fireplace isn't an option. These fireplaces require no venting and can be plugged into a standard outlet.  Many brands allow you to turn on the flames with or without heat so you can enjoy the fireplace all year long.
And the price?  It's not as much as you might think.  Depending on the model, the average range in price goes from a few hundred dollars to a little over a thousand.  
Built-In Electric Fireplaces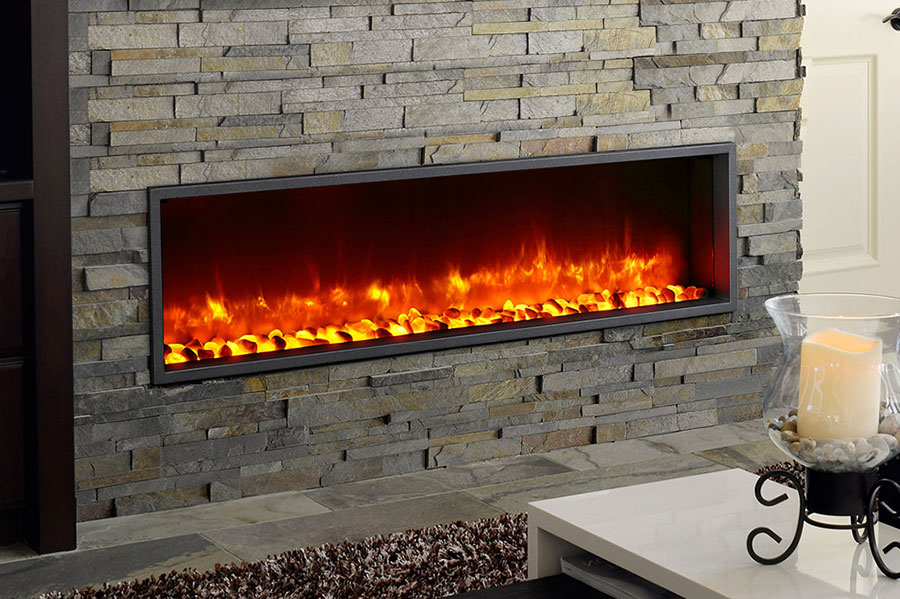 source: mmminimal.com
Built-in or recessed electric fireplaces are designed to fit into a wall opening.  Ventless and electric powered, these built-ins are available in two types:  linear and inserts.  
Linear Built-Ins
Linear built-ins have a long horizontal appearance which makes them perfect for modern interiors.  Inserts, on the other hand,  look more traditional and appear to be similar to a classic fireplace.
Insert Built-Ins
source: stylishfireplaces.ca
Insert built-ins can be installed in cabinetry or a wall opening.  A licensed electrician may be required to hardwire the unit before installing the fireplace.  These type fireplaces are great for new construction or renovating old homes.  
For this type of electric fireplace, you'll need to create a wall opening.  Make sure the dimensions are ¼" larger than the firebox opening. Consult an electrician to hardwire the unit.  Insert the unit inside the opening and secure it to the wall with screws.  Install the decorative logs (or fire glass) and the front glass panel that came with your unit.
Electric Fireplace Inserts
Electric inserts fit into an existing fireplace opening.  These units plum into a standard outlet and are equipped with a heater to provide warmth as well as ambiance. Inserts are deeper than other types of units since they're designed to take up space in the firebox area of the fireplace.  Some models have options for trim pieces so you can have a finished, custom look.  
To install this type unit, remove any existing insert and close the damper to reduce drafts.  Make sure the firebox is clean.  
A brick and stone spray-on cleaner can do the job. Consider installing an electrical outlet in the firebox or you will need to run the cord to a nearby existing outlet.  Make sure your electric unit will fit properly according to local codes and regulations.  Plug in and place the insert in the opening.  
Wall Mount
source: pinterest.com
Wall mounted electric fireplaces are the easiest to install since you simply hang the unit on a wall.  These units come with a small heater and plug into a standard outlet.  Some even come with a remote control for easy on/off access.  
These wall mounted units come with the necessary brackets and hardware and can be hung like a picture or flat screen TV on any wall.  Be sure there's a 3 foot clearance to any bedding, pillows, curtains and anything flammable from the fireplace. 
Find a location with access to an electrical outlet.  Remember, the heat from these type units come from the top, front and bottom of the unit.  If you're planning on hanging your  fireplace below your TV, bottom and front heating choices are best.
TV Stand
TV stand electric fireplaces come built into a TV stand. Simply plug in the unit and set your TV on top and you have an instant cozy set up to watch your favorite shows.