Steam Room Or Sauna – Best To First Know The Difference!
Many folks still believe that steam showers and saunas are the same, but they are not. You will undoubtedly become hot and perspire in both. However, whereas a steam room produces moist and humid heat, a sauna provides a much hotter and dry heat.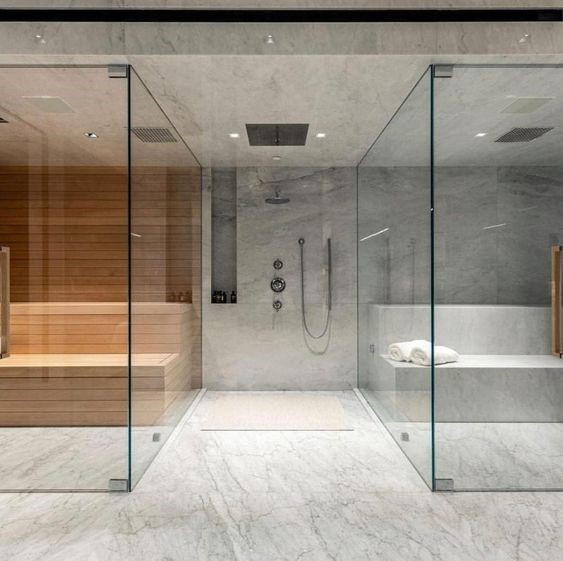 SOURCE: FORBES.COM
Customer Built Or Off-The-Shelf?
There are several options for adding a steam shower to the home. One of these would be to have it custom built. It can be within an existing bathroom space or a completely separate room. One key advantage is choosing the exact steam shower size and shape to suit your available space.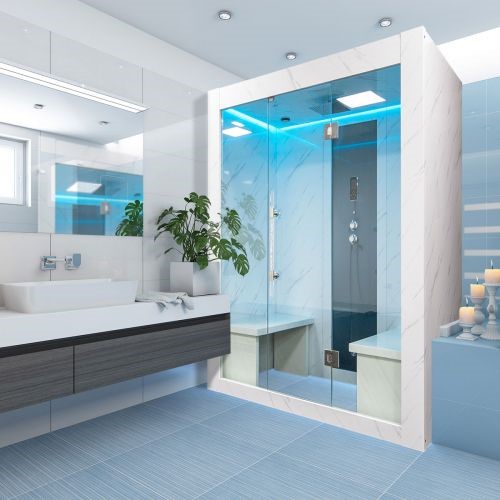 SOURCE: DESIGNINGIDEA.COM
Selecting The Right Size Steam Generator
When proceeding along the custom-built steam shower route, one of the essential items required is the steam generator. They can be purchased in several different Kilowatt sizes ranging from a small 3kw to 18kw and beyond. The cubic capacity of the steam room size determines the size of the steam generator needed.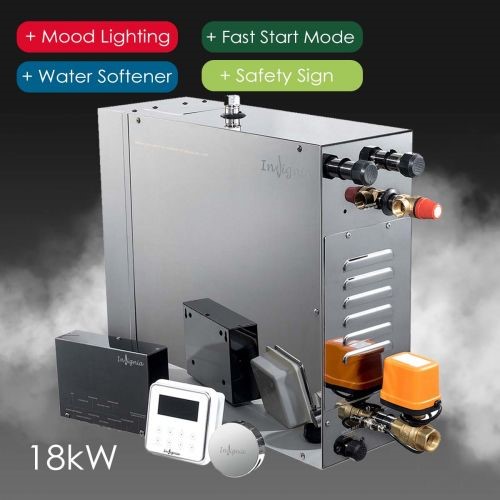 SOURCE: INSIGNIA.CO.UK
The Correct Steam Generator Size Matters
Having a too small steam generator for the bathroom space means the maximum heat and temperature for the shower will not be reached. This creates an unsatisfactory experience, and likewise, a steam generator too large is simply a waste of resources and can lead to overheating issues.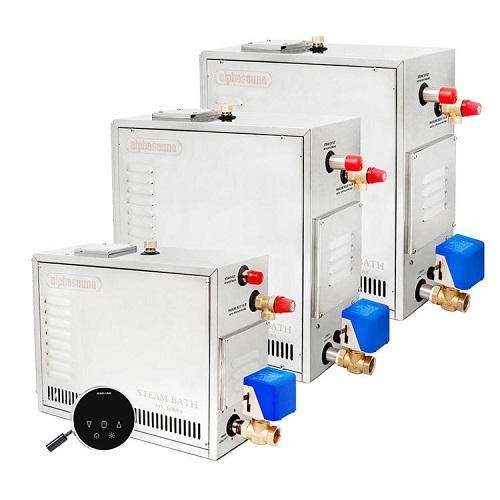 SOURCE: ALPHASAUNAS.COM
Making That All Important Calculation
First, measure the dimensions of the intended steam room space in feet and inches. Then multiply the Width x Length x Height, and this will provide the Cubic Feet size of the area. As a guide, a 3kw model is sufficient for up to 120 CF, 9kw for 350 CF, 12kw for 500 CF, etc.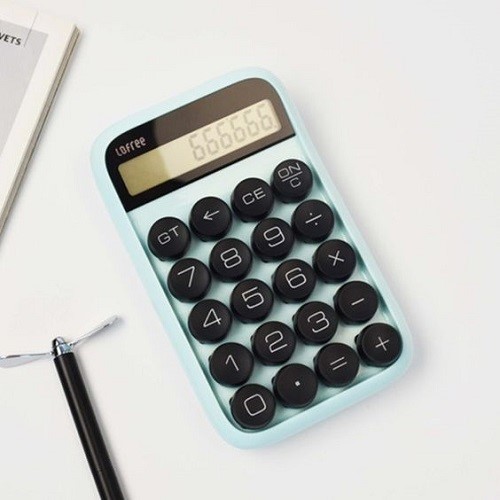 SOURCE: REDFERRET.NET
Converting An Existing Shower For Steam
Provided your existing shower is watertight, there's no reason why you could not add the steam function. Steam is boiled water that turns into water drops and exits via the waste as shower water does. In making your shower "steam proof," there will be alterations required.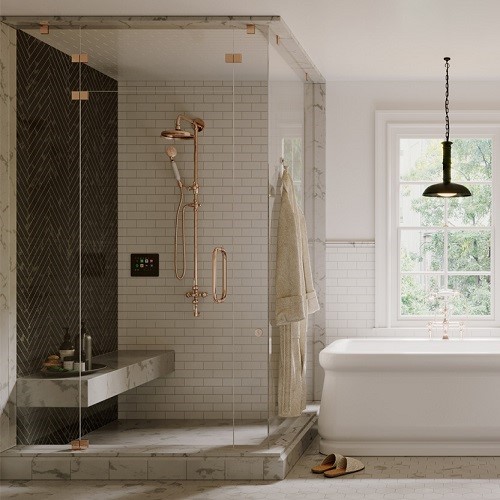 SOURCE: THERMASOL.COM 
Steam Shower Conversion Kits
There are some great value steam generator kits for up to 120 cubic feet for existing showers. These can include a 3kw steam generator, control panel, hoses, speakers, covers, and the steam inlet pod and ozone unit. The control panel often has FW radio and Bluetooth functionality too. 
Steam Shower Accessories & Enhancements
Various accessory items can enhance the steam Camper shower head experience. One such popular and stylish feature is Chromatherapy lighting which, like steam, also has health-giving benefits. Use your preferred Search engine to locate more details about Chromatherapy.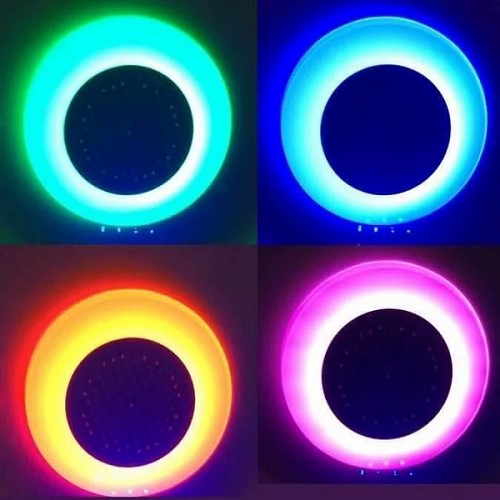 SOURCE: VIDALUX.CO.UK
Steam & Aromatherapy Essential Oils.
One could not write an article on steam showers without mentioning Aromatherapy. With limited space here, again, use Search for more details. However, one essential accessory for Aromatherapy usage is the Diffuser essence holders, which fit over the steam inlet nozzle.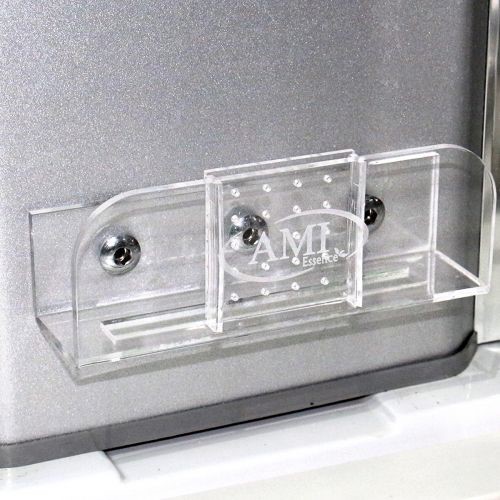 SOURCE: STEAMSHOWERPARTS.CO.UK
Off The Shelf Steam Shower Cabins
Over the past 15 years, steam shower cabins supplied in a flat-packed kit have become increasingly popular and function off the central heating hot water system. Once assembled, they require one hot and one cold connection and a 13amp electrical supply in most circumstances.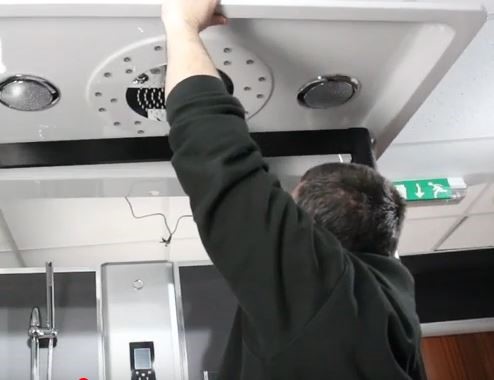 SOURCE: YOUTUBE.COM
Steam Showers For Really Small Spaces
Not everyone has the space at home for a bespoke steam room or shower. The self-contained and free-standing steam shower cabins are in many different sizes. The smallest size is a corner fitting 800mm x 800mm model and has all the same functionality as the larger model.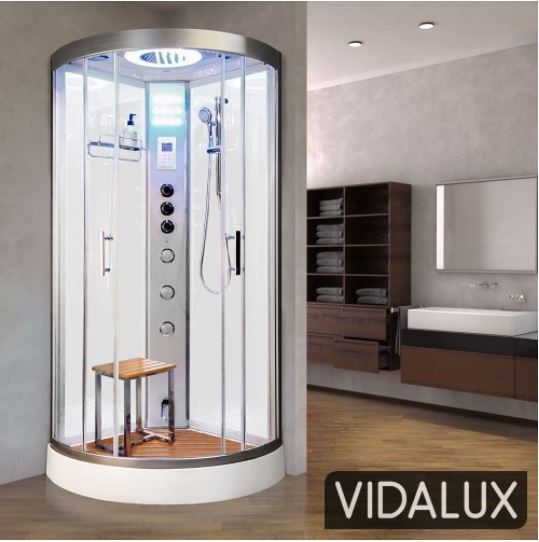 SOURCE: VIDALUX.CO.UK
Assemble & Connect, Plus So Many Features!
Steam shower cabins come packed with great features. In addition to the steam function, most have three showering options: overhead monsoon shower, hand shower, and massage back jets. These days FM radio and Bluetooth are fitted as standard.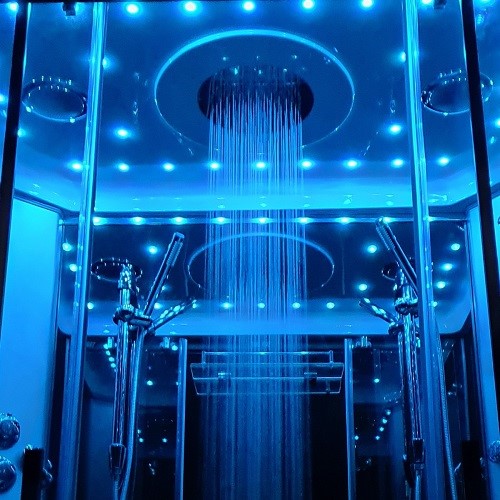 SOURCE: JTSPA.CO.UK
Life Is Better When You Share It
This top-of-the-range twin steam shower cabin below measures 1400mm x 900mm and is for two people to share. Hence there are two hand showers, 2 x 6 body jets, and two chrome stools. It seems like an excellent opportunity to relax and unwind.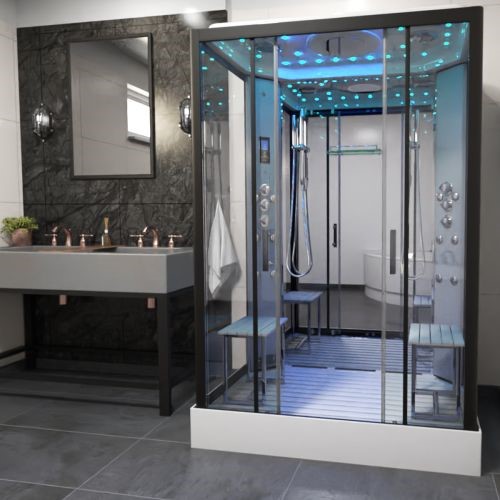 SOURCE: INSIGNIA.CO.UK