Redecorating any room of the house is never cheap, but a complete bathroom remodel is one of the more costly projects which can be undertaken around the home. However, there are many ways to cut the cost of a bathroom remodel, whilst still providing the excellent results you are dreaming of. 
Here, we will take a look at some simple tips and advice which can help you stick to a lower budget when renovating the bathroom, and might also help you learn a new DIY skill or two! 
Plan Carefully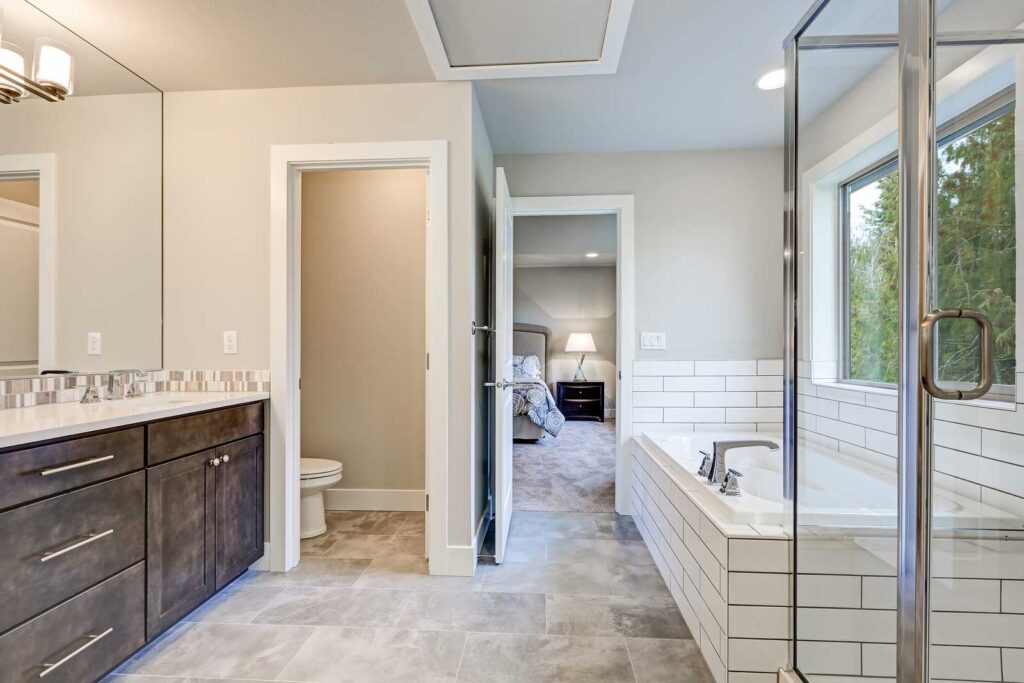 source: claghorncustomflooring.com
The most important phase of any home improvement job is planning. This is a good time to consider how you want the bathroom to look, what materials you will need, and of course, to set a budget.
 A good supplier will be able to help with this, perhaps even creating a 3D image of how the finished bathroom will look, using your room's dimensions. 
They will also be able to help choose the right materials and ensure you choose those which are suited to your room. So, think carefully, how much does it cost to remodel a bathroom, and set a budget accordingly.
Think About What You Really Need 
Linked to the point above, it's important to carefully consider what you need in your new bathroom. For example, if you don't often take baths, perhaps choose a bigger and better shower instead, saving space and money.
 Building a wet room can be more cost-effective than installing a new tub and a separate shower, so this is worth looking into if you don't take baths often. Think about what you use in your current bathroom and what you would like to have. 
Choose Plain Tiles with Patterned Accents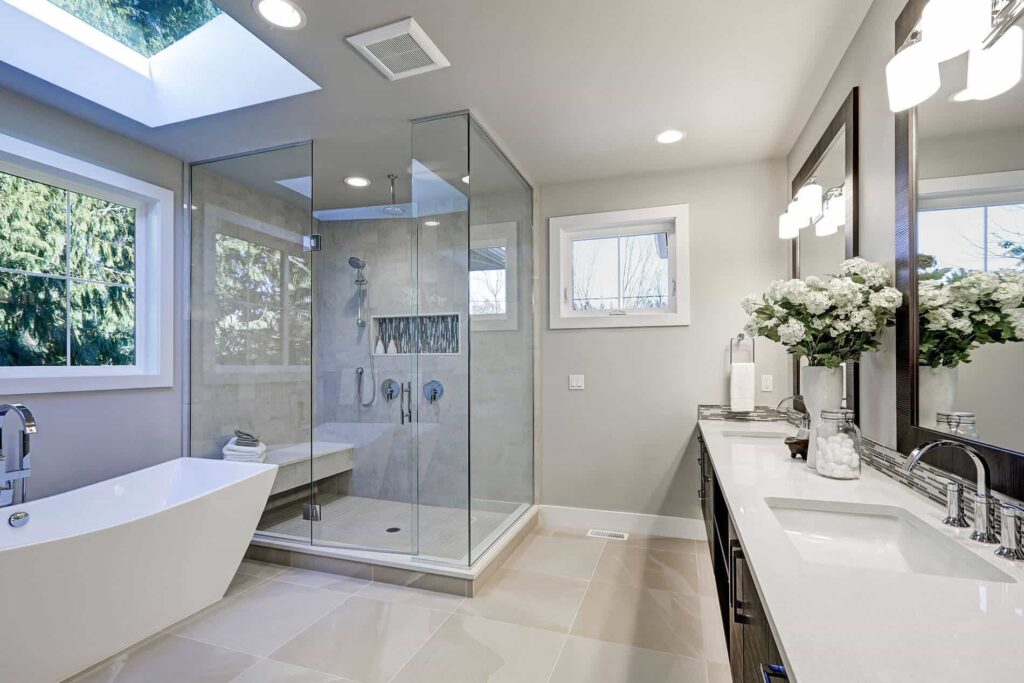 source: megakitchenandbath.com
If you are looking for simple ways to cut the cost to update the bathroom, tiles are a great place to do so. Rather than choosing an expensive, patterned design, consider using plain subway tiles with the design you prefer as a border or an accent in specific areas. 
Alternatively, paint most of the walls and only tile key areas – in the shower and behind the sink for example. This can save hundreds of dollars when compared with tiling the entire bathroom with a patterned tile. For perspective, the cheapest subway tiles cost as little as $4/sq.ft. whereas marble tiles or those with detailed patterns can easily cost upwards of $100/sq.ft. 
Consider Buying Pre-Used Items 
If such a facility exists nearby, it is worth checking for second-hand pieces – you might even be able to kit out the entire bathroom in this way and save a small fortune! However, it can sometimes be difficult to find what you are looking for in this way, and it might be necessary to check back several times before finding something you love. 
Choose Man-Made, Imitation Materials 
Natural materials such as marble and wood can be a costly choice in the bathroom, but luckily there are many excellent imitations available. These tend to be a lot cheaper and can also be easier to maintain and look after than their natural counterparts.
 So, they are clearly an excellent choice. What's more, there is a great range of these products to choose from, so you can easily find something which will suit the style you are aiming to achieve. Stone-effect tiles and wooden tongue-and-groove cladding panels are excellent for cutting costs whilst still achieving your dream bathroom. 
Buy from a Trusted Supplier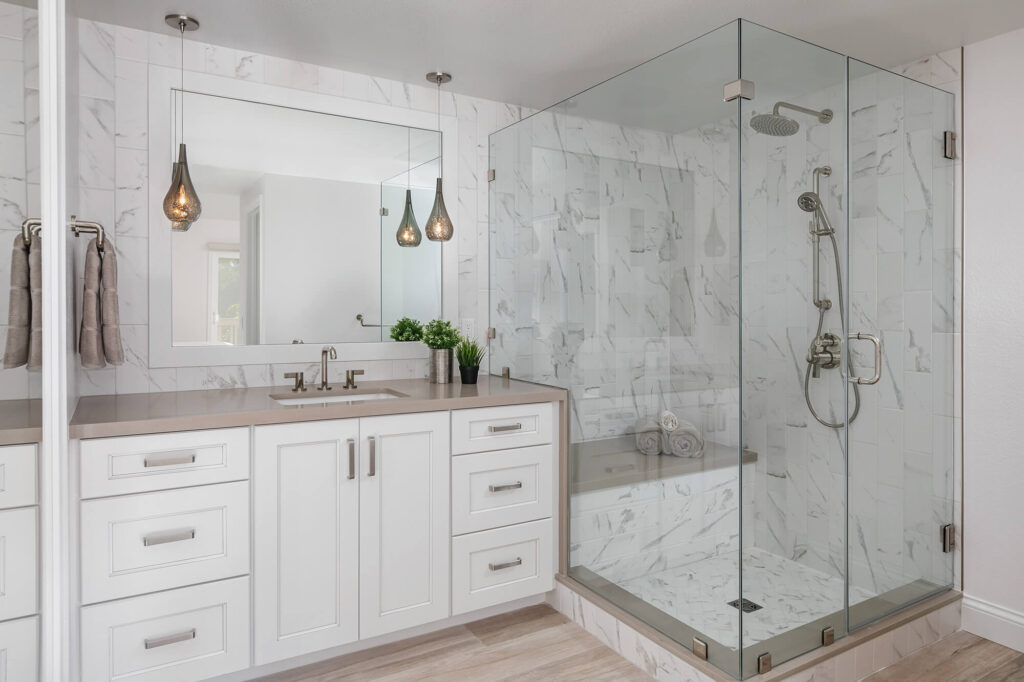 source: seapointe.com
Whilst it might cost a little more initially to buy the entire bathroom from a bathroom specialist, it can save a lot of time and also ensures everything will run smoothly, preventing costly issues from arising later on. It's worth shopping around online to find a trusted retailer and comparing cheap bathroom suites between suppliers. 
A trustworthy bathroom retailer will be able to assist with all areas of the bathroom remodel, from planning to picking out the best products and materials, to ensure you choose those which best fit your space and will make your dream bathroom a reality. They will probably be able to help with the removal of the old bathroom suite and the installation of the new one too, to make things easier from start to finish. 
Re-Work What You Already Have 
It's possible to give your bathroom a lovely new look without completely redoing it if the basics are still functional. For example, a fresh coat of paint can make a huge difference and for minimal costs too. Another nice way to freshen up what you already have is by using tile stickers. 
Patterned tiles are very expensive, and stickers can give very similar results for a fraction of the price. What's more, they are very quickly and easily applied, meaning you will save a lot in labor costs too. Changing the towels and buying some new accessories and decorative pieces is another good way to give your bathroom a new lease of life, without completely redoing it.
 Of course, this is not a good option if you need a new bathroom suite, but if you simply fancy a change, this is a great, cost-effective way to go about it. 
Try To Keep The Same Layout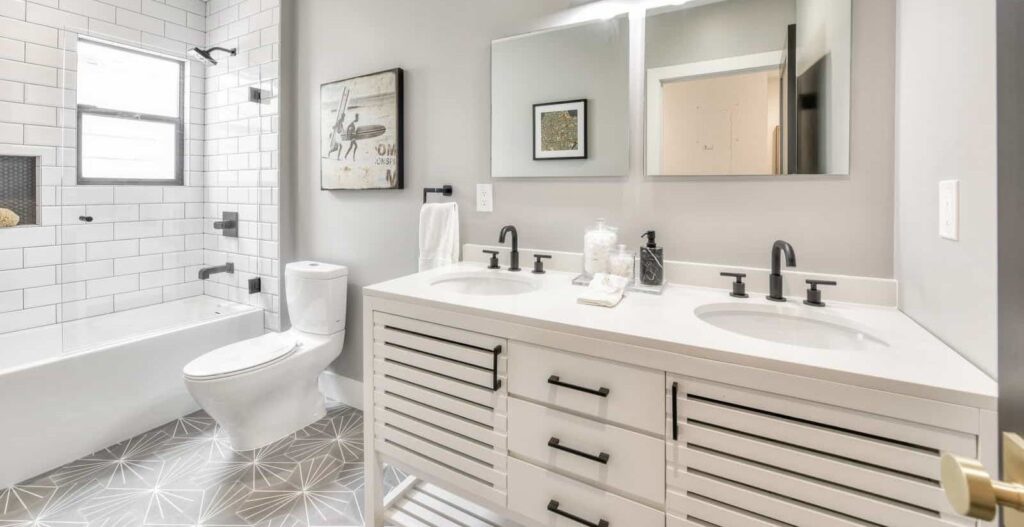 source: pro.com
Re-arranging the layout of the bathroom can cost a lot when it comes to the plumbing. If you're wondering how much to remodel a bathroom, this is one major way to cut back on costs. 
Of course, it's not always possible and sometimes the arrangement of the sink, shower, bath, and toilet will have to be adjusted, for one of many reasons. But if possible, reinstalling the new bathroom suite in the same positions as the old one can be a great and simple way to keep the budget of a bathroom remodel low. 
DIY Some Unique Pieces 
If you fancy yourself a bit of a DIY expert, consider making some unique, one-of-a-kind pieces for your new bathroom. For example, pallet wood can be used to make some stunning pieces – whether it's a small set of shelves or something more adventurous like a sink vanity unit. 
Another nice project for those with DIY experience is transforming a dresser into a vanity. You'll have plenty of storage for bathroom essentials as well as a one-of-a-kind piece which is totally unique. 
 Update the Bath Panel 
A new bath panel is a great way to give your bathroom a new lease of life without breaking the bank. There are tutorials available online which show how this can even be undertaken as a fun DIY project. This is a good way to add a new color scheme to your bathroom without completely redoing everything – you can add patterns and colors of your choosing to the new bath panel. The materials for this project won't cost much at all, and when finished, you will have a unique piece that you won't see in anyone else's bathroom! 
 Reconsider the Lighting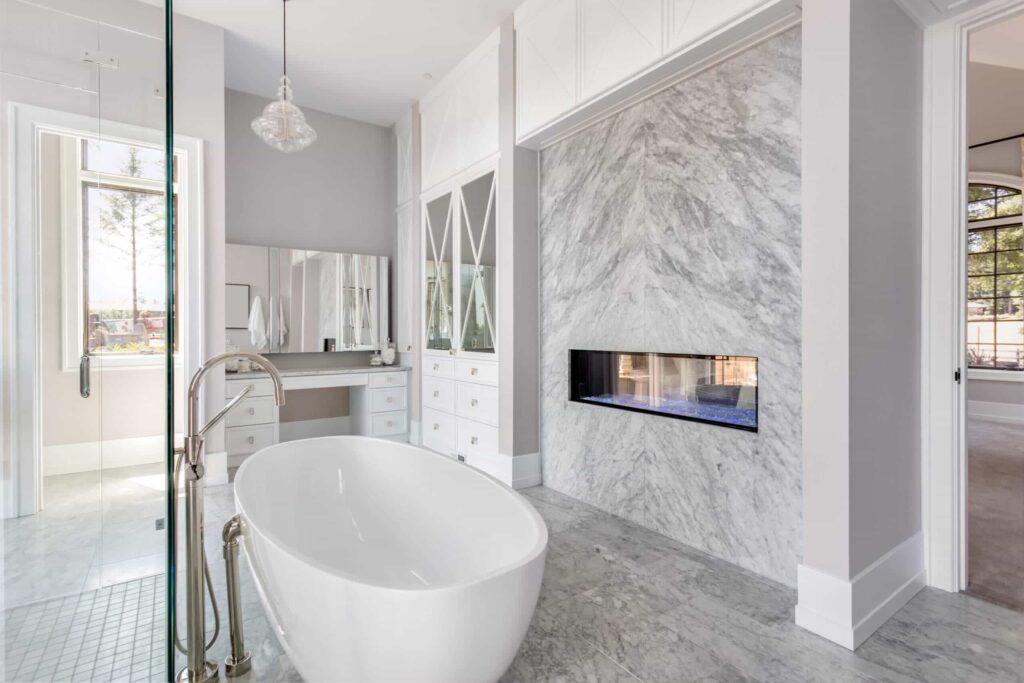 source: andrealaureninteriors.com
If you are thinking "how much does it cost to redo a bathroom" and aren't wanting to spend too much, try to find ways to introduce more light into your bathroom, to give it a new lease of life. There are a few ways to go about this. If you are considering installing a skylight, but are worried about the costs of doing so, another great alternative is a sun tube. 
They give a similar effect in the room as that of a skylight, minus the view, but are hundreds of dollars cheaper. A sun tube is essentially a device that takes light through a movable tube and into the room in question. Inside, it appears as a circle, flush with the ceiling, ranging in diameter from around 10 to 20 inches or more.
 Those with DIY experience may even be able to install the sun tube themselves, which can of course further cut back on costs. 
Whilst a sun tube won't give as much light as a skylight will, they are preferable over artificial lighting in many cases. That said, there are many ways to make your bathroom look great on a budget by making some tweaks to the lighting. 
It's a great idea to have bright lighting to assist with certain tasks such as applying makeup or shaving, whilst dimmer lighting can be preferable for bathing and showering. Dimmers are ideal, but also think about the types of bulbs as well as the positioning of the light sources. Wall lights are ideal, particularly if they are lower for clearing viewing the face, as this won't cause shadows to fall on the face. 
Tear Out the Old Bathroom Yourself
Hiring someone to take care of the demolition of the old bathroom can add a lot to the overall cost of the redesign. So, getting the bulk of it done yourself, with the help of friends and family, can be a good way to lower the overall cost.
 However, it's important to only undertake this if you know what you are doing, and bear in mind that a dumpster will most likely need to be hired to take care of the waste materials.