It can be really frustrating when you are trying to fit a bed and storage unit in a small bedroom. If you don't do things correctly, it can feel cramped and messy. However, if you do it correctly, your space will feel comfortable and cozy! If you have the creativity and innovation to come up with new ideas, you'll be able to not only make your small bedroom feel spacious, but also make it according to the aesthetics you like. There are a number of ways to make the most of a small room, whether you're looking to use it as a bedroom, office space, or a studio apartment. Here are a few ideas to get you started.
Murphy Beds for bedrooms and studios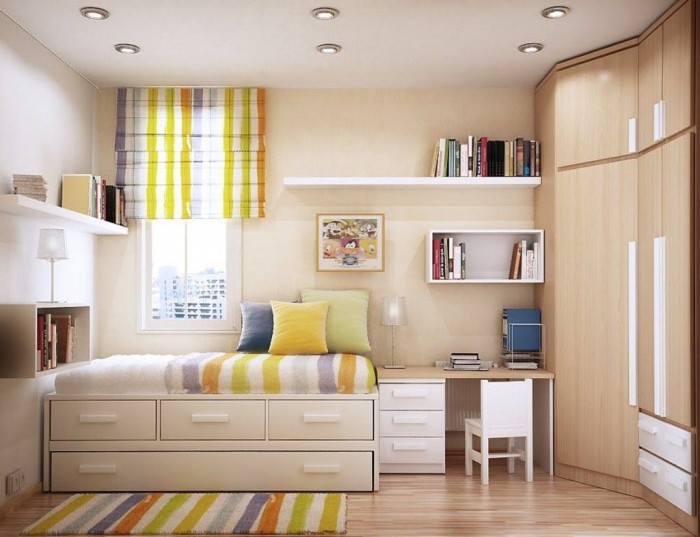 source: pinterest.com
Murphy beds are ideal for small spaces – easily foldable, they provide extra room when needed. However, many people find that they can often feel impersonal and boring. You can easily change the bed's layout by treating the bed's framework like a regular wall. Add some color to your room by painting it or draping a tapestry over it. This will make it look cozy and nice when the bed is opened. Alternatively, you can choose a normal bed that contains a lot under the bed store. This will save you from getting an extra dresser, which could reduce space to move around and make the space look hoarded. If you decide to have a normal bed, choose a bed without a headboard, so you can use shelves to maximize the space on top of the bed.
Shelves for increased storage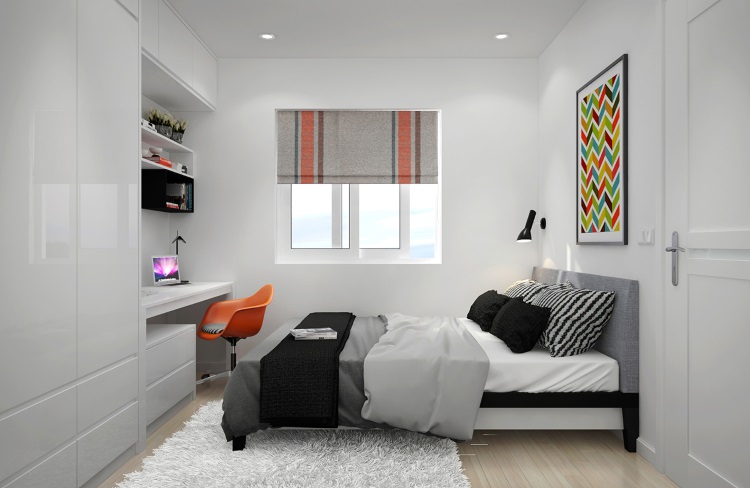 source: businesspally.com
Shelving is a key part of any small bedroom layout. Floating shelves can help you use the vertical space in a small bedroom more efficiently. Reduce the number of floor shelves in your home by getting your technology mounted on a wall. To get your TV wall mounted by professionals, click here.  Instead, you should try to use one wall and add the shelves to it. Adding shelves to the top of your study or workspace wall can help you use the entire wall space while still having the space look good. You can also add shelves to the foot of your bed to increase storage. Using a stack of wooden crates to store items is a clever way to conserve space without spending any money.
Foldable Desk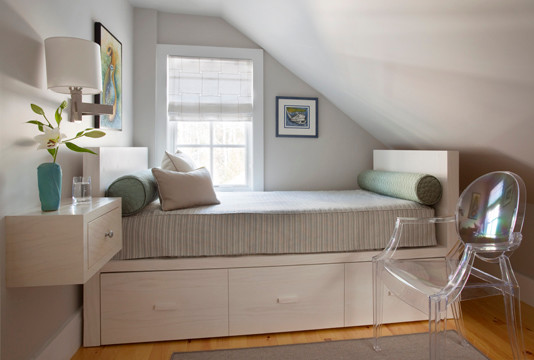 source: pinterest.com
An easy way to increase the room in your small space is by opting for a foldable desk. An extremely popular piece of furniture in time homes, A foldable desk can be folded away when not in use. Using foldable chairs along with it will further increase space in your room. An alternative to this is combining your desk and your vanity. Go for a furniture piece with a lot of drawers and allocate one side to work stuff and the other side to vanity materials. This clever way of optimizing your space will help you make the most of a small bedroom.
Make your room appear bigger than it actually is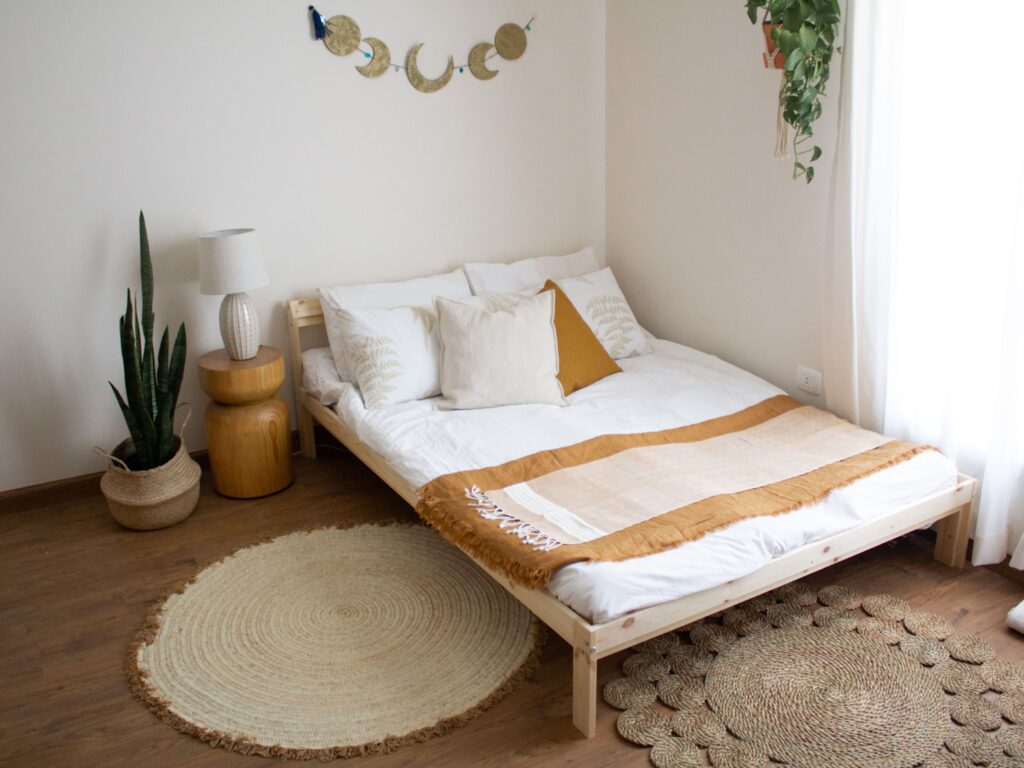 source: thespruce.com
If you have a small room, you can feel like you have been  pushed into a corner. There are a few easy ways to fix that problem. You can use mirrors and windows to make the space look bigger and create the illusion of a spacious room. If your room has a big enough window, make it the main focal point! You can push your bed against it, or you can push your desk against it to make the most of the daylight. Also use more linen or large cotton curtains to get more daylight. You can make your room look bigger and brighter by using the sun. One way to make your room look larger is by adding a mirror. Mirrors will reflect your room and give the illusion of a larger room. If you want to have the best view of what's outside, place your mirror opposite your window. You will get more natural light and your bedroom will look more open and airy.
Plants are good
Only when they are hanging around the space though. If you have a small room, to begin with, adding potted plants on the floor will only increase the cluttered space. Consider hanging plants by the window or around the room, or if you have potted plants, put them on the floating shelves.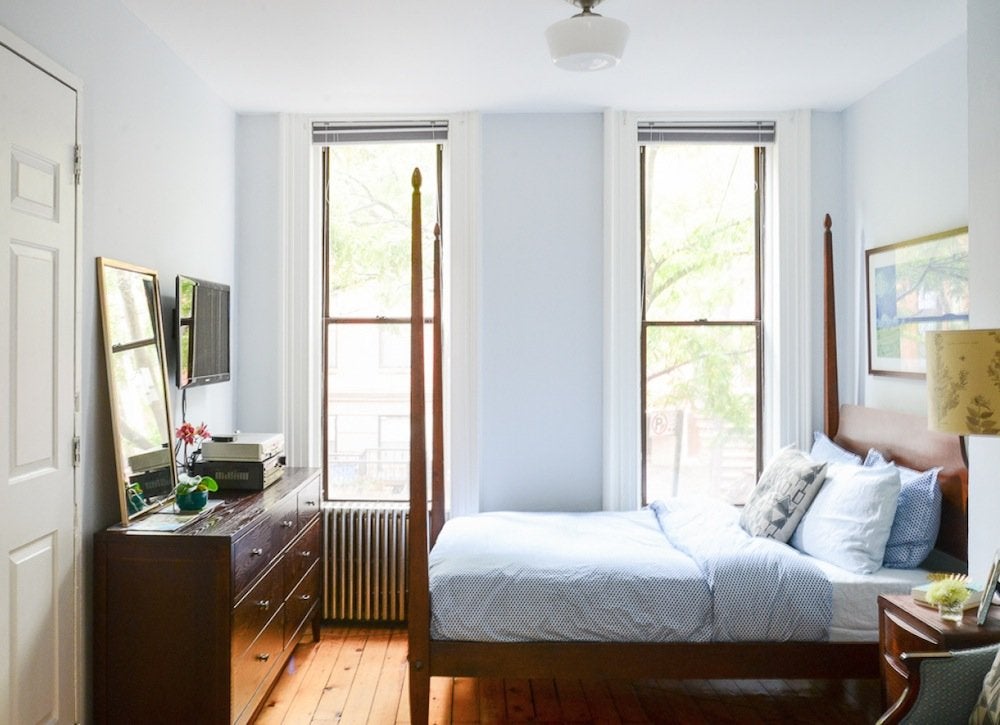 source: pinterest.com
Hanging plants from the ceilings are also a great way to maximize space on the floor while simultaneously retaining the green around the room, so you can make the most of a small bedroom.
Functionality over aesthetic
If you like minimalist aesthetics, it will be easy for you to organize your space. If you don't like minimalist interior design, make sure the furniture and décor you choose is both functional and has multiple uses. Add art to the room to give it a personal touch or create a gallery wall. An open layout in the room will make it more functional. For example, a sofa bed or daybed is a great choice for functional furniture that expands the open layout concept. Another way to decorate a room is to remove lamps and add fairy lights or LED strip lights around the room.