Although many millennials want to own a home of their own, many won't be able to afford to do so for years. Experts say 89 percent of millennials want to have a house. Despite market changes, this is still unattainable for many. This is why plenty of millennials still live in apartment units. But apartment living doesn't mean you have to suffer cramped spaces and shoddy décor.
Half of what makes apartment living so exciting is that you can decorate your living space more easily than a house.
Here are nine simple tips you can use if you want to make your apartment unit stylish, comfortable and functional.
Check Out the Floor Plan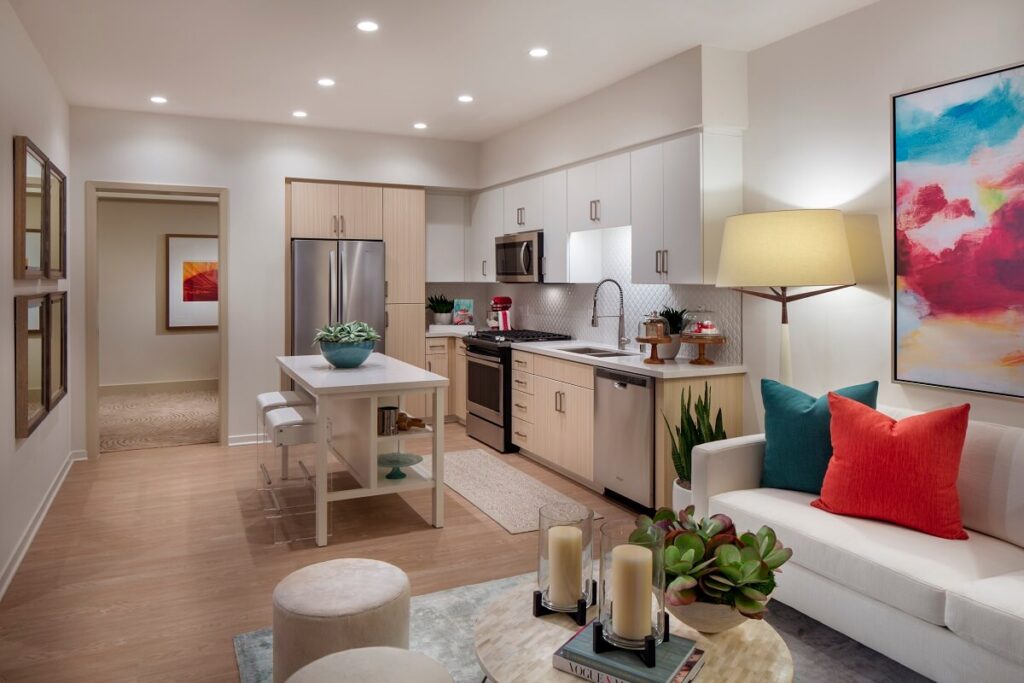 source: hostingloop.com
You must have an idea of what your apartment looks like if you want to decorate it properly. Having a copy of the unit's floor plan is essential. You can sometimes view a unit's floor plans in advance. For example, if a developer is preselling high-end condominiums, you can get a copy of each unit's layout. Use this information to draft designs and plan the décor.
Choose Unifying Themes
You can use your conceptual skills to make sure each area of your apartment unit has a unifying theme. Use combinations of colors, textures and patterns to ensure each space looks appreciatively the same way. For example, you can decorate your bedroom in jewel tones and fill the living room with earthy colors instead. Such unifying themes are key to making even a small apartment unit look bigger.
Use Rugs for Sectioning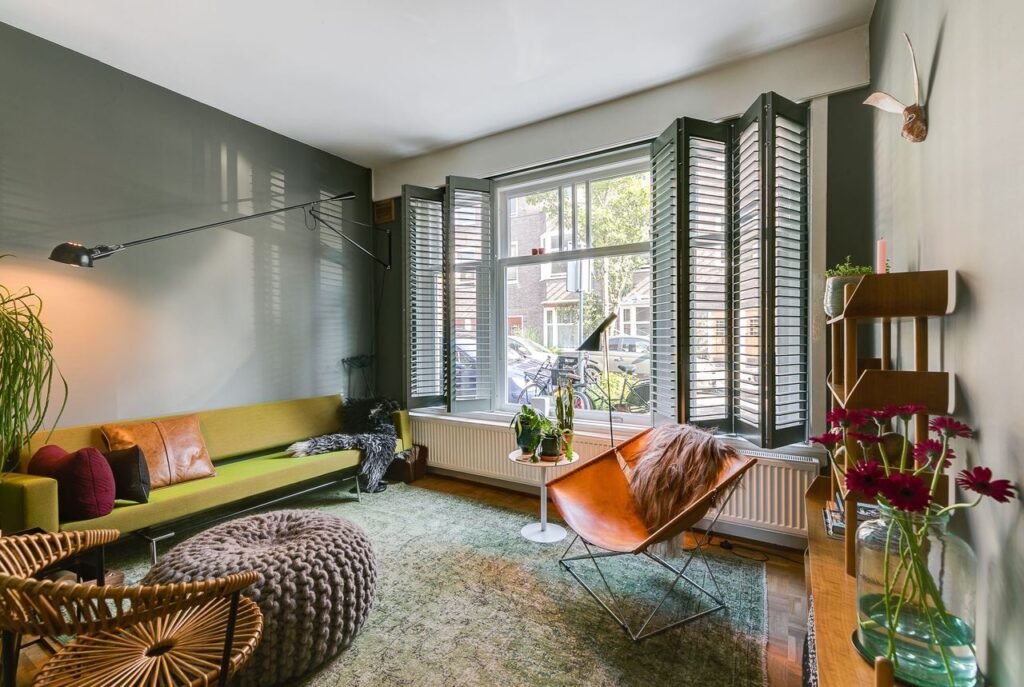 source: pinterest.com
Many apartments don't have as many walls and partitions as houses, especially if you are buying a studio apartment. It can be hard to distinguish when an area begins and ends without these features. You can emulate sections using large area rugs and carpets. For example, you can use a plush rug for living room areas and leave kitchen areas with just the tile flooring.
Select Statement Pieces
You may need to draw the eye of visitors and to make spaces more interesting. The best way to do so is through a few statement pieces. These can be large and dramatic pieces of furniture, eye-catching art objects, or imposing gadgets. Television can be the statement piece of a living room set just as easily as a handsome couch. These items help tie the unifying themes of your areas and draw attention.
Maximize Storage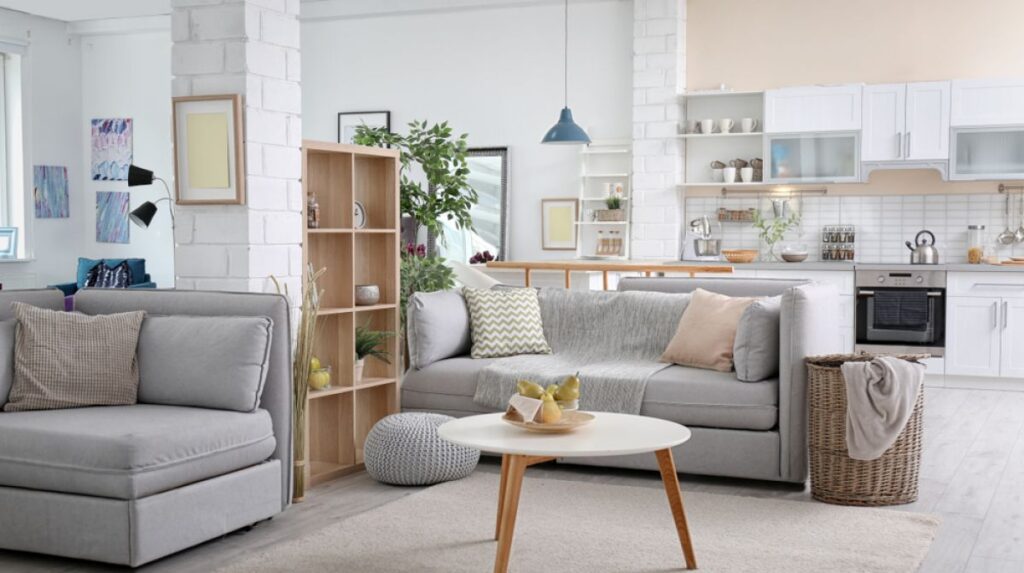 source: resized.co
Apartment units are notoriously cramped and you will need as much storage space as you can eke out of it. Select furniture that has additional storage space, such as beds with drawers underneath or coffee tables that double as chests. Attach vertical storage solutions like shelves on blank walls and install organizers into closets to make sure you use the storage potential of each area.
Set Up a Wall Gallery
Pictures are important parts of your life, and they lift the mood of certain areas. Dedicate a wall in your bedroom or living room area to become a gallery wall. This can save you surface space because instead of cluttering desks and tables with frames, you can hang them on your wall.
Mirrors Everywhere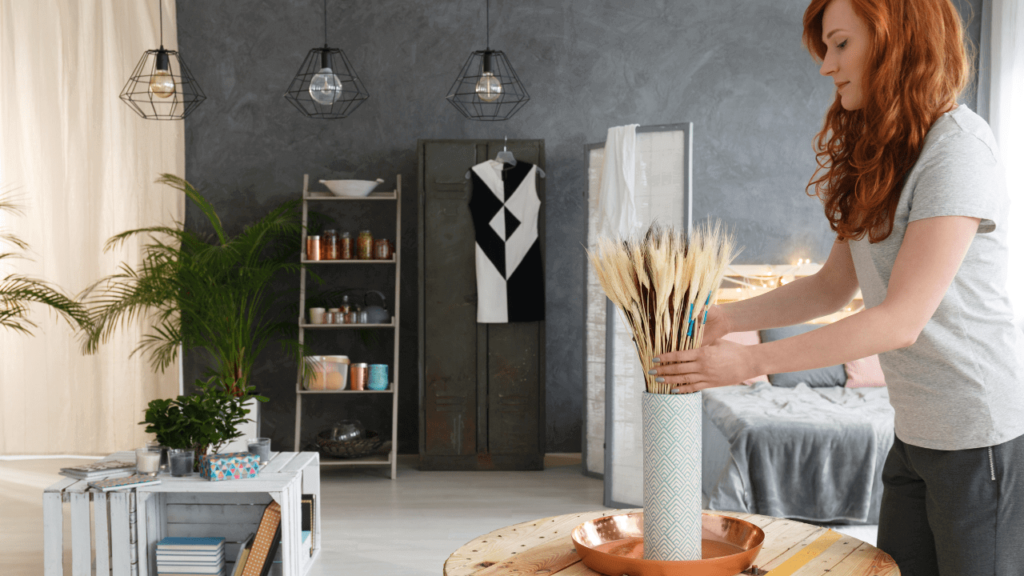 source: uniquenewsonline.com
Cramped spaces can be very confining even just by the way they look. However, you can ensure rooms look and feel bigger than they really are by strategically using mirrors. Find blank walls and corners in each room. Buy mirrors that you can position in these places. The reflections will make it look like there's more space in each room and freeing up the area visually.
Balance Fashion and Function
Remember that furniture has to be functional as well as attractive. When shopping for furnishing, ask yourself if it can accomplish its uses as well as look good. A chair that looks like a work of modern art can be visually appealing but atrocious for your posture and very uncomfortable to sit in. A waterbed may seem attractive at first but prove impossible to sleep on. Balance functionality with fashion and you will be pleased with all your purchases.
Wall With Shelves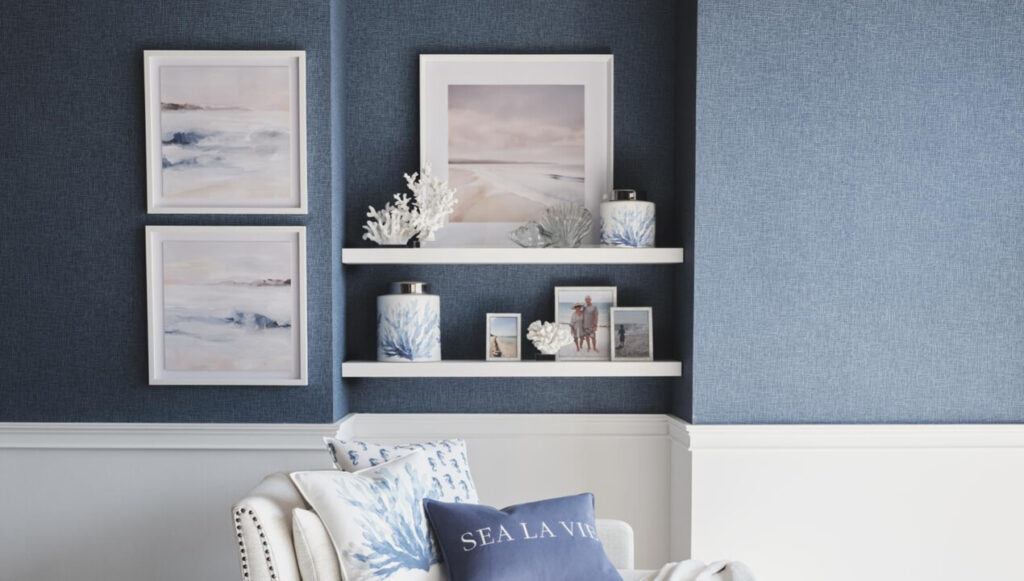 source: jcpenney.com
If you really need to create walled of sections in your apartment, you don't have to put up dry wall to do so. You can use freestanding shelves to increase the storage capacity of a given area as well as create some functional impromptu walls. Be sure to spruce up these shelves as well with some paint, a little flatwood backing or with fairy lights.
Your small apartment's decor is how you express yourself as well as make life at home easier. Planning out the decor and design of your apartment should be a joy. These tips will ensure your apartment will not only look good but be stylish and functional as well.