Are you a professional or DIYs enthusiasts woodworker? Do you have or you are planning to get a Brad Nailer for your woodwork? Are you confused or don't the available type of Brad Nailer? These questions and others will be treated in this guide. This article will assist you in choosing the best type of Brad Nailer, knowing there various available types. Brad nailer is a reliable instrument that is specifically made to help woodworkers. You should stop wasting your time on often start over with poor instruments.
Nailing is an operation in carpentry that requires skill, a steady hand, and the right equipment for the job. It would be an error if try to finish the nailing task with the wrong power tool. Brad nailer is an important instrument for small riveting applications, such as laying boards.
There are numerous types of brad nailers with different models and sizes. In this article; we will look into the different types available. To assist you in choosing the best brad nailer for a workshop, the key features of different types of brad nailer will be discussed and for DIYs and novice, 4 usefulness of brad nailer will also be listed and elaborate.
What Is a Brad Nailer?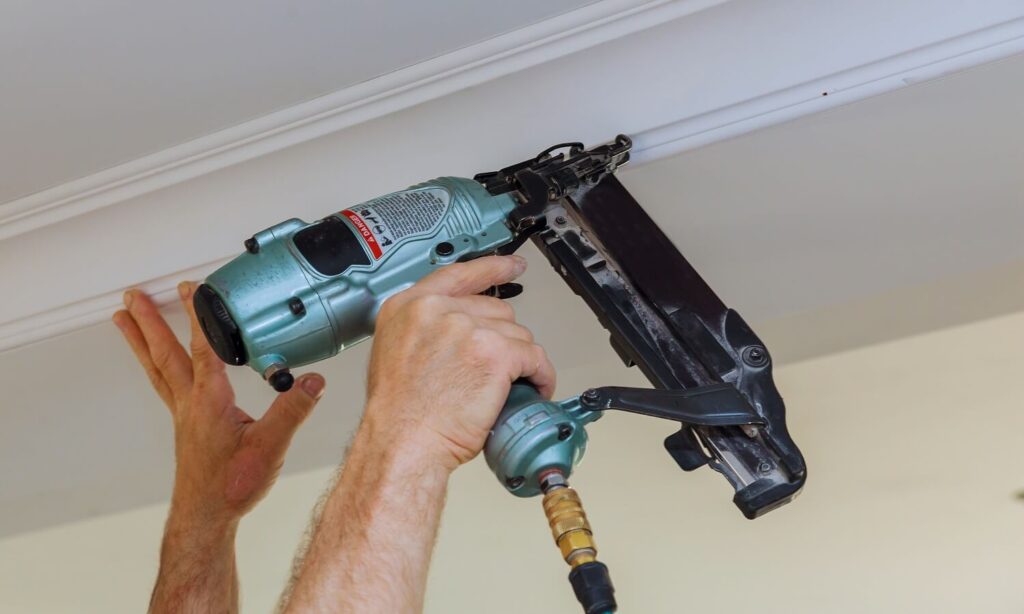 source: homesthetics.net
Brad nailers are power tools that are usually used for small applications to avoid splitting of the wooden surface. Most of these types of nailers produce 18-pointed nails, which are the smallest type of nails and they vary from 5/8 to 2 1/8 inches in length. They are so small that filling the nail holes with wood putty is not necessary to cover them after use. On most wooden surfaces, they are almost invisible and that is one of the key benefits of using them. This is why most professional carpenters make use of the tool due to its professional nature.
Types of Brad Nailers
For both DIY enthusiasts and professional woodworkers there are two primary types of brad nailers available and these are Pneumatic and Cordless (electric). Each of these types has its Pros and Cons. Understanding the way each of these types functions along with their benefits and drawbacks will help you select the best option.
Pneumatic Brad Nailer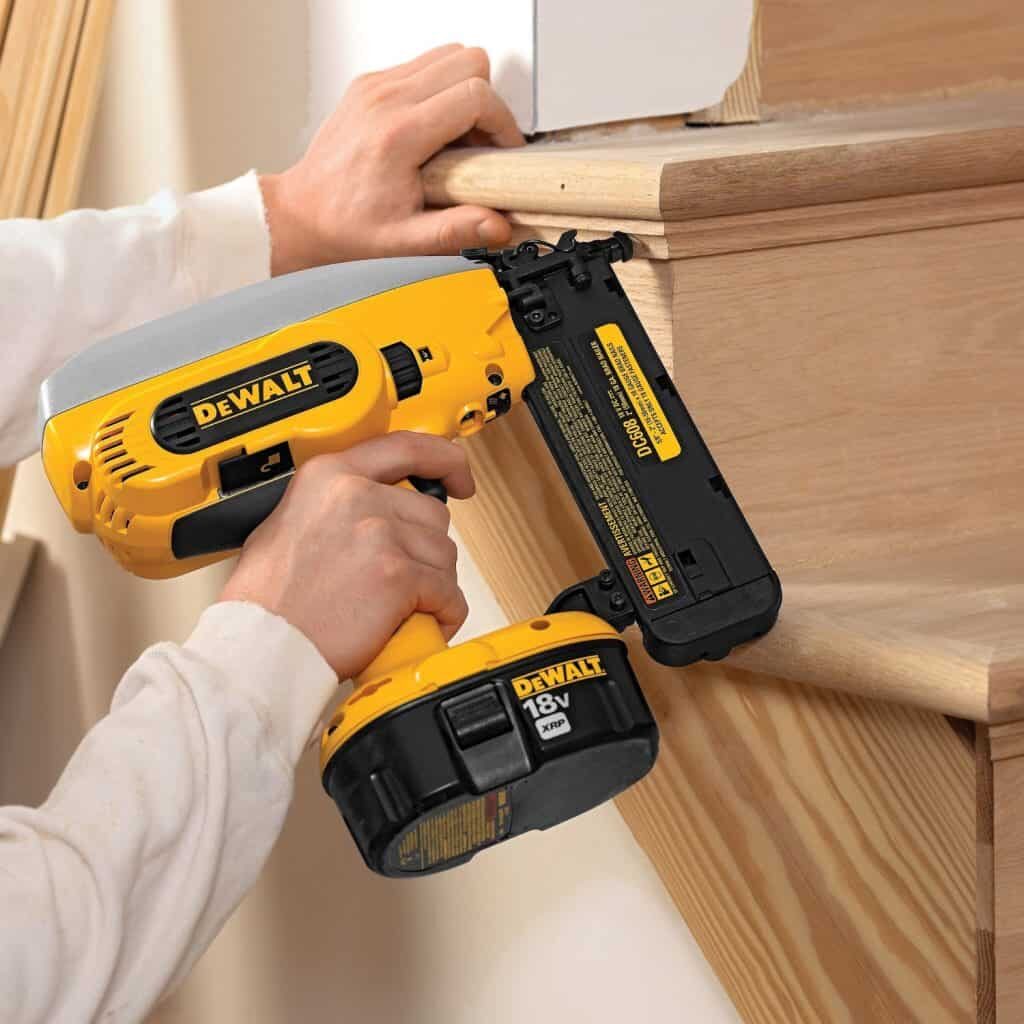 source: protoolguide.com
With air compressor type "Pneumatic brad nailer" will work perfectly. It will derive its power with hose connectivity to an air compressor. It is a common choice for brad nailer because it allows the operators to work efficiently without wasting time. And if it is used against a difficult task, it offers an elegant professional finish. Also, there are certain safety issues when using a pneumatic nailer and you must take note of it. Most accidents with this tool type are usually caused by air compressor's and it is, therefore, necessary to when carefully handling the instrument.
Cordless (Electric) Brad Nailer
A cordless nailer that operates with a rechargeable battery is electric. A cordless nailer is fast and easy to use for a simple, basic project that doesn't need too many nails, since it does not require the installation and use of an air compressor.
The key cons of cordless nailers are on batteries issue. The time taken to discharge the battery is limited by its use. Replace it with another fully-charged battery when the battery is depleted, or plug it into a charger to charge it.
The above two types of brad nailers have their Pros and Cons when it comes to choosing the best type of brad nailer between the two (pneumatic or cordless) for your projects. We encourage you to consider their features, the nature of your work, and size and then decide based on what you have defined as necessary.
Four Useful Functions of a Brad Nailer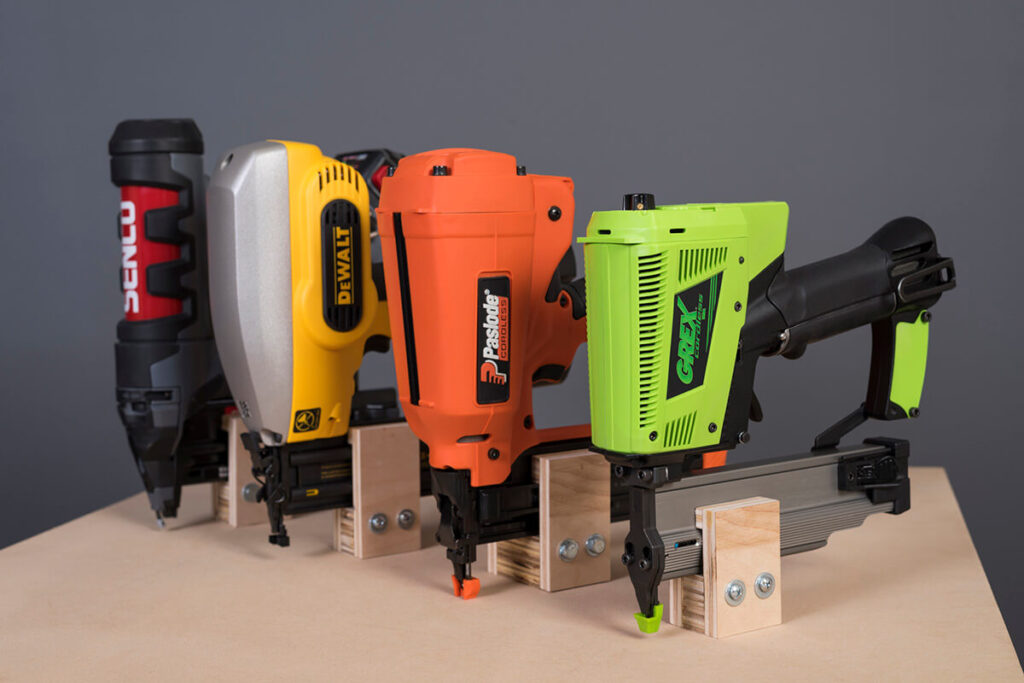 source: earlyexperts.net
During gluing and clamping, retaining small pieces of oddly formed wood is a common challenge in woodworking. Before applying the pliers, apply glue and then glue the pieces together with a few nails to keep them from slipping. When screws or similar projects are used to manufacture cabinets, this trick also works well: gluing sections with dowels, drill pilot holes, and inserting screws.
Bard nailer is a favorite power tool for linking mitral joints. Clamping and gluing 45 degree cuts are difficult to hold in place, and the part still looks mismatched. The issue will be fixed by a few nails in the corners.
Attach the finished pieces of wood using your fingernails. The nails do not have a "head," so the holes are small. Faucet holes are simple to fill, and they are scarcely visible in filled holes.
In carrying out finishing work on-site, this nail stands out. You can modify the basement platform, shelf, and the little nail worked wonderfully to clean the case around the window. To glue the thicker outer edges of the model, 2 long nails can be used to glue the thicker outer edges of the model. Then you can quickly replace the smaller 3/4 nails to direct the mold's thinnest inner profile. Without breaking it, very thin poles cut even the narrow portion!
Conclusion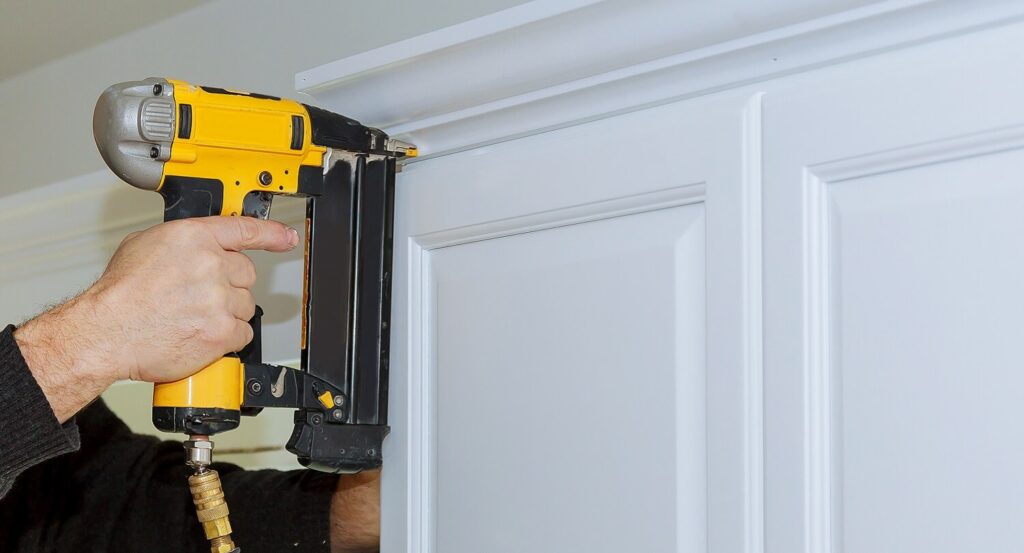 source: homesthetics.net
Brad nailer is a great power tool that must be own by every woodworker enthusiast. This is a tool that will allow you to execute nailing tasks without leaving traces. This means you will be saved time with it as there wouldn't be any filling on a hoe. It will also help you to develop your creative skill as the tool can use to join different pieces of wood together without any stress.
Either cordless or pneumatic type, Brad nailer provides rapid and effective working activities. They are an inexpensive and robust tool that was designed precisely for nailing. The Brad nailers are lightweight, to eliminates fatigue for the user and facilitates long-term usage in the workshop. Get more information at The Architecture Designs.