Every room in your home can have the benefits of beautiful windows. There are lots of design styles from which we can select one. Windows make the interiors of your home bright and beautiful. Moreover, windows have functionality like maintaining room temperature by preventing the exchange of heat and light. Always select the windows which suit your style of the home and the weather conditions of your surroundings.
Things To Keep in Mind While Selecting Window Designs and Frames.
Every house has its architectural style. Match the design of the windows in such a way that it adds aesthetic beauty to the architectural style of your home.

Consider the location of rooms and the direction of the windows. Which direction will suit the best for air circulation and sunlight? This is important for the functionality of the windows.

Ventilation is a key function of any window. Therefore, you should determine the exact place and type of ventilation needed for the home before selecting window style and materials.

Choose the design of windows that matches to doors also. Subsequently, it will create a cohesive look.

Frames and mullions play an important role in the aesthetics of the windows so select the styles wisely.

Try different color palettes that match or contrast with wall decor and ceiling decor.

Various types of materials like wood, metal, and vinyl are popular for the framing of the windows so select one of them according to your budget.
Different Materials For Window Frames
Wooden Window Frames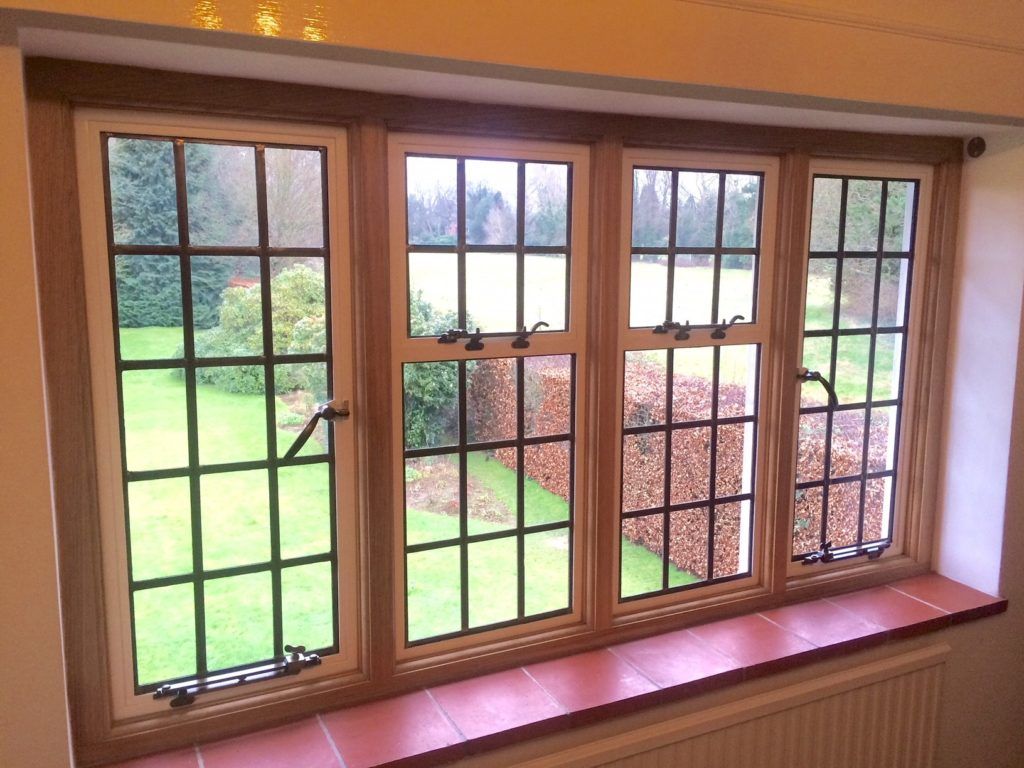 source: pinterest.com
The wooden frame is not only visually attractive but also an effective insulator. They are sturdy as well as durable. They are eco-friendly also. However, the wooden frame requires maintenance to keep the charming look for years.
Vinyl :
Vinyl material frames are attractive and affordable too. They are gaining popularity for their budget-friendly customization feature. This material has moisture resistance. It is corrosion-free and insect-free. It is surely an affordable option with low maintenance.
Fiberglass :
An essential feature of fiberglass material is that it is lightweight yet strong. It has the best resistance to temperature changes either low or high. It is highly recommended for its eco-friendly feature and functionality benefits. Fiberglass material is stronger than vinyl.
Aluminum Window Frames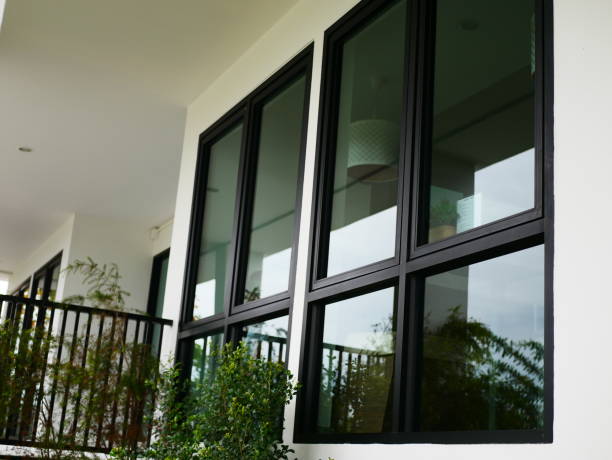 source: pinterest.com
The most popular and budget-friendly option for your windows. It is not susceptible to extreme temperatures. However, aluminum is not recommended window framing material for cold temperatures. They are recyclable and require low maintenance.
PVC Window Frame
Generally, a PVC window frame has a life of approximately 20 to 25 years. However, it depends on how you maintain it. Pvc and uPVC have become popular materials for doors and windows as it does not rot, flake or peel. You can also avoid rusting by using PVC window frames. It is a sturdy material with resistant to weathering.
Steel Window Frame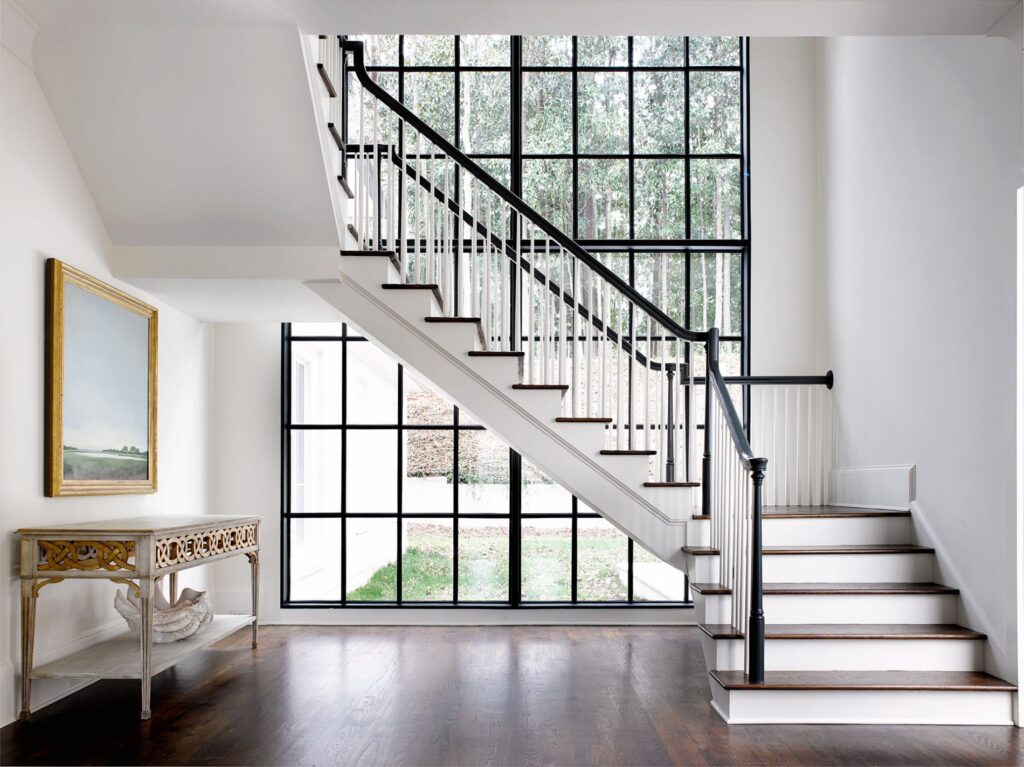 source: pinterest.com
Steel is stronger than aluminum. If you are looking for longevity with low maintenance, steel window frames are the best options. Apart from that, its elegance is unsurpassed. Galvanized steel windows have the slimmest look which brings lots of light with a beautiful appearance. Steel window frames are expensive compared to other materials due to their better performance and thermal conductivity.
What is Window Screen Frame? What are its benefits?
A protective layer of windows that prevents outside elements from coming inside like insects. It is a mesh generally made up of fiberglass, metal, or plastic wires. When you open your windows to have fresh air, there are chances of coming other unnecessary wasps entering your rooms through that window. To avoid this, window framing is necessary.
Window screen frames not only stop flies that are buzzing around your outside trash but also keep away a whole range of pests coming inside through the windows. The most important feature of a window screen frame is that it allows breezes to circulate in your room. The best solution for odor control and ventilation. 
Latest Window Framing Design Ideas
Black Window Frames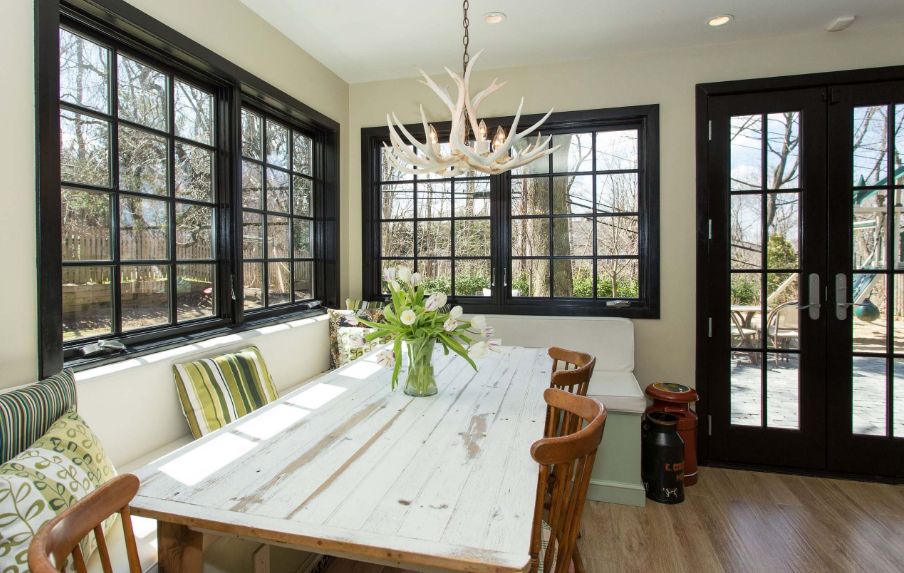 source: pinterest.com
Black is a bold and classic concept that enhances the overall finish of your interior. It is a smart and timeless choice. Additionally, it goes with most of the designs and architectures of your home. It started in the 20th century and now it is one of the most popular windows framing trends. Homeowners appreciate black window frames due to their ability to contrast contemporary designs.
Colorful or Two-Colored Window Sash
Nowadays color combination and customization are in trend. People are interested in contrasting values and designs. There are color varieties in vinyl windows. Unlike old-school window frame colors that are mostly neutral, contemporary window frames transform standard housing applications with visually compelling shades. It can be dark browns to deep reds and greens. The classic two-color combination would be black and white-colored window frames.
Arched Window Frames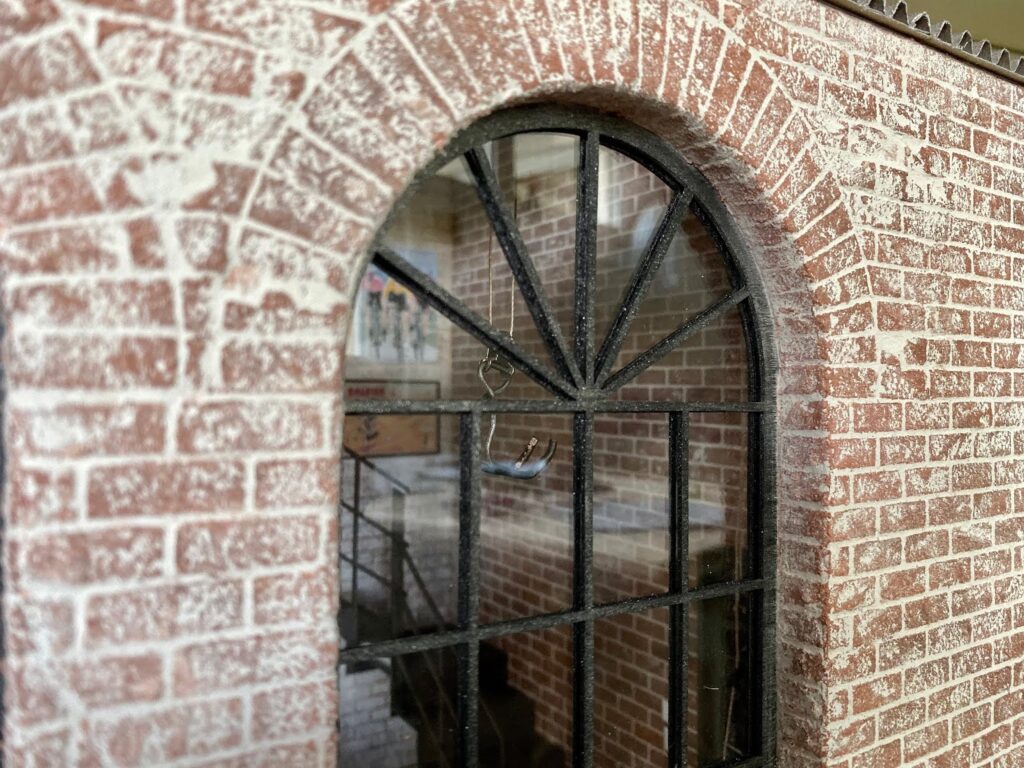 source: pinterest.com
Arch is a curved design that we can apply to our windows to give them a chic look. This kind of radius window helps people to create the victorian-age theme of their home. It is an interesting way to think differently unlike boring straight line window framing lines. They come in lots of varieties like half circles, full circles, ellipticals, and ovals. They will not only add elegance to your interior style but also allow bright sunlight to pass through it.
Floor to Ceiling Windows
The most prevailing trend of a contemporary house. It has a long pattern attached to the ceiling and also touches the floor. This design allows the natural features to influence the whole decor setting. It is suitable for hotels and resorts to have panoramic views outside the rooms. These oversized windows add a luxury feeling and an ample amount of sunlight. Enjoying the drinks while looking outside the couch is the ultimate feeling that Floor to ceiling windows are only able to give.
Energy Efficient Windows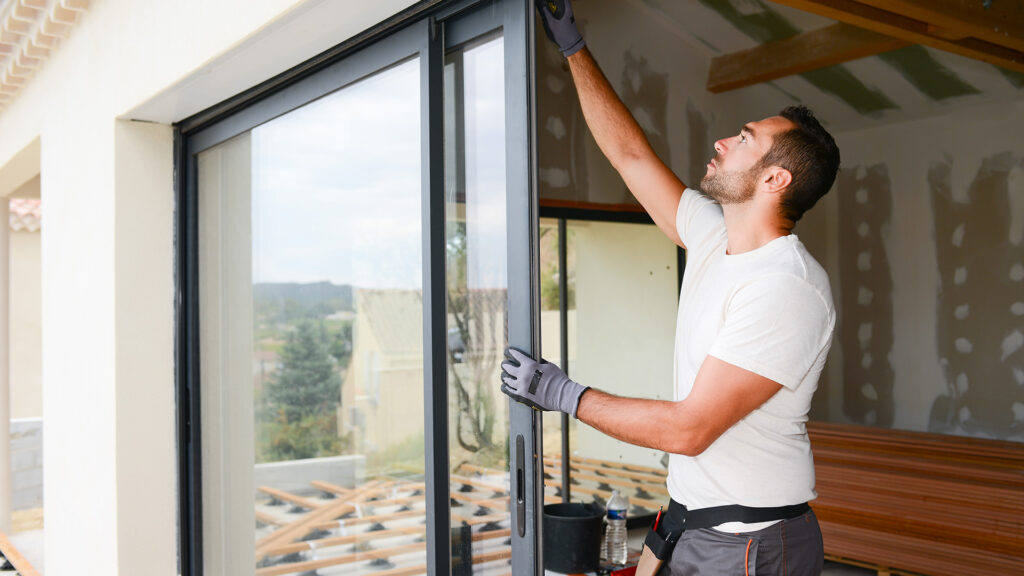 source: pinterest.com
The most profitable window designs are energy-efficient window designs. Energy-efficient windows significantly reduce your energy bills by preventing your HVAC system from having to overcompensate for air leaks in the summer and winter. Moreover, some countries and local governments offer tax credits and incentives to upgrade your traditional windows into energy-efficient windows. Other benefits include noise reduction and sustainability.
Conclusion
Boost your home's value by upgrading the window styles of your home. It will reduce greenhouse gas and your carbon footprint. Window frames are a subtle part of the home HVAC system so give some time to decide when selecting the right window frame for your house. Fiberglass and vinyl are the best contemporary window frame styles. Keep these three things in mind while choosing a window frame-  style, material, and cost.