Beach cottage decor combines cozier and more relaxed aspects to capture the laid-back coastal lifestyle. White may come to mind while considering beach cottage furnishings. Whites, neutrals, and pastels serve as the backdrop for highlights of strong hues like navy blue, coral, or gold in a room with a beachy theme.
White beadboard walls and ceilings are typical architectural components of the beach cottage design. The coastal living Decor area is dominated by shades of blue and white. After a day of sun and sea, it's a carefree place to unwind. The coastal cottage decor is a collection of oceanic items like shells, dings,  cracks, etc.
How To Create Beach Cottage Decor On A Budget?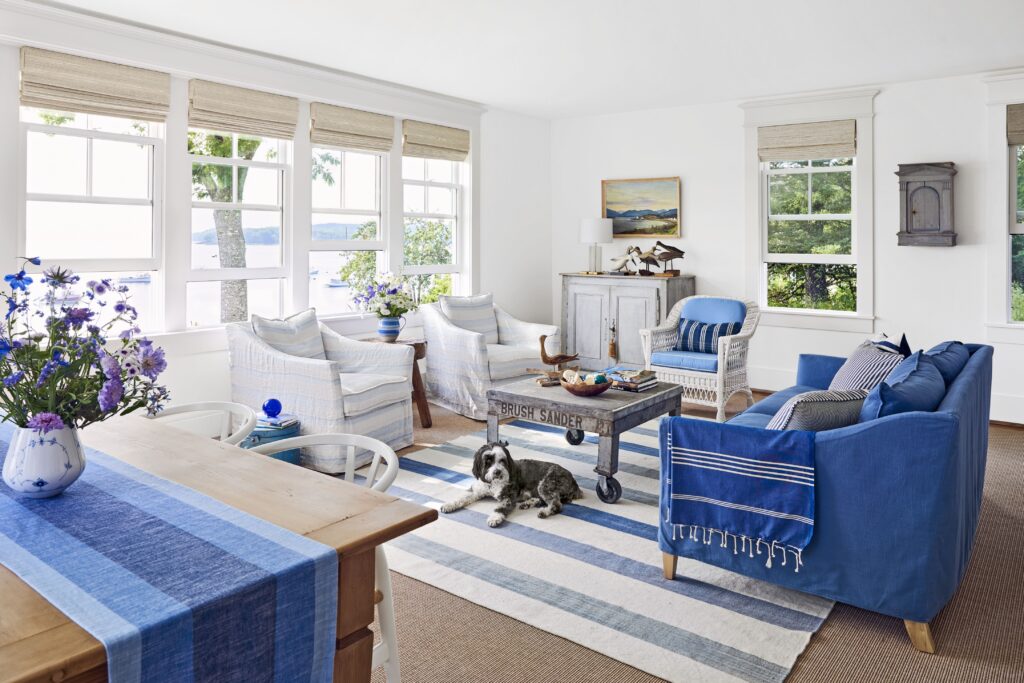 source: hearstapps.com
Good news if you adore the beach-look appearance! One of the most economical decorating options is the coastal look. To attain the look you want, though, sometimes you need a little motivation. We will discuss things to keep in mind while decorating the cottage in a budget-friendly way.
Choose The Right Colour Palette
There are no hard and fast rules when it comes to color; nonetheless, white is typically the main hue in a coastal-style home. But if you want to go coastal on a tight budget, stick to one or two shades. Popular color combinations for the contemporary seaside theme include blue and white.
Select Appropriate Accessories 
Accessories make a plain space nicer and make it simple to achieve the seaside aesthetic on a budget. Keep in mind that found items are cost-free when looking for a great catch along the shore. Be eco-friendly and let all living things alone. Shells that still contain their companion won't provide your home a pleasant appearance or smell. Drift-wood, seagrass, and beach types pictures are some examples that you can add as accessories. 
Keep The Furnishing Soft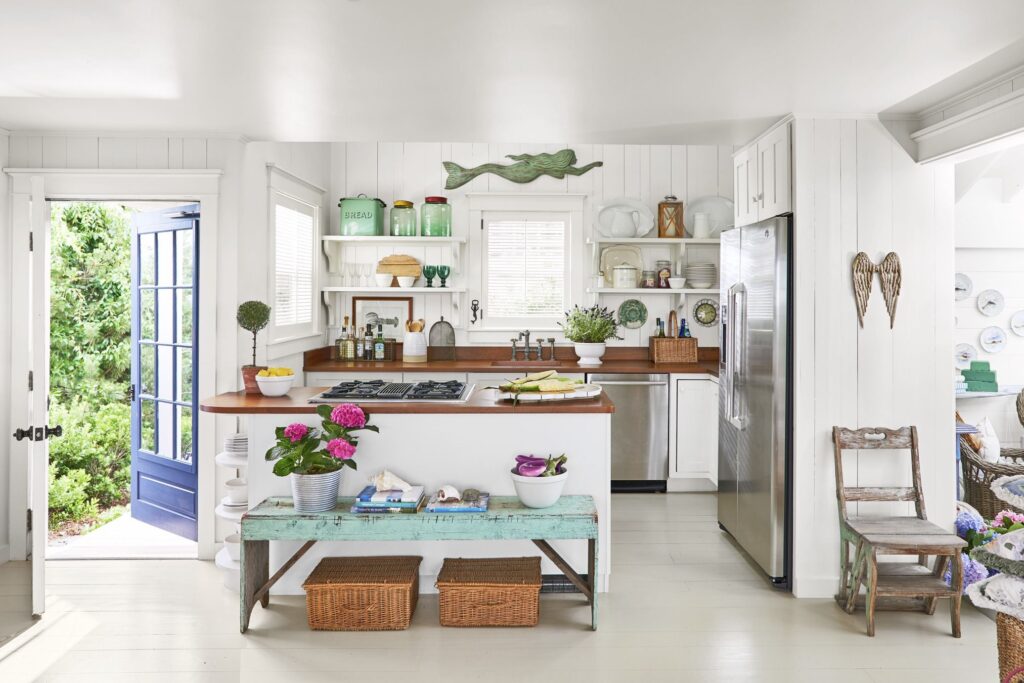 source: pinterest.com
Look for muslin or osnaburg fabric as they are significantly less expensive than linen or canvas. To attain that carefree, beachy look, use slipcovers to make drab furniture trendy. 
Make Space For Natural Light Flow-In
Pick items that easily reflect or channel light, such as glass, chrome, or silver, mirrors or mirrored furniture, and light fabrics like cotton, linen, or muslin.
Transform Old Wooden Furniture And Create a Shabby Chic Look!
A little paint and sandpaper may quickly give old wood furniture a shabby chic coastal appeal. For fantastic bargains, look through unfinished wood furniture retailers. Ask for worn-out, dented, or floor sample items to save even more money. Even a novice who enjoys doing their home improvement projects may paint something, sand it off, and then paint it again.
Now let us have a look at some beautiful Coastal Cottage Decor Styles.
Shabby Chic Beach Cottage Decor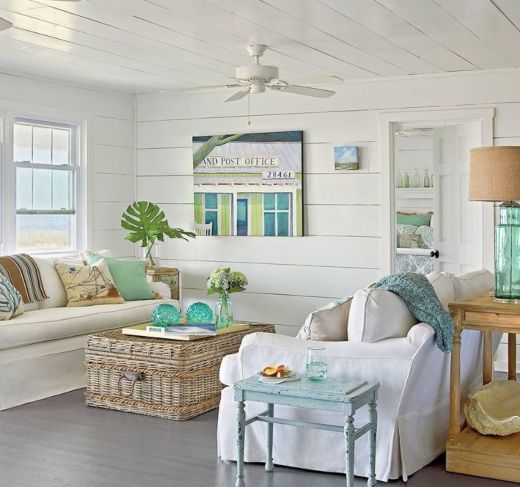 source: pinterest.com
Shabby Chic Beach Cottage Decor is a blend of vintage and modern interior styles. You can say that rustic and ornate styles mix up to create this look. When interior designers focus on a shabby chic style of decor, they mismatch items, themes, and eras. Distressed and weathered surfaces are seen on most of the furniture and fixtures in this style. Choose a neutral background with a soft pastel palette to make the most out of it.
Chips, cracks, and dings are signs of beauty in the stunning one-of-a-kind cottage known as the Shabby Chic Beach Cottage. Keep the color scheme white, add soft pastel accents, and style the entire cottage in shabby chic to achieve the breezy, beachy vibe. Add some decorative pieces like shell garlands which are made from shells collected from sea-shore. They mark an ornamental accent. Shabby Chic Cottage Decor Style is all about imperfections. So don't try to make all the aspects perfect in this style.
Oceanic Fantasy
Decorate beach house rooms with artifacts that were taken directly from the ocean and sand. When you find something as huge and bold as a large pine cone or shell you can put on your table, it makes strolls along the beach even more enjoyable. Filling a glass jar with sand and adding a few sprigs of beach grass and beach glass completes the coastal cottage decor. 
If you adore the aesthetic of driftwood furnishings, keep an eye out for pieces while taking morning walks or following a storm when unexpected items wash up on the shore. Make sure you have permission before taking driftwood from your beach because some regions are governed by laws. It will give a fantastic beach vibe to your beach cottage decor.
Make Space For Beautiful Views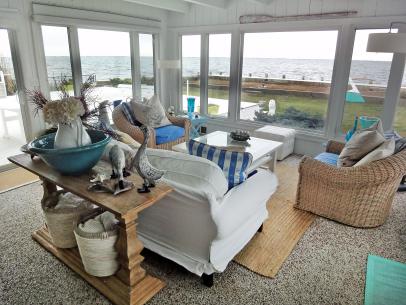 source: hgtv.com
Go easy on the interior decoration and enjoy the stunning ocean, beach, or harbor views. The stunning views of the water are best from bare windows. The stark white walls, bleached wood floors, and a few important wood objects in this open space give the impression that you are already on the sand. One of the most popular colors in the coastal cottage decor palette is highlighted on a distressed wood chest that has a hint of ocean blue painted on it.
Coastal Vibes With Romance
A secluded beachfront setting for romance is created by airy drapes and plush white bedding beneath a beadboard ceiling. The modern bedroom is a peaceful place to unwind after a hot day in the sun thanks to its cool, clean, all-white decor. Use a microfiber dust mop to sweep beautiful bleached hardwood floors every day to get rid of sand grains that can otherwise embed themselves into the wood over time in beach cottages.
Oceanic Blue and Turquoise Decor Style
To capture a beach-inspired blue color and splash it across the walls is the purest, fastest way to bring the shore across the threshold. A Caribbean inlet's turquoise color, for example, can have you spellbound. The color of a storm-churned wave or a rich lake green, on the other hand, might be more appealing to you. Choose from the light end of the paint chip to avoid drowning in color because crisp white woodwork will intensify the hue. Wash your favorite blues across linens or upholstery if you prefer the crispness of white clouds or the gentle misty grey on the walls. To add depth and detail, layer different blue hues in complementing patterns.
Small Beach Cottage Interiors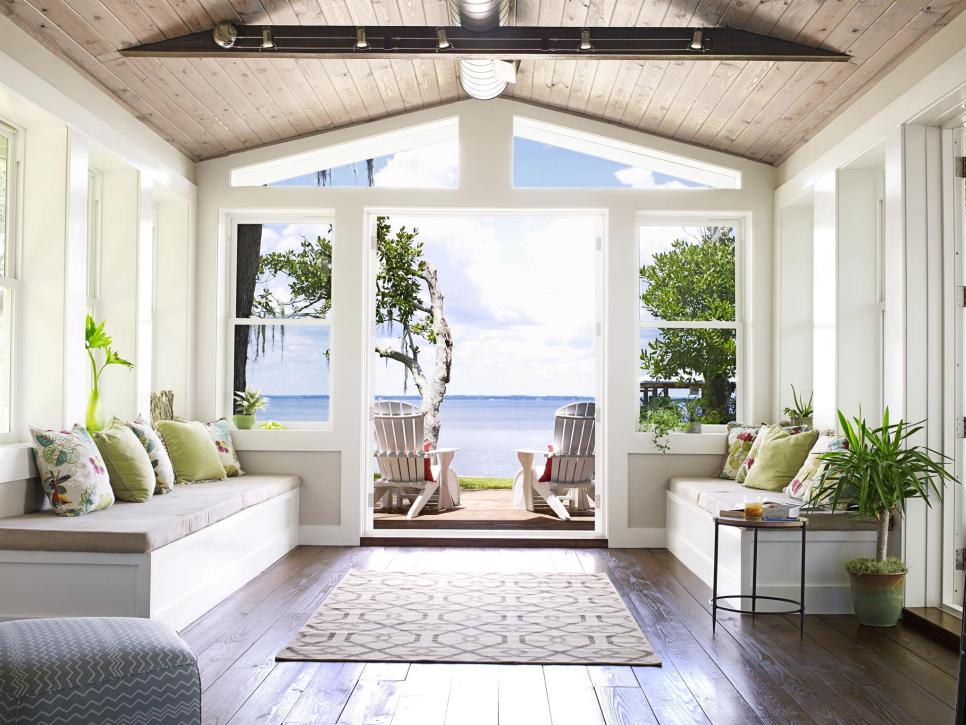 source: hgtv.com
The smallest lakeside cottages may have a flair with a little paint, new bedding, and a few bright mod furnishings. This way, they can serve as a bright and cheery getaway until the end of the fall. Using a lovely striped tablecloth made of easy-to-maintain linen can make an outdoor meal unique. Burgers become an occasion the moment you add a pitcher of wildflowers! When night falls, a lovely lantern will offer a warm and inviting glow inside as you unwind and hear the loons call across the lake. Give your Small Beach Cottage a cozy vibe with these interesting interiors.
Final Thoughts
Beach cottages can take many different forms because there are several methods to design a beach house and an equal number of ways to decorate a cottage. They can be rustic in a way that feels authentically oceanic, classically domestic, or casually cozy. With its sunny days, open windows, and laid-back vibe, the coast is brought to life in a way that perfectly captures its breezy mood. 
The use of light is prominent in coastal design. Do not choose flooring or furniture with dark, heavy wood tones. Find light wood species instead, such oak, maple, and cork, with clear varnishes, and rugs with beachy tones. To allow as much natural light in as possible, keep the windows barely covered, if not completely naked. A room will feel more airy if there is a lot of white throughout, whether it be in the upholstery textiles, window coverings, or kitchen cabinet paint. This beach cottage design ideas will inspire you to transform your cottage to be summer ready.