Understanding the core of your home's architecture can assist you in planning your decor and landscape. Many of the house styles were brought by the first European settlers. They were popular until the mid-20th century. Afterward, many styles joined them. There are varieties for every taste. Learn about the history of some American House Styles, types, and features of every style of home to get a better idea for remodeling.
Victorian House Styles
source: elitelandbase.com
The Victorian House Style was popular throughout queen victoria's reign(1837 to 1901). During the Industrial Revolution, Victorian architecture began to flourish. Millions of these types of residences were constructed in British cities and towns.
Victorian buildings were new traditional houses created as detached terrace houses with Sash windows or larger panes of glass brick and local stones before they were accepted in America and the rest of the world. They were usually accompanied by mini gardens and plants. These designs are common in the list of American House Styles.
Tudor style houses
Tudor houses are distinguished by steeply pitched gable roofs, ornate brick chimneys (typically with chimney pots), ornate doors, clusters of windows, and beautiful half-timbering. This style has a connection with the 16th-century Tudor Dynasty. But with the pace of time, it has evolved into modern-day homes and the contemporary Tudor style gives us the Medieval vibes.
Some easily recognizable types of American House Styles are Tudor-style houses. They have stucco walls with wood timbering. Sometimes it has no wood timbering. On the roof, the main gabble has a secondary side or cross gable. Casement windows are usually 3 in groups and framed in wood or metal.
Craftsman House Style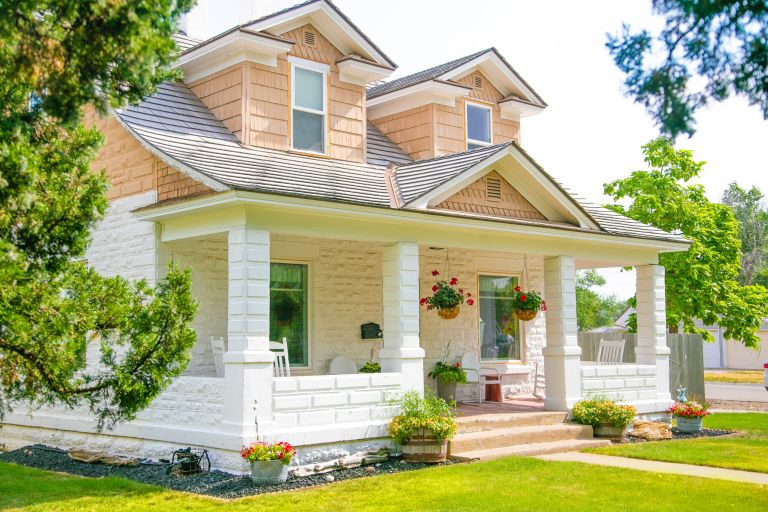 source: pinterest.com
Craftsman houses were popular during the early 19th Century. The woodwork is the unique part of this style of architecture. The houses have built-in shelves and a seating area. The exterior part of the houses is also decorative. It has low-pitched roofs with wide eave overhangs, roof rafters, decorative beams, braces under gables, and porches framed by tapered square columns.
Craftsman houses share certain characteristics that make them instantly recognized and appealing today as they were more than a century ago. Craftsman houses, in contrast to Victorians, emphasize horizontal lines, with low-pitched gable (triangular) roofs that extend well beyond the home's outer walls, frequently with exposed beams or rafters. They include hand-worked local materials with decorative details such as brackets, lintels, and rafters.
French Country House Style
The French Country Style is the second definition of rustic and sophisticated decor inspired by rural residences in France. Because of its easy and informal elegance that is never excessive, it is a popular style all over the world. Three distinctive features make it so magnificent. The First is softly patterned fabrics in muted colors, and the second is distressed, painted, vintage furnishings/accessories. The third is the use of wood and other natural materials.
French Provincial architecture inspired many other American architects. Exposed wooden ceiling beams, Natural stone wood or brick floors, and weathered appearance are the main characteristics of French Style Homes. Narrow windows with paired shutters are common in houses.No other architectural designs in American House Styles can give you the time to travel to the world of France like the French Country House style.
Colonial House Style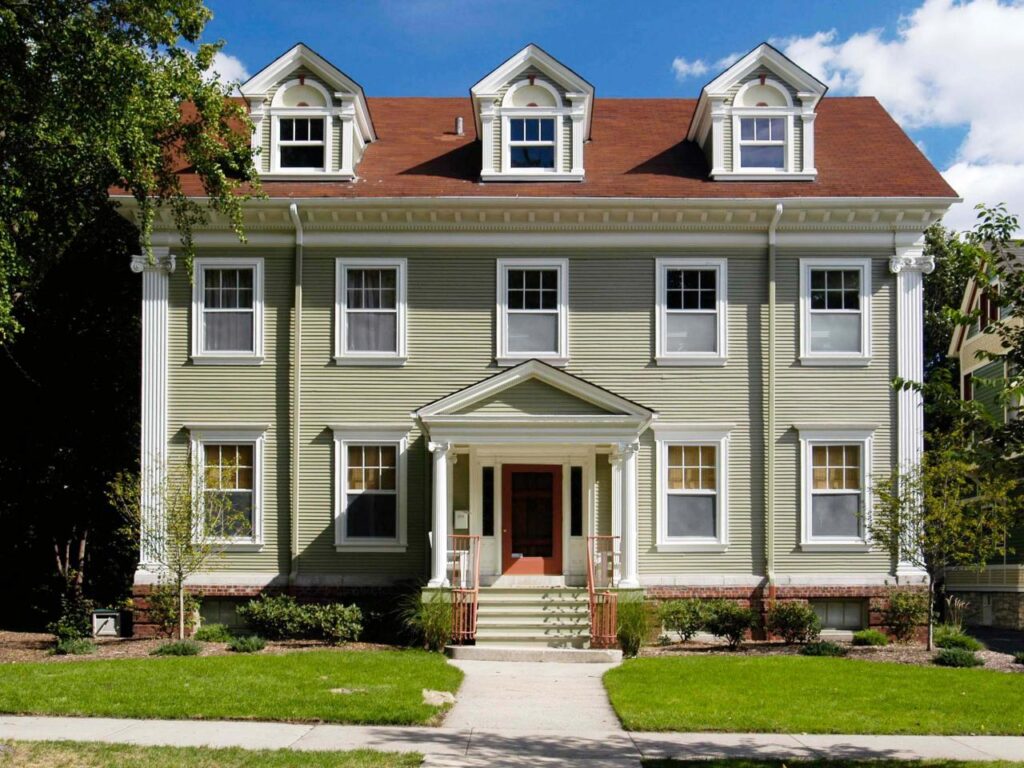 source: hgtv.com
The Colonial House style evolved during the late 19th century the time of "Colonial Revival".It includes several building styles of Colonial rule of the United States. Like First Period English(late-medieval), French Colonial, Spanish Colonial, Dutch Colonial, and Georgian. Its unique style is a simple, borderline minimalist rectangular shape. It usually has two to three floors and brick or wood facades. Colonial Architecture is popular on the East Coast of The United States.
These houses were only one room deep and two or three rooms broad with one large central fireplace or fireplaces on both ends. A door is in the middle of the Front part of the House. An equal number of small multipaned windows are on either side of and above the door. American Colonial Architecture has a deep impression on the designs of American House Styles.
Mediterranean House Styles
Mediterranean homes as we know them today are based on the Mediterranean Revival architectural style. The cultural dimension was focused on luxury and leisure in the 1920s when the Mediterranean style was flourishing. This had increased the number of beach resorts. The most astonishing Structures in the list of American House Styles.
Public buildings such as hotels have the right to construct these styles of buildings. This layout is a wonderful fit for the coastal climate. Today, it is still most popular in coastal locations.
Cape Cod Homes 
The most iconic house style in America is Cape Cod. The creation is simple and beautiful. This style of the house was prevalent in England until the mid-nineteenth century when victorian structures took prominence. However, Cape Cod Style architecture had a stunning come back in the first centuries of the 20th century. Let's get into details about this magnificent style.
When we look at the exterior of this type of American House style, we can see symmetry in these designs on both sides of the house with a centered front entry. It has a steep roof with side gables and an overhang. Other features include shingle siding, gabled dormers, Double hung windows with shutters. The unique style of centralized chimneys attracts the architecture to a fascination. There is a simplicity in the ornamentation of the exterior.
Ranch Style Houses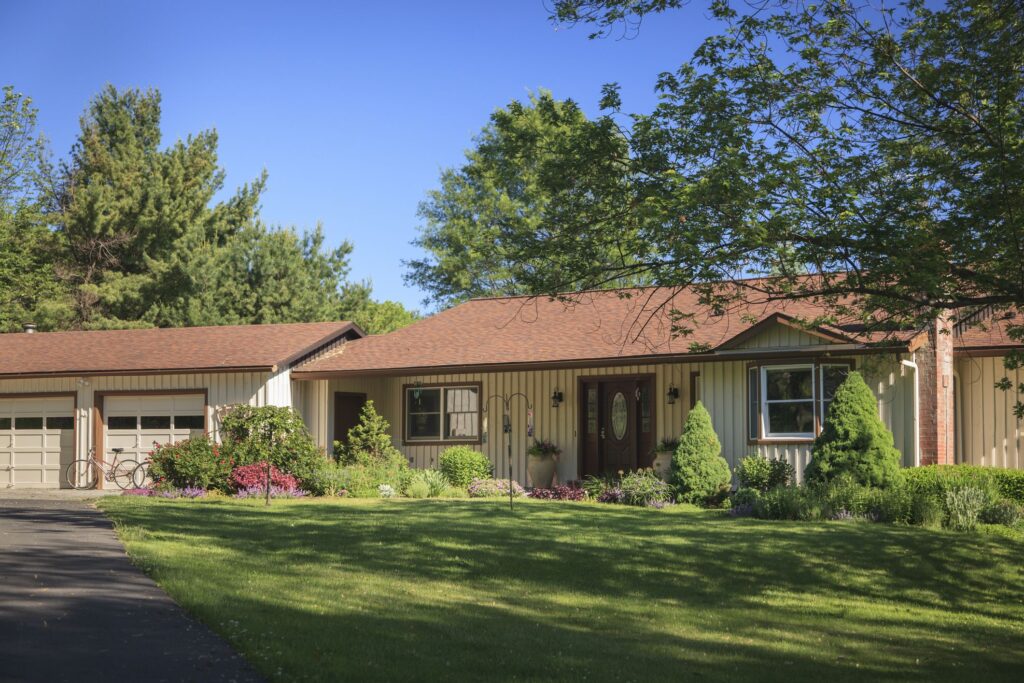 source: hearstapps.com
After World War II, when returning troops and their families relocated to new housing projects in the suburbs, Ranch Style Houses took off. Ranch houses were the ideal house form for developers to construct because they were easy to construct and very cheap to build in large numbers.
Ranch-style homes are generally single-story buildings. The open concept floor plan gives the purpose of space utilization for some leisure activities. Rectangular designs with "U" or "L" shaped in house styles are common. The extra devoted patio or deck space is there for relaxing or gardening activities. The low-pitched roofline is the identifiable feature of these houses. A dedicated space for garages is there in every Ranch Style of Home. Ranch homes are the most popular American House Styles today since they have basic trappings and a lot of customization options. Is this a style that appeals to you as well?
Contemporary House Styles
A variety of modern house styles constructed in recent decades emphasize simple forms and geometric lines. These are contemporary house styles. A contemporary home mirrors 21st-century architecture and design. It's evolutionary, which means it adapts to what's new, exciting, and trending in the world of home design as we do. Open floor design and plenty of natural light are features of the Contemporary house style.
An exciting feature of a contemporary-style house is the asymmetrical exterior. Clean lines give them a polished look. The plan layout is an open floor for space utility. We can see highlights of geometry in its structure. The best part is they use sustainable building materials. Contemporary homes seek beauty in a simple and appealing design with natural ties and greater warmth than modern home types provide.
Shotgun House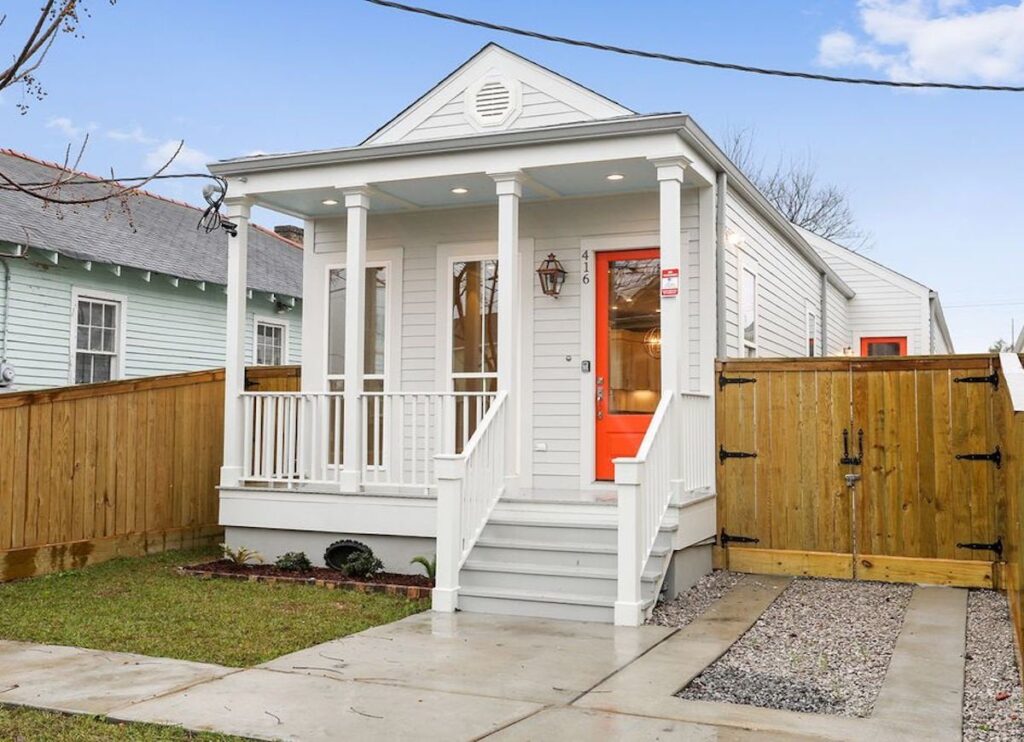 source: pinterest.com
The meaning of a Shotgun house is a tiny house. You can take a walk along the historic streets of New Orleans. There you will find many examples of shotgun houses. They are easily identifiable due to their small structure. It gained popularity in African American Communities of New Orleans. Other cities were also on the list like Charlotte, North Carolina, and Houston in the early 19th century. It has no side windows as they are closely located near to its neighbors. These houses have vibrant and bright colors. Front porches have attractive looks and deck out with little space.
The interior design of rooms is very simple. There is another room behind the first room. You will find doors at each end of the house. Many the Shotgun Style Homes were popular in the Southern United States after the American Civil War. Haiti is the place where this style of the home has its origin.
Conclusion
There isn't a particular house style that applies to all homes. Some houses may have a combination of two or more house styles. It's the result of one era transitioning into another. Keeping some of the characteristics of the preceding one and easily adaptable to the new design scheme.