For most urban residents, loft apartments are a dream come true. A loft, in general, is a top-floor unit that is structured as one huge, open space. There is no boundary between the living and eating areas, and it is also common to have no separation between the bedroom and living areas.
There are 521 listings featuring loft possibilities among America's 3,500 cities with apartment listings. The highest number of loft apartments in the US is found in Pasadena, California, where 66.67% of the properties have loft layouts. These areas are often low in height and have a compact design, so making space for a full kitchen can be a challenge. But if executed right, a loft kitchen can be one of the most beautiful and functional kitchen designs for houses with loft spaces. Here
The Architecture Designs
explore some trendy kitchen ideas for lofts that will jazz things up and make a statement.
Wooden Loft Kitchen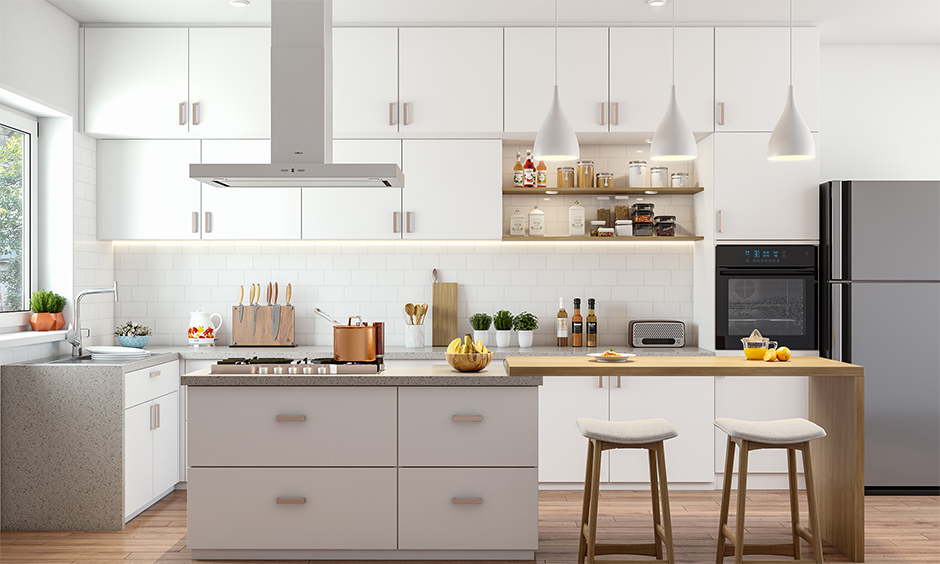 source: designcafe.com
An all-wooden kitchen would perfectly match loft apartments having wooden beams and roof frames. Wood is one of the most classic interior design materials still in use today. Research shows that the wood kitchen cabinet manufacturing industry will expand to $13 billion in the US by 2024. It has become a timeless favorite, especially among modern homeowners who prefer natural designs. Low-height wooden cabinets and cupboards go best in loft kitchens because they are compact. Quartz or granite countertops best complement the look. Wooden beams above the countertop are perfect for hanging cutlery while efficiently saving space. If there is enough room, homeowners can add a small breakfast counter with a wooden table and stools to enhance the appearance.
Industrial-themed Kitchen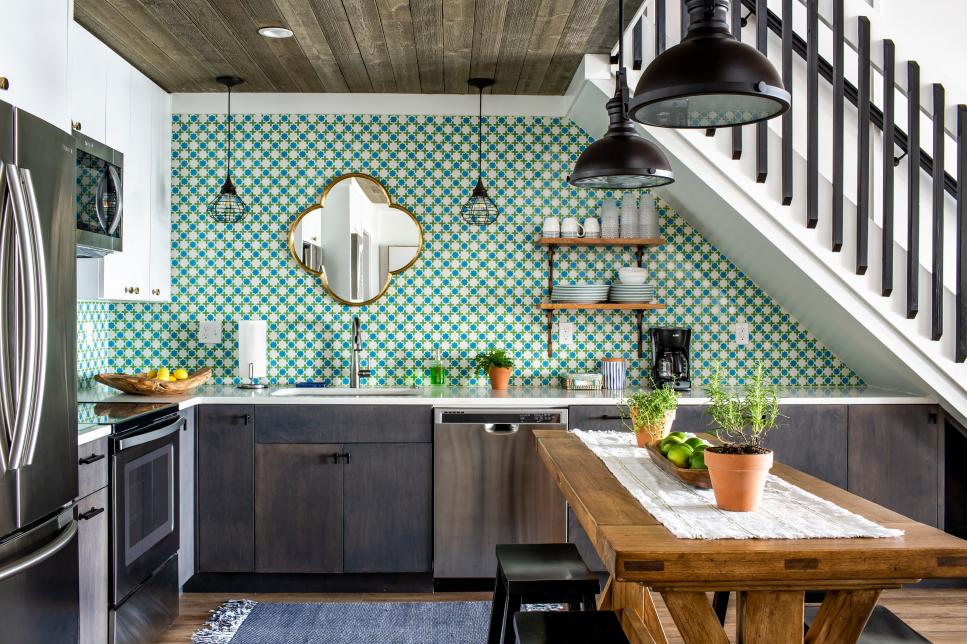 source: hgtv.com
Because of the prominent beams and ductwork near the roof, attic and loft spaces sometimes have a warehouse-like appearance. Implementing an industrial theme for the loft kitchen is a more resourceful option than doing a complete renovation on your cooking space. Dark wooden cabinets like black wood are ideal for an industrial loft kitchen design; antique cabinet handles will give the space a retro-industrial feel. Polished granite countertops will work best with the theme. Not only has granite been the top countertop choice for homeowners for the past decade, but 64% of new homes have this material type.
Moreover, an open metal rack is a terrific way to keep the industrial theme going. Designs like brick cladding work perfectly and elevate the space for the backsplash. Meanwhile, a wooden dining table and metal chairs can elegantly occupy an empty space. Not only are metal chairs perfect for industrial theme kitchens, but they are also a trendy addition to any kitchen. They're often a part of most Midwest kitchens too, where industrial themed design is one of the leading trends.
Another feature of industrial kitchen design is having exposed pipes. This is a trend in industrial-style homes in Illinois, Indiana, Michigan, and Minnesota, among other Midwestern states. Plumbing fixtures are quite popular in loft homes, not just for their functionality but also for their attractive appearance. So if you're from Indiana, you can consult 
Carmel Indiana plumbers
 about having this type of feature in your kitchen. Complete the look with other Midwest industrial kitchen trends such as quartz countertops, minimalist storage, and open kitchens layouts.
All-White Loft Kitchen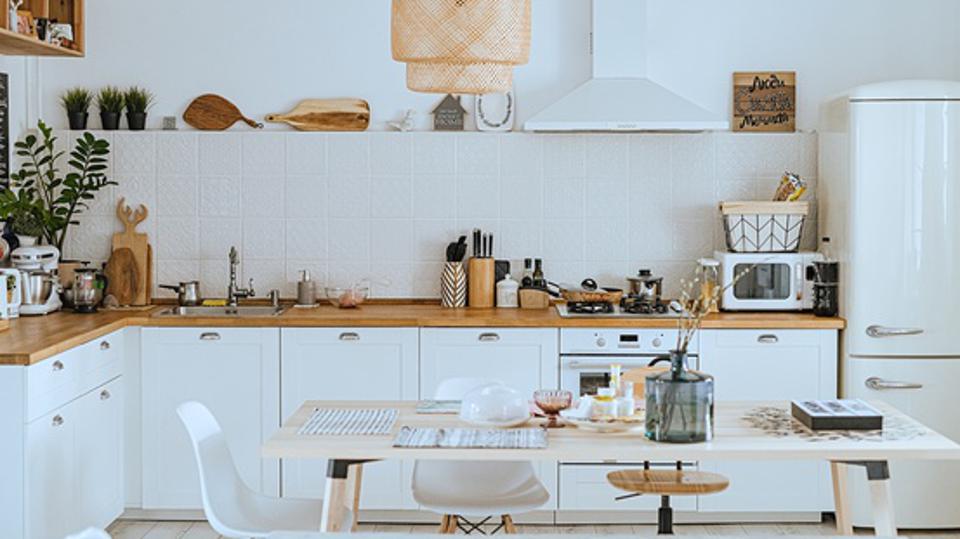 source: pinterest.com
Even though it may seem difficult to maintain, all-white kitchens are perfect for any loft since they make the most of limited space. A white color palette also makes the room appear larger and more spacious. Moreover, white has consecutively been the most popular kitchen cabinet color for US residents for the past five years, from 2018 to 2021. Additionally, modular kitchen cabinet systems make the most of the loft space; white laminate modular kitchen cabinets with a built-in microwave free up tons of counter space.
Speaking of counters, black granite is the perfect contrast with whole-white kitchens. A simple dado tile or plain wallpaper backsplash maintains the look. The remainder of the kitchen can best be accented with a modest white wooden dining table.
English-Style Rustic Loft Kitchen 
Another attractive design suggestion to spice up a loft kitchen is combining two different kitchen designs. For example, an English kitchen looks spectacular when blended with a rustic style. Homeowners may utilize English-style sophisticated wooden furniture designs for the kitchen cabinets and dining table. The rest of the space can have more rustic elements like brick cladding walls, wooden flooring, and raw stone counters. With upholstered dining chairs and a wooden top dining table, homeowners can employ wooden cladding patterns for their kitchen cabinets. Lastly, to achieve a more rustic appeal, they can install wooden beams on the ceiling.
Minimalist Natural Loft Kitchen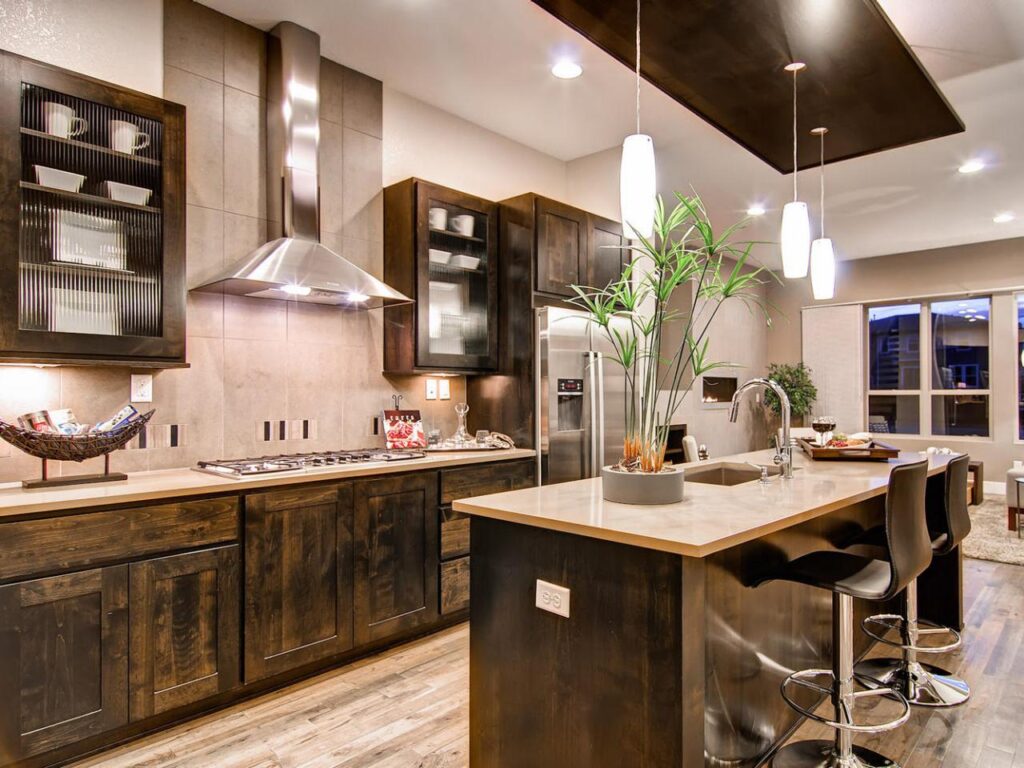 source: hgtv.com
Homeowners can construct a beautiful minimalist natural kitchen loft design if their loft spaces have wooden flooring. White laminated counters, cabinetry, and a light wood finish on the dining counter complement the wooden flooring. The white laminate cabinets give the space a bright and vibrant feel, while the wooden parts give it a more natural feel. Designers can achieve a minimalist look by keeping things basic and clutter-free. For instance, handleless modular cabinets will save tons of space without compromising on the design. Another savvy space-saving trick is to incorporate a modern pantry garage with tall built-in microwave and oven units in the minimalist loft kitchen to store heavy appliances and rations behind the cabinets.
Biophilic Loft Kitchen Design
If there are windows in the loft, it normally gets a lot of light. Designers can utilize this natural light by constructing a biophilic loft kitchen design. Combining sleek wooden laminate finish countertops with wooden cabinets compliments the simple wooden attic flooring and ceiling. Hanging planters and indoor plants can provide biophilic design features to the loft. For a more natural aesthetic, marble countertops can be used. An open wooden rack is a perfect addition to showcase plants. For such a space, a white color scheme with accents of natural green is ideal.
These unique kitchen design ideas for lofts satisfy the demands for a functional and attractive kitchen. Homeowners can use these ideas as a whole or improvise based on their individual needs to enhance the look of their kitchen loft.