Introduction
Are you considering buying an outdoor porch swing? There's no better location to find some peace of mind while relaxing or unwinding on a porch swing with a good book. So, what do you think? Isn't that correct?
 A wooden porch swing for outdoor can be a lovely addition to your home, while an iron swing gives it a more modern feel. However, if you're considering purchasing a porch swing, the variety of alternatives may overwhelm you available. As a result, we've included a range of porch swing design ideas on the list.
So, with no further delay, let's get straight away into the blog. 
Rollback & front porch swing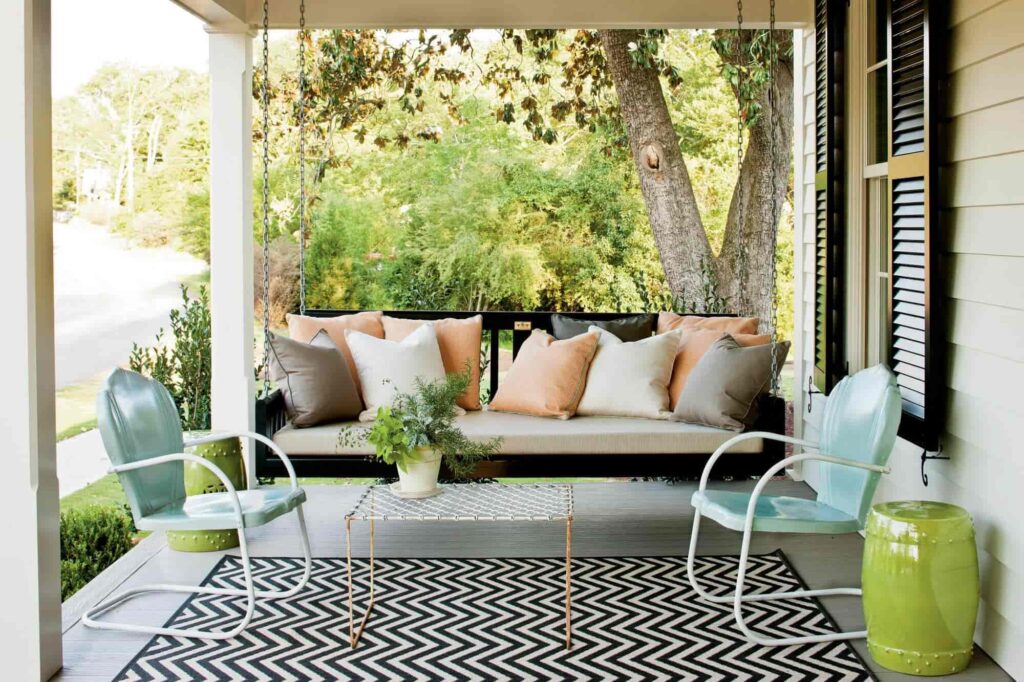 source: onecms.io
This simple and convenient porch swing is usually composed of sturdy wood or steel and handcrafted by skilled artisans. Because of the 'rolled' back and front idea, the design is one-of-a-kind. This approach provides relaxation while also being unique in appearance.
While sitting or resting on this porch, the contour might give you peace of mind all day. Furthermore, selecting rustproof hardware will increase the durability and longevity of this porch swing.
Luxurious porch swing idea
This porch swing for outdoor is unusually broad and deep, perfect for relaxing while reading a wonderful book or napping in the afternoon with a comfortable blanket. Whenever you want to spend a relaxing afternoon surrounded by luxury, this is the place to go. 
 The outdoor porch swing bed must be hung on a strong support beam on this porch swing. You would like to snuggle into it, forget about your concerns, and sit back and enjoy the afternoon once you've settled down.
Canopy swings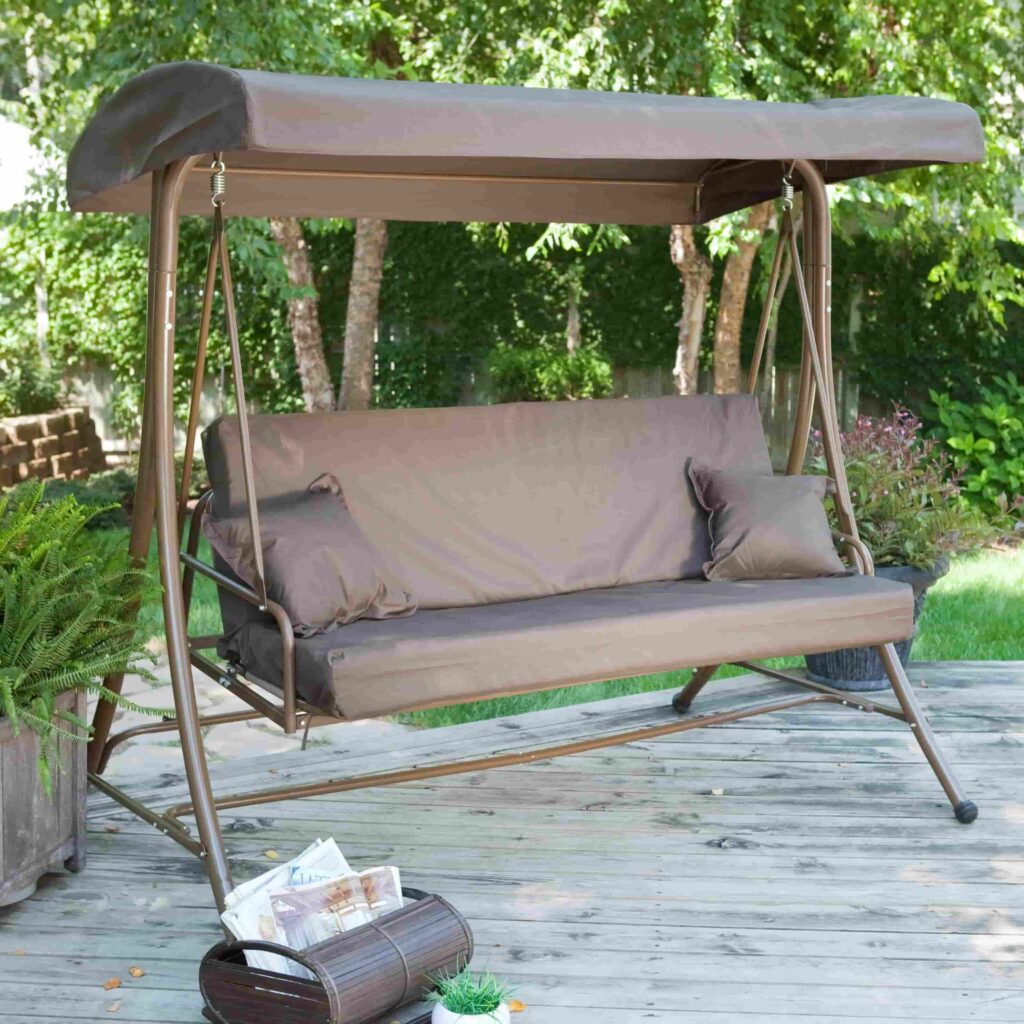 source: pinterest.com
Canopy swings are ideal because when your porch lacks the necessary support required for the swing to be hung and you plan to place it in bright sunlight.
It has a canopy connected to them to keep you protected from the weather while you spend your time outside. Because these models are movable, you may move them throughout your home as needed or pick them up and then take them with you after you shift.
Traditional wooden porch swing
This porch swing is very popular on the market, and it has been used to embellish many people's front yards for many years. Its minimalist structure is really informal, so it goes with any style of décor or theme. Despite being the most basic style, this classic swing looks absolutely stunning.
 They constructed it of sturdy woods that are both durable and long-lasting. You don't have to worry about your swings rotting or becoming contaminated with mold because you can still use high-quality woods. This porch swing's design idea is both safe and pleasant, making it an excellent choice for your porch.
Modern porch design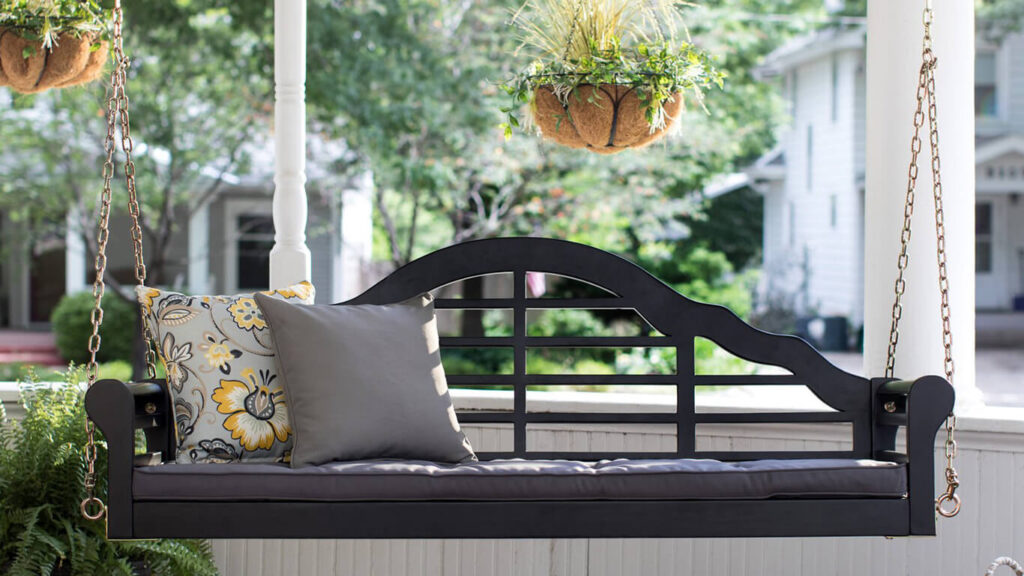 source: hayneedle.com
Compared to the classic porch swing for outdoors, the ornamental porch swing is part of the current design and has an entirely new concept. The artisans carve decorative shapes or characters into the elevated woods or steel, adding to the charm of this outdoor porch swing. 
 The fascinating aspect of this swing is the subtle features that distinguish it. This porch swing enhances the curb appeal of your property by combining usefulness with a touch of childlike innocence.
Things to consider before buying a porch swing
Weather at your location – Then, you'll need to consider the weather in the location. Plastic swings, for instance, would be ideal for rainier places because they are easier to clean. On the other hand, iron swings can survive both storms and snowfall. So if you want to have wooden swings, make absolutely sure it's weather-resistant.
Material – When it comes to picking a porch swing, you should think about the material. Porch swings come in a variety of materials, including wicker, wood, iron, and more. 
When choosing a material, keep in mind the style of your open area. A wooden swing, for instance, will go well with a house with black bricks or siding, but swings in a darker color will go well with a white or pastel-colored house.
Budget – Porch swings are available in several pricing ranges, so think about how much you want to spend on one. The budget also remains one of the topmost characteristics before buying a porch swing. So, make your budget and then choose one based on it. 
Conclusion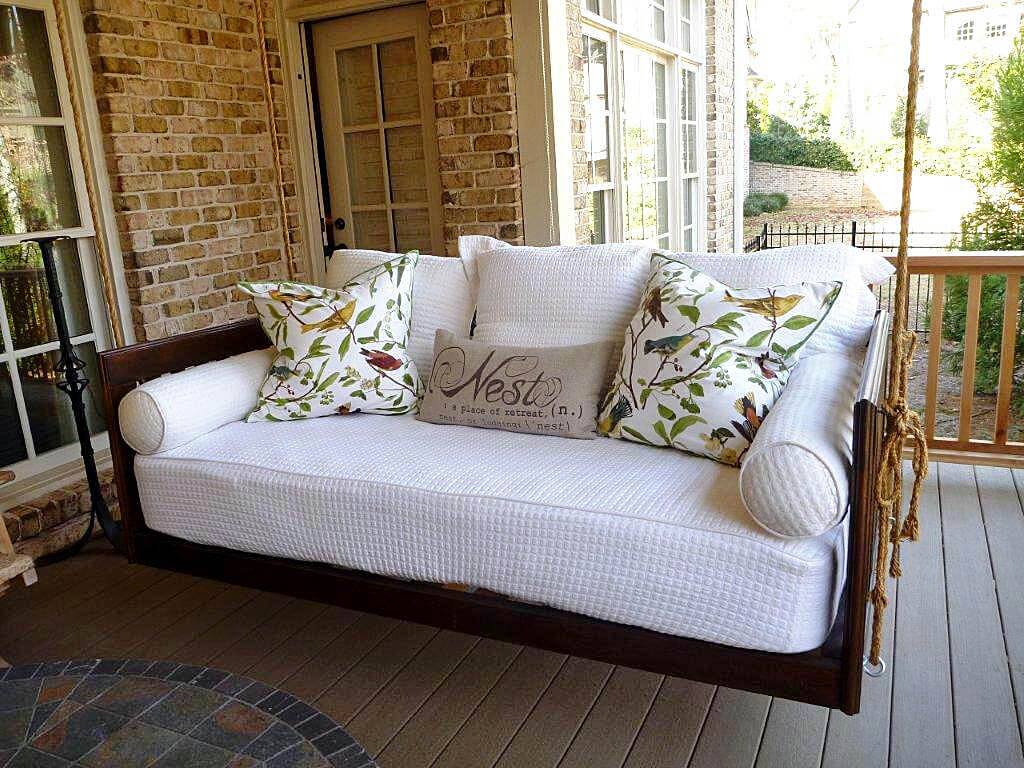 source: architectureartdesigns.com
Here are various porch swing design ideas you'll love to have in your home and spend your free time relaxing and spending some "ME TIME." Also, check out the things to consider before purchasing swings. It will thoroughly help you out. 
 Do let us know which one you liked the most in the comments section below. We are eagerly awaiting your response.