If you're buying or building a home, it's important to choose the right architectural style. Whatever style you choose will not only determine the overall look and feel of your home, but it will also have a big impact on its resale value. And while there are many architectural styles to choose from, each with its own unique characteristics. The right roofing style and material will help complete the home's overall look. Let's take a closer look at some of the most popular architectural styles for homes in the USA and explore which roofing types work best with each.
Colonial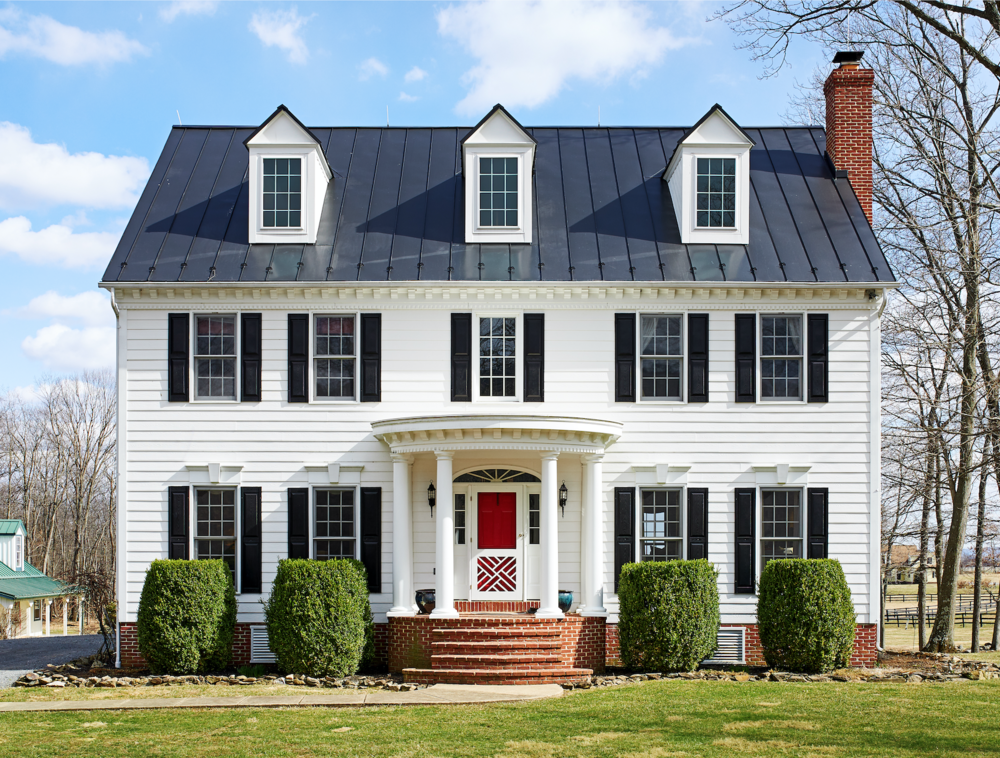 source: pinterest.com
Colonial-style homes have been a beloved architectural style in the United States since the 1600s and 1700s. Today, the term "colonial" encompasses a wide range of architectural styles including Georgian, Cape Cod, French Colonial, Spanish Colonial, and Dutch Colonial, among others. These homes typically have a simple, traditional design with plain exteriors that feature minimal embellishments, built with wood, brick, or stone, making them rectangular and symmetrical in shape.
Colonial-style homes typically feature a central door with symmetrical front entrance columns, double sash windows, and decorative window shutters. The steeply pitched roofs with side gables and a central chimney or double chimneys with one located at each end are also common features.
The interiors of colonial-style homes are usually formal, with an imposing central wood staircase leading to common living spaces on the ground floor and bedrooms on the second and/or third floors. These homes are generally painted in muted neutral colors and are two to three stories tall, with variations like dormer windows and larger windows in the Colonial Revival style.
When it comes to roofing, Colonial homes traditionally feature either wood shingles or asphalt shingles. Wood shingles give a classic and traditional look, but they require more maintenance and are more prone to fire. Asphalt shingles are a more affordable and low-maintenance option, and they come in a variety of colors to match the home's exterior.
Victorian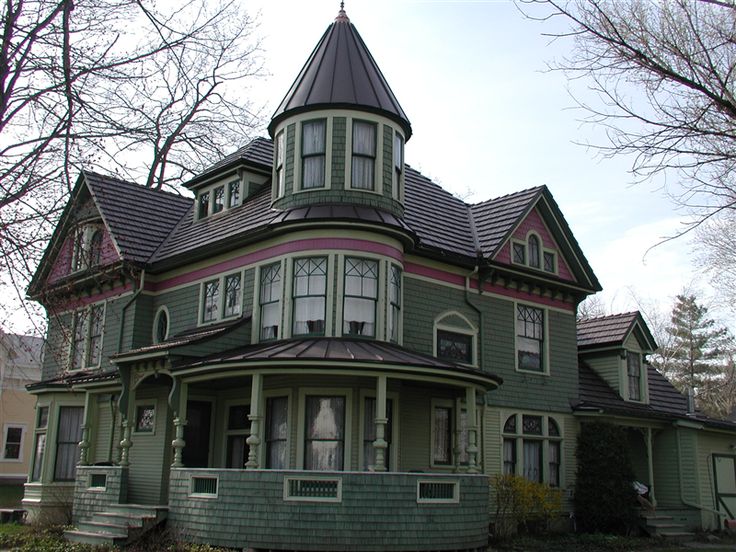 source: pinterest.com
The Victorian house is a broad architectural style that includes several subcategories, such as the Queen Anne, Gothic Revival, and Italianate styles.
Queen Anne homes are the most recognizable of the Victorian styles and feature an asymmetrical floor plan with elaborate decorations like porches, bay windows, towers, and turrets.
Gothic Revival homes are influenced by medieval architecture and often feature pointed arches and windows, resembling castles and churches from the Middle Ages.
Italianate homes, on the other hand, are modeled after Italian Renaissance villas, with a lower and flatter design and minimal visual decorations, while still incorporating some Victorian-style embellishments.
Despite their differences, all Victorian homes are known for their ornate and decorative exteriors, making them instantly recognizable. Understanding the different styles within the overarching Victorian category can help you better appreciate the architectural diversity of this popular and timeless style.
Victorian homes look best with slate or tile roofs. These roofing materials are durable and have a unique, upscale appearance that complements the ornate details of the home's exterior.
Craftsman
source: pinterest.com
Craftsman homes are known for their unique design and emphasis on local materials. Horizontal lines are emphasized in the low-pitched gable roofs, which extend past the walls and often have exposed beams. The spacious porches at the front of the house feature thick, tapered columns, and the exterior is typically made of painted wood siding with accents of stucco or stone in earthy tones.
The interiors of Craftsman homes are equally important, with wooden features such as thick trim around doors and windows, built-in bookshelves, window seats, and boxed beams along the ceiling. A prominent fireplace is also a key feature.
While smaller Craftsman homes have cozy rooms, they are often renovated to create an open-concept floor plan, which can strip the historic structures of their charm.
Craftsman homes remain popular today due to their unique design and the emphasis on local materials and craftsmanship. While some may opt for a modern renovation, preserving the distinct features of Craftsman homes allows for a connection to history and a nod to the past.
Wood shingles or shakes are the perfect roofing choice for Craftsman homes. The natural materials of the wood shingles match the home's aesthetic and complement the warm, cozy feeling of the interior.
Mediterranean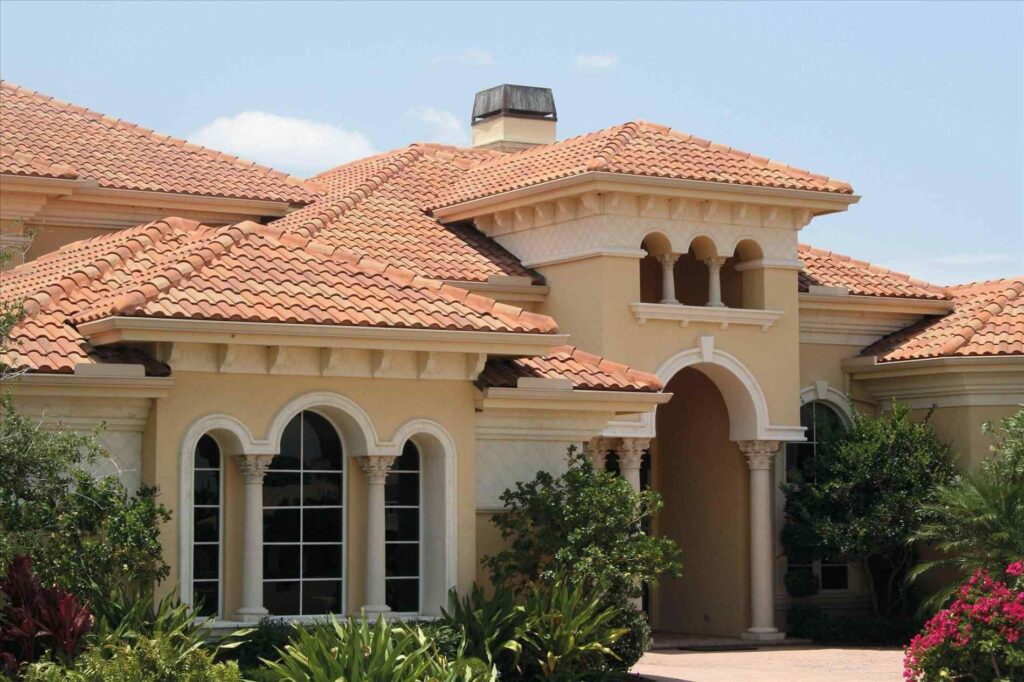 source: pinterest.com
Mediterranean homes offer a classic and elegant style that never goes out of fashion. The quintessential Californian house features warm woods, bright walls, and seamless indoor-outdoor living.
Mediterranean houses often brick or stucco exteriors, and are frequently painted white. Carved doors, stone details, and ironwork can often be found on windows, balconies, and front doors. There are three main subcategories of Mediterranean homes: Italian Renaissance, Spanish Revival, and Modern Mediterranean. Italian Renaissance style homes feature columns and rounded arches, while Spanish Revival homes have simple, clean lines and a low-pitched roof. Modern Mediterranean homes offer traditional Mediterranean characteristics with a modern twist, such as open floor plans and indoor-outdoor living.
The interior of Mediterranean homes is often simple yet elegant, with wooden features such as trim around doors and windows and built-in bookshelves. The fireplace is a prominent feature in Mediterranean homes. Mediterranean homes offer a timeless design that is not trending and will not require updating.
These homes feature red clay tile roofs. The clay tiles are not only aesthetically pleasing but also offer excellent durability and insulation. They keep the house cool in the summer and warm in the winter, making them a popular choice in warmer climates.
Modern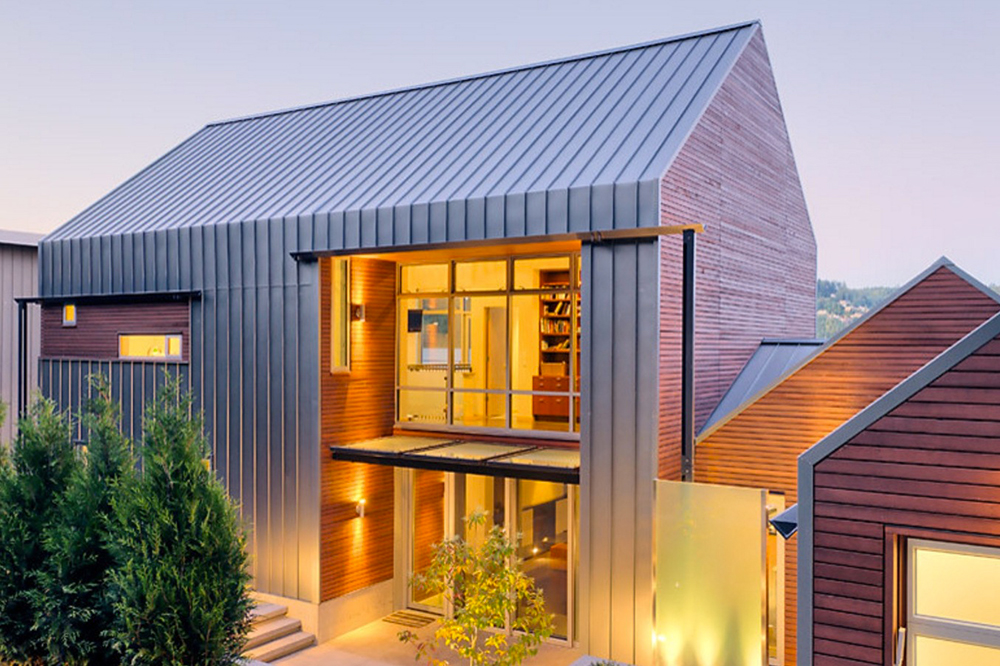 source: pinterest.com
Modern architecture homes in the USA are a testament to the ingenuity and creativity of contemporary designers and architects. Defined by clean lines, minimalist aesthetics, and an emphasis on functionality and sustainability, modern homes represent a significant shift from the ornate styles of the past. They prioritize simplicity and efficiency in both design and function, offering homeowners a streamlined and uncluttered living experience.
One of the most defining features of modern homes is their use of materials. Rather than traditional building materials such as brick and stone, modern architects often use steel, glass, and concrete to create a sleek and modern look. Large windows and open floor plans are also common features of modern homes, allowing for ample natural light and a sense of spaciousness.
In addition to their aesthetic appeal, modern homes are designed with sustainability in mind. Many are equipped with energy-efficient appliances and materials, as well as green roofs and solar panels, reducing their carbon footprint and making them an eco-friendly choice for homeowners.
Modern homes are all about sleek lines and minimalism. These homes often have flat or low-pitched roofs, making metal roofs the perfect choice. Metal roofs come in a variety of colors and styles, including standing seam, corrugated, and shingle. They are durable, energy-efficient, and give a contemporary, industrial look that complements the clean lines of modern homes.
Farmhouse
source: pinterest.com
If you're searching for a home with history, charm, and a rustic touch, the classic farmhouse may be just what you need. With its iconic features and timeless appeal, the farmhouse style has been popular for centuries.
One of the most distinctive features of a farmhouse is its location. These homes were built in rural areas, often surrounded by farmland, and were designed to accommodate an agricultural lifestyle. In terms of materials, farmhouse construction varies by region. In Texas, for example, limestone was often used.
Farmhouses typically feature a front porch that serves as a mudroom and a place to relax and cool off during hot summers. Clapboard siding, made of overlapping horizontal wooden boards, was commonly used to protect the home from the elements.
Large fireplaces, often located in the center of the house, were essential for warmth and cooking in colonial times. The farmhouse layout typically includes a spacious kitchen in the back of the house, a formal living area in the front, and bedrooms on the second floor. Unlike modern homes, staircases were often located near the kitchen.
These homes often have gabled roofs with steep pitches and exposed beams. Metal roofs are a popular choice for Farmhouse homes, as they offer durability and a rustic, weathered appearance that matches the home's aesthetic. Standing seam metal roofs are particularly popular, as they add to the simple and straightforward design of the home.
Tudor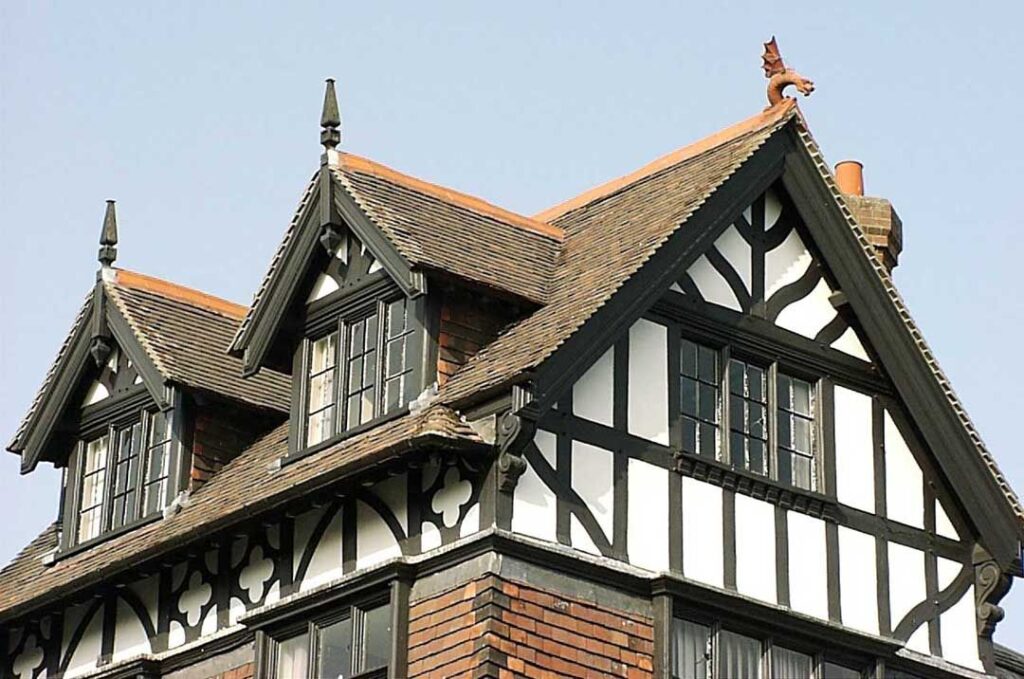 source: pinterest.com
Tudor-style homes are easily identifiable due to their unique design features. One of the most common characteristics of these homes is half-timber detailing, where long vertical beams are placed in a decorative manner. The gaps between these timbers are filled with lighter-colored stucco or stone to create a two-toned exterior. Tudor Revival homes, however, are often constructed entirely out of red-toned brick with ornate detailing around windows, chimneys, and entryways.
Another distinguishing feature of Tudor-style homes is the presence of several front-facing gables with steep roof lines, often in intricate, asymmetrical patterns. The windows in these homes are typically long, rectangular and may be positioned in clusters, with oriel or bay windows on either story of the home.
Moreover, Tudor-style homes usually have a prominent front door that is not centrally located, and it may feature arches or decorative concrete detailing to make it stand out. These homes were primarily built in the 19th and 20th centuries and are inspired by medieval English architecture. The style can be found across the United States, with a particular concentration in the Northeast and Midwest regions.
The best roofing option for Tudor-style homes is slate. Slate roofs are not only durable and long-lasting but also give a classic, upscale appearance that complements the home's historical aesthetic.
Conclusion
Which architectural style is right for you largely depends on your personal needs, budget, and availability in your area. As far as roofing goes, the right material can make a significant impact on the overall look and feel of your home. Each architectural style has its own unique characteristics, and choosing the right roofing material can help tie everything together.
This article has been brought to you by Rain Gutter Pros, Inc., experienced contractors of metal roofing and rain gutters in Los Angeles.