Adding color to the kitchen is the best way to spice things up! There was no construction or renovation involved; all that was needed was paint and a brush. We've picked up some lovely kitchens with stunning color schemes to help you get started, whether you prefer mauve or a pop of something vibrant. Bright blues and reds will liven up your cupboards, while a soothing grey or green will ground a vast room. Despite your color preferences or whether you're completely lost for ideas. To help you, we've compiled a list of colorful kitchen cabinet design ideas. 
Sunflower Yellow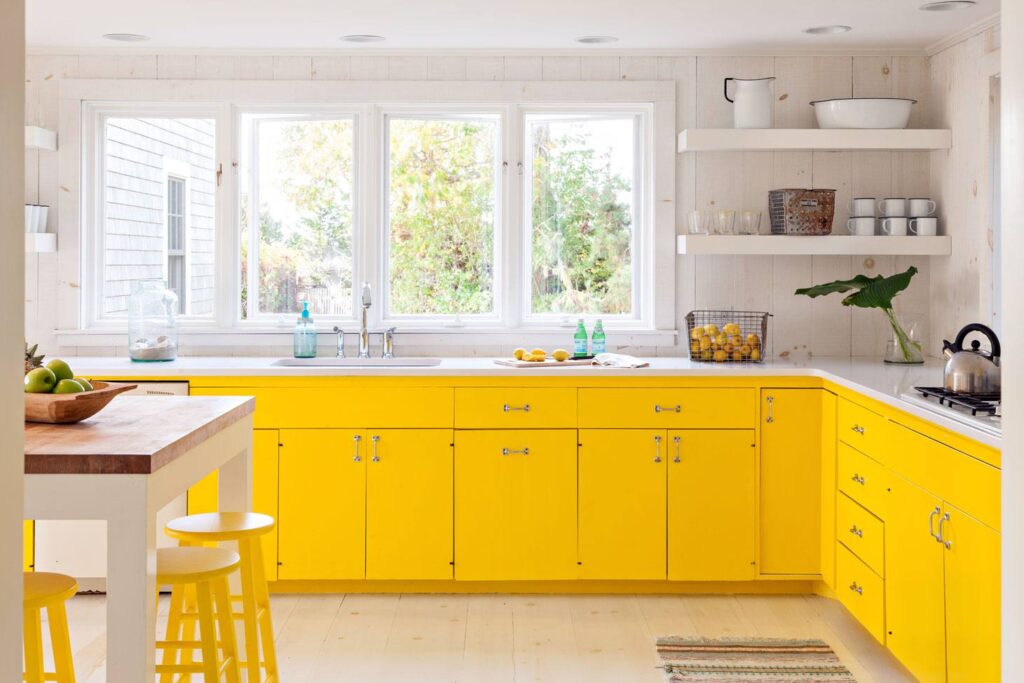 source: thespruce.com
The warm sunflower color is anchored by cold grey cabinets in this kitchen design. The grey tones are represented by the floor tiles, while the gold hardware complements the yellow to create a coherent ensemble. Choose a yellow paint that is fresh and brilliant but also rich enough to be warm for a similar effect. Add an extra touch of warmth with easy to install under cabinet lighting from Light Supplier. 
Purple Lavender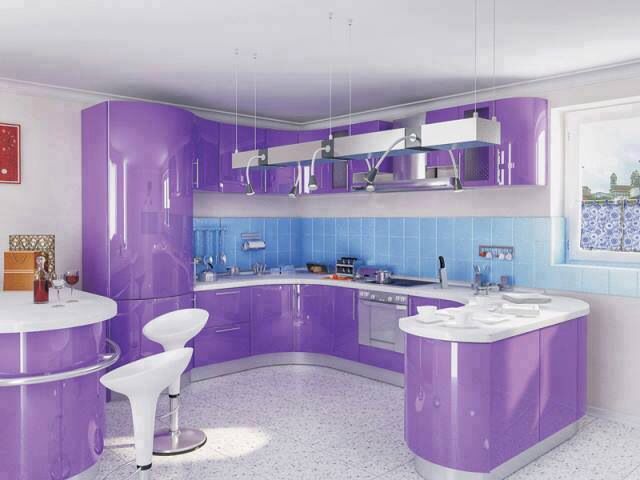 source: pinterest.com
This kitchen is unique while remaining ageless, gorgeous while remaining grounded. The lavender paint swirls on a buttercream backdrop also enhance the magnificent blue chandelier. The basic, neutral kitchen cabinets and countertop subsequently define the room.
Inky Blue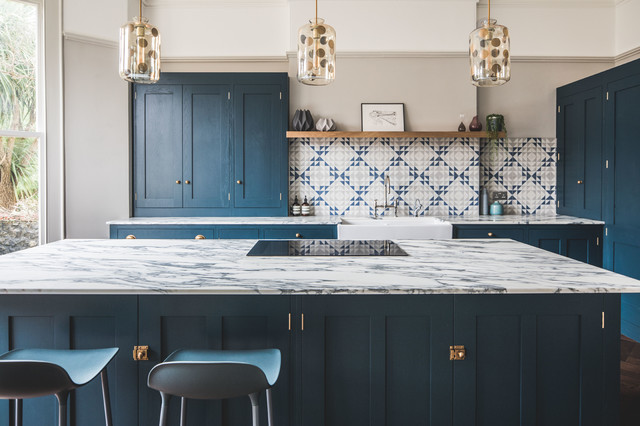 source: houzz.com
Because of the inky, expressive tone of dark blue used in this kitchen, it is a somber masterpiece. The oak cabinets and backsplash maintain the area pleasant and stylish, while the deep, nearly dark color creates an intimate and cozy vibe. In some lights, it seems completely blue, and in others, it appears practically black.
Blush Pink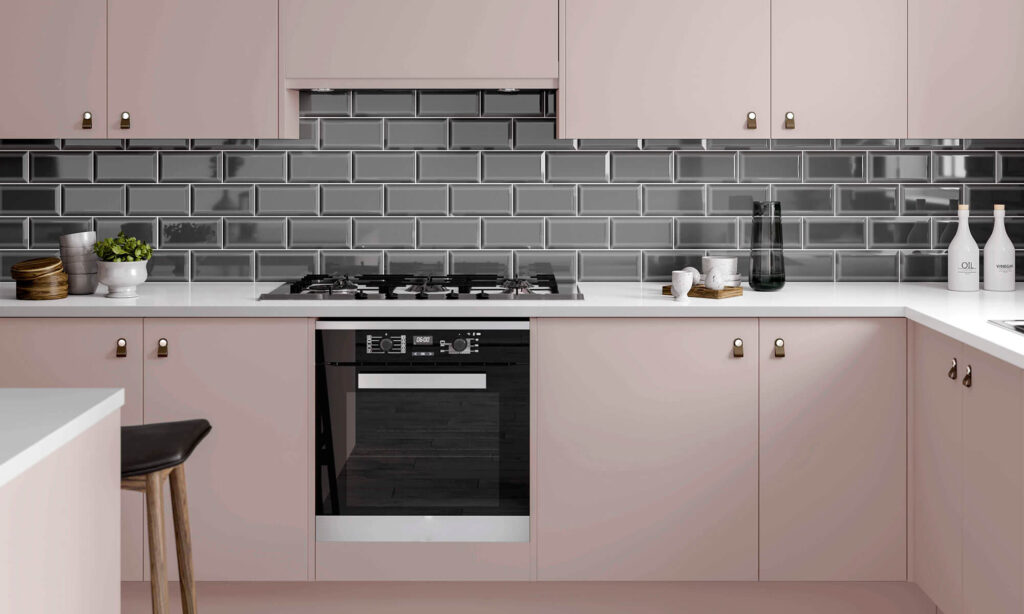 source: timeincuk.net
This blush pink kitchen feels like you're on holiday all year. It's quirky, energetic, and unusual without being too over-the-top, thanks to rattan and bamboo accents and a fresh coat of vibrant pink paint.
Green Olives
source: foter.com
Colors derived from Nature create vibrant color palettes in small kitchens. Begin with a warm white base, then layer texture with wooden shades or rich neutrals. Olive green is a lovely accent color that complements the spine theme. The naturalistic colors provide interesting contrast without creating a simple kitchen that seems dark.
Ocean Blue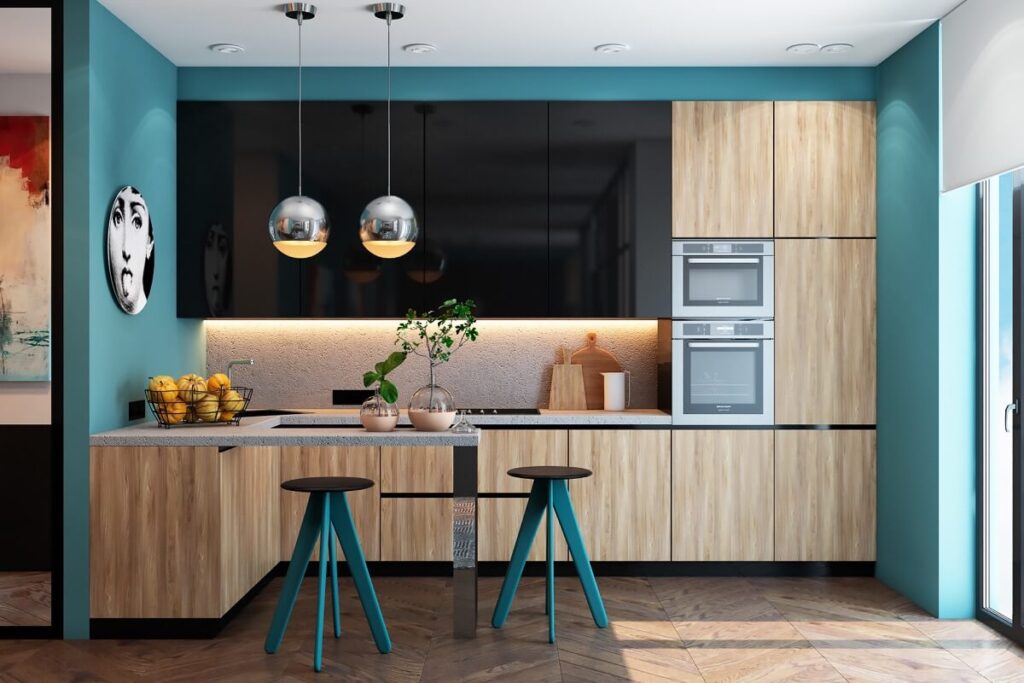 source: home-designing.com
This vibrant color scheme enlarges modest kitchens and brings up a world of design choices. White walls, ceilings, and backsplashes reflect light and recede the perimeter of a small kitchen, making the space appear larger. Choose a pristine white paint tone for the walls and cabinets, then add pops of color with blues powder-coated barstools and displays of lively yellow dishware. Consider painting the cabinet door or a kitchen cabinet in one of the vibrant colors to add a pop of brightness.
Scarlet Red
source: pinterest.com
Red shades are a wonderful choice for small kitchens since the bold color stimulates cravings and talks. When coupled with cool grey tones and gleaming stainless surfaces, it creates a sleek, contemporary style for compact kitchens. Contrast the scarlet cabinets with slick worktops, stainless-steel fixtures, and other lamp accents.
Pistachio Green
This soothing color scheme also looks impressive, thanks to the dynamic mix of minty pastels and bright turquoise tones. For a grounding effect, use a darker blue area rug. White surfaces maintain the feeling of warmth, while modest doses of black, such as glossy black equipment or pendant lights, provide a contemporary twist.
Pink Marshmallow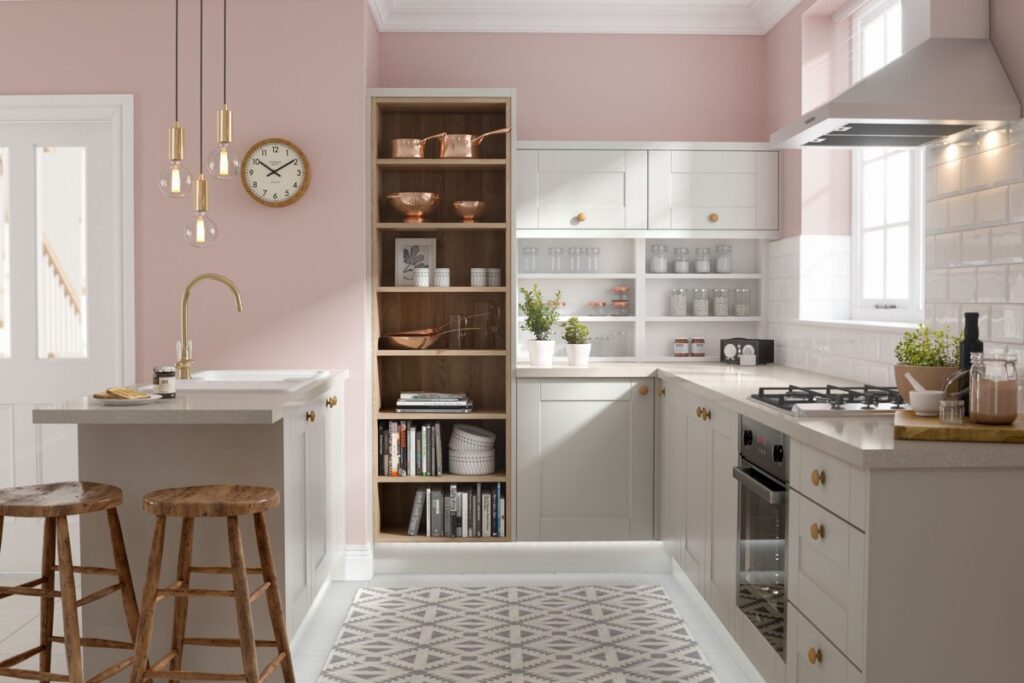 source: home-designing.com
When it comes to color trends for 2023, comfort is essential since our houses became our sanctuaries in 2023, analysts predict that tranquil, earthy neutrals will be the next wave of go-to colors for homeowners. Because of its lightness and adaptability, pink marshmallow is a great substitute for beige or white in places where you'd typically draw toward tan or ivory, including the kitchen. The difference is that it adds a splash of color to a room, switching it from drab to beautiful.
Peacock Blue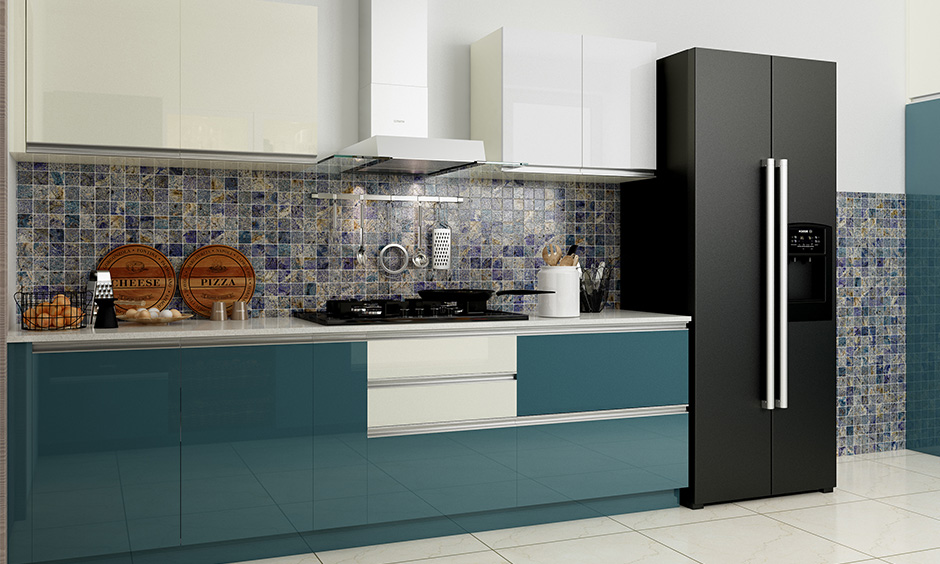 source: designcafe.com
If you've been focusing on color trends over the last year, you've probably noticed that jewel tones are having a significant moment. From ruby and emerald to sapphire and citrine, these rich, saturated colors can make a powerful impact as an accent wall or add just the right amount of color when applied in limited amounts.  Peacock is a darker variant of turquoise that is both elegant and soothing (it is, after all, symbolic of the sea). Combine it with bright white in a two-toned kitchen,  to instantly turn your cooking space into a work of art.
Dramatic Orange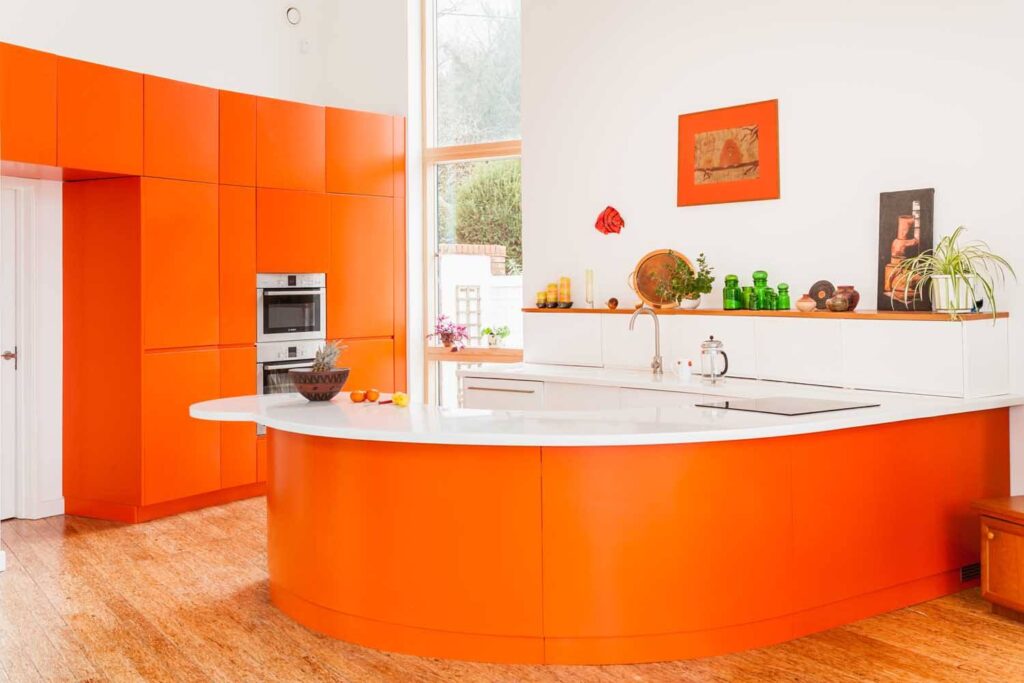 source: housely.com
An electrifying color with red undertones may appear a little too bold for four walls, but as an accent color, it's a total game-changer. Try it on your front door for the most joyful greeting ever, or paint the walls of your kitchen cabinets or pantry for an unexpected burst of happiness that won't exceed.
Last Verdict
There are many changes occurring in wooden kitchen design, but the good news is that these changes provide you with additional possibilities. While you're looking for the best 2023 kitchen cabinet trends, don't forget to consider flooring and backsplash!