The casual luxury of a Hampton style home appeals to Perth residents and leaves no doubt. Escape from New York to this house to enjoy the summer beach. Hampton House offers a comfortable lifestyle. Its elegant indoor and outdoor life makes anyone feel comfortable. And for New York's sunny and hot weather, Hampton style homes can be the best. It's just as timeless as it looks. It will also make you feel better year after year. 
However, there are some design features that make the Hampton style home more unique and desirable. 
So let's see how to create a Hamptons style home. 
Select Weatherboard-style cladding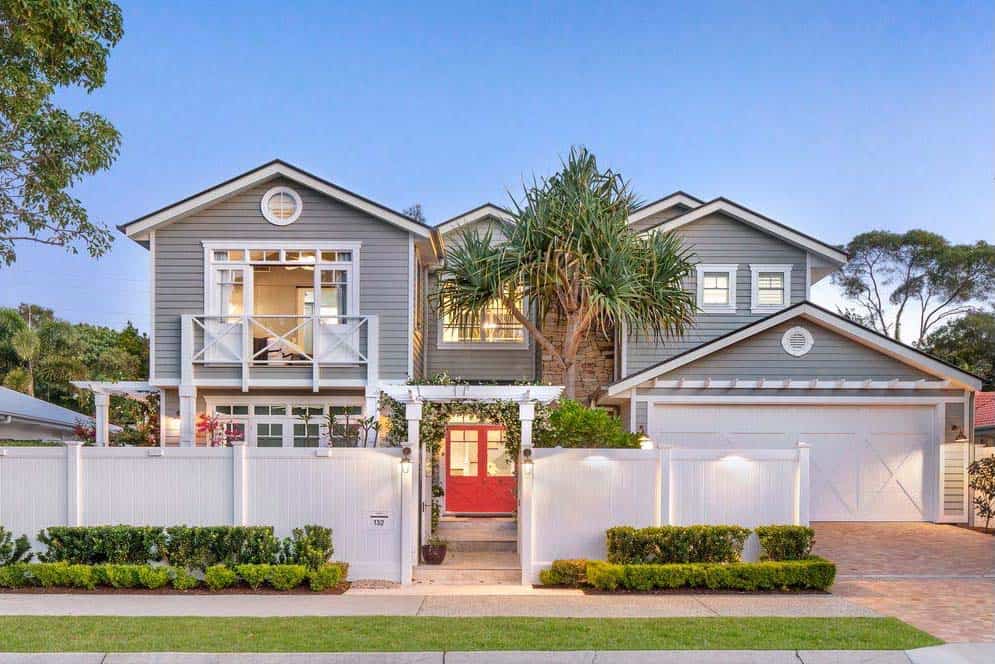 source: onekindesign.com
A Hampton style home must have a gabled roof. In addition, the weatherboard cladding provides distinctive elegance and cleanliness. The walls of the Hampton style house have solid color, so it blends perfectly with the white framed windows and white railing of the porch. The cladding is best to provide authenticity within the color palette of your home. And if the color of the window shutters is dark green or wood-charcoal, it further enhances your Hampton style. 
Requires enough space and light 
Hampton's look is always classic and airy. As it is wide, light and air enter through its large windows and French doors. 
Its spacious verandas create the flow for indoor and outdoor, which is perfect for holiday entertainment. And Hampton beach houses were known for this spacious porch. 
And by natural light the feeling of summer and coastal living can be felt. Use charming shutter windows so that natural light and air can enter your home directly. Make your Hampton style house feel spacious, open and airy. 
Wooden floor and stairs 
source: boutiquehomes.com.au
The Hampton Look is made of natural materials. So wooden floors, textured fiber carpets can give you Hampton style. If you want to give your home a casual and coastal look then choose a light oak. If you want to give your home a more refined look then choose a dark wood floor. If you want to get modern and traditional at the same time, use natural slate tiles in your Hampton home. 
Colour palette
The Hampton style home has lots of white spread. It evokes a classic look. You can think of soft blue, green or neutral gray in addition to white. Shades inspired by stone or sand can give your home a classic look. White is great for all doors, windows, ceilings and skirting. 
Shaker-style kitchen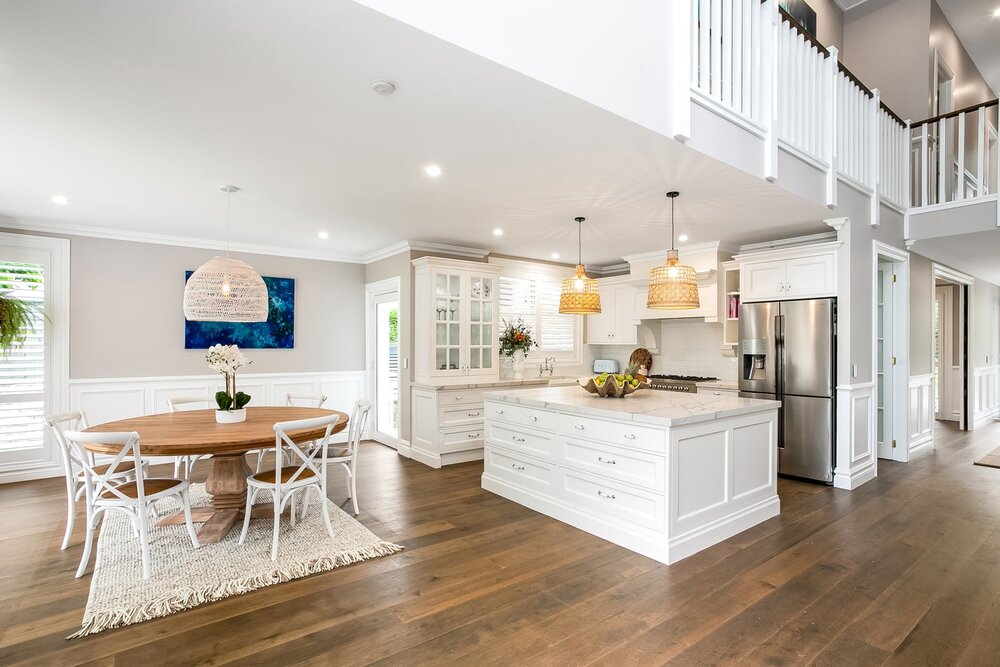 source: pinterest.com
The most striking feature of a Hampton style home is the kitchen. So create an open, welcoming and spacious shaker-style kitchen in your home. It will give your kitchen a clean and simple look. It makes the perfect kitchen for any home. You can also give this same look in the laundry and bathroom, it will give a classic look in your bathroom. 
Use traditional shell handles in your drawers to emphasize the Hampton style. The big thing about Hampton style homes is that the style of the kitchen will also match the design. 
Choose upholstery materials 
Furnishing materials also play a role in giving your home the right look. Choose furniture according to the color plate of your home. And there are excellent statements of chandeliers, table lamps, and sconces lighting. Choose marble to give the bathroom a traditional look. Also choose traditional style tapwire. 
Give your home a finishing touch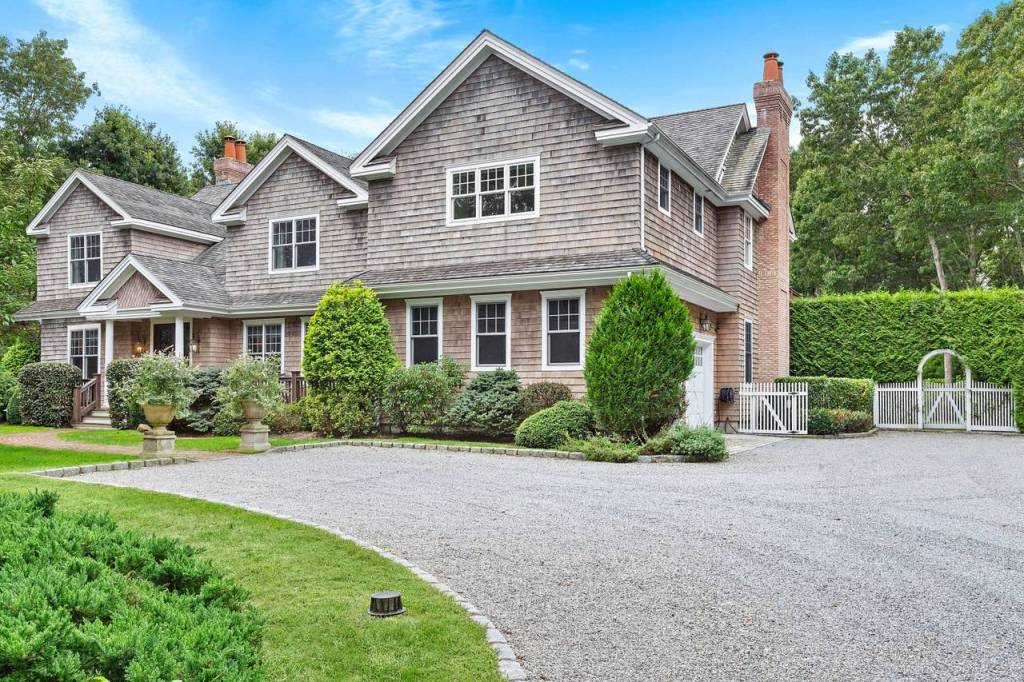 source: thewowstyle.com
Give your home a white wood ballast on the stairs and porch, it will improve the look of your home. Add lights on both sides of your front door. Choose the color of your front door glossy white or black. 
Hampton style furniture is needed to give the Hampton style home an elegant look. Improve your outdoor and indoor look with Hamptons furniture. The center of the Hamptons home is the dining room, adding hamptons style dining table will enhance the look of your dining. so choose Hamptons Dining Table and Hamptons dining chairs  to finish your dinner there. 
Hamptons coffee tables can give your balcony an aesthetic look. So add a hamptons style coffee table and enjoy the coastal breeze with a cup of coffee. The Hampton TV unit can be a great addition to your living room to chat with family. Lack of a hamptons bedside table can make your bedroom look incomplete. 
If you have a bar in your kitchen, add Hamptons Bar Stools to take advantage of it. A Hamptons chair with a Hamptons desk allows you to work in peace and comfort. Read more here dining settings.