Have you got a new apartment and have renovation plans? Do you want to update your bedroom? Or do you intend to change the atmosphere in your house completely? It's time to look for inspiration! We have collected for you the main trends in interior design that are relevant now. They reflect the desire for harmony, combine beauty and usability, and bring you closer to nature.
Naturalness
Now designers strive to use materials and objects for creating a kind of "oasis" that helps you take a break from the city bustle. Even in the most comfortable apartment, we want to feel a connection with nature. You can strengthen this connection with the following interior tricks.
You can use more natural light. Panoramic windows, balconies, terraces, open curtains — all this will help you to "erase" the boundaries between the street and rooms. If you want to fill the home with even more light, install large mirrors and use translucent materials that will not visually burden the interior. Fit balconies, loggias, and terraces into your living space. They have long ceased to carry an exclusively functional load. Now it is imperative to style them. Create a pleasant resting area with soft lighting and abundant potted flowers.
Of course, everyone associates nature with plants. A modern city apartment or house is already unthinkable without lively decor: green plants, home greenhouses, and living/phyto walls. Buy real indoor flowers, not artificial substitutes. When choosing, take into account the location of your apartment and special needs of each type of plant.
When choosing paint for walls and textiles, give preference to natural shades. All current color trends are somehow connected with the natural palette. Earthy hues, the color of blue skies, bright sun, fertile soil, and fresh greenery emanate calmness, a sense of security, and serenity.
Sustainable Design
Eco-friendliness is gaining popularity everywhere. It has become not only the main trend in the production of food and clothing but also the decoration of apartments and houses. Natural materials are now especially appreciated precisely for their ethical component. Now buyers are more and more interested in how, where, and with the use of what technologies this or that item was manufactured. On this wave, many turn to small local brands, workshops, and companies. The focus on conscious production and sustainable design will continue for many years to come.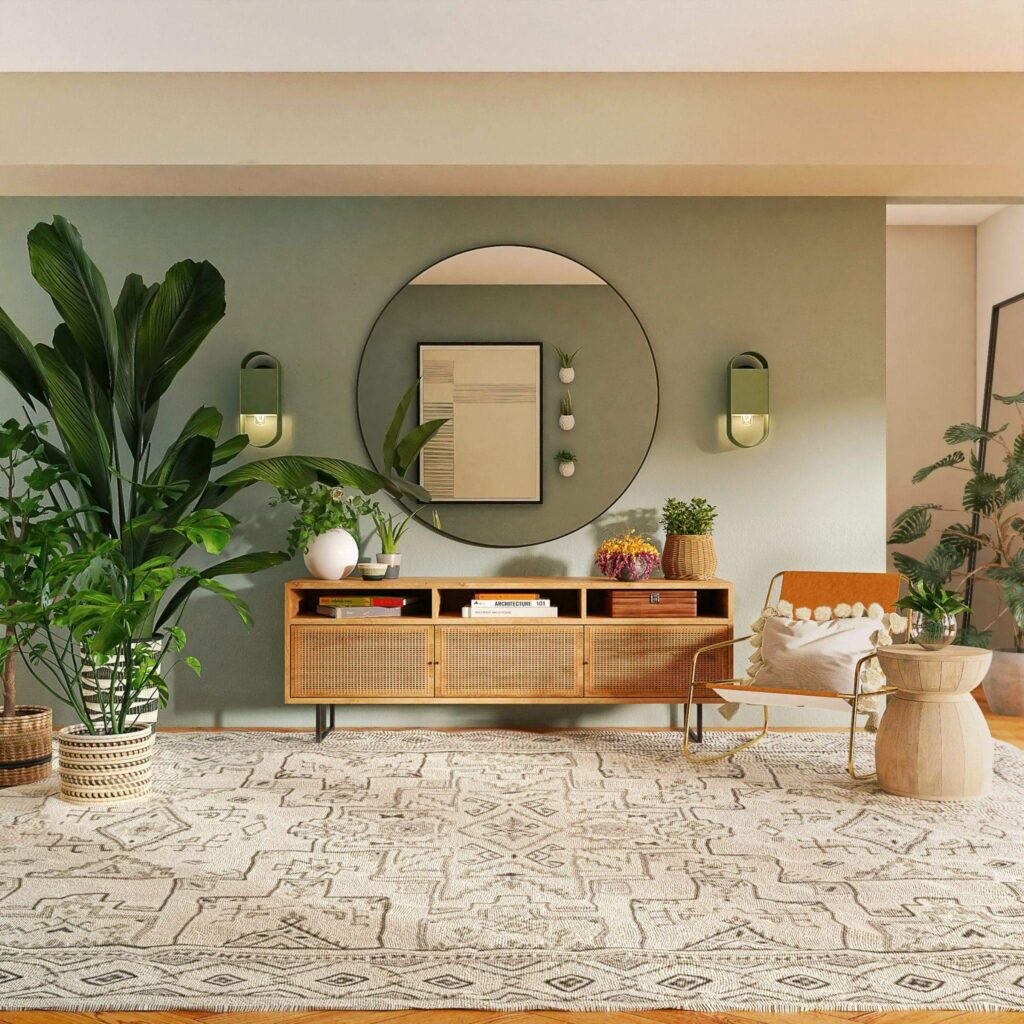 All this is expressed in the use of natural materials (recyclable) and colors, active filling of rooms with natural light, etc. The interiors feature live plants, wood and rattan furniture, raw textiles, handmade carpets, and decor made of natural materials, e.g., a wood USA wall map, photo frames, and collages.
You can emphasize the naturalness of textures even more:
leave natural wood pattern;
utilize unpainted linen;
buy unglazed ceramics (or do them yourself);
leave the natural proportions of things, and so on.
Ergonomics
The modern design removes everything superfluous and useless in interiors. Large kitchens/living rooms, multifunctional spaces, equipped terraces, competent zoning —everything in an apartment should be subordinated to your convenience. Nowadays, the harmony of beauty and functionality reigns everywhere, and never one of them prevails at the expense of the other. Thinking over the layout and interior design now, you should rely on solutions that will remain relevant in several years.
Smart Design
As strange as it may seem after the statement that everything in the interior should strive for naturalness, smart design gains popularity. Every aspect of our life has become more and more technological and digitized. If you do not know all the possibilities of modern technology, you should consult with experts or look for fresh articles on this topic on the Internet.
A desk and bedside tables with wireless chargers, a shower faucet with lighting and a radio, smart furniture, a coffee machine with a delayed start, voice control over an air purification system, and other appliances become the basic filling of any home. All this can make you feel as comfortable in an apartment or house as possible. The main thing is to set up the purchased equipment correctly.
Trending Colors
Actual shades change from year to year. For example, earlier, the Scandinavian design was associated exclusively with white. This is no longer the case. In 2021, the Pantone Institute named gray and yellow the main colors, as they express grit and optimism. If you like this combination, you can still use it. However, the trends will change slightly in 2022. Next year the following tone will be in vogue:
delicate and refreshing mint;
lively and exciting coral;
cheerful light yellow;
playful deep pink;
natural brown;
pastel pink;
electric blue, and others.
As you can see, the list of trending colors includes both natural shades and bright tones that will help you add accents to a calm interior.
Personalization
Customization and personalization of spaces are at the heart of modern interiors. The starting point of any planning should be your vision of beauty and convenience. You can clearly see the departure from pure styles to eclecticism, experimentation, mixing, and combination. It can be seen in the request for handmade items, be it furniture or tableware, the trend for things created on-demand, etc. Designers even suggest buying sets assembled from different kits, not ready-made ones.
A unique interior reflects the habits of its owner. Think about your needs or guilty pleasures during the planning phase. All seemingly insignificant details should be reflected in the design. So you create a home for yourself and not adjust to the proposed environment.
Create an Interior With Unique Spirit
When planning, you should always remember that current trends just show you the right direction. You should not strictly follow any of them if they do not suit you. Learn the basics of design and seek inspiration from pros, but always pay attention to your feelings. Feel free to experiment, mix different styles, and look for your own concept. We hope our tips will help you come up with the design you like!