It doesn't matter if you live in a luxurious house or a small apartment; chances are you're tired of your old kitchen and want to upgrade its look. The kitchen is the room where you prepare meals and spend time with your family and friends, and during the pandemic, it might have even served as a temporary office when you had to work from home. The kitchen island is spacious enough to home all your paperwork and devices. If you plan a kitchen remodel in 2022, it's worth reading the list of the hottest trends. The specialists from Kitchen Ware House shared the trends they think will be present in all kitchens this year. Let's discover them together. 
Vintage furniture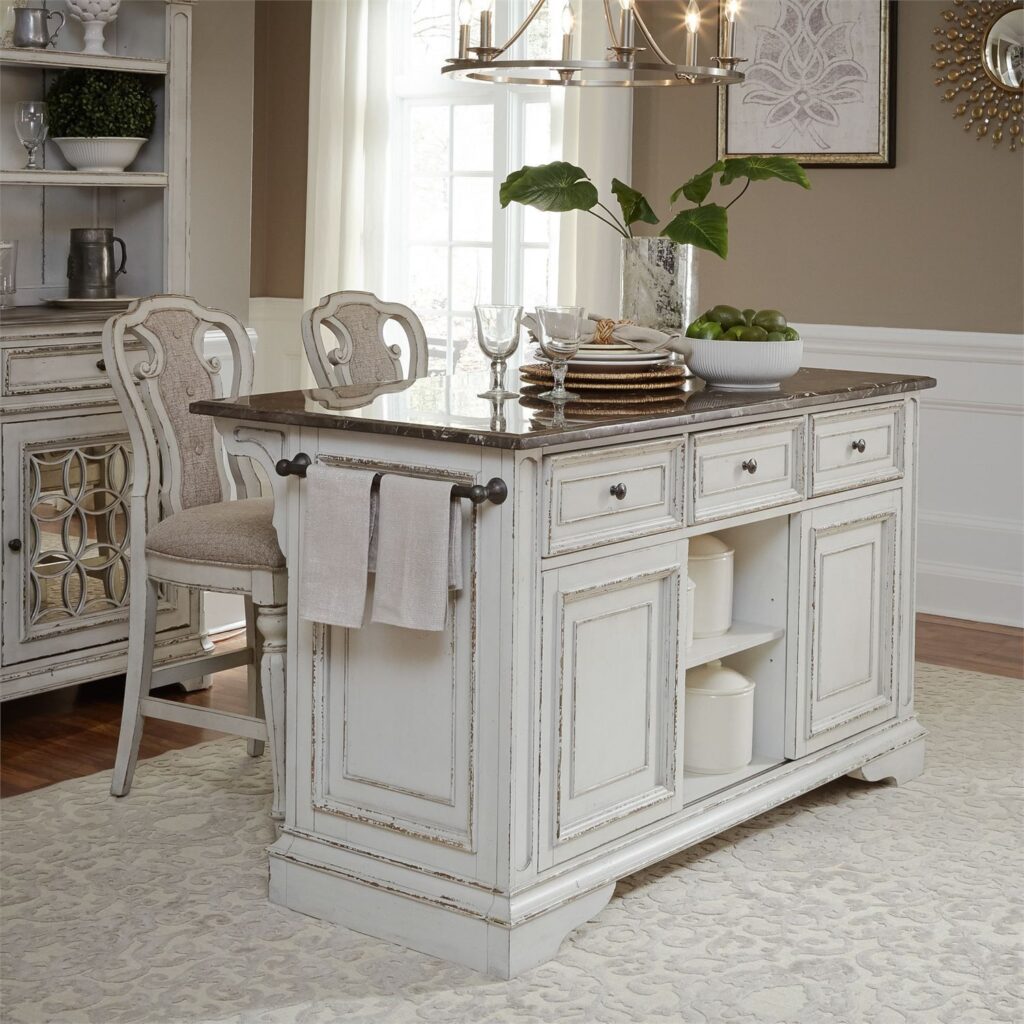 source: pinterest.com
If you're scrolling on Pinterest as much as we do, then you most likely learned to love the vintage style because it promotes a particular sense of uniqueness. 2022 is the year that brings vintage to the kitchen, so if you plan a remodel, consider replacing your old table with a vintage farm one that could serve as an island when cooking. 
We love vintage kitchen pieces because they come in unique sizes and shapes and work well in any interior design. If you don't have enough space for a kitchen island, a vintage table could work great and bring a sense of style to the room. Another nice thing about vintage furniture is that it adds a layer of visual interest to any room and instantly becomes a conversation piece. So if you decide to bring one to your kitchen, expect your friends and family to talk about it the next time they visit you. 
Customised appliances
source: pinterest.com
Now that you plan to renovate your kitchen, are you ready to splurge on top-notch appliances? How many times did you say you'll one day have the same appliances you saw promoted on TV? If you're like us, countless times. The good news is that high tech appliances are now available and affordable, and if you want to replace the old ones, you can purchase new, efficient ones. However, considering that no two kitchens look the same, you probably need some customised appliances to fit the space. Don't worry; manufacturers are ready to provide you with a flexible model that integrates your kitchen layout and needs perfectly. From custom panelling to bold coloured appliances, there are infinite choices on the market. 
Multiple islands
If you're a passionate chef, you need multiple surfaces available in your kitchen to assist you while cooking. Kitchen islands are functional additions to any kitchen because they serve as preparation spaces, eating counters, and bars. If you have been working from home during lockdowns, you most likely used the kitchen island as your office and completed countless work-related tasks from there. Interior design experts think that in 2022 we'll see more kitchens that feature double islands. 
Multiple islands are a big trend in luxury interior design, and designers have started to adopt the idea to the average residence to provide homeowners with a sense of luxury. More and more people eat their meals directly in the kitchen, so it's only rational to have two islands so they can both prepare and enjoy the meals. However, homeowners need a good amount of space to install more than one island in the kitchen. 
Upgraded details
source: pinterest.com
Interior designers take kitchen design away from the utilitarian style and incorporate details that transform the overall space and give it a bespoke vibe. Expect to see sinks with a front made from the same material as the countertop or kitchen island. Interior designers promote marble, porcelain, and quartz for 2022 because they create a cohesive image. 
If you plan to renovate the kitchen in 2022, speak to your materials fabricator to check if they customise some elements you can transform into focal points. Suppose you visit a kitchen furniture showroom, expect to notice more cabinetry hoods made from natural-looking materials because homeowners are slowly moving away from standard units and embrace elements with a unique character. 
Cabinetry in vibrant hues
source: pinterest.com
Bold coloured cabinets have been popular over the last few years, and they don't seem to slow down in 2022. The experts from kitchenwarehouseltd reveal that the homeowners who want to add a more personal touch to their kitchens prefer cabinetry in vibrant hues. At the moment, two trends are gaining the public's love, cabinets in neutral shades and cabinets painted in bold colours. Some homeowners combine the two models to create unique designs and enrich their kitchens with personality.        
Kitchen design professionals reveal that they've noticed that customers are getting more adventurous with their choices for kitchen units and are no longer afraid to bring shades like Smokey charcoal, rich blue, emerald green, or dark red in their homes. On the other hand, some people still prefer calming and more subtle colours like soft blue and nudes because they find them more versatile. 
Wood finishes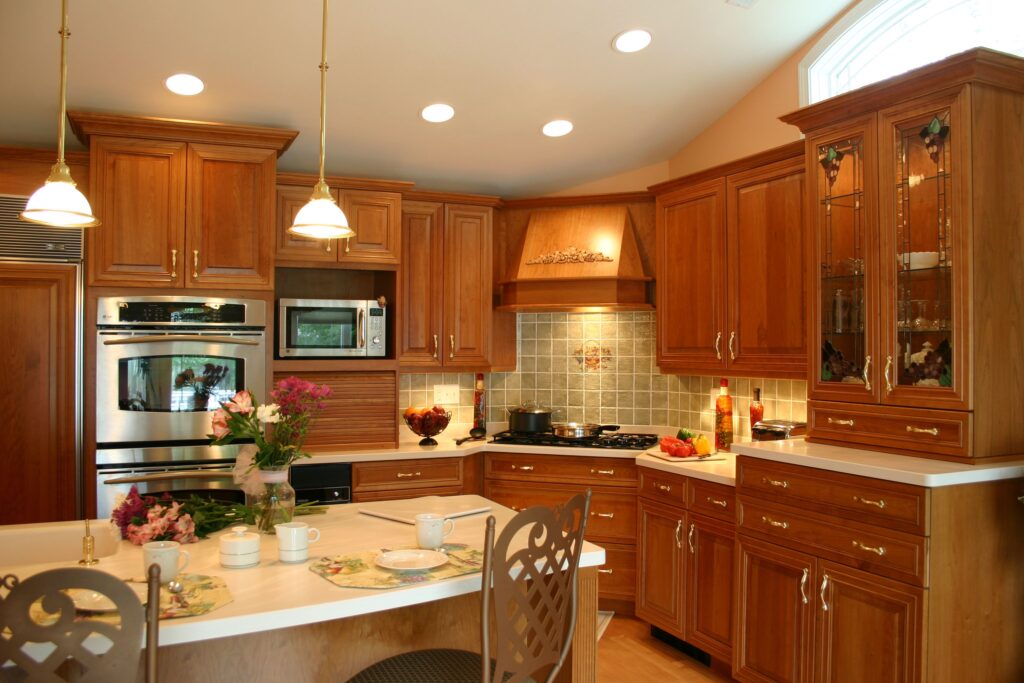 source: pinterest.com
Wood has always been a popular material in the kitchen, and it continues to be a trendy addition in 2022. The renewed focus on sustainability and natural materials brings it to the front page. The latest trends promote butcher block countertops, exposed beams, and reclaimed tables instead of marble islands. If you're one of the homeowners who embraces the sustainability trend, you'll most likely love to bring wood finishes to your kitchen. 
Over the last few years, we noticed a strong move into wood appliances as a solution to bring extra warmth to the kitchen. For a long time, the cabinetry of choice was made from white, light oak. But if you're not into the light wood look, you can play with deeper and richer tones. Your local cabinetry provider most likely has a range of units made from a dark wood that would provide your kitchen with a level of depth. 
There's a good reason so many homeowners call their kitchens the hearts of their homes. These rooms witness a lot of traffic daily and welcome families in a warm environment no matter the hour of the day.