Cleaning your gutters is an essential part of home maintenance. This reduces the risk of the home being damaged by water, but also the roof and garden. The issue with gutters that become clogged with leaves and debris include:
Gutters become cracked and rusted, putting the troughs at risk of falling
Insects and mold thrive in the gutters
Overflowing water can damage the foundations and the garden
source: youtube.com
It's advisable to clean out your gutters at least twice a year – usually spring and autumn. (You will need to do this more often if your house is surrounded by trees, mainly oak or pine).
But why it is recommended that you call in professional gutter cleaners to take on the task for you? The main reason is that when they're up there cleaning the mess, they can check for cracked and broken troughs and repair them immediately and see if the seams are sealed. This will keep them in good repair, but also save you from emergency callouts when you realizekl they are damaged when rainfalls.
Cleaning your gutters is a labor-intensive task. It could take you a couple of weekends spent on the roof to get it done correctly. A pro team will get it done in a matter of hours. They also have the knowledge and equipment to clean your gutters safely. A slip on your roof can lead to a fall and serious injury. Why take the risk when you can get experts to do the tasks quickly and affordably? Remember to check with the gutter cleaning service provider if they have the necessary warranties and insurance to ensure both you and their employees are covered for these risks, or damages, too.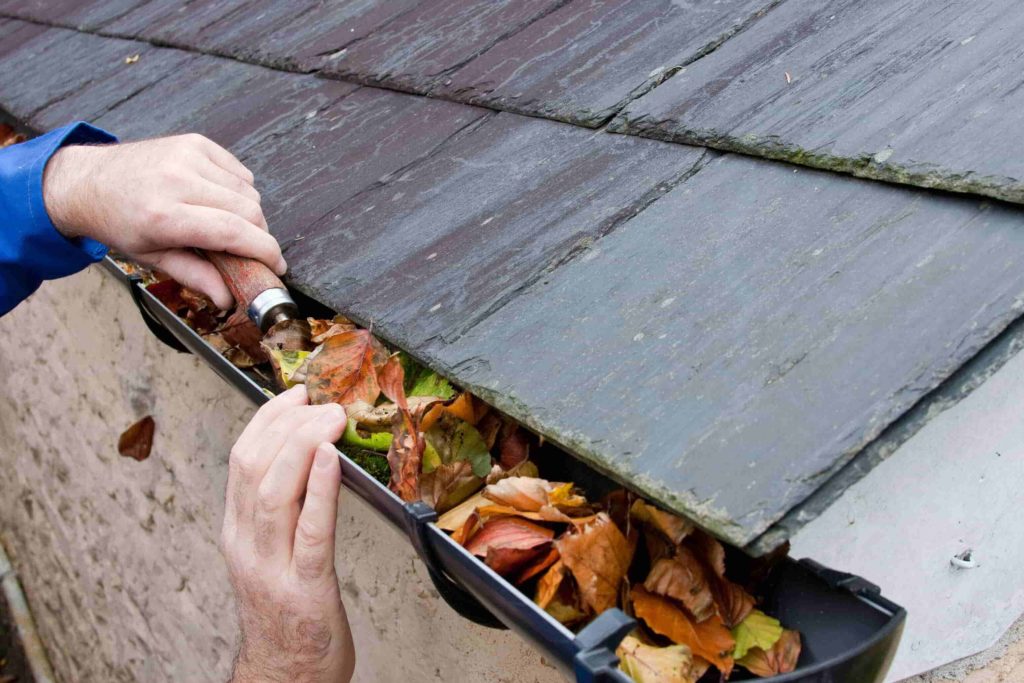 source: harryhelmet.com
Don't be tempted to go for the cheapest quote you get from a company that performs gutter cleaning. Ideally, you want to hire an outfit that used good quality material when they repair the gutters. If you don't have seamless gutters, it's also worth checking the cost of replacing them. Modern gutters don't have spikes; they have hangars. Older models also have screws that lead to rusting. Check your team is using rivets instead.
The bottom line is that by keeping up with regular gutter cleaning and maintenance, you'll spend less than what you'll need to pay out if you need repairs because you've let things go to rot.
If you have had your gutters professionally cleaned and would like to keep on top of things before they come in again, you can try these tips for a DIY clean. It may be worthwhile to do this after a major windstorm to prevent them from getting clogged.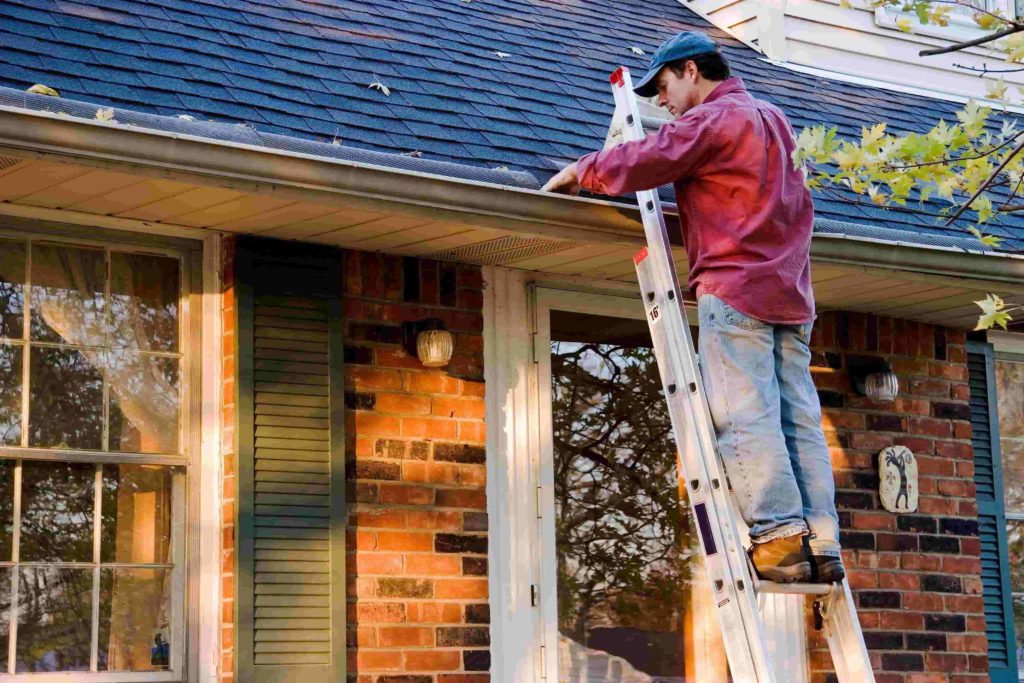 source: pinterest.com
These are the tools you'll need to get the job down effectively:
Safety gloves that will keep your paws clean, but more importantly, will prevent injury from metal and screws in the gutters. Rusty screws that lead to infections or tetanus, which can be lethal.
A scoop or spade to remove the debris in the gutters. It will speed the process up and prevent injury from sticks. You will be able to scoop and dump with ease. You will also prevent the debris from accumulating on the roof while you clean, which poses a risk to you (slipping or tripping).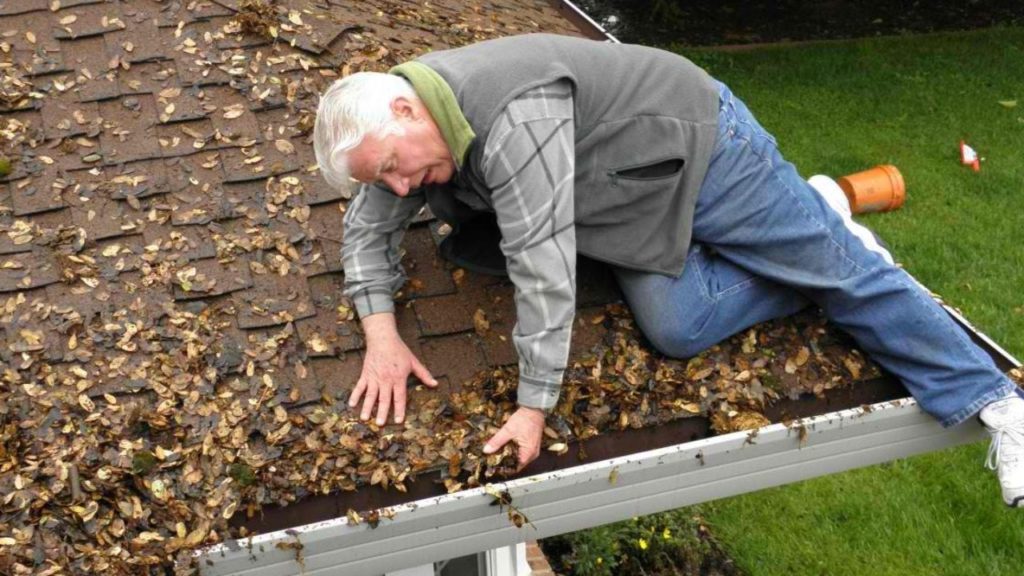 source: wrightwaybuilt.com
A tall step ladder to ensure you are stable. This is recommended over an extension ladder. Always get someone to hold it steady at the bottom. This makes cleaning gutters a two-person job.
A broom, or rake, is used to remove leaves and debris. You can use them on the roof, as well as the gutters. Be careful when you are climbing with these on the ladder and never place them on the roof near you where you can trip over them.
Goggles to protect your eyes in case you flush something sharp out of the gutter, and to prevent insects you disturb in the channels from flying into your eyes.
A refuse bag to dump the mess into. Ensure these are good quality and preferably recyclable.
Sturdy shoes that offer a good grip so you won't slip. They need to be able to lace up so you can tighten them.
source: pinterest.com
Safety first! Don't attempt to clean your gutter in wet or windy conditions. Even with the best quality ladder and shoes, you are at risk of falling and slipping. Never lean over the edges to inspect the gutters underneath or attempt to clean your roof or gutters if they are near power lines.
If you live in a house that is a double story, it's also advised that you call on a professional team to clean the gutters safely. A professional team will have safety harnesses to work with. As a regular homeowner, you have none of this safety gear at your disposal.
For more, be sure to visit Off Your Wall, specialists in residential property maintenance (gutter cleaning, window cleaning, high-pressure washing and more), And also you can see more information about how to clean your gutter at The Architecture Designs.