As we grow up the clothes and the necessary items also keep on growing with us. It was assumed previously that girls or women tend to have a bigger space for storing their stuff including their clothes and accessories. But this myth has been busted by creating major walk-in closet goals by boys and men as well. If you are financially well stable and can afford a walk-in closet then you should definitely go for one and if you do have one, TAD project has some awesome walk-in closet design ideas which you can adopt when you want a recreation of your closet.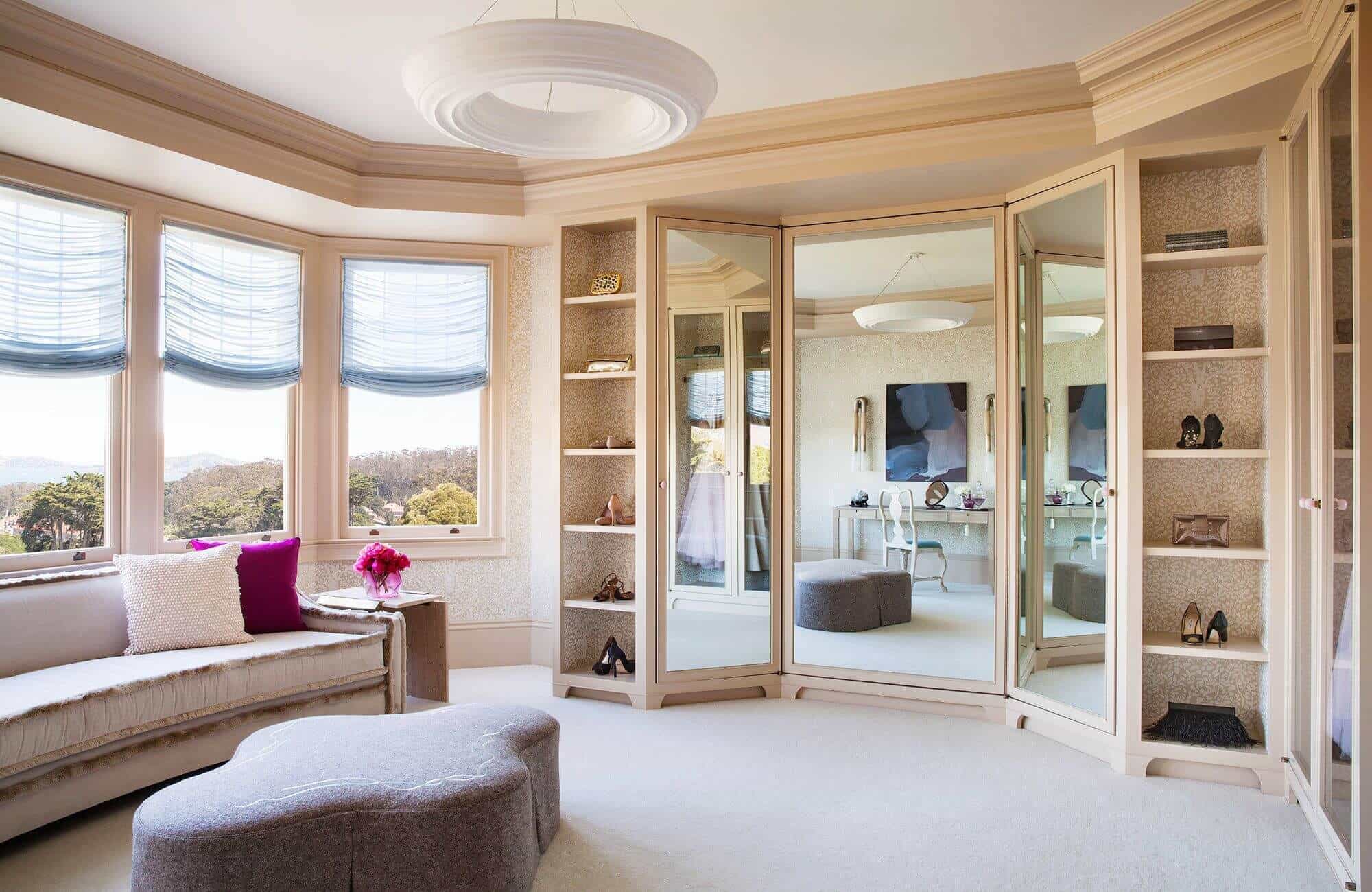 source: hearstapps.com
source: cloudfront.net
If we try to define the term walk-in closet then it is basically a huge room for storing your clothes and accessories including shoes and luggage as well. so you can design a walk-in wardrobe according to your liking and choices for sure. TAD project will give you an outline of some ideas by which you can take reference from.
source: hgtv.com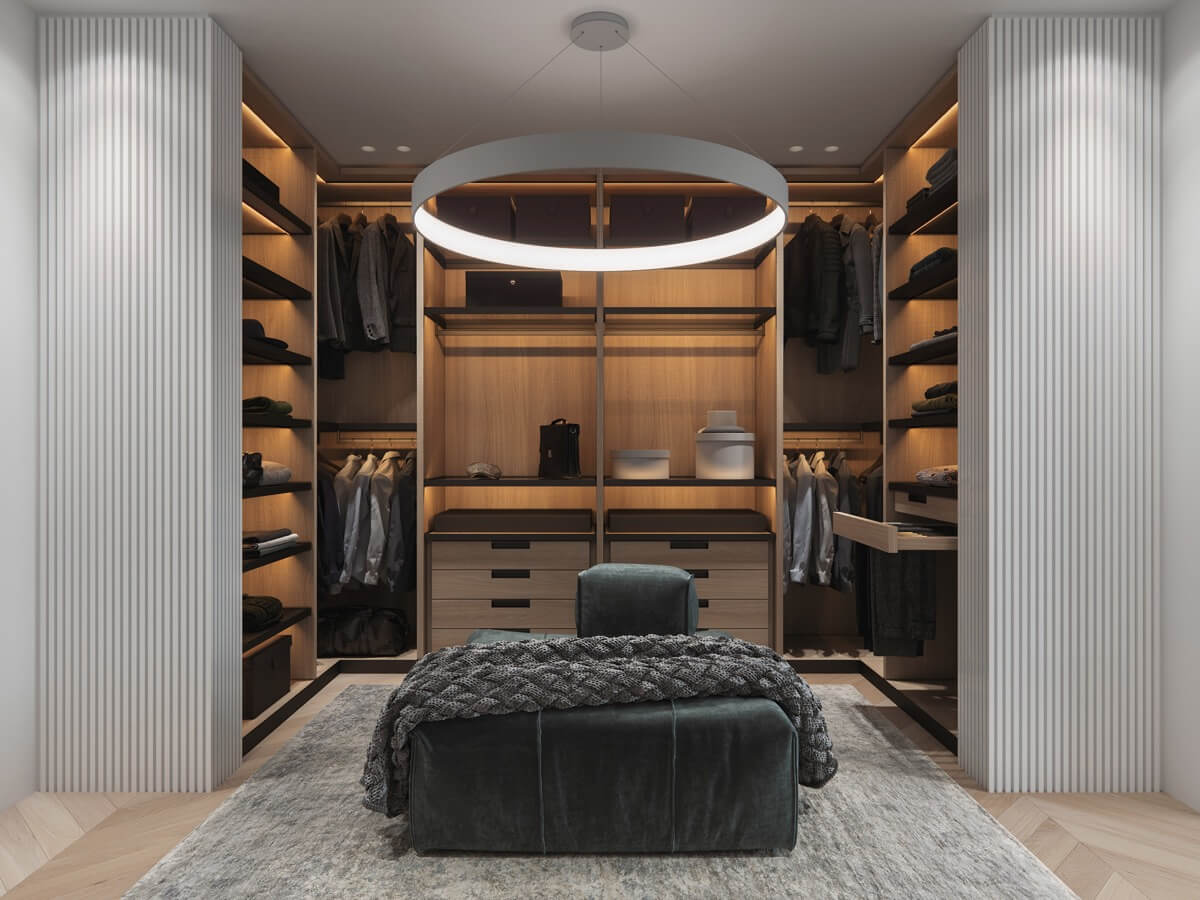 source: home-designing.com
The first idea of walk-in wardrobes is a classic one having a grey interior and a huge slide door so that you can open and close it easily. Different sections are being provided for clothes, shoe bags, and different kinds of accessories. A chair and a central sofa are placed so that you can spend plenty of time with yourself while you try on the different combinations for your outfit of the day. The chair is textured one in grey as well while the sofa is white in color which beautifully complements the whole theme.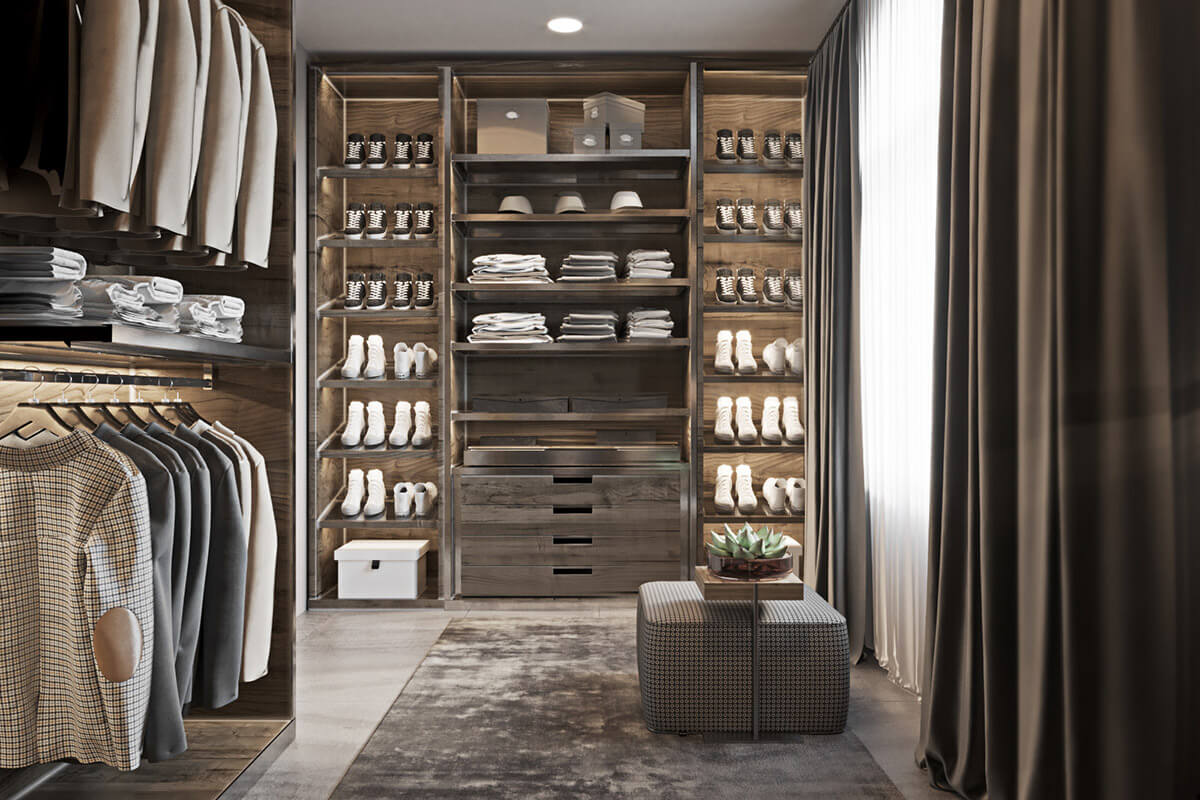 source: home-designing.com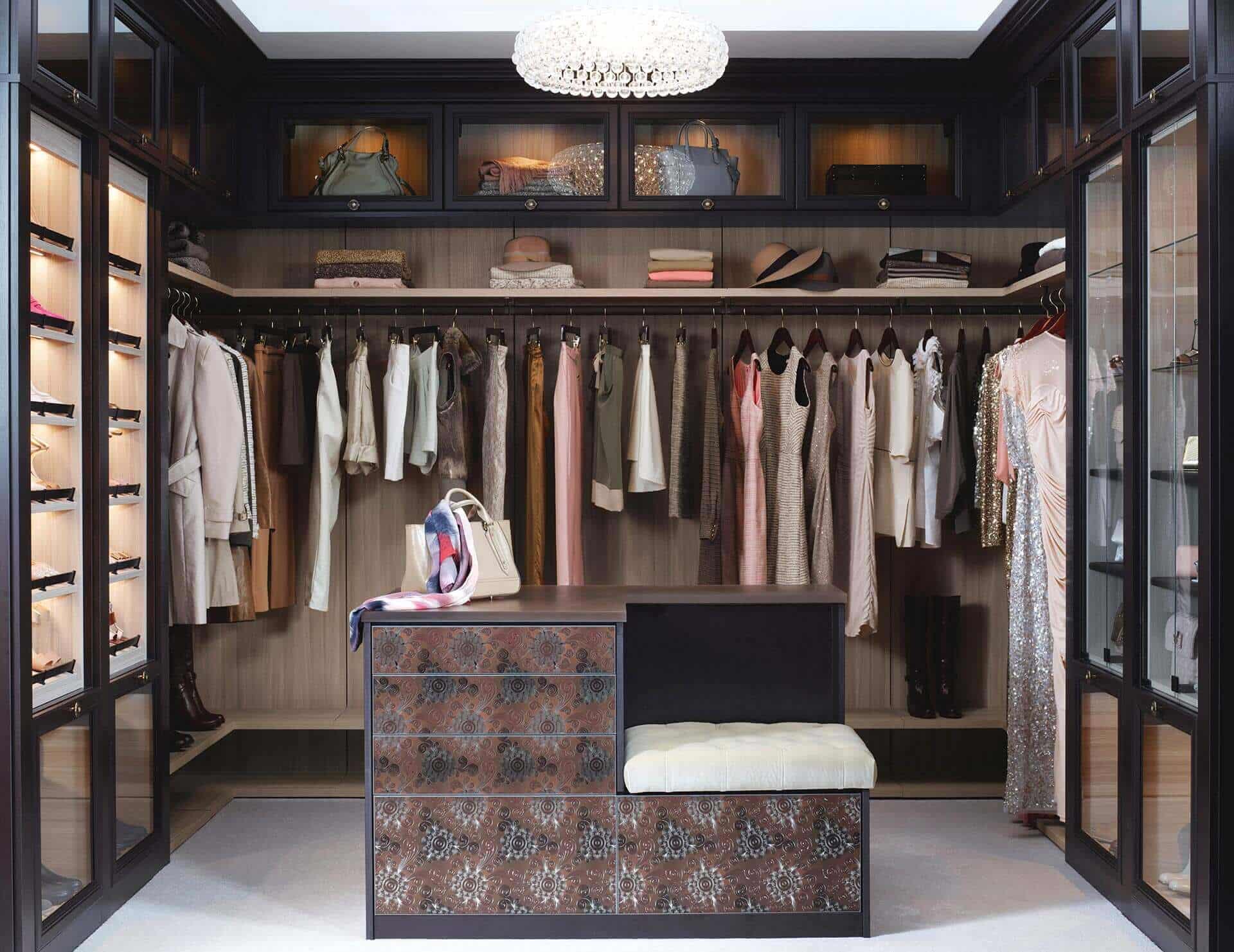 source: californiaclosets.com
The next idea is an open walk-in closet in off-white and white theme. Both color beautifully compliments each other. Since this is an open closet thus you can plan this kind of closet in your bedroom as well which can help you save your lots of time. A huge 3-D mirror is also available so that you can sense and admire your every profile and encourage yourself that you are beautiful in each and every way you look. You can match up the theme of the sofa and central sofa according to the whole theme of the closet and your bedroom as well.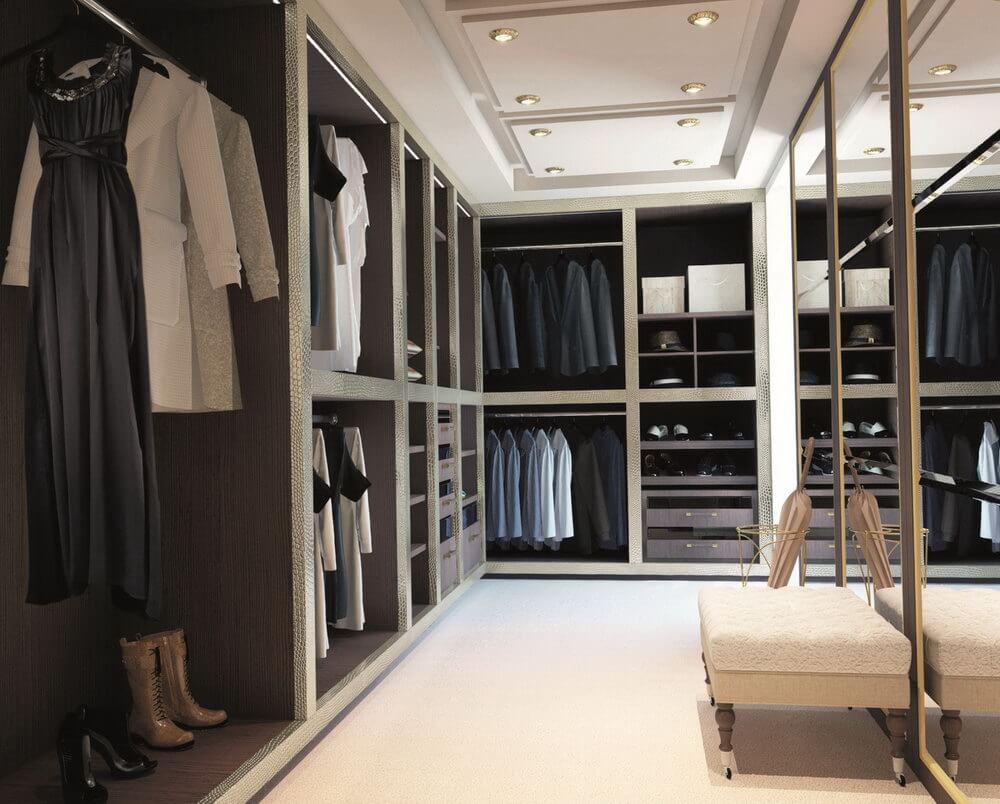 source: donpedrobrooklyn.com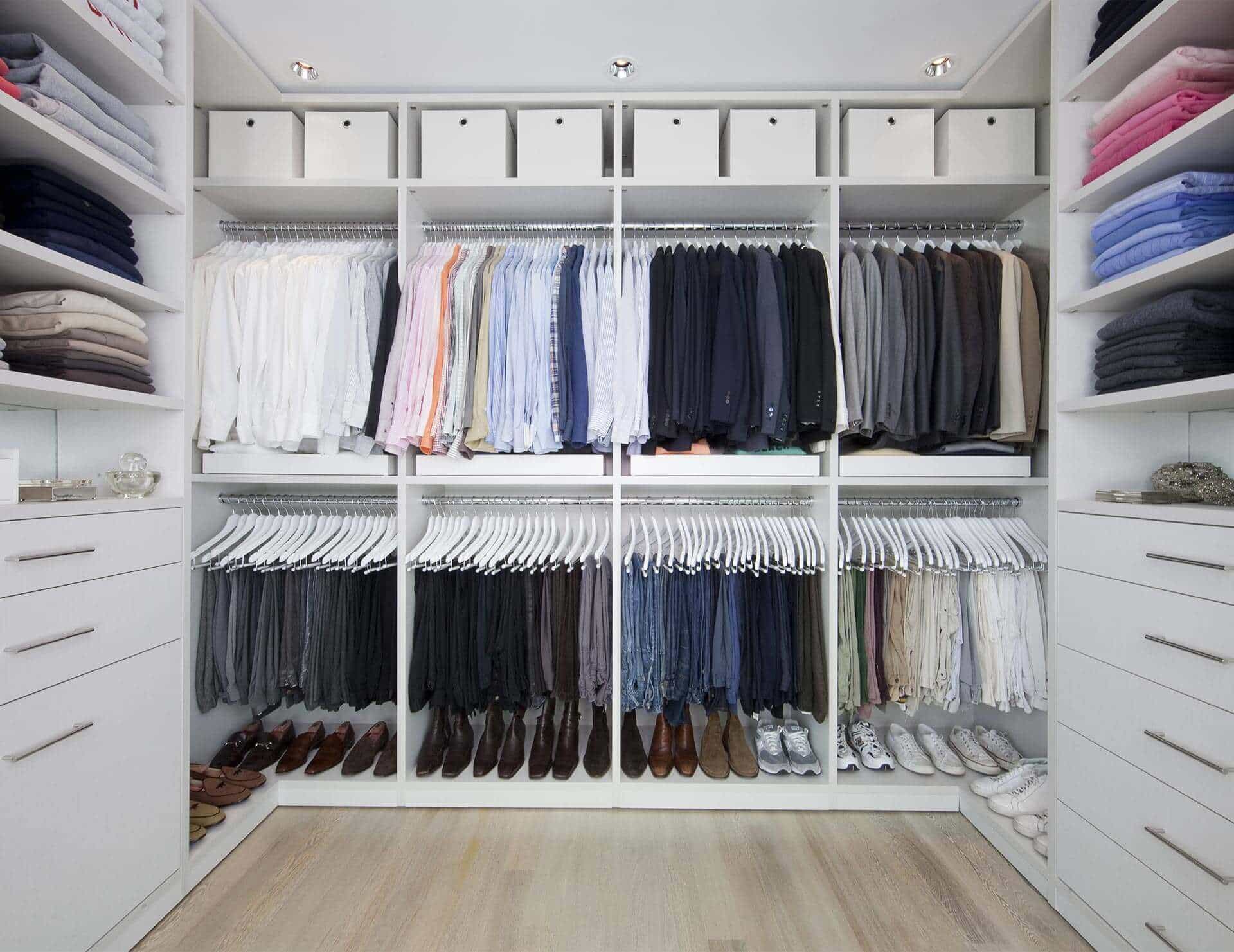 source: cloudfront.net
The next idea of the closet is a bit "girly" as they say. But boys can definitely go for the theme if they like the overall orientation and infrastructure of the closet. So the basic idea of this closet is that there is a transparent slide in the door in the compartment where you can keep your clothes. These transparent doors will help you decide what you will wear in advance. You don't need to bother much. Different compartments are being provided for shoes, bags, makeup, and accessories as well.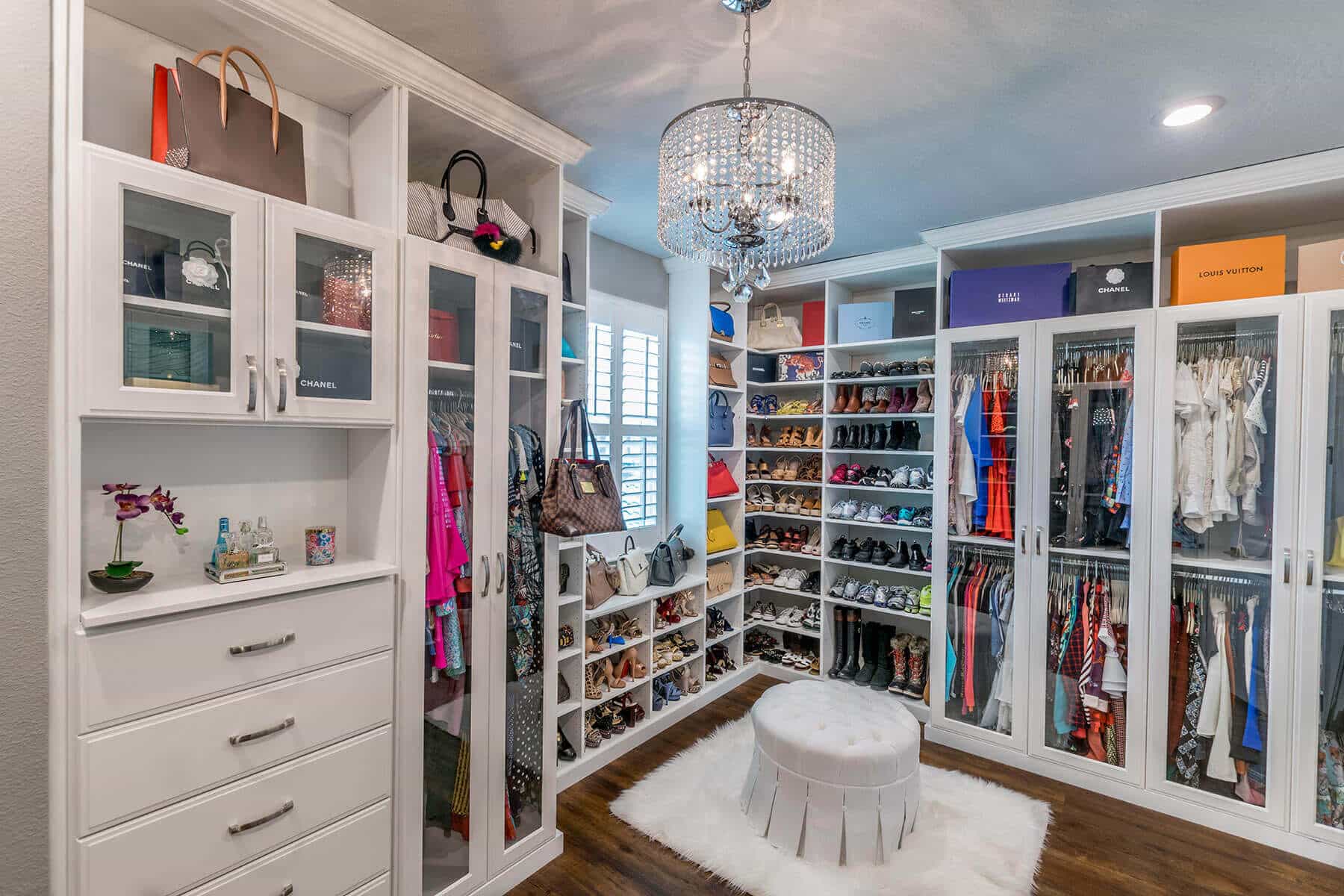 source: closetfactory.com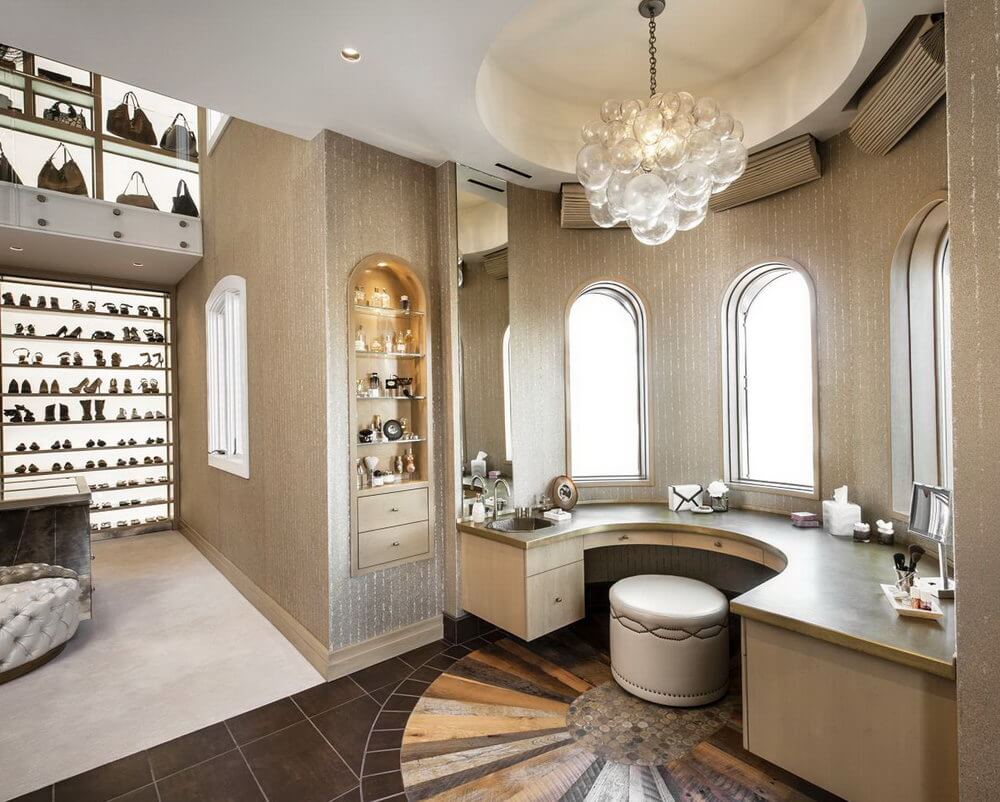 source: angieslist.com
A total brown themed closet is next. This is a very classic one and looks beautiful if you want to upgrade your closet to a new one. The closet system has some huge sections where you can keep your clothes ad also you can keep them in an orderly manner as well. For example, you can keep your office clothes in one section, party clothes in another section and so on.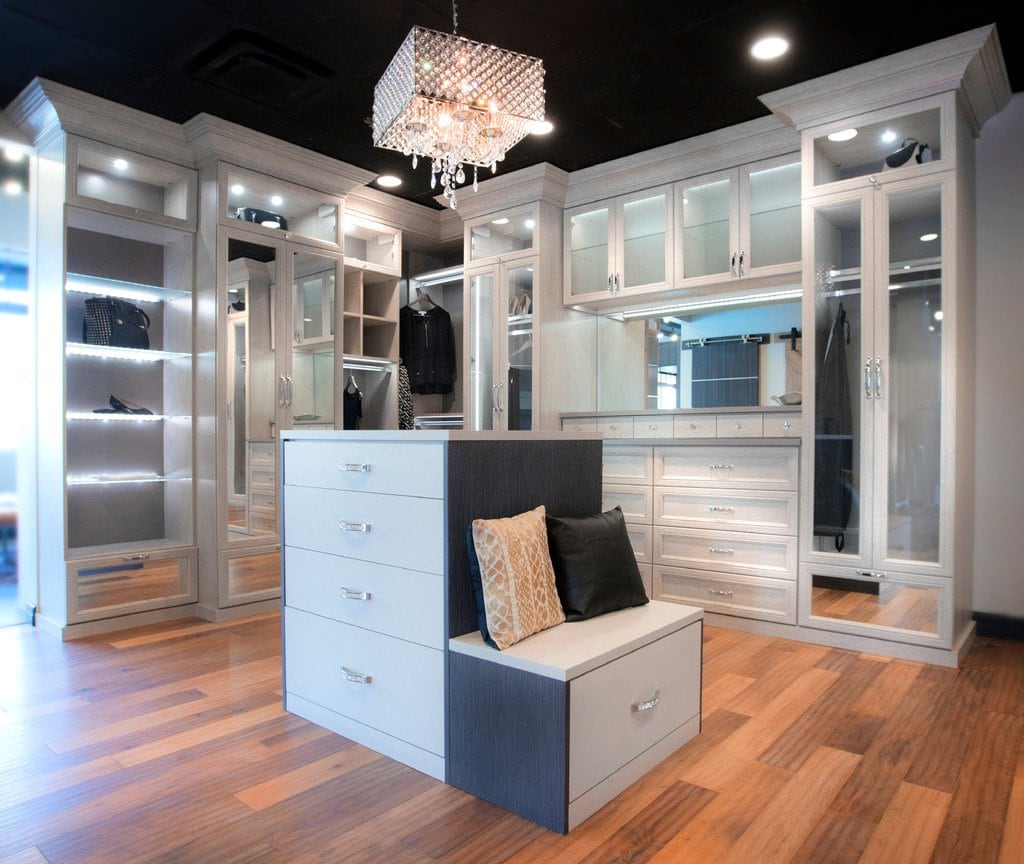 source: bocadolobo.com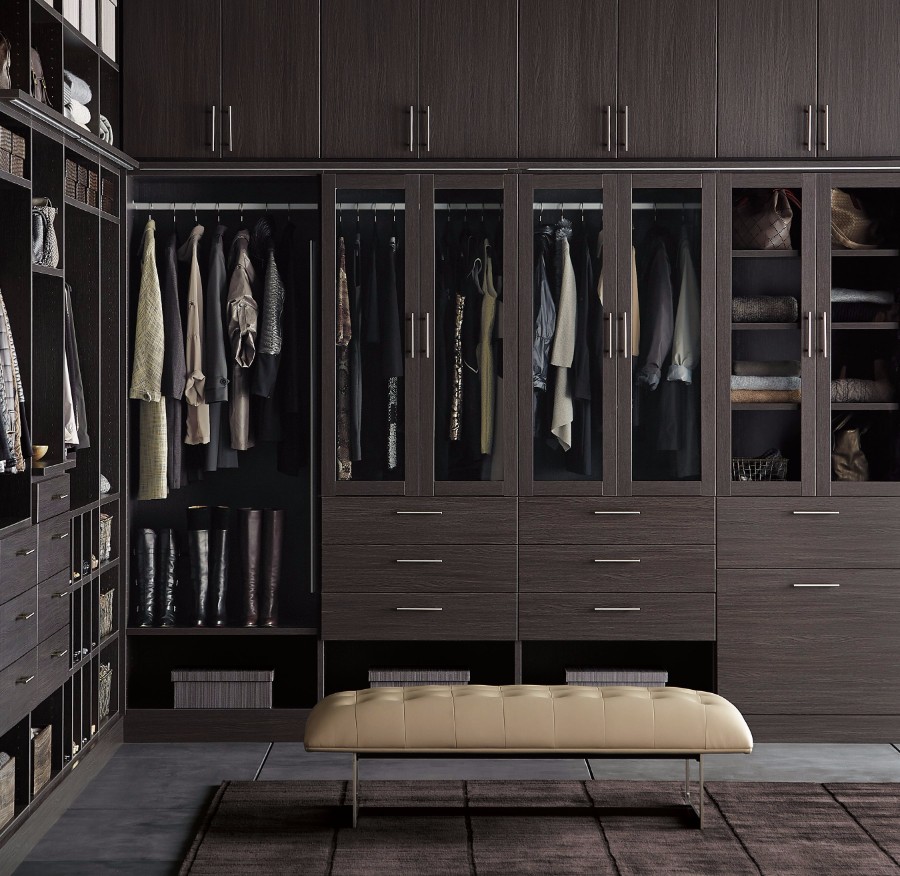 source: houzz.com
A wooden themed walk-in closet is next. Wooden themed infrastructure can never go out of fashion. You can literally go for a photoshoot in your closet only. Just go for a classic wooden themed walk-in closet with a massive compartment for your clothes and other accessories. Just pair the whole theme with a massive central black colored sofa where you can try out shoes and do make up as well.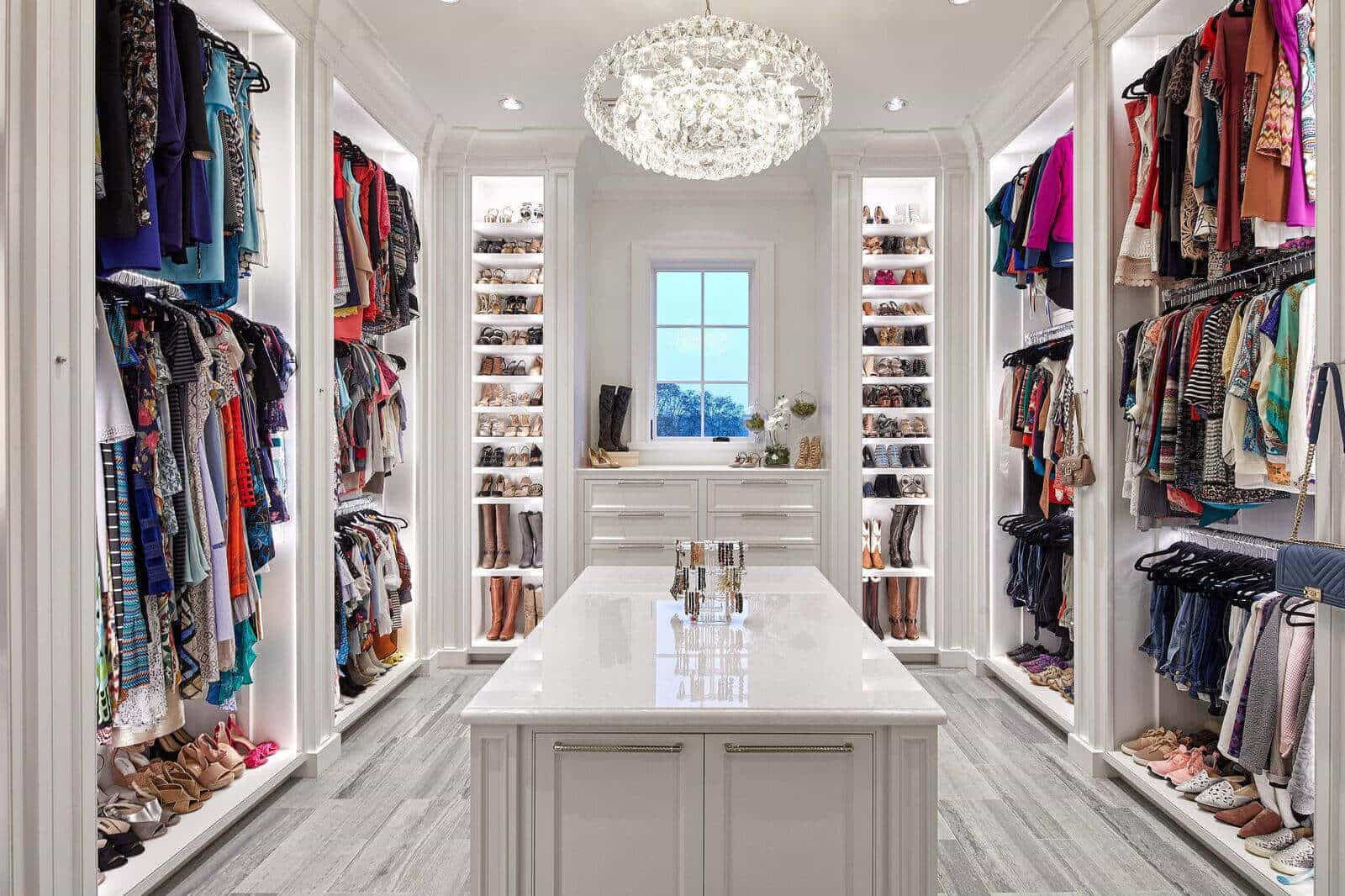 source: cloudfront.net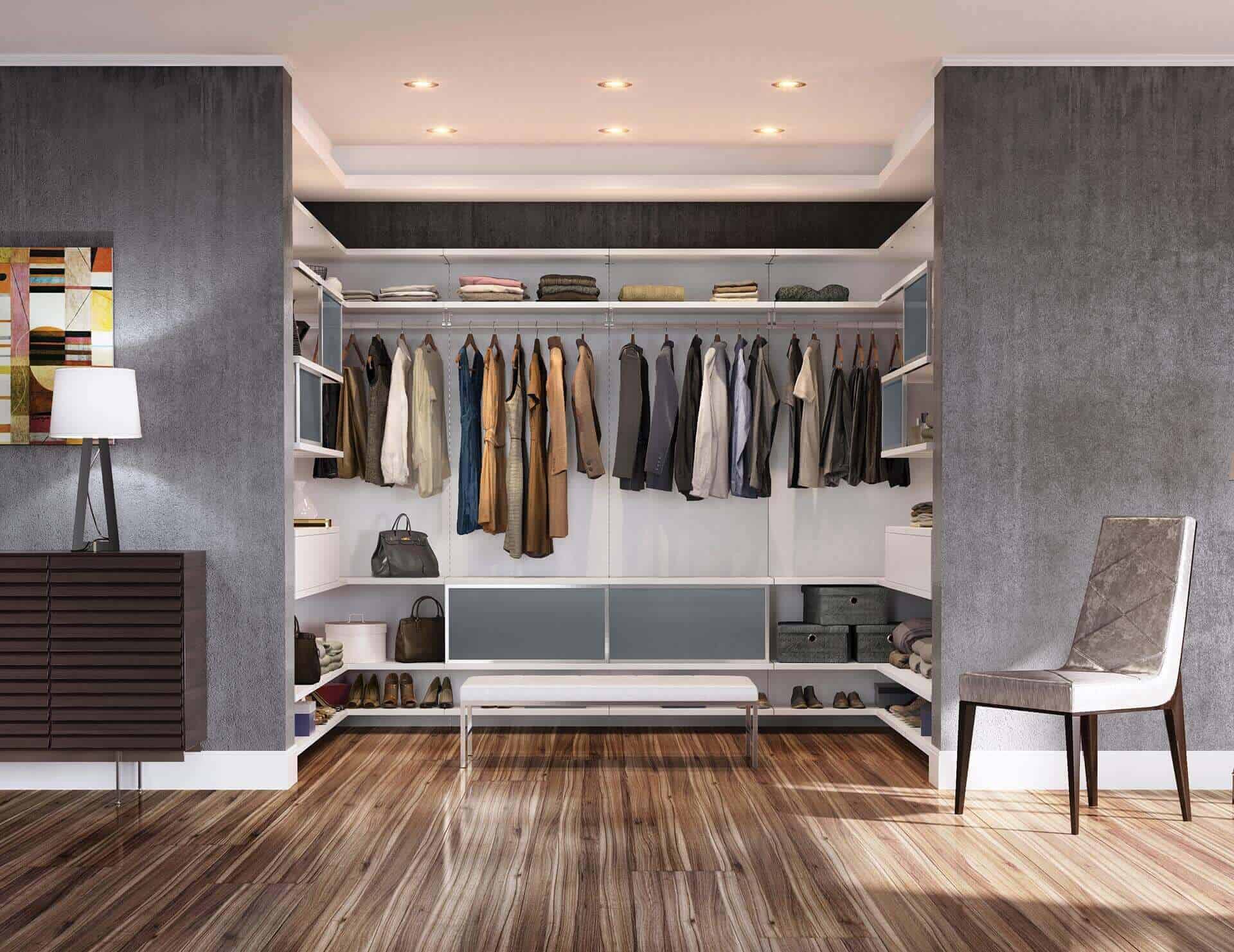 source: pinterest.com
The next idea of a walk-in closet is a beautiful mix-matched colored theme. And the beauty of this theme is that you can complete any pattern and color as you like. The closet doesn't have any internal doors so you have a different compartment. You just need to rush into your closet and choose what you want to wear and pair it with some matching shoes and bags as well.  
source: hgtv.com