Although it is not always the case for most homeowners, some homeowners simply find their living space way too big. Why buy the property then if you believe it is too big you ask? Well, some homeowners set their eye on a property and know straight away it is the one, however, after moving in, they sometimes struggle with their plan to fill this large space they once thought they would have no problem filling.
Although there is nothing wrong with a basic minimal space, sometimes a bare room can make a home feel empty and unoccupied, and this probably isn't the effect you want your living room to portray. Continue reading to hear our large living room ideas. 
Sofa/chair positioning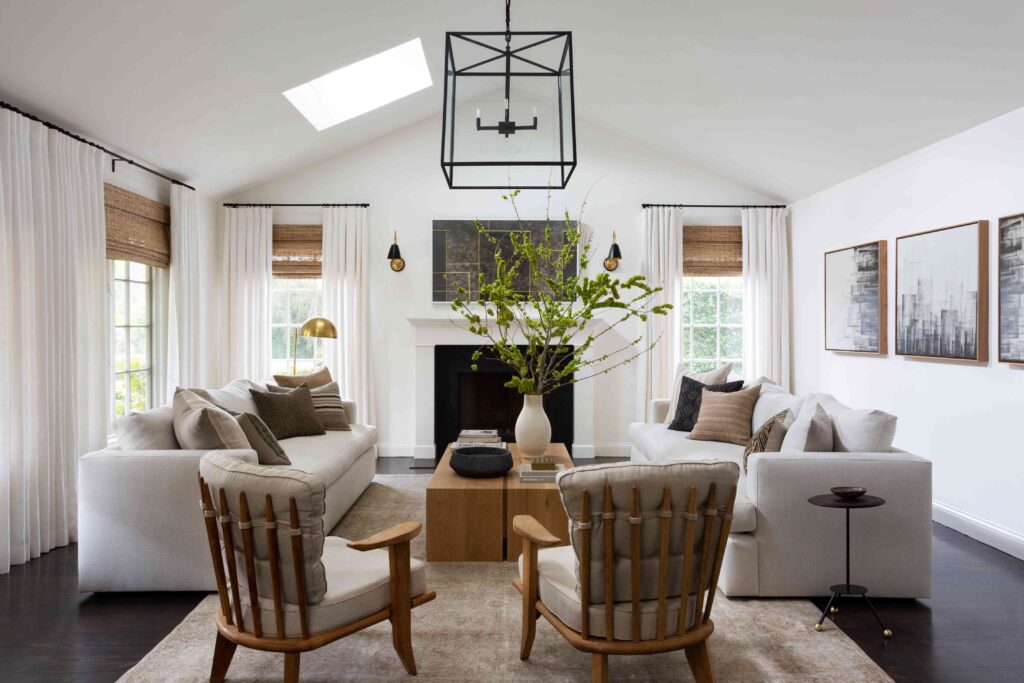 source: mydomaine.com
Within a large living space, we would recommend avoiding positioning your sofa against walls. You are trying to use up and make use of your large space so why would you attempt to create more space within the middle of the room by pressing your sofa against your walls. Try to place your sofa or sofas in the middle of the room and place a large coffee table in the middle.
A large coffee table can use up a lot of room space and can also perfectly use up the space in between the sofas so that it is not sitting unfilled. This design will also work brilliantly if you have a corner sofa too. Why not add in a few chairs alongside your sofa, this will work well and utilise your space. 
Fill walls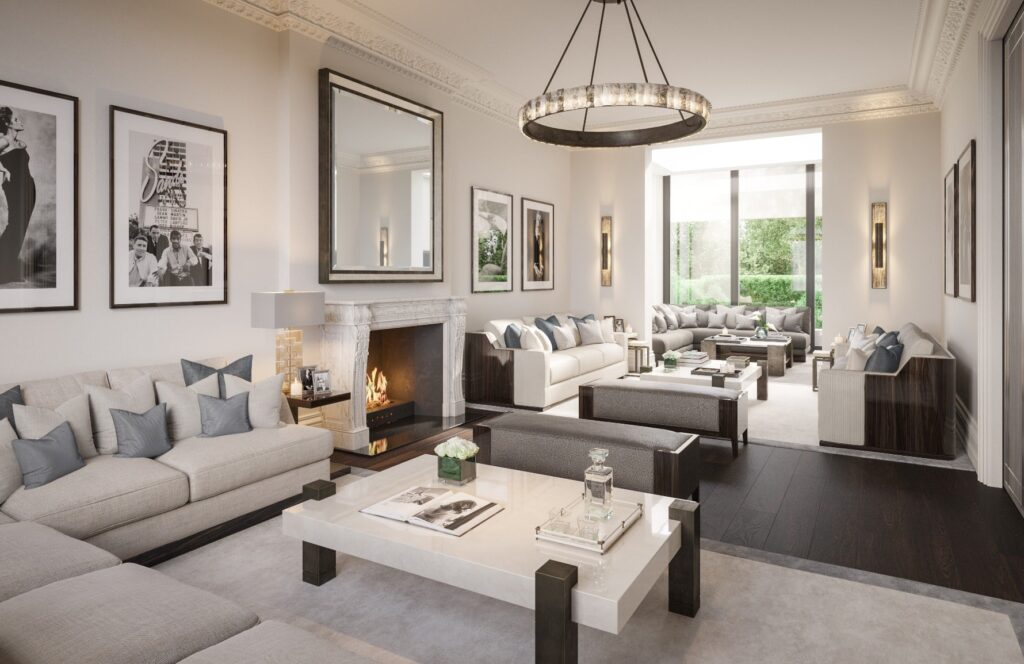 source: shopify.com
Tv aerial installation services, click here. Another large living room idea is to try and avoid dotting several small picture frames around your wall space and try to create feature walls by placing a large canvas or clock on long, spacious walls. Try to choose wall art that fits in with the style and colour of your space and don't hesitate to cluster a few large canvases together as this can create an arty and abstract look to the room.
Open your space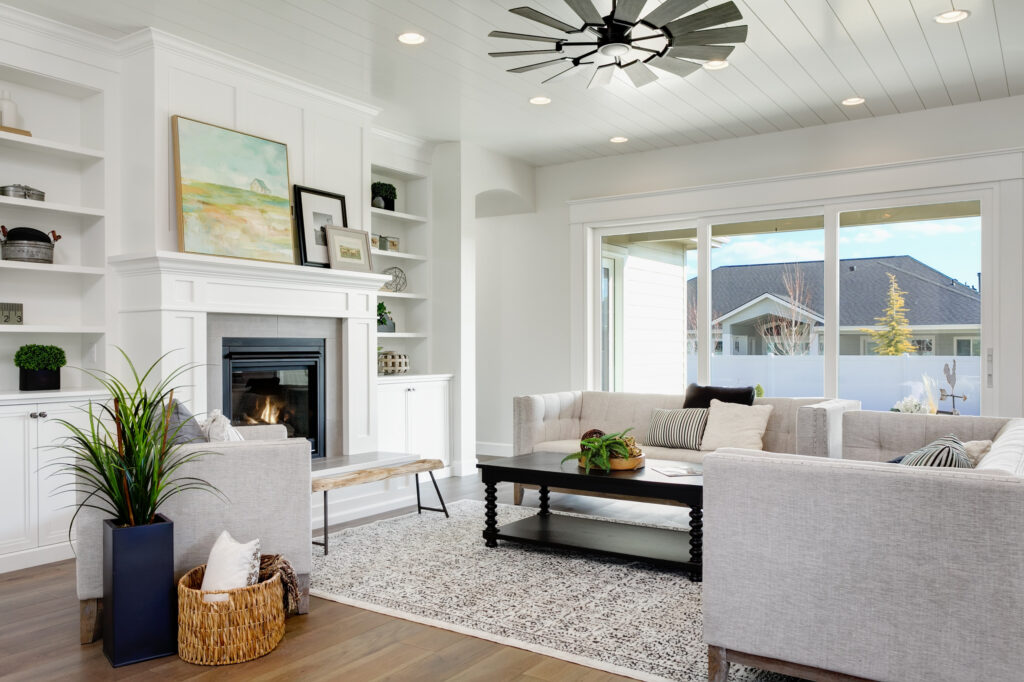 source: houzz.com
Why not make your room larger by enhancing and opening up your space. This can be done through mirroring or natural light. We all know the effects of a mirror in a room. It makes the room look more open through the reflections, and can create the illusion of a fuller room through the mirroring effects of the furniture against each other. Or, why not make your room more aesthetically pleasing by incorporating the natural outdoors into your living space. This can be done by incorporating patio doors into your wall.
Although this may be a pricier option, and will only work if your living room has a wall facing the outdoors that can be renovated, this method can be extremely effective in filling space. Consider this, if your large living room has 4 white walls, that you are struggling to fill, integrate large patio doors into them that will bring the outdoor space and light into your large space.   
Incorporate greenery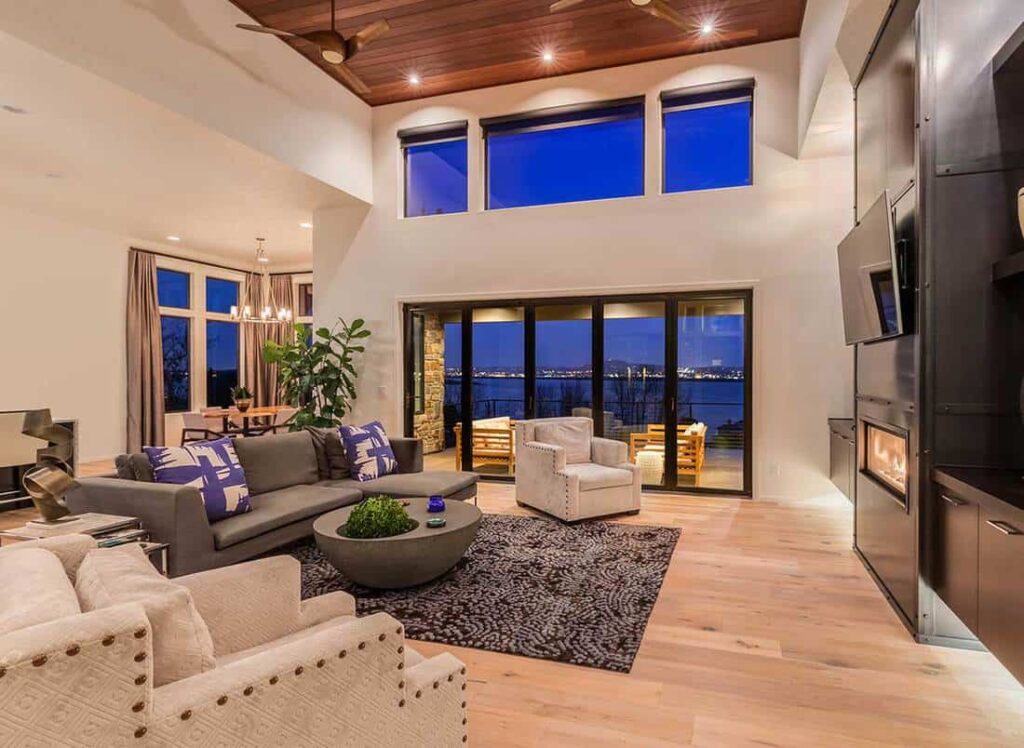 source: homedecorbliss.com
Add dimension to your room by filling it with greenery. Not only will this add colour and look aesthetically pleasing, however, plants also offer health and wellbeing benefits. The colour green has been proven to improve air quality while also increasing your mood to stimulate a positive mindset, so why would you not want to incorporate this into your home? If you have a large room space, your living room may also possess a high ceiling.
We would advise including tall plants as smaller ones may look out of proportion within such a great space. Try filling a corner of the room with a large palm tree or bird of paradise plant that can grow up to 7 feet. Place these in a large pot that correlates with the rest of the room's colour scheme and style. If you prefer less maintenance, opt for artificial plants, these will have the same effect aesthetically. 
Add texture to the flooring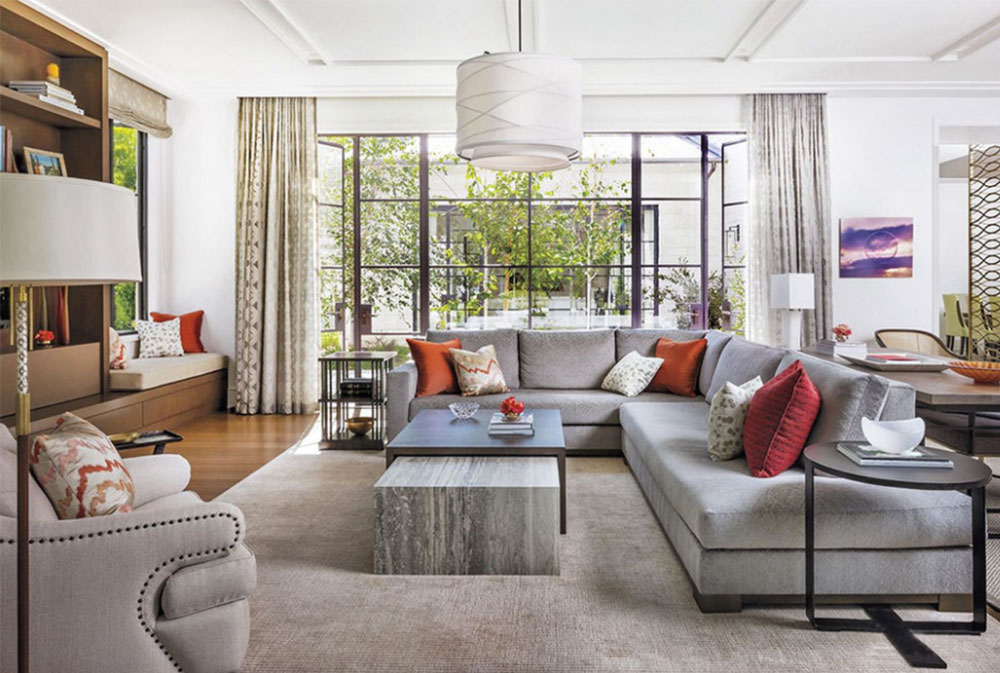 source: impressiveinteriordesign.com
Another way to make effective use of your large space is to add texture to the flooring through carpets and rugs. This works specifically well in a large space with wooden or tiled floors and adds character to the room. A rug will work specifically well underneath your sofa, chairs, and laptop table that will most likely be situated in the middle of the room if you have taken our above recommendations on board. It should most likely make the area look less bare and spacious as the rug should add some extra colour and balance to the living room so that it does not all appear to be a clear and flat space.  
Now that we have pitched our large living room ideas to you, hopefully, you can sufficiently manage to fill your space without causing unnecessary cluttering to the room. If you can take one thing from this article, make sure it is the tip of fitting everything to proportion size. Due to the sizable living space, make sure that you aren't incorporating furniture and items that are too small to dominate and accentuate the space.