Layering window treatments is a simple way to add tons of depth and extra personality to your home. If you're aiming to beautify your space and add another level of dimension, layering window treatments is a clever way to do that.
Check out these tips to learn about the best ways to layer different types of window treatments.
Start With a Clear Plan
Layered window treatments should look polished and cohesive. To get the right balance, start by outlining your layers so you have a clear plan on how to approach this project.
Base Layer 
source: wayfair.com
Choose your base layer first. Inside-mounted blinds or shades are common choices because they offer excellent privacy and light control. This layer is considered the most functional one – pick an option that checks off all your needs. As a rich base layer that adds elegance and functionality to your room, consider wood blinds.

Second Layer
This layer is all about adding extra dimension and style to your windows. Curtains and drapes make ideal choices for the second layer since they're available in a huge array of colours and styles. In terms of fabric type and weight, curtains are usually made with lighter fabrics compared to drapes. Meanwhile, drapes are typically made with heavier fabrics like velvet or silk.
Third Layer
Sticking with two layers is perfectly fine. However, you can finish the whole look with a final layer such as a valance. Valances are usually hung above windows to conceal curtain rods or to just add a final touch. They're also wonderful at making a room feel more inviting and cozy.
Blinds and Curtains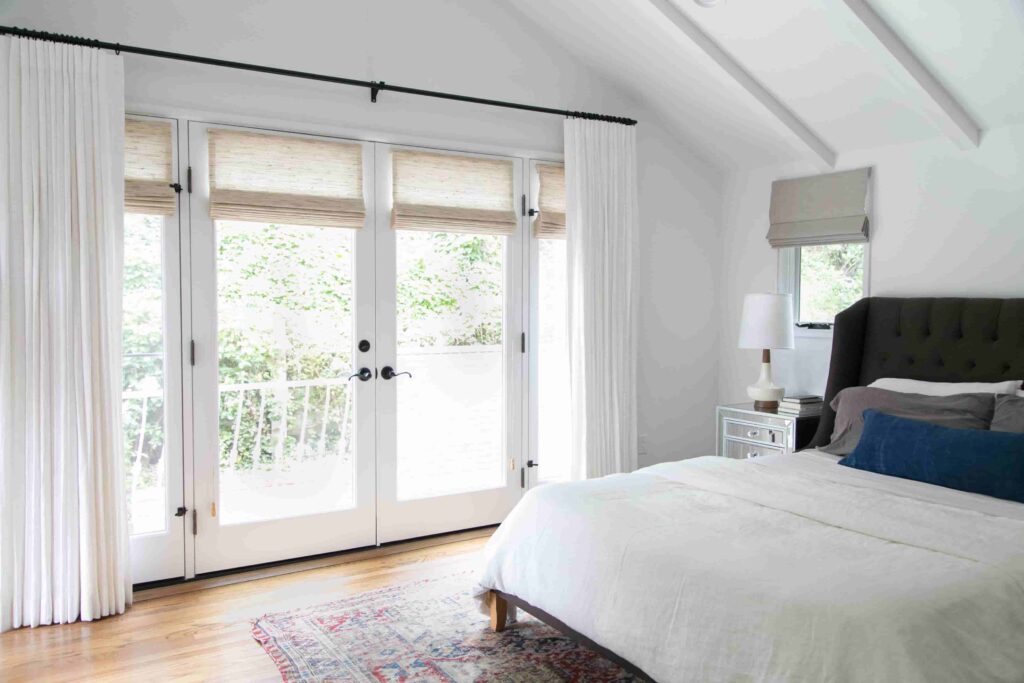 source: webflow.com
Now that you know about the different layers and the window treatment ideas that could work for each of them, let's move onto a commonly asked question: how do you layer curtains and blinds?
When you're layering different window treatments, it's best to choose a neutral color for your blinds. Neutral colors
are highly versatile since they pair nicely with other colors and patterns. If you decide to pick curtains with a bold pattern, neutral blinds work well to balance any dominating patterns and colors.
You'll also have to pick a curtain rod. A curtain rod needs to be installed first before you hang your curtain panels. To give an illusion of more height in the room, install the rod as close as possible to the ceiling.
The next step is picking your curtain panels. Since they're available in many fabrics and patterns, there's truly no shortage of options for curtains. As well as the design, think about the curtain length you'd like. Do you want your curtains to hang just above the floor, or should they be extra-long to create a dramatic pooling effect? With all of these elements working together, they help add more ambiance to the room.
Shapes and Drapes
source: austintatiousblinds.com
This combination is another popular pairing when layering window treatments. The soft and delicate appearance of shades balances well with heavier and elegant drapes. Below are a few popular shade options that work well with drapery.
Solar or blackout shades are one of the most versatile window treatments available as they accommodate many needs. Want a great view of the outdoors while reducing the amount of glare from the sun? Consider solar shades. For privacy, there are blackout shades available that completely block light.
Like solar shades, cellular shades are also available in light-filtering and blackout fabrics. Homeowners love these shades because they can help lower energy costs. The construction of cellular shades helps to trap cold air in the wintertime and warm air in the summer.
Shades and drapery are a beautiful and energy-efficient layering combination. In the summer, close the drapes to act as an extra layer to keep the heat out. In the winter, drapes help block any cold drafts from coming through. Thick-lined drapes block sunlight and provide privacy, which works well for spaces like bedrooms.
A Simple Way to Make a Statement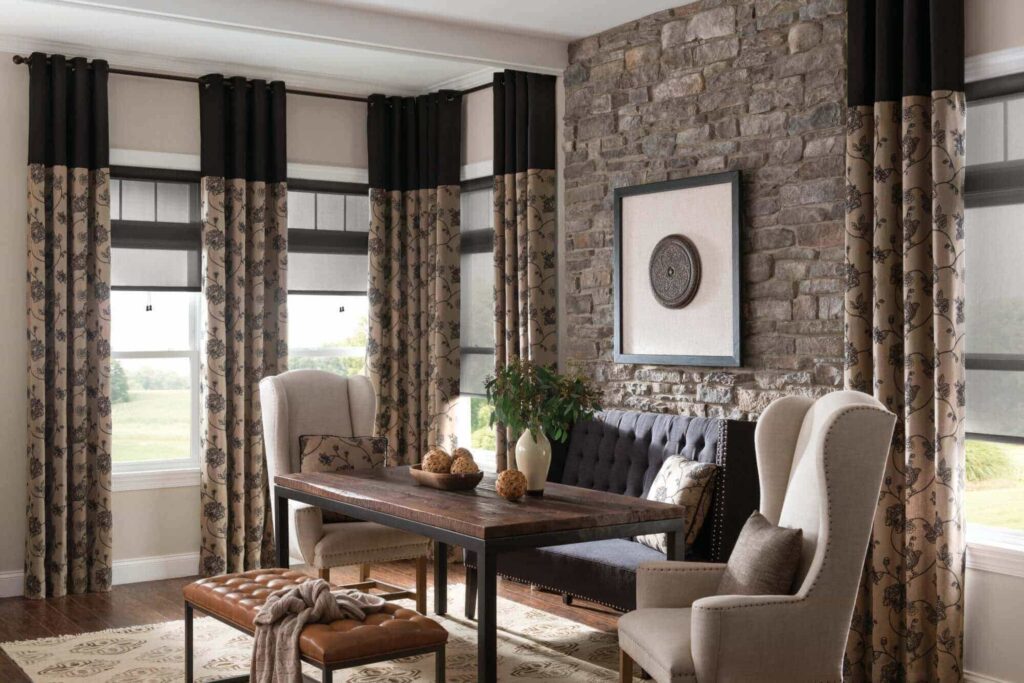 source: gotchacovered.com
When you mix and match window treatments, it instantly adds more elegance and a polished look to your home. This simple design tip brings more depth and personality to any room. 
Ready to get started on layering? Explore all your different window treatment options today.