Home colors across the country vary in popularity from year to year and region to region.  While farmhouse red may be popular in the Northeast, it is a color that you won't see widely used in the Pacific region.  If you are trying to sell your San Francisco home you should choose a color that will reflect the style of your home, the neighborhood around you, and a popular exterior color that will attract multiple buyers.  Not only will painting your home's exterior give it a fresh appearance it will also increase your home's value by approximately $10,000. Here are several popular exterior paint colors to instantly freshen up your home and increase its value.
Pastels
source: mansionglobal.com
The Victoria homes of San Francisco's historic district are defined by their pastel paint colors.  But using pastels doesn't need to be limited to the historic district.  Pastel colors can bring out the cheery side of your home and create an attractive focal point for buyers to view.  Common pastels are light yellows, baby blue and soft pink.  Pastel homes are commonly trimmed in white or a soft cream.  Pastel homes look spectacular next to a beautiful manicured green lawn and canopy of trees.  While pastels add a cheerful nature to your home, too much pastel can make your home look comical and over the top.  If you are interested in adding pastel to your San Francisco home but are concerned about going for a full pastel home, you can paint your front door instead.  Pastel doors such as soft yellow or soft pink are perfect additions of color to a gray or stark white house.  
Muted Greens and Grays
source: brightspotcdn.com
Completely opposite from the cheerful pastels are muted greens and grays.  These tones blend in with their surrounding environment and create a serene atmosphere.  Just like deep forest colors evoke a sense of nature, muted greens such as sage and dried thyme mirror natural elements.  These tones pair with natural hardscaping such as natural stone, concrete, and wood.  You can add these elements with a natural stone walkway, stone veneer, and light wood trim.  They are perfect for homes surrounded by trees, shrubs, and bushes.  They are balanced by the addition of soft whites, beiges, and light grays around windows and doors.  
Soft White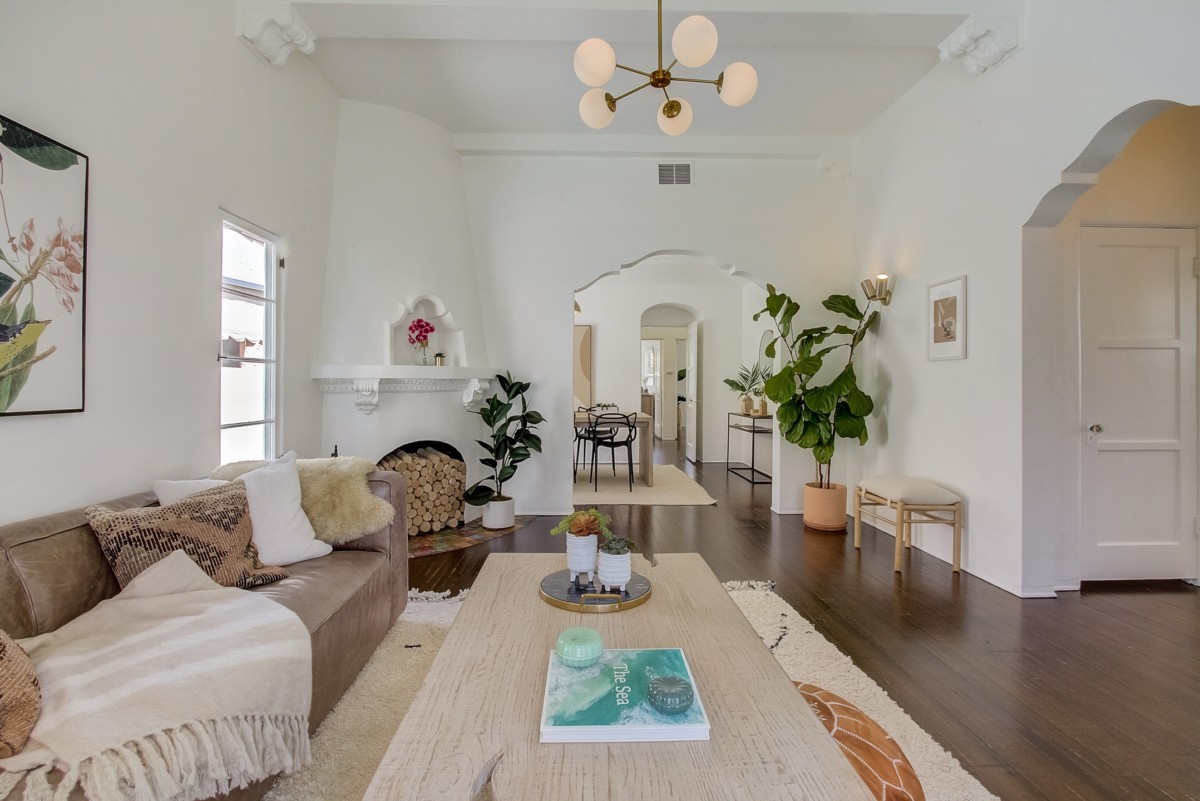 source: pinterest.com
In previous years, bright whites were the go-to exterior colors for homeowners.  Contrasted against green grass and a blue skyline, bright white makes a home stand out.  However, recently homeowners have become more in tune with their natural surroundings and prefer their home to blend and harmonize with the area around them.  San Francisco homeowners have taken to a softer and more understated white.  These are lighter and creamier versions of white.  While the whites may be softer, they are often accented with contrasting colors such as black, yellow, or teal.  For a more understated contrast, you can paint your trim a soft gray or simply use light wood for a natural feel.  
Vibrant Greens and Blues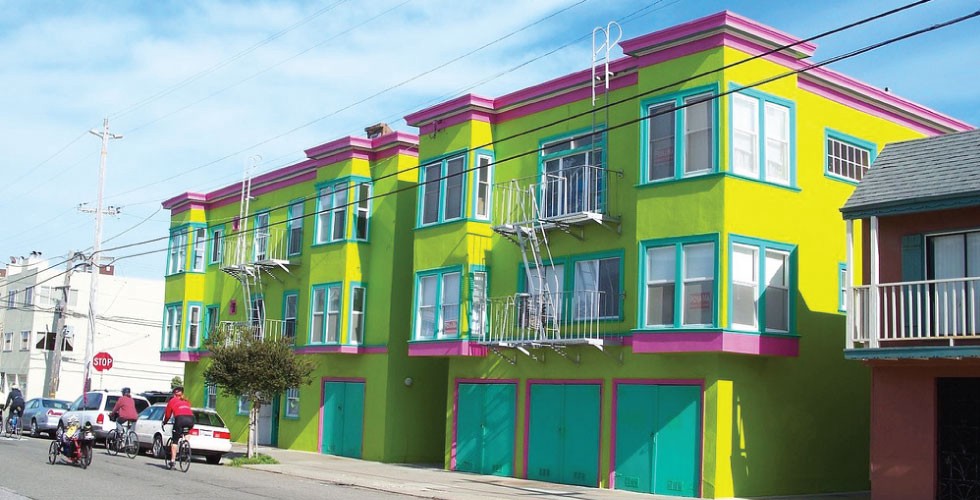 source: pinterest.com
Green continues to be one of the most sought after home colors this year.  Every shade from olive green to bright spring green is popular among homeowners.  This trend is most likely a following of the closeness to nature that homeowners are searching for.  In addition, San Francisco homeowners are also switching to vibrant blues on their home's exterior.  Blue is a naturally calming color that reminds homeowners of the not too far away Pacific Ocean.  If you opt for a blue house color, stay away from those that have too much of a gray undertone as they appear cold rather than cheerful.  Blues that are warm will have a yellow undertone.  Green or blue paints can be trimmed with white or gray for a classic but natural vibe.  
Deep Charcoal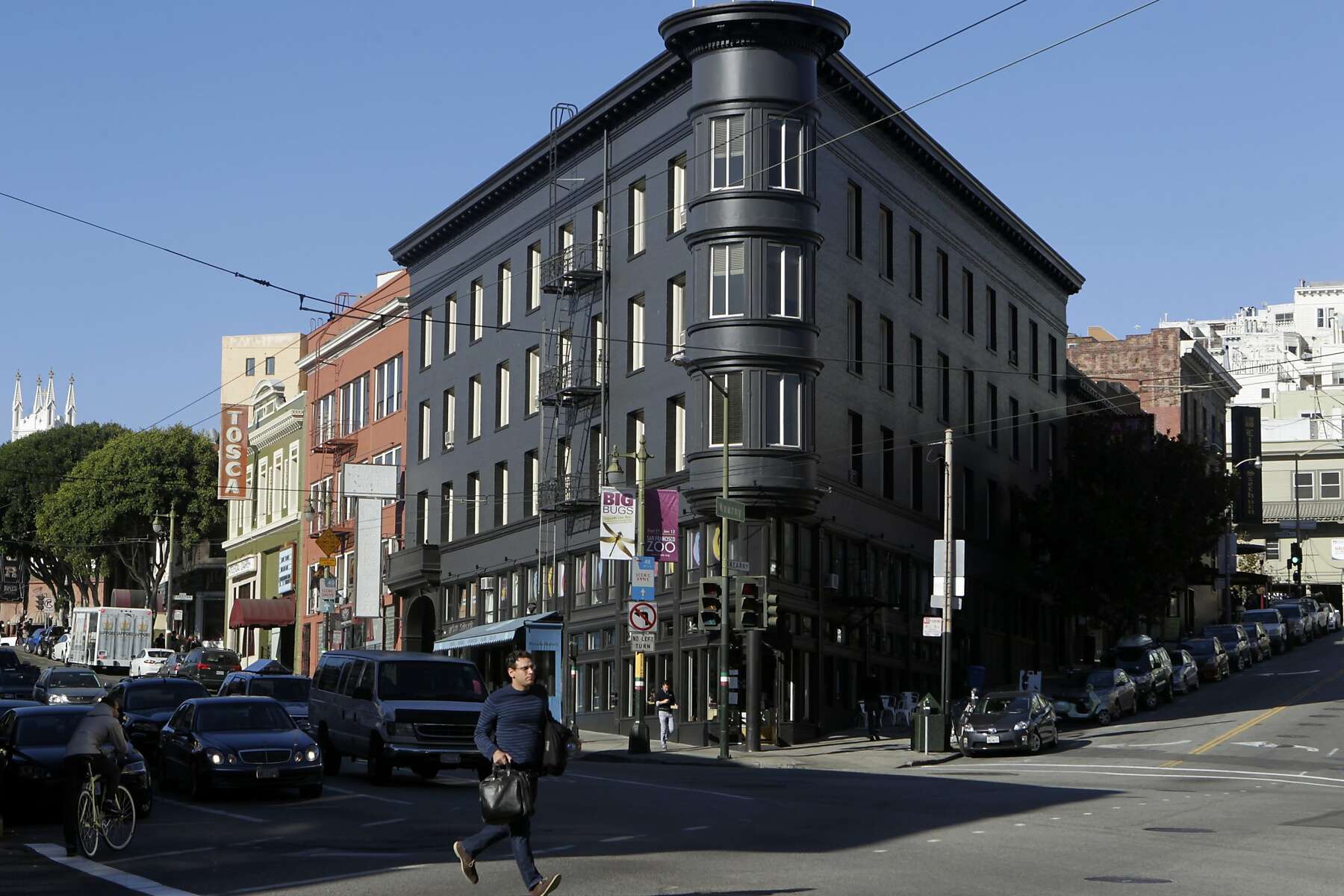 source: pinterest.com
Yes, San Francisco residents appreciate bright colors but they also know when to use deep charcoal grays.  Deep charcoal is particularly beautiful when used on a modern home.  To add contrast, paint your front door pastel or soft shade of white.  Keep the exterior of the home manicured with bright blooming flowers and natural stone walkways for even more contrast.  
Painting the exterior of your home is the perfect home improvement to update and add beauty.  When choosing a color, first consider the style of your home and what color would pair well with your surroundings.  If you are unsure of what color to choose, speak to a local real estate agent who can assist you with the most popular paint colors in your area.