Separating our personal and professional lives helps to create happier and healthier lives, both in and out of working hours. When working from home this can be difficult, however by making your working space your own, it'll be easier to keep them apart. In recent years, many people have been working from home, with businesses giving employees the opportunity to do so, along with many fully remote companies. With this, it's a good idea to get creative with your work-from-home space to get the best results. Ways to make your working space your own include having a dedicated workspace, a comfy chair, decorative, plants and lighting, click here. 
Making your space your own  
A dedicated place to work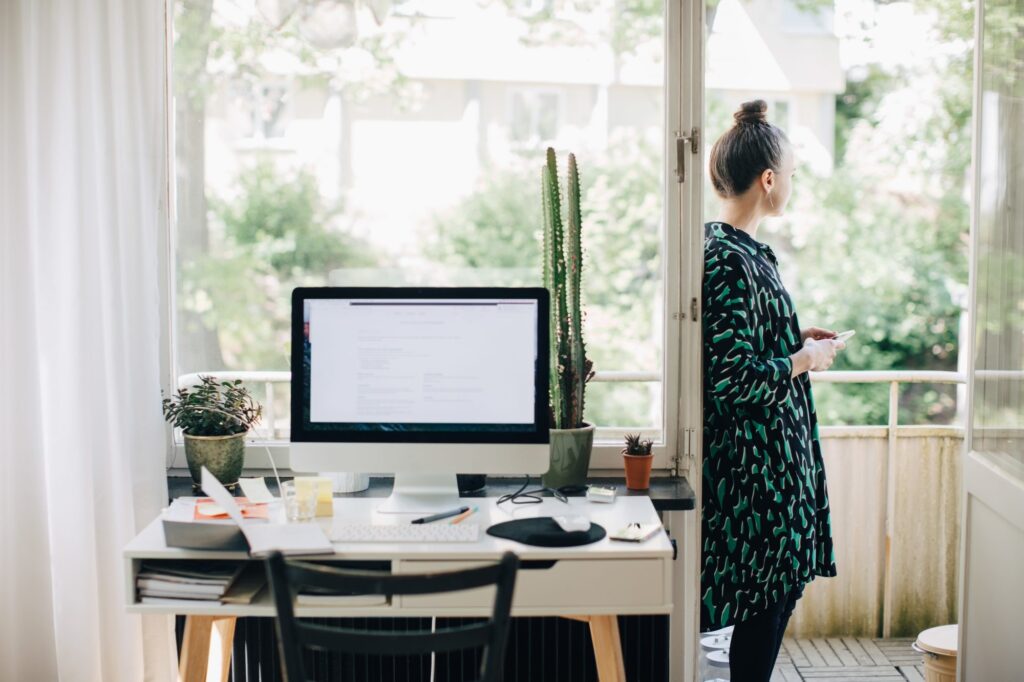 source: pinterest.com
Whether it's a dedicated office space, conservatory or shed in the garden, having somewhere to call your own during working hours can make all the difference. Whilst most people may not have a large spare space, somewhere quiet and away from everyday life can do the job. When you have a dedicated space to work each day, it makes it easier to stay focused on a set task as your mind is in work mode. When your working environment is not away from other day-to-day activities then it's much easier to get distracted and become less productive. Consistency is key when it comes to a work-from-home routine.
Having your own dedicated space also helps to create a positive work-life balance. Once you have finished for the day, you will be able to disconnect from any stresses and tasks that you were working on. When would leave the office for the day you can leave work at the door, and the same should apply when working at home. When working from a bedroom or living room, there is no mental disconnect for when you want to relax or go to sleep. This can often lead to overworking and burnout, as when you do finally shut that laptop your mind may still be in work mode. 
Comfortable chair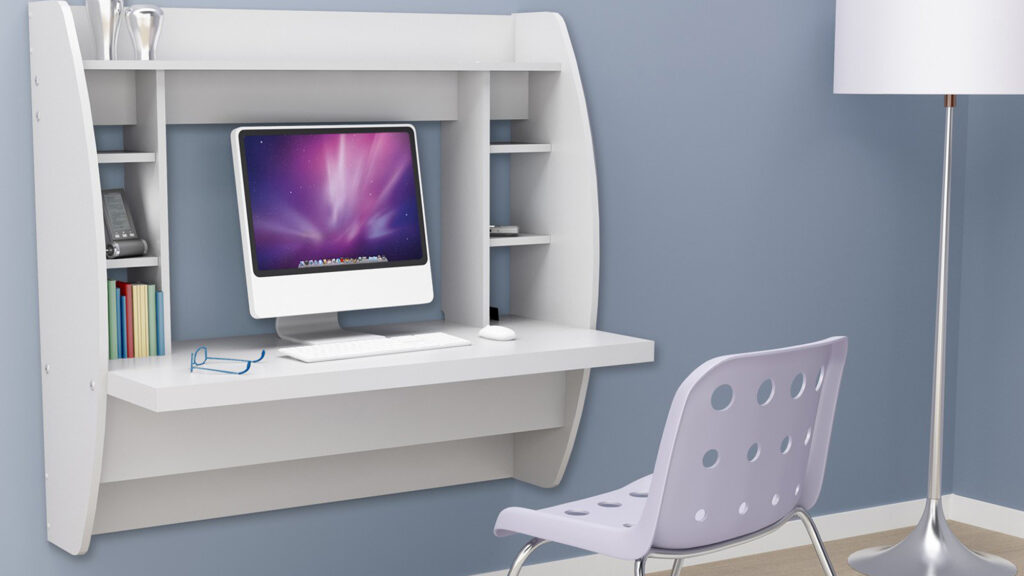 source: pinterest.com
For the majority of people's work day, they will be sitting down, so therefore having a comfortable chair is a must. The style and design will be up to each individual to make your working space your own. There are so many benefits to investing in a good office chair; it will encourage better posture, create a productive working environment, improve comfortability and create a professional image. 
Lovely lighting 
The lighting in your office space makes a huge impact on your working day. If it is too dark, then you may get eye strain. If your eyes are feeling overly tired but you are sleeping well, then it may be a sign to update your lighting. 
Natural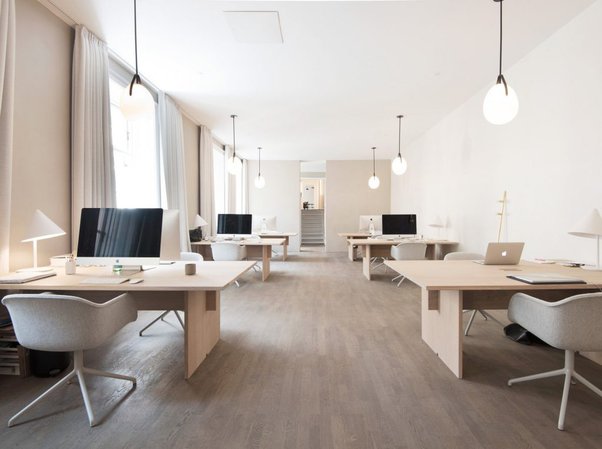 source: pinterest.com
Choosing to set up your workspace by a window will increase the amount of natural light that you get throughout the day. Natural lighting has many benefits including improved mood, reduced eye strain, less drowsiness, increased productivity, fewer headaches and fewer mistakes. 
Artificial 
If you do not have the space to set up a desk by a window or if the room gets darker throughout the day then creating light through artificial sources will do the job. Replicating natural light with artificial sources such as task lights or light dimmers that can mimic the current lighting is great to have. If not, simply placing a lamp beside you will help to brighten the space. 
Don't forget to decorate
Adding a bit of personality to your work from a home office can make working just that little bit easier. Most people will spend a lot of time in their makeshift office, so it's important to make sure it has an uplifting and relaxed atmosphere. You don't need to spend money on a whole new selection of room decorations, instead, why not find a few of your favorite pieces from around your home and move them into your new space, whether it be a colorful piece of art or a plant. For a calming atmosphere why not add an aromatic diffuser with scents such as lemon, sage, or sandalwood? To spark creativity, why not add pops of bright colors, wall art, and inspiring quotes? 
Perfect plants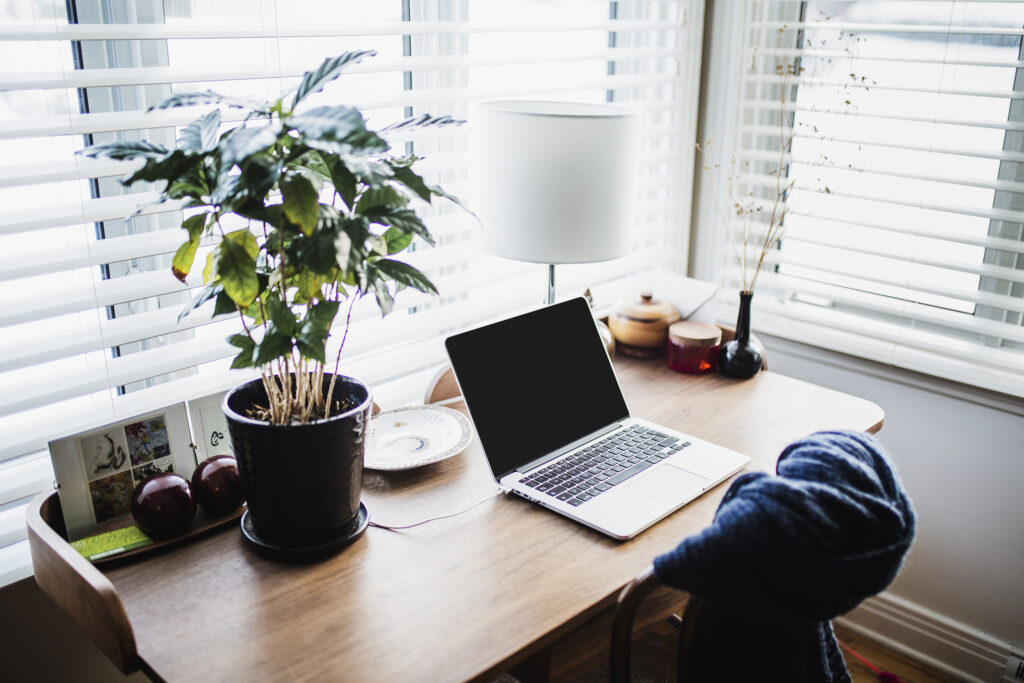 source: pinterest.com
Beautiful plants are a great way to add a touch of personality and brighten up your working space to make it your own. There are so many benefits of having plants in your home office, they can help reduce stress, increase productivity, clean the air and boost creativity. If you're wanting to add plants to your space, then why not add;
Peace Lily 

Pothos

Ficus Benjamina

Bromeliads
If there is no clear separation between work and home life, then it can cause people to feel overworked and stressed. Having a dedicated workspace helps to separate the two, boosts productivity and health and promotes a good work-life balance.