Home Decor is incomplete without paints. Each wall of the house has something unique to showcase. We can paint the walls differently for giving them a vibrant look. When you have a small space and you wish to have taller rooms but have no option to buy a new house, the next best thing you can do is to paint vertical stripes on the walls.
Vertical Striped Wall Designs give an illusionary effect of height. Vertical Stripes make the room look bigger. It can give a strong appeal when they are thin. This idea will make your decor appear higher than before due to its upright design. Stripes are like neutrals in the pattern world. Whether you like to paint lines or opt for wallpapers, it will always give a classy look.
Stripes are a very unique concept for applying to your walls. There are many ways to try using vertical stripes. You can experiment with colors, textures, and designs with vertical stripes. You may choose one Vertical Striped Wall for your bedroom and the other three walls painted simple. Use painter's tape to mark off the borders, then fill in the lines with your favorite color of paint.
Experiment with Patterns and Sizes
Have One Bold Stripe in the Center
source: pinterest.com
You can have one oversized vertical stripe wrapped around the center of your wall. This will give a statement look. A contrasting color stripe will be a decent choice. This pattern will create symmetry if you paint on each of the walls in your room. Pick the color shades dark with light for example One big size dark green stripe in the center with light green background on the wall.
Use Stencils of Various Patterns in Stripes
Varieties of stencils are available in the markets. It is a unique way to customize the theme of your room. Modern homes have different types and sizes of artwork on the walls which includes stencils as well. Stripes may give a background to unique patterns of stencils.
Versatile Patterns in Sizes
Random patterns like different sizes and thick or thin stripes give a modern look to your room. Textures of stripes with different types of paints like glossy or matte finish paints enhance your interior decor. If you want to make a mark by your artistic appeal to your home, try this idea.
Mix and Match Colors
Classy Black and White Stripes
source: thespruce.com
When you consider every time classic combination, black and white is the pair that always give a wow look. It feels cozy to have it in a small bedroom. Match the interior of the room and accessories like curtains and pillow covers to blend this theme perfectly.
Multicolor Stripes for Kids
For Kid's room, you can use multi-color stripes for funky vibes. Kids love to play with colors. Select the stripes with rainbow effects. This is the right way to design kids' rooms playfully. Colourwheel will help you to decide which colors will be best suited to the theme of your kid's room.
Pastels Color Stripes for Soft Touch
Pastel colors are a growing trend, especially in the world of fashion and interior design. It gives you brighter look. A variety of pastel shades includes subtle ash, salmon peach, mint green, and solid blue. Use a pastel color palette in which the colors are complementing each other.
Shabby and Chic look With Beautiful Color Combinations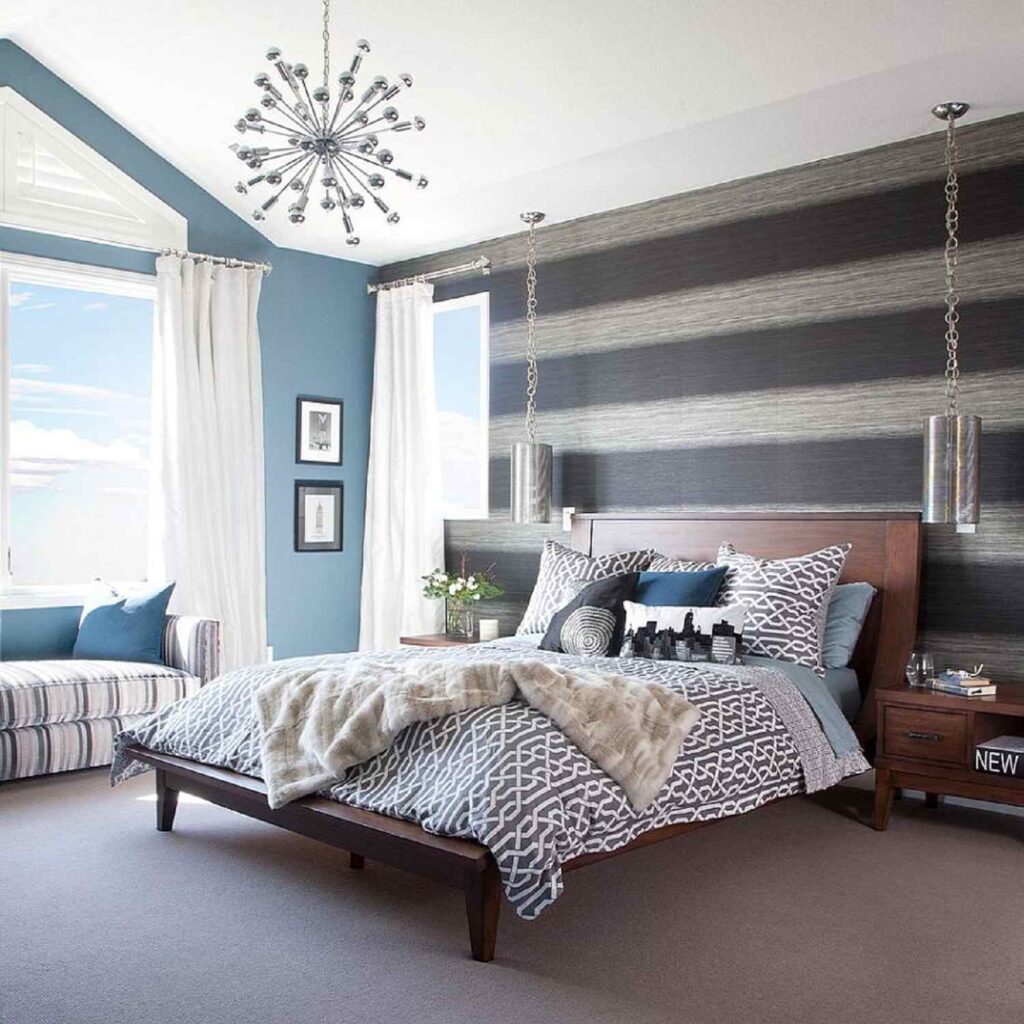 source: thespruce.com
Lilac and cream stripes are a good combination. Your Beige color is in demand for most people because it goes well with other neutral colors. Use three colors in any single space decorating with stripes- one main color, two accents, and white. Make sure the colors you choose complement each other.
Have Different Textures in Stripes
Wooden Texture
Layer stained wooden boards over a deep shade of paint. This method will give a contrasting  look. Wooden is a hard structure and this style mostly suits for Boy's Room. Alternative wooden and fabric panels with full-length mirrors. This style will be the center of attraction for the room.
Metallic Finish
source: decoist.com
Matte finish has its own class of appreciation. Someone who wants metallic touch can have vertical stripes in two different colors in one metal. Another option is to choose complementary metals in color to give shades to the stripes.
Try Wallpapers For Even Texture
Wallpaper is easy to apply. Choose the wallpaper with patterns that creates the illusion of longer or taller walls. You can have one single wallpaper having two different color stripes or two different size stripes. It is a good decor idea for rentals.
Conclusion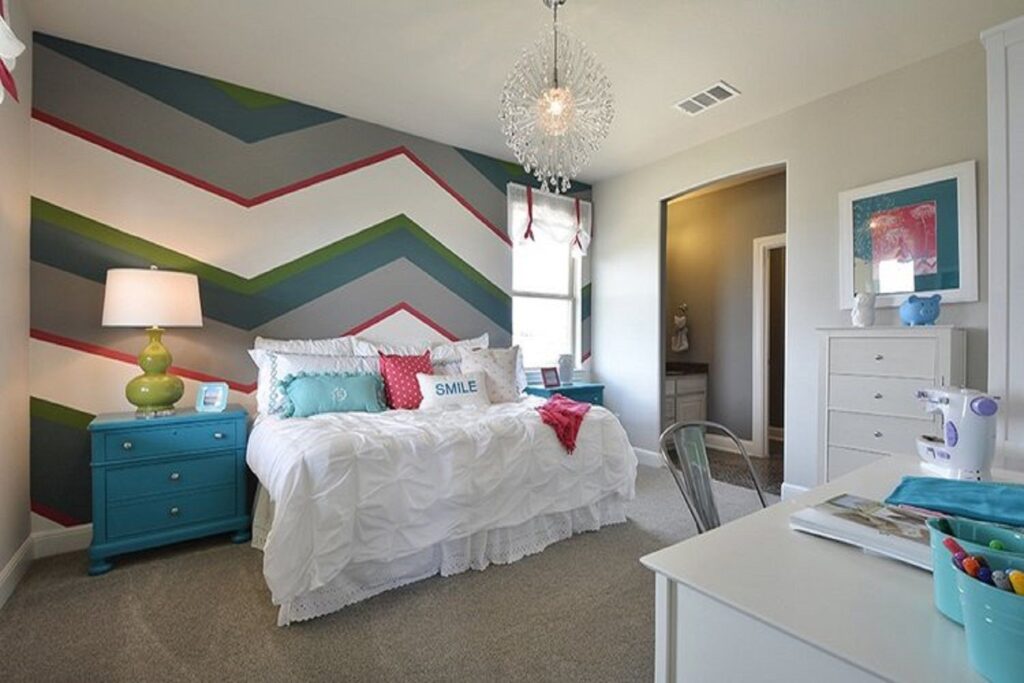 source: thespruce.com
More than just a way to lengthen your walls, stripes are sophisticated and classic patterns that go with any season. Decorate your walls with beautiful Vertical Striped Wall Designs that lead guests through your well-created space and invite light and warmth. Stripes will help you to give a curb appeal to your entire interior design project. So go for it and paint your walls right now!