Attractive Landscaping is not only a beautiful lawn. There are many options and feature to consider while designing your Landscape. Hardscaping means a structure in your landscape design that is made of solid materials like stone, gravel, wood, bricks, and pavers. Some examples are pathways, fountains, patios, and firepits. 
Softscaping deals with organic or living materials like Trees, Plants, Shrubs, Plants, and Flowerbeds. Nowadays, many gardening tools are available in markets like planters, pots, and other decorative materials. Give an aesthetic look to your home garden with awesome landscaping ideas.
Frontyard Landscaping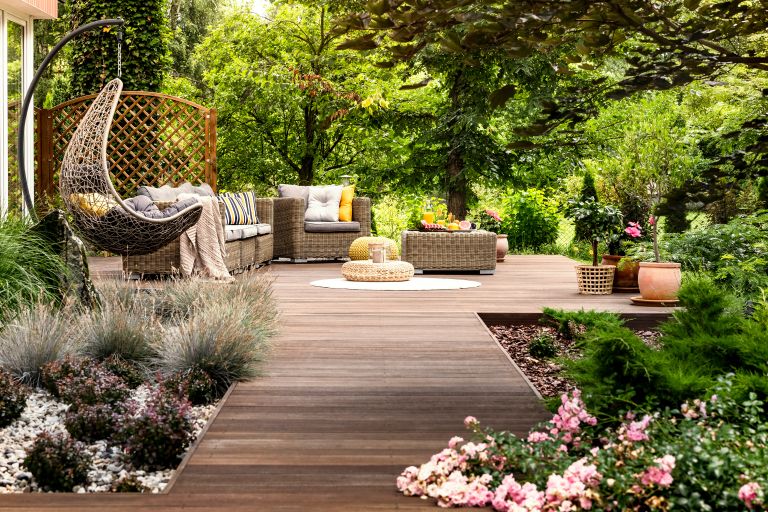 source: pinterest.com
Your front yard landscape has exposure to the outside world. You must design it to show off your creativity and add serious curb appeal to the looks of your house. The front yard is the first impression that people get when they walk to the front door of your home. You can DIY some features and not much money or effort is needed in this. So let's see some amazing ideas for your front yard landscape.
Add Lightening to Flowerbed Edges 
Select the color that suits to the garden area for lighting. Place it around the edges of the flowerbeds. It will cost you hardly 20$. Many lights are solar powered so they are inexpensive and easy to install. Lightning uplift the overall looks of the Frontyard.
Rocks for Rocking Performance
You can make a retaining wall using large rocks. Another idea is to make a pathway in the center of the front yard using Rocks. This will serve as a spillway during the time of the rainy season. Pea gravel borders are another option. Rocks will give a sturdy look to your garden.
Plant the Perrenials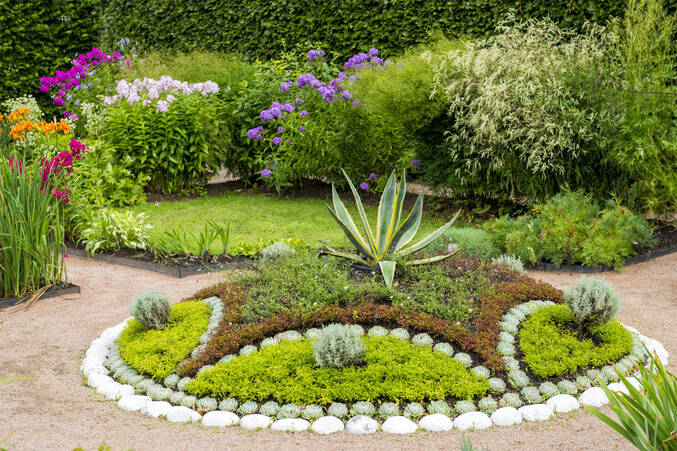 source: cloudimage.homeonline.com
Perrenials grow all-around year. It is a one-time investment. Perrenials grow year after year as they bloom, add color to the front of your house. They are easy to maintain and inexpensive. You must get all the details for the plant that you purchase from the nursery.
Make Topiary for a Trimmed Look
Topiary is an amazing art of trimming the foliage of plants. Artistic shapes add decor to your garden. Evergreen shrubs come in so many varieties that allow you to personalize designs for your Frontyard. A hedge is a simple and common form of topiary that is used as a boundary.
Backyard Designs
A backyard is a private place in the house that is used for leisure activities. We can make a beautiful garden in the backyard considering the purpose and layout of it. You can make a vegetable garden in the backyard for homegrown and organic veggies. Making a plunge pool in the backyard is good for leisure during vacation times. So let's see how we can design our backyard in different ways.
Dedicate a lounging area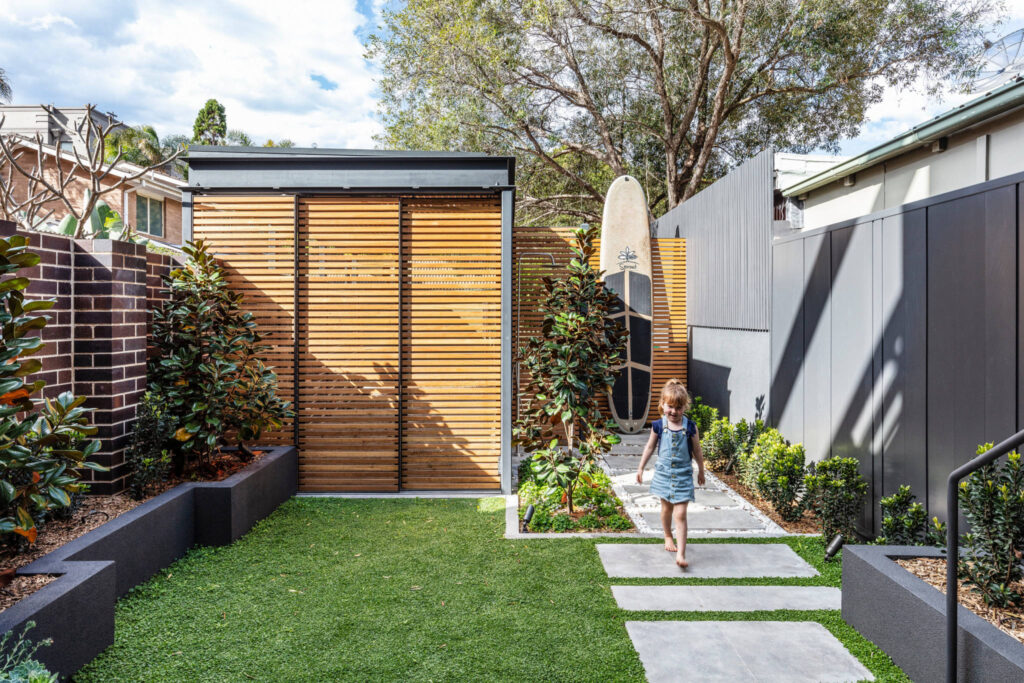 source: houzz.com
You can delineate the dining or lounging area with a stone patio. Separate the play area by planting some trees. Artistic furniture, funky characters, and a plunge pool is a must for a lounging area. If you wish, you can have some space or beds dedicated to planting vegetables. Keep enough space between the lounging area and the play area.
Select the Plants that suit your space
It is advisable to cultivate native or indigenous plants. Weather conditions should be favorable for the plants to grow. Trees and shrubs should be selected based on the area of the backyard. You can choose trees that give shade to get relaxation and calmness while lounging in the backyard.
Use Beautiful Trellis and Fences for Privacy
It is a fancy way to add privacy to your backyard. Trellis creates a beautiful backdrop of outdoor living spaces. Choose a lattice pattern with climbing perennial vines. Provide a deck above your sitting area on the patio using a trellis. It will work as background support for plants.
Interesting Tips for Landscaping 
Follow The Landscape Architect Laws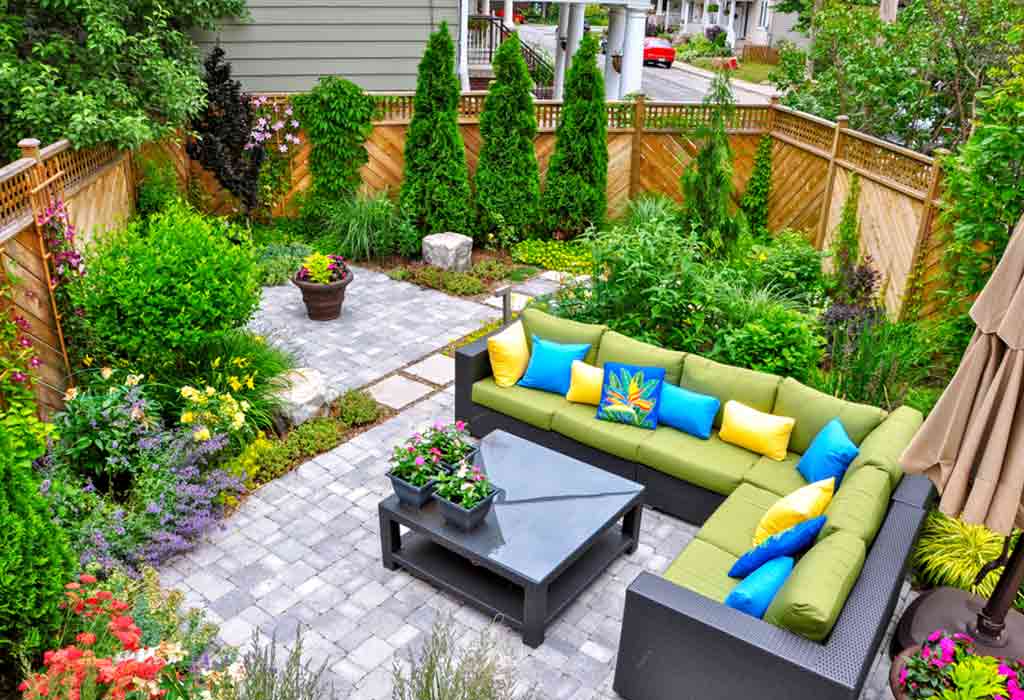 source: parenting.com
Architectures follow some basic rules to get the perfect piece of creation. Gardens are the place where we feel relaxed, secure, and enclosed. A garden must give us the feeling that we are embraced by nature. For Example, you should follow the law of significant enclosure. It says that the vertical edge of space should be one-third the length of the Horizontal space. 
Another law says that there should be an imaginary line in the landscape to connect and organize things. It is necessary for the fundamental geometry of space. The next thing you must take care of is the proportions of the space. Rectangular proportions are widespread. The short side to long side ratio should be 1: 1.6. Thfollowingxt rule is about designing steps/stairs. If the riser is 5 inches, the tread should be 16 inches. Planting big to small means starting with trees, then shrubs, then perennials, and then ground cover.
Curve Your Flowerbed Gracefully
A Landscape derives charm from the sweep of a curve. Your eye is tempted to follow it. You may encourage visitors to roam by arranging a plant bed or even a walkway in a loud, colorful line. A  curving flowerbed enhances the allure of the garden. Plant the flowers that have vibrant colors. The gentle curve creates an even "disposition" to a landscape scene.
Use Bicolor Plants to Intensify Colors.
Your color palette should be a conglomeration of bright and vibrant colors. To avoid confusion about which colors of flowers to choose, you can narrow down the list to two colors. Take help of the color wheel. Plan according to the different types of color combinations.
For example, analogous colors, that are harmonious in looks and side by side on the color wheel- Red and Orange, Orange and Yellow, and Blue and Violet. Complementary Colors are Blue and Orange, Yellow and Violet, or Green and Red. Neutral Colors can be used with any other colors. Neutrals can be White, Grey, Silver, Brown, and Black.
Confused with the varieties of Flowers? – Choose "Tropicals"
source: hgtv.com
Nurseries have seen a recent boost in the popularity of Tropical Flowers. It will give you a "faraway" feel. If you are new to Tropicals, you can have some all-time-favorite Tropical flower plants to grow like Caladiums, Rose of Sharon, Rose Mallows, and Cannas. Before selecting anyone of them, get all the information to grow them properly.
Tropicals need a warm temperature. So choose the tropical flowers according to the weather conditions of your space. They need moist soil continuously. Site your garden near the hose or sprinklers. You can add layers to flower beds. Flamboyant foliage, leaf sizes, and shapes are the hallmark of a tropical garden.
Re-Use Old Tyres and Other Materials For Decor 
You can make a variety of things from old, used tyres and use them in the garden. Paint used tyres in vibrant colors and make a lining with it. Tyre Flowerbed wall is also a good idea. You can make beautiful chairs and other furniture pieces from old tyres and place them in the garden. It will give a classy look to your garden.
Make use of tires to grow vegetable gardens. An amazing and creative way to use tyres is to make funky characters like mickey mouse and design them in the garden. It will attract kids. Vertical Garden is also made from tyres.
Conclusion
Designing your Home Garden gives you a feeling of satisfaction. You can use your creativity according to the available space. When gardening a small landscape , space is the primary issue. However, you may have a well-designed, beautiful, and functional yard with correct concepts, methods, and advice.