Flats and garden! A rare combination indeed. Today's posh flats offer you a wide range of amenities from the gym to car parking, playground, swimming pool, and lots more. But an authentic self-nurtured garden is perhaps the one that you miss the most while residing in a flat, due to scarcity of yard space. And the picture is much the same for most of the flat-dwellers.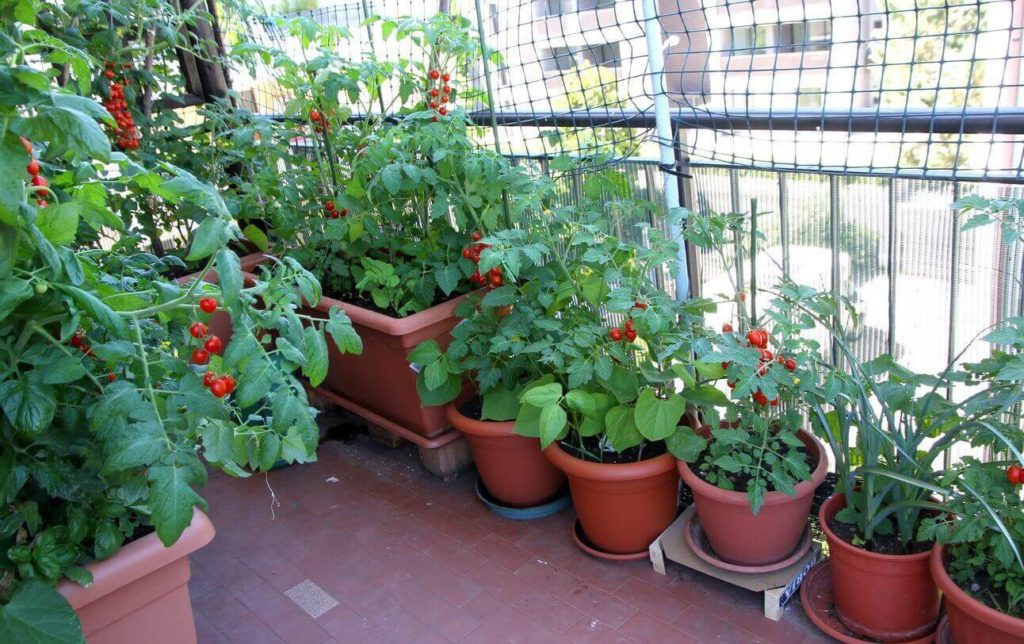 source: gardeningknowhow.com
Well, here's some great news for all you garden-enthusiasts. Yes, believe or not, in the twenty-first century everything is possible. It's the period to create a revolution- the revolution of thoughts and ideas. And with such a revolution, you can do anything much to your heart's desire. So, to break the monotony of your boring four-walled flat life and let you talk to your favorite plants, we have come along with some amazing in house gardening ideas that might engage you. Check it out.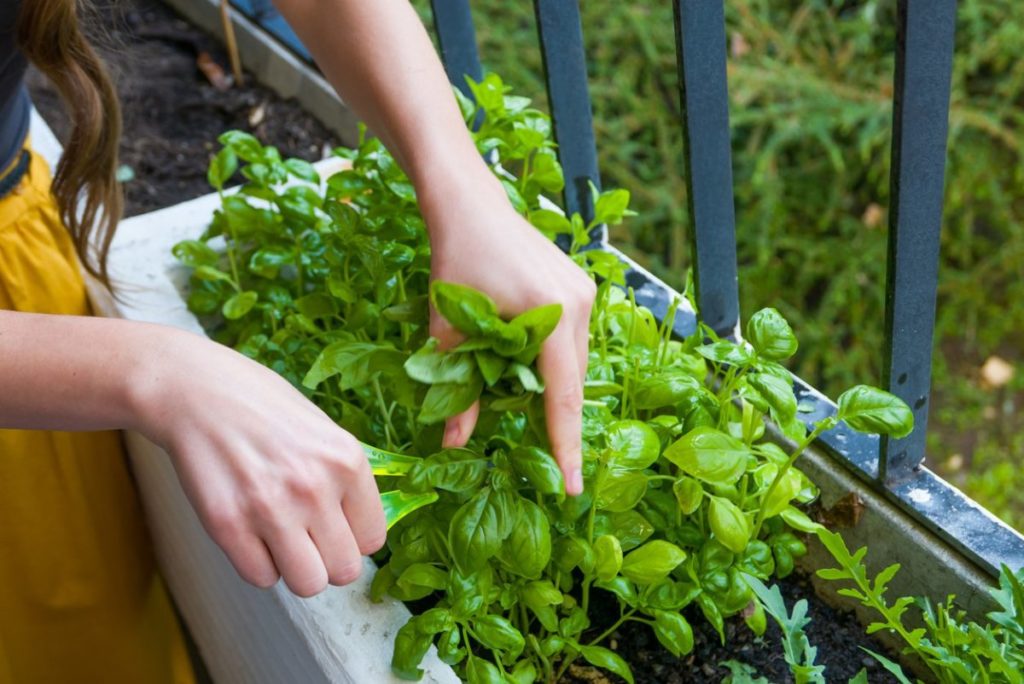 source: organicauthority.com
A balcony is the most cherishing place of your flats. Small or large, whatever the dimensions may be, this petty passage gives you a breath of fresh air. It is strong enough to connect you with the outside world while staying inside the flat. You can enjoy the sight of flying birds, waving trees, and the sun's hide and seek game whole-heartedly through your verandah.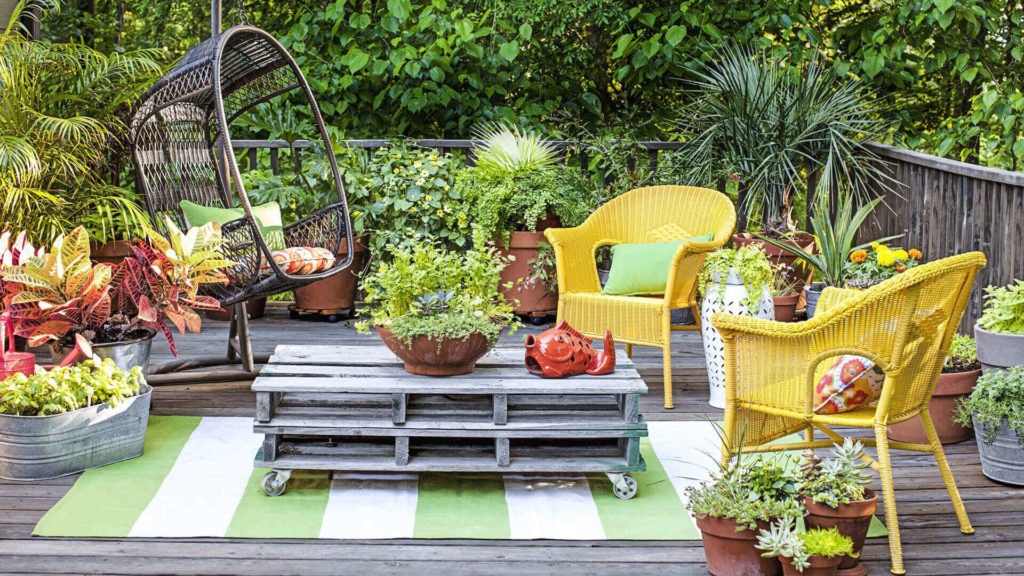 source: architecturaldigest.in
But what if you could get to add more freshness to this beautiful space? No, it's not a dream anymore. With green and eye-catching potted plants, you can make your balcony as lively as ever. And the best part is, you don't have to search for unique and fancy plants to adorn your space. Easily available and common plants like that of strawberry, tomato, celery, mint, or basil can do it all.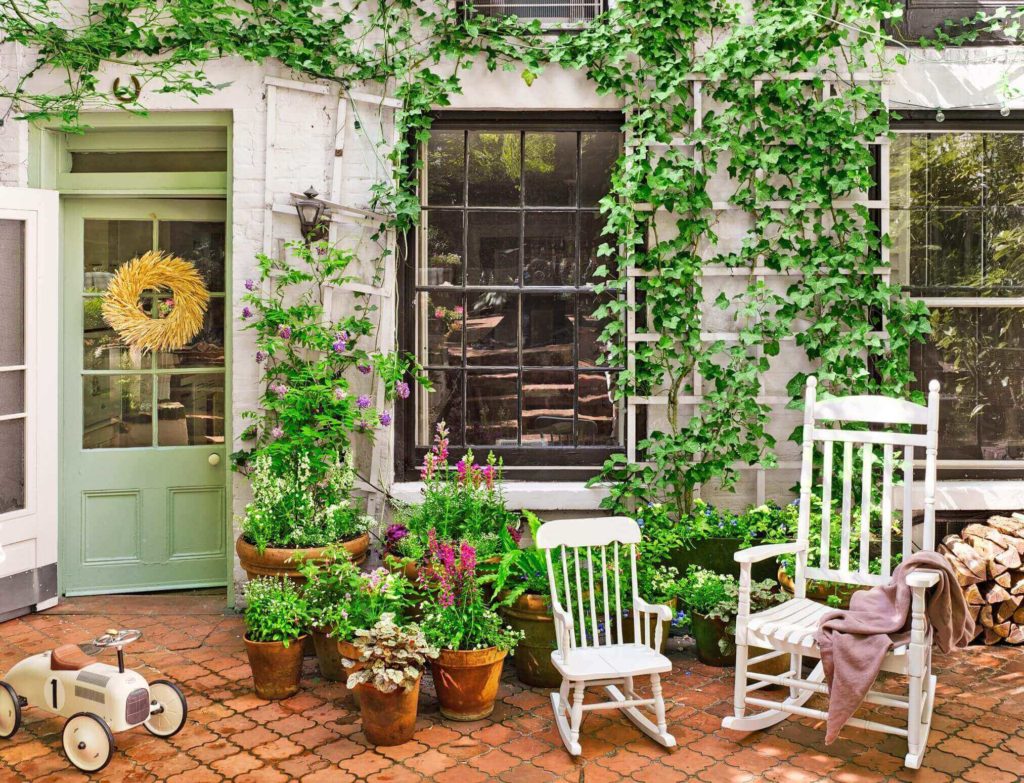 source: hearstapps.com
Just arrange the pots in a nice pattern, avoid clutter, and transform your balcony into a little garden in no time. Also, don't forget to chop off the leaf edges of your plants, water them regularly and keep them healthy and active so that your garden does the talking.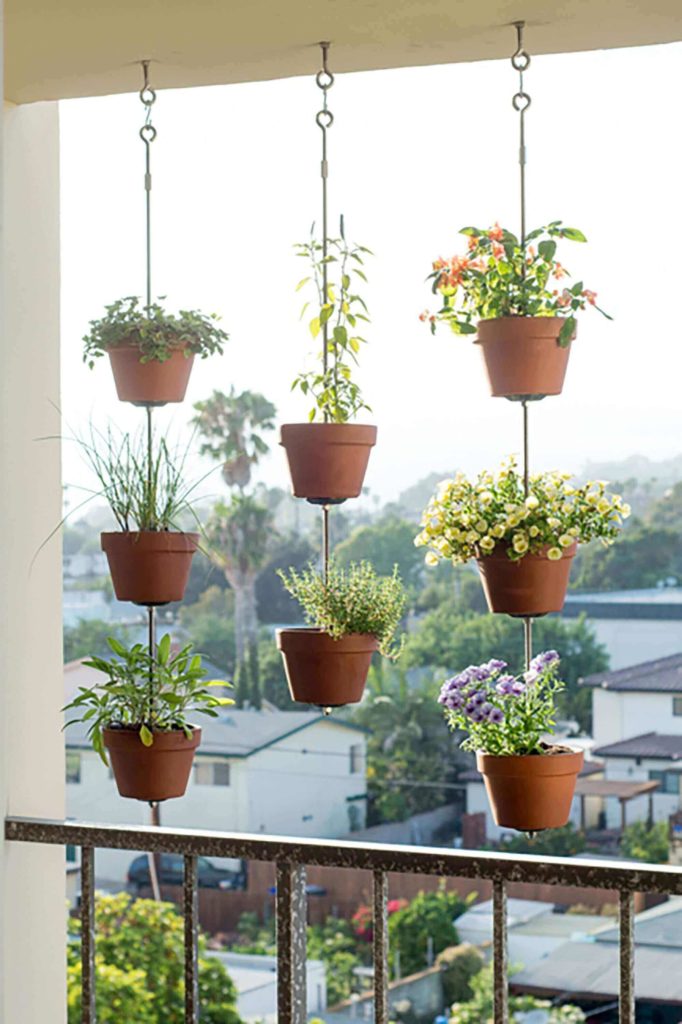 source: hearstapps.com
Your spacious terrace also gives you an excellent DIY home garden idea. You can replicate a lavish garden at your rooftop easily with just a few little assortments. All you need is to create a bit of messy arrangement, play with contrasting colors, and an instant magic will be added to your terrace garden. Confused? Gosh! It's very simple. Just drag some vibrant pieces of furniture from your living room like sofas or bean bags, adjust colorful cushions, keep a compact center table or a stack of wooden benches, surround these things with a messy platter of green plants and your pretty garden will be done.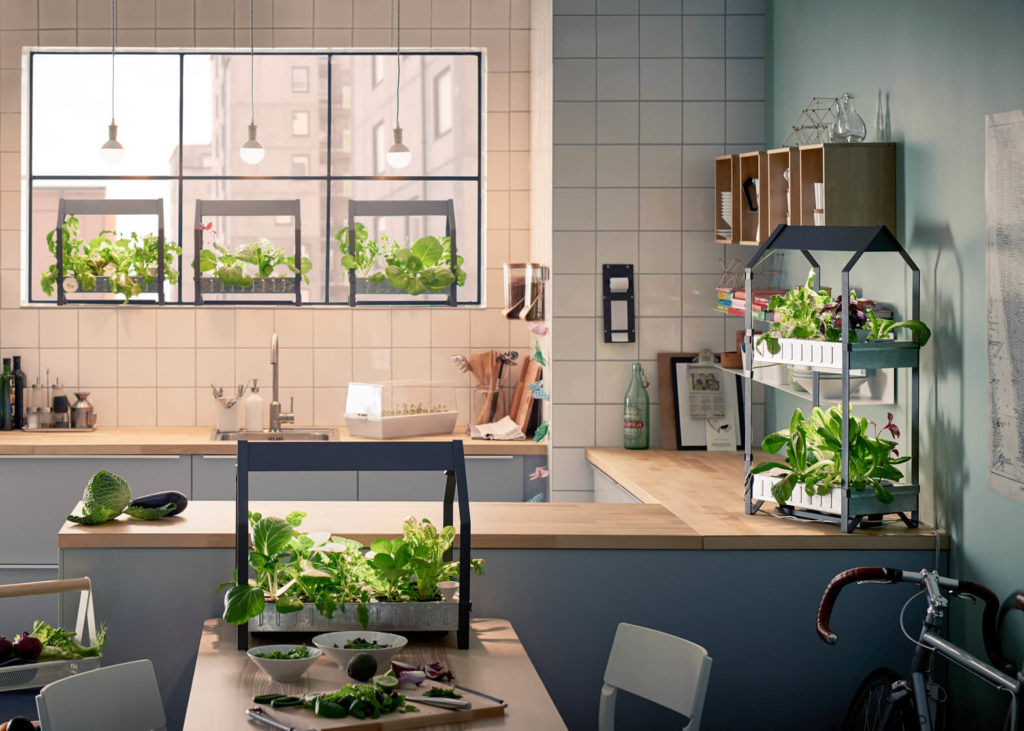 source: dezeen.com
Sometimes, an extended balcony just feels like a part of your room. Although you don't always prefer keeping your home essentials there, a good pair of chairs and a batch of potted flowering plants can soothe your eyes. Also, you can consider hanging some plush green creepers in greater heights, covering the head of your doors and windows. Such an arrangement will earn you a lot of praise for your aesthetic sense as well as offer you ample scope of practicing your gardening skills.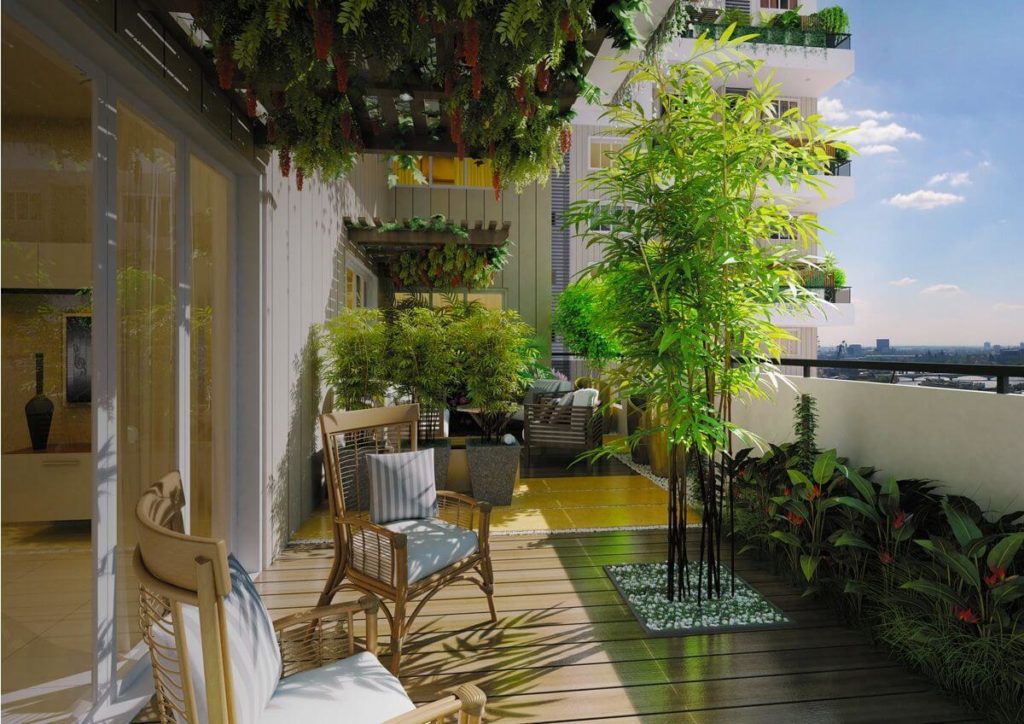 source: pinterest.com
Another exciting gardening masterstroke lies in hanging terracotta pots in your balcony with the help of eye-hole hooks. Yes, that's a fab idea of staggering pots of attractive flowers using metal rods, bolts, and washers. This unique design not only facilitates watering but also creates a visual delight that would leave your neighbors awestruck.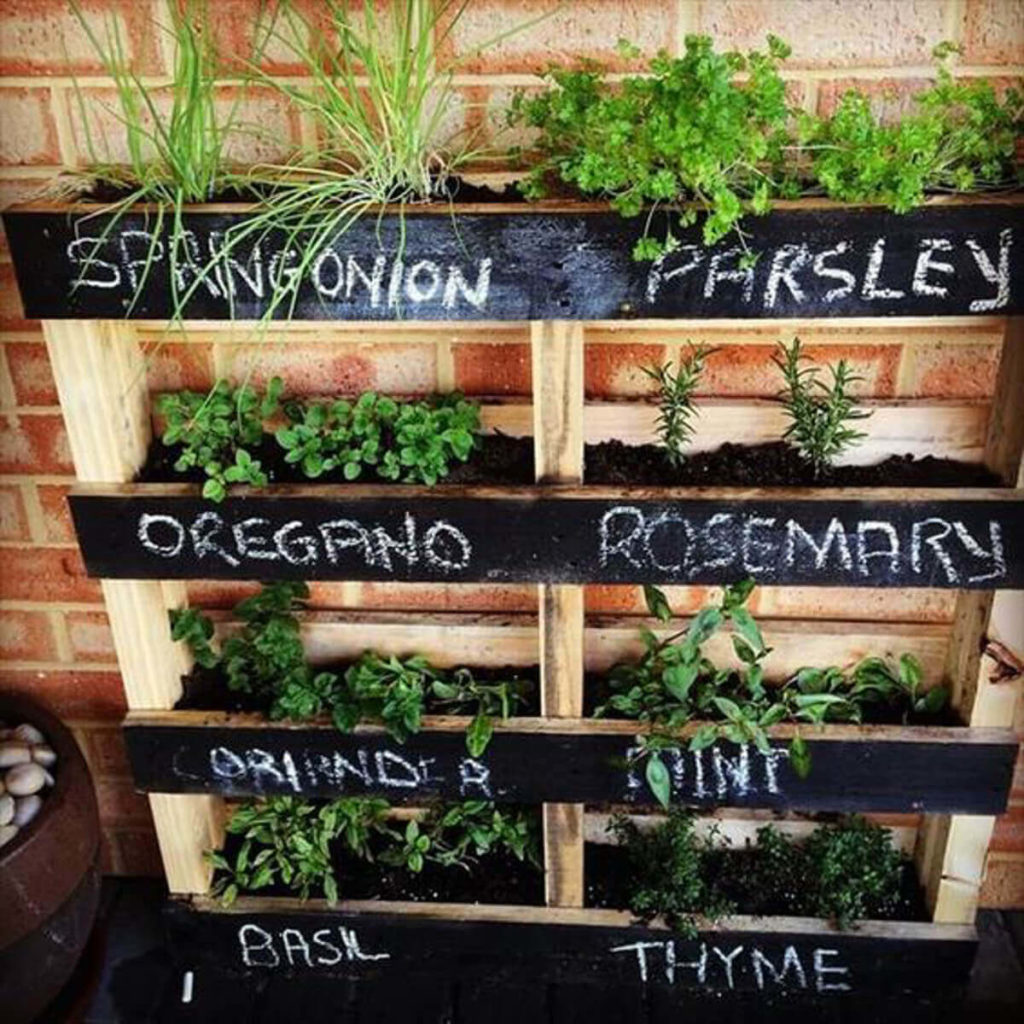 source: homebnc.com
What else can be more interesting than plants acting as your home decor? You can enhance the beauty of your modular kitchen with racks of small, green, edible plants, and create a green corner at your home. You may also consider keeping a bunch of plants on your dining table as well. Besides a balcony, adding fresh greenery to your interior satisfies your vision to the fullest.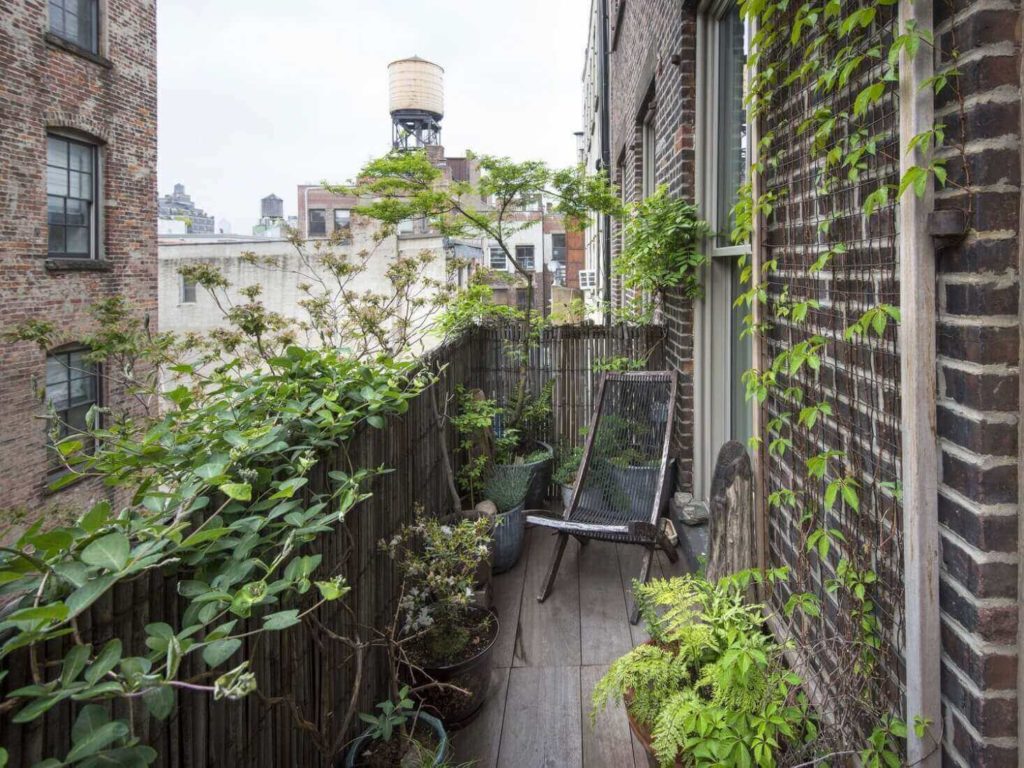 source: gardenista.com
For all you deck-lovers, one of the coolest home garden ideas is making your deck balcony garden. Just consider retrofitting wood-colored flooring to get that authentic deck feel. Go for neutral tones to preserve the integrity of this low-key space. And try keeping the area peaceful and down-to-earth by adding green bushes and column trees in galvanized containers.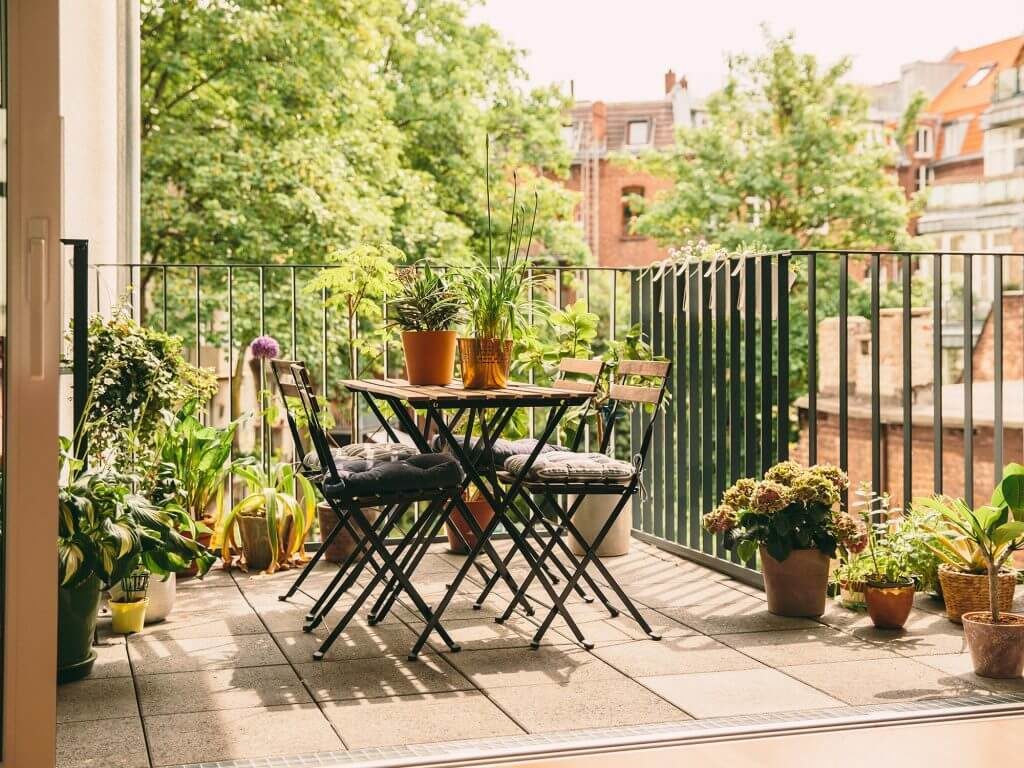 source: realestate.com.au
And this idea is surely gonna mesmerize you. Take a wooden pallet and a chalkboard paint, plant your edible herbs in each compartment and create a wonderful vertical garden in the backdrop of a balcony side-wall. Your heart will throb each time you see your favorite parsley, rosemary, or thyme sitting up and above. But never skip drilling holes beneath each level to let water pass through.
source: meredithcorp.io
Other home garden ideas include covering much of your balcony space with subtle green potted plants and creepers, adjusting a small two-seater dining table-set in case of spacious patios, and packing numerous different-sized plants around.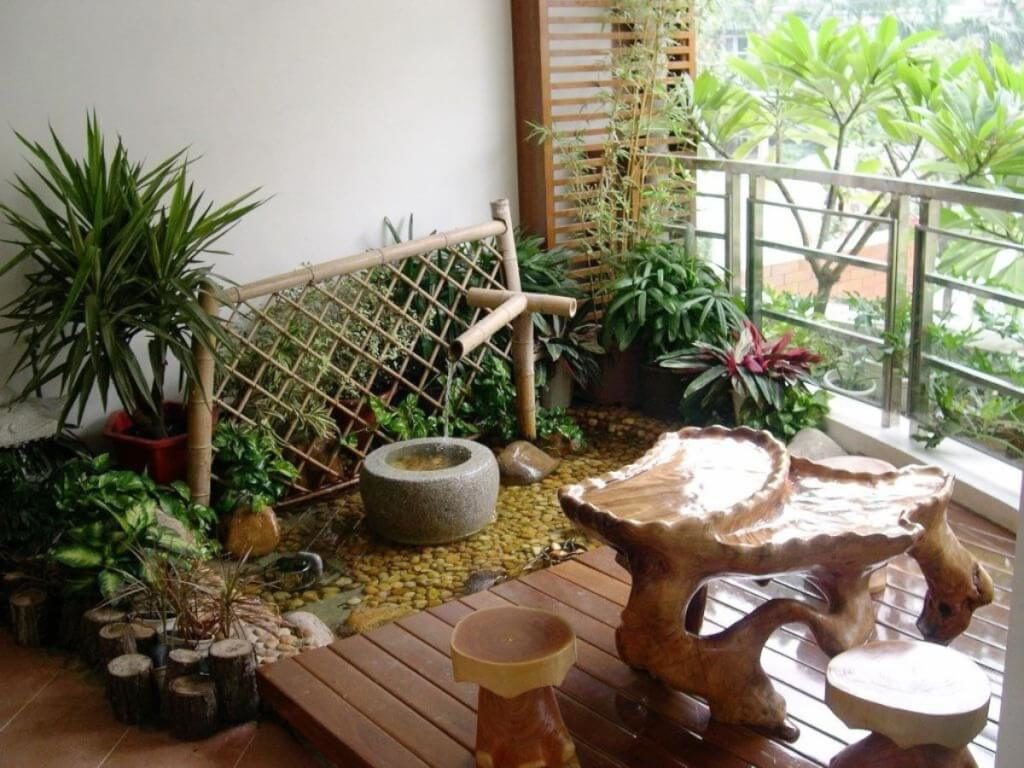 source: propertyfinder.ae
You can also make your organic kitchen garden with biodegradable objects like paper pouches and fill them with mud to grow tiny plants inside.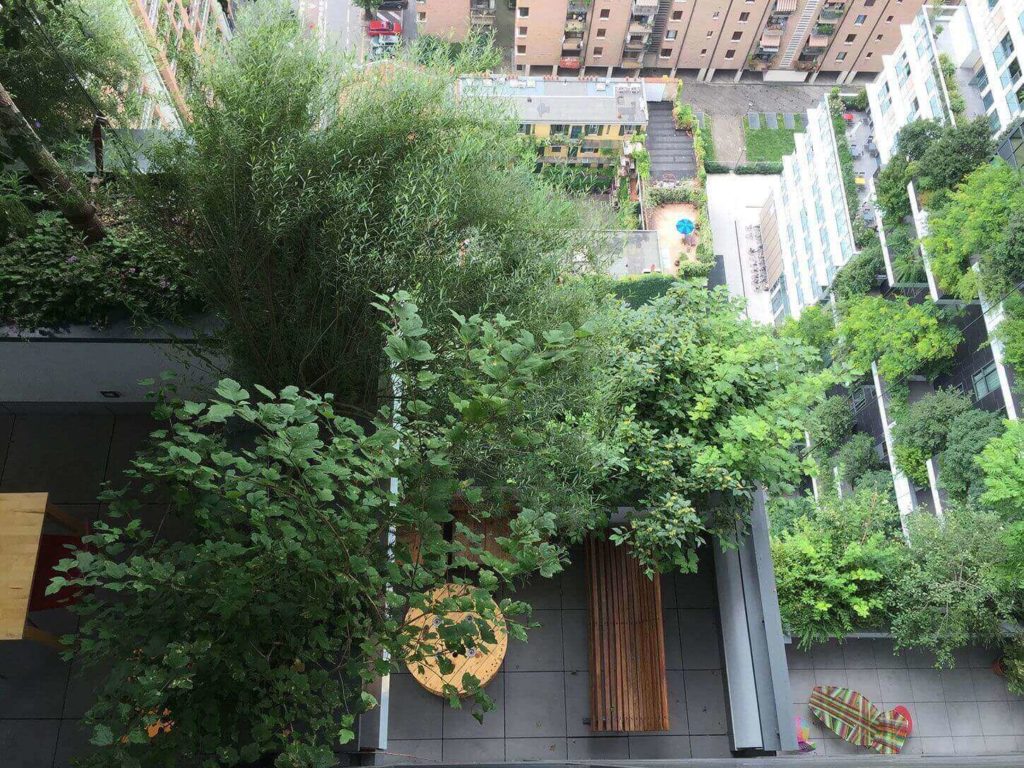 source: pinterest.com
It's fab to create an indoor adornment of captivating showpieces and some green money plants. It will not only add to home improvement but also give a creative touch to that space. And it's full of fun and pleasure.
The view of a cluster of flat balcony gardens altogether is truly a treat to your eyes. Such a scintillating beauty of mother nature fills your heart with endless joy and compassion at the same time, the compassion for a lot of trees being deforested every day and night. May this creation flourish over the years so that each balcony, to some extent, can compensate for each plant lost from our exemplary Earth.